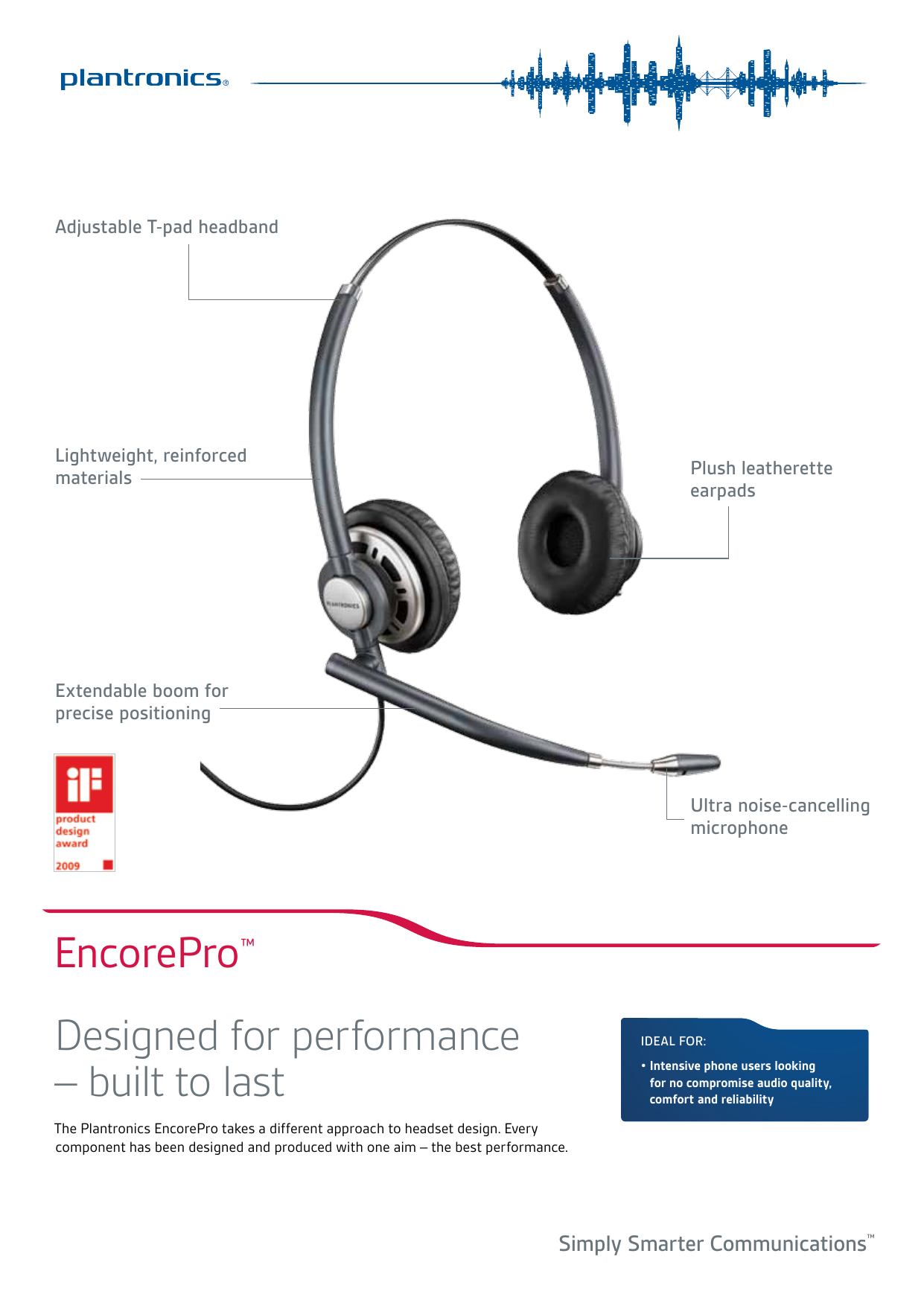 S
This version of the wordmark can only be
used at this size. It has a larger registration
mark than the other size wordmarks.
Please use one of the other sizes if you need
a larger version.
Adjustable T-pad headband
M
L
Lightweight, reinforced
materials
Plush leatherette
earpads
Extendable boom for
precise positioning
Ultra noise-cancelling
microphone
EncorePro™
Designed for performance
– built to last
Ideal For:
•Intensive phone users looking
for no compromise audio quality,
comfort and reliability
The Plantronics EncorePro takes a different approach to headset design. Every
component has been designed and produced with one aim – the best performance.
Simply Smarter Communications™
EncorePro™
A different approach to headset design. The microphone is designed to sit in exactly the right place
for optimum audio clarity, and the low slung design ensures it can not be seen by the wearer. The slim
speaker has a wideband frequency response for clearer and more intelligible conversations. We've made no
compromise on reliability, durability, comfort or audio quality.
Key features
• Unprecedented style and performance. Blends luxurious
comfort with superior audio clarity and sleek looks.
EncorePro headsets require a
Plantronics audio processor,
USB audio processor, or direct
connect cable to connect to
phone or PC.
• Ultra-lightweight design. Premium lightweight nylon
composite materials and plush leatherette ear cushions
provide hours of comfortable wear.
• Ultra-noise-cancelling microphone. An extendable lowsitting microphone boom accurately positions a superior
noise-cancelling microphone.
• Wideband support ensures crystal clear customer
conversations.
• Advanced ergonomic design. Provides superior
balance, fit, and comfort.
Binaural
Monaural
MO300 Adapter
Offers the ultimate in handsfree mobility. This cable has
a mobile handset connector
on one end and a Plantronics
QD with integrated hook
switch control on the other.
VistaPlus™ DM15E™
Audio Processor
Uses Digital Signal
Processing (DSP) to
deliver unsurpassed
acoustic protection
and sound quality.
• Quick Disconnect™ feature. Walk away from your
phone while still wearing your headset.
• SoundGuard® DIGITAL™ technology reduces sudden, loud
sounds and monitors and controls daily personal noise
exposure to maximise comfort and safety – helping
businesses comply with the latest EU noise at work
legislation when used with Plantronics DM15E.
Or you can use a Plantronics USB audio processor for
VoIP and Unified Communications applications, or a
direct connect cable with suitable desk phones.
Transmit Characteristics (typical)
ADDITIONAL INFORMATION
Sensitivity @ 1kHz
-39 ± 3 dBV/Pa
Operating frequency
Wideband
Frequency range
150 to 6800Hz
Headset microphone
Noise-cancelling
Output impedance
< 125Ω
DA45™ USB Audio Processor
Compatible with all
Plantronics H-series
headsets, provides advanced
audio technologies,
plug-and-play connectivity,
and Quick Disconnect.
Models/weight
HW291N Monaural: 43.5 g / HW301N Binaural: 61.5 g
Typical Test Conditions: 1.8VDC, 3.3KΩ DC Resis, 3.3KΩ AC Load
Compatibility
DM15E, DA45, MO300, direct phone connect cable
Receive Characteristics (typical)
Hearing protection
SoundGuard®: Acoustic limiting for protection against
sounds above 118 dBA
Sensitivity @ 1kHz
17 dBPa/V (Monaural)
10 dBPa/V (Binaural)
Wearing styles
Over-the-head, binaural and monaural options
Frequency range
100 to 6800Hz
Limited warranty
2 years
Input impedance
150Ω ± 25% (Monaural)
300Ω ± 25% (Binaural)
Typical Test Conditions: 100mV Drive, 10Ω Source Impedance Measured on ITU-T
Type 3.3 artificial ear, Ear Reference Point
Backed by Plantronics global service
And support
Standard version
Model number
Part number
HW291N
78712-02
HW301N
78714-02
For more information about the EncorePro Series or other Plantronics products, please
visit our website at plantronics.com
©2011 Plantronics, Inc. All rights reserved. Plantronics, the logo design; AudioIQ, DA45, DM15E, EncorePro, Quick
Disconnect, SoundGuard, Sound Innovation, VistaPlus and the Sound World graphic are trademarks or registered
trademarks of Plantronics, Inc. 10/11
S
This version of the wordmark can only be
used at this size. It has a larger registration
mark than the other size wordmarks.

* Your assessment is very important for improving the work of artificial intelligence, which forms the content of this project