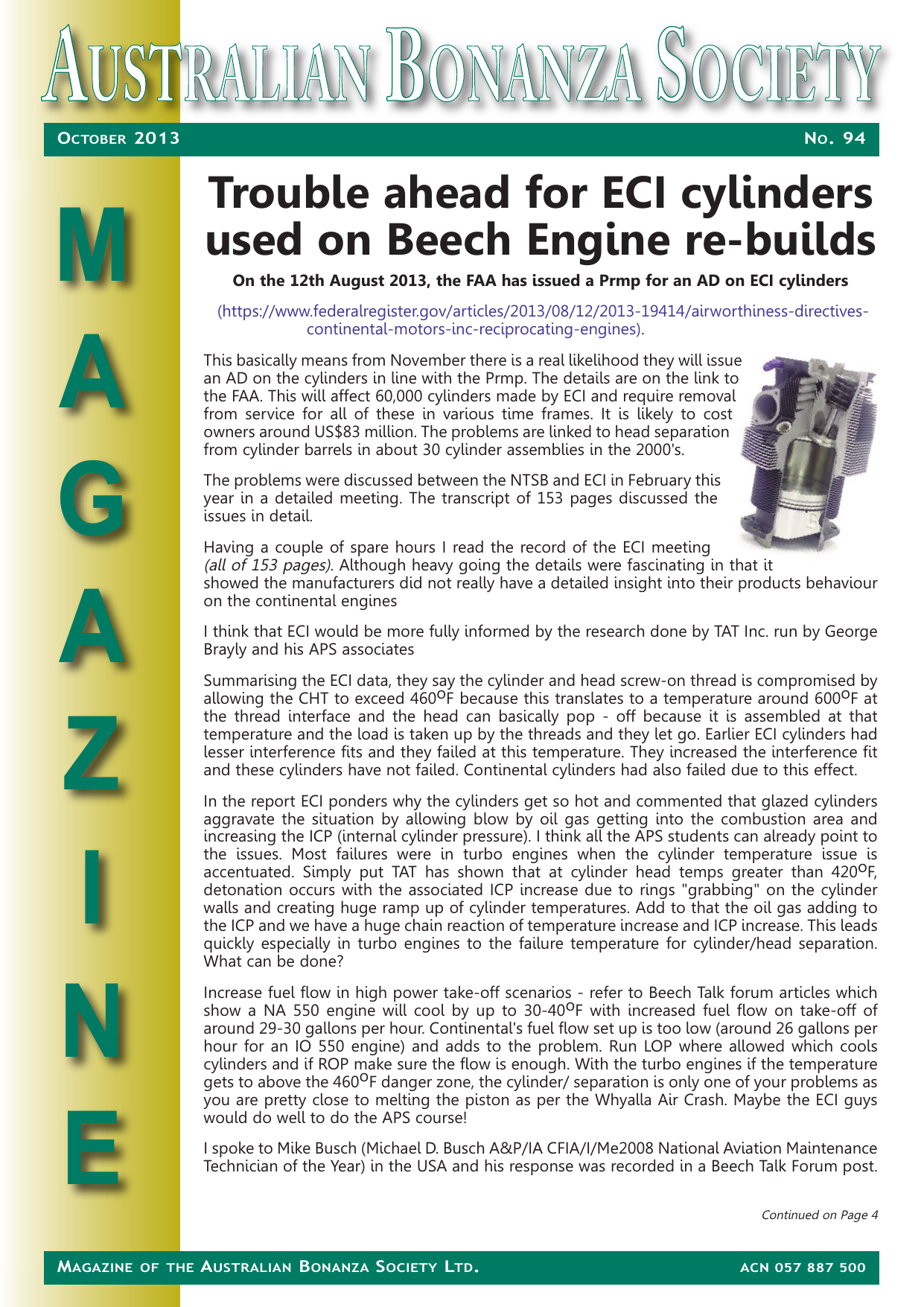 AUSTRALIAN BONANZA SOCIETY
OCTOBER 2013
Trouble ahead for ECI cylinders
used on Beech Engine re-builds
M
A
G
A
Z
I
N
E
MAGAZINE
NO. 94
On the 12th August 2013, the FAA has issued a Prmp for an AD on ECI cylinders
(https://www.federalregister.gov/articles/2013/08/12/2013-19414/airworthiness-directivescontinental-motors-inc-reciprocating-engines).
This basically means from November there is a real likelihood they will issue
an AD on the cylinders in line with the Prmp. The details are on the link to
the FAA. This will affect 60,000 cylinders made by ECI and require removal
from service for all of these in various time frames. It is likely to cost
owners around US$83 million. The problems are linked to head separation
from cylinder barrels in about 30 cylinder assemblies in the 2000's.
The problems were discussed between the NTSB and ECI in February this
year in a detailed meeting. The transcript of 153 pages discussed the
issues in detail.
Having a couple of spare hours I read the record of the ECI meeting
(all of 153 pages). Although heavy going the details were fascinating in that it
showed the manufacturers did not really have a detailed insight into their products behaviour
on the continental engines
I think that ECI would be more fully informed by the research done by TAT Inc. run by George
Brayly and his APS associates
Summarising the ECI data, they say the cylinder and head screw-on thread is compromised by
allowing the CHT to exceed 460oF because this translates to a temperature around 600oF at
the thread interface and the head can basically pop - off because it is assembled at that
temperature and the load is taken up by the threads and they let go. Earlier ECI cylinders had
lesser interference fits and they failed at this temperature. They increased the interference fit
and these cylinders have not failed. Continental cylinders had also failed due to this effect.
In the report ECI ponders why the cylinders get so hot and commented that glazed cylinders
aggravate the situation by allowing blow by oil gas getting into the combustion area and
increasing the ICP (internal cylinder pressure). I think all the APS students can already point to
the issues. Most failures were in turbo engines when the cylinder temperature issue is
accentuated. Simply put TAT has shown that at cylinder head temps greater than 420oF,
detonation occurs with the associated ICP increase due to rings "grabbing" on the cylinder
walls and creating huge ramp up of cylinder temperatures. Add to that the oil gas adding to
the ICP and we have a huge chain reaction of temperature increase and ICP increase. This leads
quickly especially in turbo engines to the failure temperature for cylinder/head separation.
What can be done?
Increase fuel flow in high power take-off scenarios - refer to Beech Talk forum articles which
show a NA 550 engine will cool by up to 30-40oF with increased fuel flow on take-off of
around 29-30 gallons per hour. Continental's fuel flow set up is too low (around 26 gallons per
hour for an IO 550 engine) and adds to the problem. Run LOP where allowed which cools
cylinders and if ROP make sure the flow is enough. With the turbo engines if the temperature
gets to above the 460oF danger zone, the cylinder/ separation is only one of your problems as
you are pretty close to melting the piston as per the Whyalla Air Crash. Maybe the ECI guys
would do well to do the APS course!
I spoke to Mike Busch (Michael D. Busch A&P/IA CFIA/I/Me2008 National Aviation Maintenance
Technician of the Year) in the USA and his response was recorded in a Beech Talk Forum post.
Continued on Page 4
OF THE
AUSTRALIAN BONANZA SOCIETY LTD.
ACN 057 887 500
Presidents
Report
Committee
PRESIDENT & TRAINING
Peter Janssen
Telephone: (03) 9870 5453
Facsimile: (03) 9720 0805
Mobile:
0418 168 723
E-Mail: president@abs.org.au
SECRETARY
Jan Novakovic
Telephone: (07) 5530 2361
Facsimile: (07) 5530 6135
E-Mail: secretary@abs.org.au
TREASURER
ADMINISTRATION & ACCOUNTING
Judith Gordon
Telephone: (03) 5261 5382
Facsimile: (03) 4206 7170
Mobile:
0447 615 382
E-Mail: jgordon@vic.chariot.net.au
MEMBERSHIP, MAGAZINE & WEBSITE
Peter Gordon
Telephone: (03) 5261 5382
Facsimile: (03) 4206 7170
Mobile:
0418 526 325
E-Mail: pgordon@vic.chariot.net.au
MARKETING
Keith Russell
Telephone: (03) 5821 4180
Facsimile: (03) 5831 1072
Mobile:
0418 311 286
E-Mail: keithr2@bigpond.net.au
EVENTS
Debbi Smith
Telephone: (03) 9870 5453
Mobile:
0438 347 904
E-Mail: debbi@janper.com.au
COMMITTEE
Ron Koyich
Telephone: (+617) 5470 2473
Mobile:
0412 800 153
E-Mail: ron@abs.org.au
MAINTENANCE & REGULATORY
David Young
Phone:
(07) 3204 4627
Facsimile: (07) 3204 6387
Mobile:
0423 003 306
E-Mail: david-young@ecn.net.au
IMMEDIATE PAST PRESIDENT
Mark Davey
Telephone: (03) 9787 4530
Facsimile: (03) 9775 2385
Mobile:
0418 358 653
E-Mail: prodsys@tpg.com.au
Past Presidents
2012
2011
2009 - 2010
2008 - 2009
2006 - 2007
2004 - 2005
2002 - 2003
1999 - 2001
1998
1997
1996
1994 -1995
1993
1992
1988 -1991
1987
Page 2
Mark Davey
David Young
James Cherry
Jock Folan
Keith Duce
Dennis Bartlett
Rob Kerr
Peter Gordon
Ann Hordern
Peter Waterhouse
David Herbert
Bill Finlen
Bill Bedser
Dennis Bartlett
Mark Davey
Richard Smart
Welcome to our Spring Magazine.
The year is rolling on and soon it will be Christmas
again. Where is the time going? Since the Cowra
BPPP, things have been reasonably quiet for the ABS; however there are lots of
things ticking over in the background. The South Australian Safari is all organised
and we have 19 people and 5 aircraft setting off on the 4th October for 11 days
of flying, all in good company and should the weather be kind, a great trip will
be had by all.
Organisation of the WA Kimberley Safari 2014 is well on the way, even though
still in the planning stage at this time. There are details in this magazine and we
are trying to schedule this event in the school holidays so more of our members
with school aged children or grandchildren can participate. So please have a
look at the dates and the itinerary as it would be good to have a few new
members come along. We welcome all members to consider the trip as I have
said previously even if you have done the Kimberley before it is always different
when you are with a different group.
Another thing we as a Committee have decided to try is to minimise the cost of
running a safari by doing some smaller trips that will not only be more
affordable but take less time away as some members have indicated that they
would attend more Flyaways if they were shorter. Next January on the Australia
Day weekend, Friday 24th until Monday 27th, we are organising a four day fly
away to Lord Howe Island, which is 660 kilometres off Port Macquarie and
according to Peter Gordon, one of the most pristine place on the planet! For this
event we are going to use the American ABS online event registration system
called "RegOnline", so that the committee can evaluate it as a possibility for
using it in the future for other larger events. It is a more automated computer
package where the onus is on the registrant to fill in all the boxes as to what
type of accommodation they require and what sort of activities they would like
to participate in. It has a small cost to the Society and this will be evaluated
after Lord Howe Island event. At this stage, we are restricting Lord Howe Island
to just 12 participants due to the accommodation available, so please get your
expressions of interest to Debbi Smith as soon as possible. As this is our first time
using "RegOnline", we will keep you informed once details are finalised.
The AGM in almost upon us in Mildura this year commencing with a 6 course
degustation dinner on Friday 11th October, 2014 at Stefano's, followed on
Saturday with a paddle steamer tour up the Murray River to a BBQ lunch at
Trentham Winery. The AGM will commence late afternoon followed by a dinner
at The Seasons Restaurant with our guest speaker Bevan Anderson. Bevan is from
Avplan and he will be talking about Electronic Flight Bag (EFB) and how and why
he developed Avplan and where the electronic flight bag is going in the future.
It should be a very interesting night and we urge all members to make an effort
to attend. As well as being a great time to catch up with friends and other flying
enthusiasts it is also a great time to meet new members, exchange ideas and
find out what's in store for the coming year. The ABS is a wealth of information
and we are here to support our members.
Please note there are current vacancies on the Committee due to retirements
and a resignation. We are seeking someone to join the Committee as Vice
Membership
Membership of the Australian Bonanza Society Ltd. is available at a cost of $200 p.a inc. GST, due January 1st. each
year. Application forms are available from committee members or the A.B.S. web site. Become a member and enjoy
the benefits, including; social activities, pilot proficiency programs and Bonanza/Baron Service Clinics.
www.facebook.com/group.php?gid=49792577682
www.abs.org.au
President; Jan Novakovic has retired as Secretary after four years in the role and this will be filled by Debbi Smith
for one year. Judy Gordon has tendered her resignation from the Committee effective 12 October 13 and David
Young has agreed to taking on the role of Treasurer & Administration. We only have a relatively small membership
base and it would be good to see some new faces on the Committee. If you have any interest or would like to
assist the ABS please contact me.
The next event on the social calendar will be the State Christmas parties. If anyone would like to volunteer to
host the Queensland or New South Wales events please get in touch with the Committee. It will be my intention
to attend these Christmas parties individually as they are always a good social outing at the end of the year for
all ABS members.
We are at a very early stage of starting to plan our next BPPP and where to locate the event; it will more than
likely be somewhere in central NSW. Possibly Narromine as they have fantastic facilities to be able to run a BPPP,
being central and easy access for all members, however we will keep you informed on our progress.
cáåÇ=ìë=çå=c~ÅÉÄççâ
Until the Annual General Meeting when I can catch up.
Safe flying,
Peter Janssen - ABS President
18 September 2013
ïïïKÑ~ÅÉÄççâKÅçãLÖêçìéëL~ìëíê~äá~åÄçå~åò~ëçÅáÉíóL
FOR SALE VH-BZY
1990 A-36 Bonanza E-2551
Equipment
Factory Air-Conditioning, Standby Gyro Pump,
Standby Electric digital A/H, Gami Fuel injection,
Concord Sealed Battery OCT11
ïïïK~ÄëKçêÖK~ì=
The Hideout
A unique, luxury aviation retreat
Near Port Macquarie, NSW
Property characteristics
• Newly completed, selfcontained, 2 bedroomed
cottage, sleeps 5
• Located 7 mins from
Wauchope, NSW with a private 800m airstrip
• Hangarage available
• Fully equipped kitchen with
dishwasher
• All linen provided
• Washing machine
• TV/DVD in living area, TV in
each bedroom
• Wireless broadband
• Heated swimming pool, hot
tub, snooker table
• Breakfast and dinner
hampers available
• Minimum stay 2 nights
• Children and small
dogs welcome
Engine Hours: 323.4
Operational Category: IFR Airwork.
Aircraft Hangared,.
Detailed Description:
White with Green,
Gold and Burgundy stripes.
6 seat club cream leather interior
ATTIS: 6992.9hrs
Engine: IO-550
Prop: TSOH 21.8
Modifications: Nil
Avionics: Garmin GMA347 Audio Panel, King KDF806 ADF, King KEA
130, Encoding Altimeter, King KCS HIS, King KT 79 Transponder, Garmin
GNS 430, JPI EDM 700 Engine analyser, King KY 196A VHF Com 2,
King KN 53 VHF Nav 2, S-TEC 55X Autopilot, Insight SF-2000 Strikefinder.
Additional Equipment: Exterior Aircraft Cover, Engine Bungs
Exterior: 9/10 Painted 2003
Interior: Refurbished 2003
Inspection Status:
Wing Bolt Inspection carried out 28/10/10,
100 hrly till 24/4/14
Price: $235,000.00 +GST if applicable
An aviator's dream ...fly in, put your plane in the hangar and step into your
private, self-contained accommodation
Enjoy some time on this 33 acre property near Wauchope and only 20 mins from the
beautiful beaches and amenities of Port Macquarie on New South Wales Mid North
Coast. Relax completely or take advantage of the many attractions close by.
The Hideout is a beautifully furnished contemporary cottage in a peaceful rural setting,
yet close to facilities. There is a queen bed in one bedroom and a double and single
bed in the second bedroom. A generously sized open plan sitting/dining room and
kitchen provide space to relax. A spacious bathroom, separate toilet and laundry
complete the accommodation. The living area has a split system air conditioner.
Entertain yourselves on the generous verandah and deck at the rear of the property
overlooking expansive farmland or enjoying a beautiful sunset. A vehicle can be made
available if you require.
BOOKINGS: www.dexfieldpark.com
ENQUIRIES: Call Sue on 0410 541602
www.facebook.com/group.php?gid=49792577682
www.abs.org.au
Contact: Anna Jowitt
Mobile: 0420 500 422
Fax: 02 6771 5002
Email: anna.jowitt@wf.catholic.edu.au
Page 3
Continued from page 1
Rob,
cylinder lets go the engine will run roughly and a power
loss of 20% will be seen. Landing at the nearest airport
is obviously required.
"The majority of the 30 reported failures occurred in
turbocharged Cessna 340 and 414 twins with RAM
engines that have (1) quite high turbo boost, and (2)
primitive factory instrumentation with only one CHT
instrumented on each engine and thermistor (not
thermocouple) probes that often read grossly lower CHT
than what is actually happening.
Nearly all the failures have occurred in turbo charged
Cessna's where the CHT probes are antiquated thermo
couples and can read 40-60oF lower than the real values.
Consequently, most of the failures have been linked to
abnormally high CHT's in the failed cylinder.
The discussion of junction threads disengaging was a
red herring. Virtually all of the reported failures occurred
when the cylinders heated up enough that the
unthreaded portion of the junction ("seal band" or
"shrink band") started to slip and place the stress on the
top thread of the threaded portion of the junction
(which is NOT supposed to take the load), and a fatigue
crack initiated at the top thread groove in the head
casting (which, after all, is a stress riser). ECi research
showed clearly that if the junction is operated at an
appropriate temperature, all the stress is borne by the
seal band and the threads remain unloaded, which is
how the junction is designed to function. If the threaded
portion of the junction undergoes rapid repetitive stress
events, then the junction will fail. That's true for any
brand of cylinder.
Although obvious, simply not running your cylinders too
hot will almost certainly stop any likely failure. However,
there is a hard core group of pilots out there who simply
want to believe old wives tales about engine
management and not believe real time data extracted by
TAT Inc. on how to correctly run a continental engine.
The supply of sufficient fuel flow on take-off and
correctly running rich or lean of peak to reduce CHT's is
crucial for engine life and cylinder longevity. See the
associated article on "How to trash a continental engine
cylinder" .ECI also stated that running LOP will not
damage the cylinder provided the cylinder is not
allowed to remain at peak CHT for extended periods of
time i.e. 10 minutes for example.
What can be done to mitigate a cylinder failure?
One interesting piece, given the financial tone of the
WSJ piece, is that ECi asked for an AD, according to the
NTSB."
In summary the US ABS and other aircraft groups are
making submissions to prevent this AD from being
issued as the problem occurs with all cylinders
manufacturers and it appears abuse from pilots and
aircraft faulty instruments allowing extremely high CHT's
is the root cause of the problem. All manufacturers have
improved manufacturing processes and engineering to
try and negate this type of abuse from damaging the
cylinders. Production in the last two years has not seen
any cylinder separations.
However, in all of the 30 cylinder failures, there has been
no personal injuries or loss of aircraft. Basically, if a
Article & research by Robert Kerr
E: kerr@mira.net
Here is the original NTSB recommendation from
February 2012:
http://www.ntsb.gov/doclib/recletters/2012/A-12007.pdf
How to Trash a Cylinder
on a Continental Engine
A recent search of controller.com aircraft sales of
Beech G36 aircraft showed an alarming trend. Many of
the aircraft for sale had their engine cylinders
overhauled by 5-600hrs and most of these a/c were less
than 6 years old!
How could so many a/c engines be damaged in such a
short period of time?
Let us look at what can damage an aircraft cylinder and
there are four main causes of cylinder failure.
1: Corrosion from lack of use and the consequential
scratching of the bore which causes a big drop in
compression.
2: Glazing of the cylinder wall caused by improper
running in procedure and leads to blow-by and low
compressions and oil usage
3: Leaking cylinder valves caused by poor original
manufacturing processes which has the valve guides
Page 4
out of alignment with the valve seat. Eventually if not
repaired will lead to the valves eroding and burning.
4: Wearing of the piston rings and cylinder bore caused
by running the cylinders at excessive heat (>390oF
or 195oC) AT ANY TIME.
In the case of the G36 examples, it is hard to believe
that corrosion can be an issue as most of the aircraft
flew in excess of 100 hours per year. However, leaving
your engine un-run for periods of more than 2-3 weeks
at a time introduces a real risk of corrosion forming in
the cylinders- so be aware!
The issue of glazing cylinders is usually a result of
refitted cylinders not being aggressively run
immediately at high power settings and left to idle in
the aircraft or run at extended low power settings in
the first 25 hours of use.
Leaking valves is a common problem associated with
Continental cylinders due to poor manufacturing
www.facebook.com/group.php?gid=49792577682
www.abs.org.au
procedures. The result is having to fit new valve guides
in the cylinder and re-finish the valve seat so they
match perfectly. Continental Motors say they have
improved their production quality control in the last
couple of years to stop this problem. Time will argue
their case. The symptoms of worn valve guides will be
the escape of compression air into the exhaust pipes.
With the ignition off get someone to pull the propeller
over thru all the cylinder strokes
and listen for leakage. It is easy to
detect.
and max manifold of around 24" I lean smoothly and
quickly to 13.6 gall/hr. and then tweak the last =/0.2 gall/hr. to get the engine "smooth". For ROP
pilots they would be running at around 17 gall/hr. to
be sufficiently ROP to have cool cylinders. At this
LOP setting my cylinders would be around 145oCtoo low in temp to cause any wear issue and this is
backed up by ECI cylinders.
Finally, we come to excessive heat
leading to worn cylinders and
piston rings.
It is my opinion and backed by 100's
of examples that insufficient fuel
for take-off is a leading cause of
wear together with a few other
cooling procedures for running the
engine. For the sake of simplicity I
will itemize the requirements:
1: At sea level an IO-550 engine
should be using no less than 28.5-30 gallons per hour
of fuel at maximum power. My G36 came out of the
factory at 26.0 gallons per hour and surprise
surprise the cylinder head temperatures were 210oC
on take-off on a hot day. The first owner only had
300 hours from one of the cylinders and it was
trashed. The complication here is that Continental
has a service bulletin setting out the fuel flow set up
of the engine and has the maximum pegged at 27.4
gallons per hour. Also Continental allows the low
boost pump to be run during climb. Fortunately, this
adds a little over an extra 1 gallon per hour giving a
total flow of 28.4 gall/hr.
When my engine and hundreds of others were
altered to the higher flow levels, by "magic" the
cylinder head temperatures dropped by 20oC to
below 190oC on climb out. If you search the Beech
Talk.com forums on engines you will see this issue
come up time and time again. My only advice is not
to let anyone tell you running the cylinders at less
than this fuel flow is OK.
2: Run the engine at max RPM and manifold (throttle)
during climb. As the engine has fixed timing, reducing
the RPM advances the timing dramatically and leads
to higher cylinder temps. For example running at
2400 rpm is 25o more advanced than at 2700rpm.
Also reducing the throttle and hence fuel flow you
lean the mixture at high power which can lead to
higher cylinder temps due to lack of fuel flow.
3: With all power levers full during the climb, leaning
the mixture should be done only not to exceed the
EGT reading of the engine at sea level take-off at
full power. My engine is reading 750oC EGT at takeoff at sea level. At 3000 ft. the EGT has dropped
well below 750oC and I lean back to 750oC and so on
as I climb.
4: In Cruise we enter the old argument of ROP/LOP.
Both are OK but most ROP pilots run much too low
fuel flows which results in excessive cylinder temps.
If you fly above 8000ft really any power/fuel
mixture setting will not damage the cylinders. If you
run LOP, it is important to lean to a fuel flow in a
quick "big pull." In my G36 at 7000ft at 2400rpm
www.facebook.com/group.php?gid=49792577682
www.abs.org.au
There is some recent discussion that leaning to LOP too
slowly i.e. more than 10 minutes can be detrimental as
you hold the engine at PEAK CHT or the detonation
zone for too long- so going to LOP use the big pull and
lean to a known fuel flow without delay.
For the ROP pilots - do not skimp the fuel flow or you
will damage the cylinders. Below 7000ft the ROP pilots
can expect to use 20-25% more fuel than the LOP pilots
for similar engine Manifold and RPM settings. The ROP
a/c will travel about 4 knots faster. A ROP a/c will have
a range of around 3.5 hrs. plus 45 minute reserve.
If you are getting more than 3.5 hrs. then you are
cheating ROP (below 7000ft) and leaning too much and
could be damaging your cylinders.
SUMMARY
Check your take-off fuel flows to be high enough to
keep CHT below 190oC (390oF)
Do not back off RPM or manifold in climb unless
operationally necessary.
Operate ROP or LOP below 8000ft at fuel flows that
give low CHT readings. Advanced Pilot Seminars offers
on-line and lectures on correct engine management
and these guys are recognised as the experts.
At 850 hrs. my G36 has not seen any detrimental drop
in cylinder compressions since I bought the a/c at
450hrs and I have followed all the above advice
meticulously and have mostly flown LOP at cruise and
usually above 8000ft. I have calculated at TBO flying
LOP I will have saved enough on fuel savings to buy 1
1/2 engines compared to the ROP a/c who has no
money for an engine- a saving of nearly $50,000 over
1700 hrs.!
It works for me so please do
not trash your cylinders.
Article written by Robert Kerr
E: kerr@mira.net
Page 5
Auxiliary Fuel Pump –
2013 Thomas P. Turner for Australian Bonanza Society
ABS (USA) Air Safety Foundation Executive Director has three times been accredited as a Master CFI,
was the 2010 National FAA Safety Team Representative of the Year, and was the 2008 FAA Central Reigon
Flight Instructor of the Year. Tom holds a Masters Degree in Aviation Safety and has specialised in Beech Pilot Instruction for over 20 years.
Our Beechcraft fuel systems depend on positive gravity
feed to deliver fuel from the tanks to the fuel selector
valves, whether directly beneath the pilot's left knee
when in the left seat of a Bonanza or Debonair or in the
main wheel wells of Barons and Travel Airs. From the
selector valve, however, fuel flow is dependent on the
operation of a fuel pump. In most normal operations an
engine-driven fuel pump propels avgas through the fuel
injection system. For certain operations we depend on
an auxiliary fuel pump. I consistently find that even
some experienced Beech pilots don't fully understand
the purpose and use of the auxiliary fuel pump.
To clarify its operation I'll present this quick overview.
ON/OFF or HIGH/LOW/OFF
The fuel injected Beechcraft Bonanzas, all Debonairs and
normally aspirated Barons, however, have one of two
types of auxiliary pump: an ON/OFF pump on IO-520
engines installed on the single-engine airplanes, and a
two-speed HIGH/LOW/OFF pump on IO-470 and IO-550
engines, as well as IO-520-equipped Beech Barons.
Auxiliary pump use
The auxiliary fuel pump has four uses:
Priming. Since the engine-driven fuel pump must be spun
by the engine before it delivers fuel to the cylinders, the
auxiliary fuel pump is used to provide an initial charge of
fuel to start the engine. With ON/OFF pumps, of course,
run the auxiliary pump ON. The mixture control must be at
FULL RICH and the throttle FULL OPEN to get the
maximum benefit of engine priming.
Hot Start. When the engine is hot fuel vapour may
form in the injection system, especially in the enginedriven fuel pump itself. To remove the vapour to permit
priming the engine, the HOT START procedure in most of
the Beech Pilot's Operating Handbooks calls for purging
the system by running the auxiliary fuel pump: at the ON
position with ON/OFF pumps, naturally, and at the HIGH
setting with two-speed aux pumps. With the mixture at
IDLE CUTOFF, run the auxiliary pump for 30 to 60
seconds (60 works better) to remove fuel vapor. Then
prime the engine and start normally--with perhaps a
little less fuel for prime, and by running the auxiliary
pump ON or HIGH momentarily if the engine stumbles
after start until the engine runs smoothly.
Vaporisation. Any liquid will vaporize, or evaporate, at a
specific temperature. This temperature drops as air
pressure drops - I recall my high school chemistry
teacher demonstrating how water will boil at room
temperature if sealed in a container in which air pressure
is removed with a vacuum. As your airplane climbs the
air pressure decreases, lowering the temperature of fuel
vaporization. Meanwhile the engine is working and the
Page 6
temperature in the engine compartment increases,
raising the fuel temperature. At some point the fuel
temperature and temperature of vaporization may meet.
When this happens (rare in my experience except in
IO-550, turbocharged and turbonormalized airplanes),
the fuel flow indication will fluctuate, power may surge
and, in Barons, the indication is obvious because the
propellers go in and out of synch as one or the other
engine's power varies.
The fix is to run the auxiliary pump in the LOW position.
This increases the fuel system pressure and raises its
vaporization temperature. In the unusual instance of fuel
vaporization with an ON/OFF pump airplane, run the
auxiliary pump ON and lean to maintain the optimal
fuel/air ratio. The IO-550 Baron POH calls for proactively
turning the auxiliary pumps on LOW for any take-off
when the ambient air temperature exceeds 90 degrees
Fahrenheit (32 Celsius).
Emergency operation. Lastly, the auxiliary fuel pump
provides a means to propel fuel to the cylinders in the
event of an engine-driven pump failure.
After establishing the proper attitude to maintain
control, aiming for a suitable landing zone in case you
cannot restart the engine and (in Bonanzas and
Debonairs) switching to another main fuel tank, if the
engine does not restart turn the auxiliary fuel pump ON
or HIGH as applicable. If the engine resets as a result of
turning on the aux pump, then leave it ON or HIGH and
land at the closest suitable aerodrome.
Although it is not generally necessary to ensure
continued fuel flow when you switch tanks, if the fuel
pressure or flow drops as a result of switching tanks then
run the auxiliary pump ON or HIGH to restore fuel flow.
The need to use the auxiliary fuel pump in this manner
is a form of engine failure in flight and you are simply
following the engine failure checklist by doing so. In
Barons (and Travel Airs) the OPERATION ON CROSSFEED
checklist, which is also an emergency procedure, calls for
running the fuel pump as you enter and exit crossfeed.
Limitations and Recommendations
Beechcraft Plot's Operating Handbooks recommend
against using the ON or HIGH fuel pump setting except
as required to substitute for a failed engine-driven fuel
pump. The auxiliary fuel pump delivers enough fuel flow
in ON or HIGH to flood the engine if the engine-driven
pump is still working--especially at reduced throttle
settings, such as when you throttle back for the landing
circuit. Running the pump ON or HIGH on take-off or
leaving it in this setting during a missed approach or
balked landing has been cited as a primary cause in fatal
crashes of turbonormalized and turbocharged Bonanzas.
www.facebook.com/group.php?gid=49792577682
www.abs.org.au
Some aftermarket engine modifiers suggest running the
aux pump OH or HIGH in normal operation above
10,000 feet or under other conditions. This is counter to
Continental Motors' previously stated recommendation.
If you choose to follow this aftermarket suppliers'
suggestion, be prepared to aggressively lean the mixture
as you activate the aux pump to maintain a combustible
fuel/air ratio.
As with any other airplane system, use of the auxiliary
fuel pump has its intricacies. Review the Limitations,
Normal Procedures, Emergency Procedures and Systems
Description sections of the POH for each airplane you fly
to find what applies.
To the best of my knowledge there are no E-Series
Bonanzas in Australia (1947-1956 models powered by
the Continental E-185 or E-225 engine). These so-called
pressurized carburettor engines employ a handoperated "wobble pump" used to accomplish auxiliary
pump functions (they may also include an optional,
electric auxiliary pump). I don't recall any Travel Airs,
58Ps or 58TCs owned by Australian Bonanza Society
members either; these airplanes' backup fuel pumps
differ from "standard" as well. I apologize if I'm
incorrect and can provide an addendum for these
owners in the next issue if you let me know at
mastery.flight.training@cox.net.
Italia with Lucrezia
One of the most popular dream destinations for Australians is Italy.
For those that want a taste of the 'dolce vita' – the sweet life Lucrezia Migliore has created a 16-day trip that captures the
highlights of Italy and makes the dream a reality.
'Food, Wine & Culture – Italia with Lucrezia' covers Rome, Tuscany,
the Cinque Terre, Pompeii, and the heavenly Amalfi Coast.
Not only does the tour cover iconic sights, but it will take you off the
beaten track so you can experience the real Italy. You'll meet winemakers, fishermen, and olive growers. And you'll take a cooking
class in a 400-year-old kitchen….
There is always time for one of Lucrezia's favourite sports: sitting in
a town square (piazza) with the locals and enjoying a coffee.
In Italy, much of life still happens in the local piazza. Pisciotta, a little
village way off the tourist trail that you will visit, is just one example.
In one corner of the piazza women from the surrounding farms sell
produce from their vegetable gardens. They sell tomatoes so rich
and sweet you can eat them like a piece of fruit.
All the men over retirement age are cheerfully interested in the work
of the devil. Their card games go on for hours in shady corners of the
piazza. But even the card games stop from 12.30 to 4.30 pm – to
avoid the heat of the day and ensure that lunch (and a snooze) can
be properly appreciated.
After your coffee you might walk through groves of massive, 1000year-old olive trees to a small fishing harbour and a sandy cove. The
warm, crystal-clear water might lure you in for a swim…
This scene, or something like it, is replayed in a thousand villages
every day. For those on the Food, Wine & Culture trip with Lucrezia,
la dolce vita is not a dream!
√=lÑÑJíÜÉJÄÉ~íÉå=íê~Åâ=áå=fí~äó
√=mçåó=íêÉâë=áå=pÜ~åÖêá=i~I=kÉé~ä
√=mä~åÉ=ÅÜ~êíÉêë=áå=kÉé~ä=C=fåÇá~
www.facebook.com/group.php?gid=49792577682
www.abs.org.au
Page 7
FLINDERS AVIATION
AIRCRAFT MAINTENANCE & REFURBISHING
ABN 62 699 602 353
CAA Approval No. 3183
At Flinders Aviation we can take care of your:✸ Window replacement Interior plastics
✸ Interior upholstery
✸ All stainless steel fittings
✸ Fibreglass repairs
✸ Exterior plastics
✸ Specialize in basic and intricate paint schemes
✸ Address all sheetmetal issues
✸ In-house Engineers to address all maintenance issues
✸ 26 years experience in refurbishing Australia's GA aircraft
✸ We are your one stop shop
✸ AIR BP Agent
Hangar 2. Redcliffe Aerodrome, Redcliffe Qld.
P.O. Box 564 Redcliffe Qld. 4020
Phone: 07 3203 0560 Fax: 07 3203 2505 www.flindersaviation.com
12/09
Page 8
https://twitter.com/BonanzaSociety
www.facebook.com/group.php?gid=49792577682
www.abs.org.au
BPPP ONLINE
Edgar Bassingthwaighte
resources, such as the excellent
"Flying the Beech Bonanza" by
John Eckalbar, and the resources
of Tom Turner's
Mastery of
Flight business. The BPPP
Online school takes the format
of Tom's excellent presentation
skills and w ill be recognisable to
those who have attended his
ground school presentations in
Australia.
The Australian BPPP has now been
running for a little over 20 years
and w ithout a doubt it has been
very much to the benefit of our
owner pilots of Bonanza and Baron
aircraft. One can tell by watching
the take offs and landings of those
who have had the BPPP experience
and comparing them to the average
performance at a typical general
aviation airfield.
Of course the question for ABS
Committees and BPPP Instructors
for some time has been: how can the
Program evolve to meet the needs of
present and future members of
ABS? The Flight Program is fine;
apart from a developing need for
specialist "glass cockpit" systems
training, the basic skills needed for
handling Bonanza class aircraft are
never going to change. Everybody
benefits from an annual brush up of those skills
whether they are attending their first BPPP or
their twenty first.
However on the Ground school side there has
been an increasing need for change of
approach. On the one hand we have long term
ABS members who have attended multiple
BPPP's and who desire to hear new subjects, or
have varying needs w ith regard to revision of
subjects they have heard before. On the other
hand we have new members who need to
absorb quite a vast amount of Aeronautical and
Systems data in order to know their aircraft
really well.
The problem is that a one day ground school
plus Flight Program (which in reality is as
much as our voluntary resources can manage
on an annual basis) cannot possibly present all
this information in one hit. Furthermore there
is only so much information pilots can usefully
absorb in a given period no matter how long
the ground school; so subjects have been
covered in the past over a number of
successive BPPP's.
So the advent of BPPP Online is timely and
another demonstration of the value of our
affiliation w ith the American Bonanza Society.
Apart from draw ing on the resources of the US
ABS, only in such a large market as the US can
a professional presenter and Flight Instructor
like Tom Turner develop a viable business
devoted to Bonanza type specific training.
The BPPP Online training program draws on
the American Bonanza Society's BPPP training
https://twitter.com/BonanzaSociety
You
w ill
appreciate
the
advantages
of
the
online
presentations, particularly being
able to backtrack and replay etc.
Each subject has a revision
exam and attached certificate
to certify your completion.
The subjects covering systems
for Bonanzas and Barons cover
all the models of aircraft since
the beginning of production.
There is some talk of
providing separate
training and certification for your own model of
Bonanza or Baron but personally I find it my
understanding of the systems to be enhanced
by seeing how they have evolved w ith the
development of the aircraft over the long
period of production.
The desired use of BPPP Online w ill be for
pilots to complete the course in their own time
over the year preceding a BPPP, and therefore
arriving at the fly in event w ith certification for
all subjects pertaining to Bonanza or Baron as
the case may be. We can then provide a brief
revision prior to the Flight Program along the
lines of the present "first timers" brief. Full day
ground schools, which might not necessarily
be held at every future BPPP fly in, would be
used to cover other subjects: recent safety
matters and anything else which may be
pertinent or of interest to pilots of Bonanzas
and Barons.
In summary BPPP Online is fully compatible
w ith our Australian Program, apart from some
references to US FAA regulations. Besides
enabling all pilots to arrive at a BPPP event
more knowledgeable about their aircraft and
generally better prepared, BPPP online is
going to considerably enhance the BPPP
experience for our Baron owners as to date we
have not had the resources to properly cover
Baron systems as well as Bonanza.
I think all our ABS members w ill find the
Online course to be of interest, no matter how
many BPPP's they have attended.
www.facebook.com/group.php?gid=49792577682
www.abs.org.au
Page 9
MISSED APPROACH – BUT WHAT THEN?
The missed approach may have implications far beyond the
physical power-gear-flaps actions. In an interesting article titled
Hit or Miss in the ABS magazine of June 2013 Edgar
Bassingthwaighte reminds us that the missed approach is "......just
a change from descent to climb, is it not?" His point is well made.
After all if the aircraft is capable of take-off it is more than capable
of go round!
Perhaps someone lines up when you are on short final.
You mutter a few words (to yourself) like "Whatever happened to
airmanship?" and give the approach away. Another situation perhaps you realise almost at the flare point that your touchdown
on this short strip will be too far down the runway and you
sensibly decide to go round. Even at such a late stage the go
round is not difficult. Just remember not to retract the gear until
positive climb out so that if anything touches or retouches the
ground it will be wheels – not fuselage or prop.
These two examples are simple missed approach manipulation
exercises in visual conditions and "But What Then?" probably
means no more than another circuit. But what if your missed
approach is due to weather and, to quote Edgar again, there is
".....solid IMC all the way down to the minima......."? Will you have
another attempt without delay, hold for a while in the hope of an
improvement in the weather or divert to alternate? There is no
clear-cut answer because there are so many factors to consider.
Let's ponder a hypothetical flight from say Essendon to Port
Macquarie with Coffs Harbour as alternate. Flight planning shows
you have all the endurance required, flight fuel, variable and fixed
reserves plus maybe half an hour of margin. On the missed
approach from Port Macquarie in heavy rain and thick cloud you
ask yourself if it is worth sacrificing some of that 30 minutes buffer
to have another go. Weather at Coffs suggests that an instrument
approach may also be necessary there. How accurate are those
fuel quantity gauges at low readings anyway?
In cases such as this it pays to have a (conservative) latest divert
time pre-calculated. If the destination airport happened to be in
controlled airspace and several aircraft were in holding patterns
then that is exactly the question Air Traffic Control would ask you.
Although an infrequent occurrence a missed approach is still a
normal operation. The airline I worked for had in early days a
requirement that the Captain fill in paper work in the event of any
missed approach. At an operations meeting I managed to
convince the various Flight Captains that a missed approach
should be considered no more than a normal procedure and that
a written report was unnecessary unless the Captain considered
the event operationally significant. That was progress!
Airline pilots of course keep up to date as much as possible en
route with forecast and actual destination weather. These days
they are seldom tankering much excess fuel, an expensive
commodity (that bit extra for "Mum and the kids", so popular in
the good old days – forget it!). Avoiding the carriage of extra fuel
makes sense because the more fuel you carry the heavier the
aircraft and thus the more you burn.
On a Boeing 727 Sydney-Perth night flight some years ago with
an ETA hours ahead of forecast fog probability we were some 300
miles out when advised that the fog was already forming.
With not too much margin fuel, quick calculations showed that we
could make one approach before diverting to Kalgoorlie- Boulder
(CAVOK there). I flew a high speed ILS, and right to the ground in
swirling, patchy mist was prepared to go round. I was fortunate,
with enough visibility to land - but the Kalgoorlie tarmac became
very cluttered with other aircraft that night.
Jakarta on cruise when approaching descent point Cocos. If one
descended into Cocos and missed out on the NDB approach that
diversion option was denied because of the extra fuel which would
be burned on climb-out. I never missed out on Cocos Island.
To go round because of violent weather poses its own problems.
At night a series of south-westerly squalls was battering Perth
(what! not Perth again?). The Boeing 767 is a stable platform on
approach but the closer I got to the ground the more unstable
things became. At about 50 feet agl. a violent gust blew the
aircraft off runway centre-line, padded the indicated airspeed with
momentary overshoot shear and forced a wing to drop. I went
round (the First Officer told me later he would have gone sooner).
As we climbed out a tiny, worrying voice in my mind kept saying,
"Well you've gone round, done the right thing, but you're going
to have to do it all over again". On the second approach the
weather was fortunately just a little less hazardous.
Sure, the missed approach itself may well be a relatively simple
flight task. The "But What Then?" sequel may not be.
Article by ABS member & retired
airline Captain David Donelly.
That incident had the warmish feeling of knowing that if a missed
approach was to be our lot there was a back-up airport available.
If there is no such back-up the comfort zone is eroded.
Such flights were Perth-Cocos Island, back-of-the-clock.
The Boeing 727 with full tanks on departure could still make
Page 10
www.facebook.com/group.php?gid=49792577682
www.abs.org.au
ABS Secretary
We are seeking a volunteer member to take over from
Jan Novakovic who wishes to retire.
The position includes:
• Nominating for the 2013-4 ABS Committee.
• Taking notes at Committee meetings (usually once a quarter
– usually recorded via teleconference) and AGM.
Distributing Minutes.
• Secretary's report detailing inwards and outwards
correspondence.
• Assisting with BPPP events.
• Sending out information packs to new members and thank
you letters to resigning members.
• Lodging ASIC report annually.
• Lodging insurance renewal annually.
• Maintaining filing of correspondence and memberships.
Please contact Peter Janssen at president@abs.org.au
for further information.
See the online version of this Magazine for additional material
ABS Presidents Medal is awarded for Outstanding Service to the Society.
It is chosen by the President at his/her discretion and is supplied courtesy of Carr Hordern
Recipients to date have been:
1998
Jo Davey
1999
John Chesterfield
2000
Peter Mochrie
2001
David McDonald
2002
No award
2003
Dennis, Len & Joan Bartlett
2004
No award
2005
2006
2007
2008
2009
2010
2011
2012
Peter Gordon
Judith Gordon
Richard Smart
Keith Duce
Edgar Bassingthwaighte
Jock Folan
Marian Jowitt
David Young
http://flightsolver.com.au
07 3870 0515
Flight Planning Software with a difference
x
x
x
x
x
x
x
x
x
See the weather before it hits your windshield
Type in your flight plan or create it with the mouse on the map
Automatic flight route resolver with preview
See sector interactions for fuel, weight and departure times
See the C of G change as you add your loads
Full undo/redo capability
Intuitive map loaded with details
In-built check list constantly reviews your plan and issues warnings
NAIPS Integration
Download a fully functional 3 week trial from http://flightsolver.com.au
Only $375 (includes 1 year data subscription).
Requires Windows XP or later.
www.facebook.com/group.php?gid=49792577682
www.abs.org.au
Page 11
Letters to the Editor
Peter,
After a very successful launch of APS
Australia, demand for a course in the
Sydney region has prompted us to do
one more for 2013.
Andrew Denyer and myself are pleased
to announce that bookings are now
open for 8-9-10 of November.
How well do you know your engine?
This course will pay for itself with a
better Return on Investment than
anything else (that is legal of course!).
http://www.advancedpilot.com/
livecourse-au.html
If you have any questions please email
me. For those who would like to see
Andrew and myself before this, we will
be exhibiting at AUSFLY 2013 in
Narromine, come along and drop by
the booth.
David Brown
Dear Australia Bonanza Society
Members,
I wish to draw to your attention to
changes that have been made to Civil
Aviation Order 100.5 (General
Requirements in respect of maintenance
of Australian Aircraft) 2013.
There is some conjecture that the
changes made to clause 9 of this order
may have a significant impact on the
maintenance of your aircraft,
particularly if it is maintained under
Schedule 5. These changes have been
gazetted to come into effect from 1
August 2013.
The proposed amendments to CAO 100.5
when advised to industry and prior to
being gazetted, only appeared to impact
maintenance required to be completed
on Pitot static systems, testing of
pressure altimeters and air data
computers, Airspeed indicators and Fuel
quantity gauges. The actual amendments,
particularly via the operation of Clause
9.1, go much further.
The clause within the amended CAO
100.5 raising our concerns, and those of
the industry, purport to require the
replacement of time-lifed components.
9.1 For subregulation 38 (1) of the
Regulations, CASA directs the registered
operator of an Australian aircraft to
comply with the maintenance
requirements for the aircraft and its
aeronautical products, including lifelimits, as established under the approved
design for the aircraft or product.
Note Contravention of a CASA
maintenance direction under this
subsection is a strict liability offence
under regulation 38 of the Regulations.
Literally interpreted, this clause means
that any time life components (that
exceed the manufacturers calendar life)
that exist on your aircraft after 01
August 2013, would need to be
overhauled or replaced at the time of
your next annual or 100 hourly
inspection. This would lead to major
expense to those operators making use
of instruments such as AD ENG4/5 and
AD PROP/1, to extend their engines and
propellers beyond the calendar lives
recommended by their manufacturers.
The following service information has
been released by the Beechcraft
Corporation Technical Publications
department. retrieve the publication
online or go to pubs.beechcraft.com to
log on to the site.
I am pleased to report that as a result of
the representations to CASA by AMROBA
and other industry representatives, this
issue is in the process of being clarified.
Whilst not set in stone, the following is
an extract from an email from Peter
Boyd (CASA Standards Executive
Manager) to Ken Cannane of AMROBA,
which leads me to believe that common
sense will be applied, at least in a
transitional manner, to this issue.
"Ken, Thank you for drawing this to our
attention. In response to your concerns
detailed in your emails, CASA can assure
you that the operation of AD/ENG/4 & 5,
together with AD/PROP/1 is not affected.
However, to avoid any confusion, the
wording of Paragraph 9.1 of CAO 100.5
will be amended to clarify the intention
and will be released prior to the effective
date of 1 August 2013. Peter"
We will endeavour to keep abreast of
developments on this issue. You should
talk to your LAME to determine how
these proposed changes impact the
maintenance of your aircraft. Further
we would recommend you speak to your
LAME in relation to the ongoing issues
that these changes to the regulations
may have on maintaining your aircraft in
accordance with CASA schedule 5. In the
interim, please find attached a copy of
the amended CAO 100.5.
Should you have any questions please
contact David Young on 0423 003 306 and
we will try to assist with your questions.
Yours faithfully,
David Young:
david_young@ecn.net.au
M: 0423 003 306
Peter Janssen: president@abs.org.au
M: 0418 168 723
Dear ABS Members,
A special offer from the American
Bonanza Society to our ABS-AUS
Members to experience the BPPP
Online Ground School Course.
Australian Bonanza Society members
may now learn even more about
skillfully and safely flying their
Beechcraft with BPPP Online from the
American Bonanza Society's Air Safety
Foundation. BPPP Online is a program
of 13 individual courses on Beechcraft
systems, operation and procedures in a
convenient online format you may take
on at your convenience and with 12
months to complete the 13 modules. BPPP Online is "a most valuable
resource for us in the future
development of our BPPP," says Edgar
Bassingthwaighte, BPPP instructor for
Australia's Beechcraft Pilot Proficiency
Program. "Pilots would come to a
flight program much better prepared if
they have done this course in their
own time at home."
For anyone with daggy placards in their
Beech, Mike and Loretta Kelly at Flinders
arranged for a local guy to make a
replacement placard for the cargo area
in my B55 - looks like a factory one and
probably 0.000001% of the cost of the
genuine article!!! Mailed the old one up
to them and the replacement arrived in
the mail this week.
Tony Lavan
Page 12
www.facebook.com/group.php?gid=49792577682
www.abs.org.au
BPPP Online works on PC and Mac OS.
After enrolling, you may also download
the free iPad app (search for "BPPP"
in the App Store) and use your BPPP
Online credentials on your iPad.
Cost of the 13-course online program is
only USD $150. To register, contact
Melissa Schnieders at
bppp@bonanza.org.
Melissa will send you a coupon code
and instructions for enrolling in
BPPP Online. Please let Melissa or me know if you
have any questions. I hope BPPP Online
is a valuable resource to you in our
mutual effort to keep all Beechcraft
pilots safe. Thank you.
Thomas P. Turner
Executive Director
ABS Air Safety Foundation FYI, it appears Beech has sold off the
southwest corner of Beech Field, and
Plant 2, home of Bonanza/Travel
Air/Debonair/Baron production since
1952, will soon be torn down. I've alerted the Beechcraft Heritage
Museum to ask their factory contacts
about any artifacts that may be left.
I'll keep you advised.
Dear ABS Members
Please join this campaign to the
Australian Federal Government to
remove ASIC Cards entirely:
http://chn.ge/16wtpo0
For the members of the Australian Bonanza Society Ltd.
The Annual General Meeting will be held on
Saturday 12 October 2013 at Mildura Grand Hotel
Seventh Avenue Mildura, Vic 3500,
Commencing at 5.00 pm sharp.
Regards
Peter Gordon
Peter
As you know Claire passed away about
a month ago. Very sad for me, but I
now have much more time on my
hands. I still have a great interest in
flying and the ABS and I thought that
on some of the trips you organise,
someone might like to have an extra
passenger, ex pilot, who would share
the cost of the aeroplane. If so, I
would be very interested.
Regards
Bob Stockwell
e: bobandclaire@msn.com.au
Thomas P. Turner
Executive Director
ABS Air Safety Foundation
NOTICE TO MEMBERS - ANNUAL GENERAL MEETING
Included in this mail out are the Nomination forms for the vacant
positions of the Committee and Proxy forms for the AGM.
Peter Janssen and his committee urge you to consider nominating
yourself or another member (with their consent) who you consider
can contribute to the management of the society.
There are currently two positions vacant,
Secretary and one Committee Member.
Nominations will close at midnight on the
13 September 2013 and late nominations cannot be accepted.
Therefore please return your nomination to:
Secretary, Jan Novakovic
Australian Bonanza Society Ltd
C/o 3 Petriana Court, TORQUAY VIC. 3228
Email: jgordon@vic.chariot.net.au
Fax: 61 3 4206 7170
With reference to item 49(e) of the Articles of Association:
At least fourteen days before the date of the Annual General
Meeting, a list of Candidate's names in alphabetical order with
the proposers and seconders names together with a personal
biography of each candidate and a ballot paper bearing the
names of the candidates shall be handed emailed or posted to
every member entitled to vote. The ballot shall close on the
day preceding the day of the Annual General Meeting and any
ballot papers delivered personally, by post, facsimile or
electronic mail at the registered office of the Society by the
said closing date, shall be counted in the ballot.
If you are unable to attend the Annual General Meeting/Fly-in,
please return your proxy form to the Secretary, as noted above.
STOP PRESS
And a word on recurrent training from the Executive
Director of our sister organization in the USA:
We are endeavouring to keep members informed
about latest breaking news and events and we need
your current email address to do so. If you do not
currently receive emails from us and wish to
receive future ABS emails please email
pgordon@vic.chariot.net.au and allow this
email address in your inbox.
I'd like to renew my encouragement for Australian members
to participate in the ABS AVIATOR program.
ABS AVIATOR encourages pilots to go beyond the minimum
requirements to exercise privileges of pilot certificates and
rates, and to foster an attitude of lifelong learning about
flying safely. We'll recognize the Australian BPPP
at the same level as the U.S. version.
Please let me know if you have any questions.
If you wish to opt out of ABS broadcast emails
please email info@abs.org.au to unsubscribe.
Thomas P. Turner,
Executive Director, American Bonanza Society
The ABS is pleased to notify you of our new aircraft for sale website at www.abs.org.au
If you are wanting to sell or purchase a Beechcraft aeroplane this is the place to advertise.
Please contact Peter Gordon at pgordon@vic.chariot.net.au for advertising rates and assistance with graphic design.
NEW CAP FROM THE ABS FOR ONLY $20.00
Contact Judith Gordon
3 PETRIANA COURT
TORQUAY VIC 3228
Here is the link below to browse the new
BOM aviation weather site.
Phone: 03 5261 5382
Facsimile: 03 4206 7170
jgordon@vic.chariot.net.au
www.facebook.com/group.php?gid=49792577682
We are pleased to advise you that the
Australian Bonanza Society - Weather Links NEW BOM WEATHER SITE LINK IS NOW AVAILABLE
http://www.abs.org.au/index.php?beechcraft_aircraft=3
www.abs.org.au
Page 13
Leaning is like Sex……
Engine Management 101
The more you do the longer range you have?
The more you do it the better you become?
You want to do it but don't want to get seen doing it?
If you do it all wrong it will cost you a heap!!
Ok enough of that, I did think of a few more, but I might
get the editor's chop if I start writing like a chapter of
"Fifty Shades of Grey". Mind you it might just be the
secret to getting all the wives and girlfriends interested
in engine management………
So here I am reviewing the last article so I can do my
best to lead into the next one with less of my random
thought patterns, and I read the first part of the previous
article which read "You never touch the red knob, and if
you did it was a very hit and miss affair." Now maybe it
is the fresh air in the Smokey Mountains of North
Carolina where I am writing this from, but I am not sure
why the notion of a hit and miss affair prompted this, but
my mind is random!
So leaning and sex have a lot in common, I am referring
to education that is, keep your mind on the task at hand
would you! You go to school to be educated for the
upcoming world as a young adult, and the teacher gives
you a few brief lessons on some useful things along the
way, sex-ed being one of them, and it rather resembles
the lessons on leaning an engine. What works and what
doesn't and why rarely comes into the picture. You are
thrown out the end of school to figure it out all by
yourself, or perhaps for the early starters (GFPT STAGE),
you then start being educated by your peers, those who
have gone before you, and are trusted sources of
information, those you believe to be well experienced.
Truth is they are all talk and know very little indeed.
So from the schoolyard to the airfield (hehe… I was not
at the airfield) you can see the similarities in the
learning process. We get taught stuff that is like Chinese
Whispers or tribal teachings passed down the
generations and subject to all sorts of variation along the
way. The problem is that while an ancient Cherokee
Indian story or one from The Dreamtime can tolerate a
fair amount of drift over time, the science behind Avgas
in your cylinder cannot! Well once again I must caution
you all to become students of the science. After all who
says my "schoolyard advice" is any better than your
airfield buddy? Well of course only one of us is correct,
and you can be sure I know who is, but now is another
good time to remind you of whom the proven expert
educators in this field are and strongly urge you to take
part in their formal education process. At the bare
minimum the online version of the APS course, which
can be found at www.advancedpilot.com and is I must say
under-priced and exceptional value.
I have mentioned a couple of times now that the science
behind engine operation is the same be it an injected or
Page 14
carburetted engine and for that matter your Briggs &
Stratton mower engine, so this edition I will try to
concentrate on the carby engine folk as well, as there are
plenty of pilots with carburetted aeroplanes as well as
injected ones. Remember this is all the same science, just
the application requires some slightly different techniques
at times. Referring back to a previous edition, we went
through the process of starting and then immediately
setting an aggressively lean mixture, such that the rpm
peaks and just starts to fall again. During our climb out we
noted the Target EGT and climbed using this to keep the
mixture at its optimum all the way to Top of Climb.
The only exception to this is when doing a LOP climb
(perfectly valid) or when climbing up into the FL's where
once we are into less dense air we may be better climbing
at a best power setting around 75-80 ROP.
What is different for a carburetted engine? Well not a
great deal, the ground run and take off are all the same,
however once we are in the cruise speed has built up,
CHT's are coming down, we are ready to start leaning for
a much more efficient power setting. Referring to the
same chart as last time we can see that the best speed for
the amount of fuel will be around 10-20F LOP (at lower
power settings), and in many cases this is about as far as
you can get a carby engine. It is just the simple fact that
fuel / air distribution is a lot less likely to be consistent
cylinder to cylinder. The chances are you may not be
able to get them all past peak before the first one peaked
becomes a non-player. This is when roughness begins.
Is there anything wrong with having one or two at Peak
EGT and a couple a little past peak? Well let's have a look
at the graph and see what it tells us. CHT is lower,
because the ICP (Internal Cylinder Pressure) is lower, the
HP produced is only slightly less, and our 1/BSFC is
almost optimum. BSFC is Brake Specific Fuel
Consumption, in other words when the curve is inverted
it represents economy. So provided we are at a power
setting that is safe to operate in this region (65% or less),
there is no down side, and all the good things exist.
Does everything it should and nothing it should not.
Just at peak we are not getting the best value per litre
and the cylinder temperatures and pressures could still
be better. So a little leaner is actually better.
Sounds good in theory, but to get this to work in say an
O-360 with a fixed pitch prop, how can it be done? First is
an understanding of exactly what is going on in the
engine. I do believe just reading this article is not enough.
I can only hope to expand your mind, just enough to the
point you take the trouble to learn more. Having said that
it can be done and at the typical cruise levels above say
6000' you can't do any harm anyway. Some folk will say
fuel is cheap, and they set the engine up in a rough guess
approach, the old "two turns in" is the favourite story. Well
let's have a look at the curves and see what the 10oF LOP
equals on the ROP side of the curves. Same CHT as 125150 ROP but that would be a significant increase in fuel
https://twitter.com/BonanzaSociety
www.facebook.com/group.php?gid=49792577682
www.abs.org.au
flow. The ICP would be the same as CHT by some not so
strange coincidence, horsepower is slightly less, but not a
great deal, and naturally our efficiency has improved
greatly. So this sounds like something you would be
rewarded for your efforts.
Remember your O-360 cylinder and piston does not
know it is the O version from its IO cousin, it has no idea,
the spark plug has no idea, and the fuel has no idea.
The difference in success is not there, it is in the means
of getting the fuel and the air into the cylinder together.
With a carburettor the mass airflow is measured and the
fuel metered, but at a great distance from the final
destination. Unlike the IO where it is sprayed into the
intake port, in a carby engine the air and fuel have to
travel out of the carby, through a chamber, find their way
into the intake tubes, all of which have some intersection
points, and changes in direction. All of these have an
effect on the fuel staying in suspension during the trip.
When you think about your engine being 4 or 6 separate
engines on a common crank, you really want them all
playing the same game, yet they are being fed a different
diet. To make matters worse, the fuel is coming out of
the carburettor in all manner of droplet sizes, and the
heavier ones do not want to change direction like their
smaller buddies. No doubt you can see a problem here.
So how can we improve the situation, even just a little bit,
to make it more consistent across all cylinders? Besides
fitting injectors and a Fuel Control Unit, there are a few
things at our disposal. They are the throttle itself, and
Carby Heat. However before we talk about them, let's
have a quick look at a "conforming engine". That is one
that given the good stuff, can process it as best it can.
The first thing would be our little friend the spark plug.
Revisit my article (Have You Enough Spark in Your
Plug) from earlier this year about this often forgotten yet
critical component. Related to that is your magneto, its
timing and the condition of the leads, and every
connection point. Cleanliness of contacts including the
insulators, nothing like a bit of tracking to ruin a good
spark! All your intake joints must be free of leaks. One of
the most troublesome problems I see and hear of is
caused by intake leaks. And believe me; I have suffered
from this first hand. Every time your cowls are off go
looking for induction leaks at the tubes and the head
gaskets on the top of the tubes. Using an engine monitor
and reducing MP at low level can help show up an
induction leak, as the higher pressure air gets into the
cylinder through the leak, rather than the reduced
pressure in the intake system. On the lean side, a drop in
EGT and a rough running engine. On the Rich side, an
increase in EGT and CHT can be observed but not likely
any roughness at all depending where on that famous
curve you are. So again I say the EMS pays for itself just
in maintenance alone! And knowing what is "Normal"
for your engine.
Onto the Throttle - what can this do to help? If we
imagine the airflow over the butterfly plate when it is at
full throttle, there is very little obstruction and the flow
is not disturbed very much, however by pulling the
throttle out a little we introduce a major disturbance,
without greatly affecting the manifold pressure. It is this
www.facebook.com/group.php?gid=49792577682
www.abs.org.au
more turbulent flow that can help in stirring up the mix
of air and fuel, and just maybe you might get a better
blend going to each cylinder, and finer atomization, so
less heavy droplets falling out along the way.
The other little distribution helper is strangely enough
Carburettor Heat. While warmer air is less dense and
therefore going to be less capable of generating
horsepower, the trade-off is it can be beneficial in aiding
fuel atomisation. As you can imagine in the journey to
your cylinder, better atomization will mean better
distribution to the intake tube, and into the cylinder.
If you think about the result whether running ROP or
LOP, there will be a benefit, the problem is knowing how
much heat is enough or too much.
In every engine there will be an optimum, and
depending on the temperature of the day, the power
being produced (heat under the cowling) and as a result
the air flowing through the intake system the engine will
have a different carby and intake air temperature.
The engine's intake air will have an optimum temperature
to best carry the atomized fuel, and it is affected by the
aforementioned sources. So how the heck do you know
what this optimum is? And how can it be repeated?
First of all, there is one essential tool. Yep you guessed it
the Engine Monitor. And if you think your carby engine
does not warrant one, you are wrong!! The second best
investment you can make. The best is mentioned
elsewhere in this article, your challenge is to tell me
where and what. Now back on topic Brownie. The idea
being that with all 4 or 6 EGT probes being placed in an
identical position, the combustion gasses will be about
the same given the same air/fuel ratio. This is not always
exact, and don't get hung up about it, but the concept is
important. That being the case, the EGT values displayed
can be used as a relative measure of one cylinder
compared to the others. The closer the EGT values the
most likely we have similar air / fuel ratios in each
cylinder. This is the ONLY time the "EGT Spread" is
actually useful. Contrary to popular myth. If we adjust
either the throttle plate, or the carburettor heat or
perhaps a combination of both to achieve the smallest
difference between the EGT values, we can reasonably
assume we have all cylinders as closely matched as we
can. There are no good or bad numbers here; we are only
concerned in finding the closest range between all EGT's.
The hangar talk you hear about my "EGT Spread is X" is
meaningless. If you had a poorly conforming engine,
and random but lucky probe placement, you could have
a perfect match at some point, but it is misleading and
pointless. So please do not get into an airfield
competition for "EGT Spread" as it really is silly.
While you do this take your time, do it slowly as things
need to warm up a bit after the heat is applied. Besides
you need to take notes.
Now we have been flying along, and had a play with the
Carby Heat, while our safety pilot (you did take one of
course) has been looking out and flying the plane for you,
and we have found the point where the least difference
between the highest and lowest EGT exists or the least
Page 15
spread of EGT's between all of them. So we hopefully have
a sufficiently good balance between our cylinders.
Time for a detour, if you would cut me some slack here.
For those of you who have made the second best
investment in your aviation life, and have an engine
monitor that has an input which is either designated for
Carb Temp or has an analogue input that can be used as
one, you are in for some really good news. Once you have
found this temperature by the above process, all you
have to do in future is just pull on the carby heat until
you hit and can maintain this Carb Temp number.
(Altitude & RPM) from an engine manual, say 75%, and
then leaned to the point the cylinders were all just LOP,
you would have 65% power. And at that power setting in
the cruise you will be at a safe stress free setting and
getting max MPG. You will know when you are LOP, the
engine will drop about 100-200 RPM, in doing so the
EGT values will all change as the RPM alters, but you
will be on the safe side. All the parameters you would use
from any of John Deakin's articles apply, so doing this at
low level and high power involves a lot of care, but once
above 7500' you can't go wrong. Refer to the attached
"Red Box" chart courtesy of Advanced Pilot Seminars.
Enough for this edition, if anyone has any questions, or
does not believe or follow the science behind this article,
please write to me. I will do my best to include your
questions (anonymously if you prefer) in a brief segment
before the next article. You might ask something others
want to ask but are too scared to, please email me at
david.brown@advancedpilot.com and I will see what I
can do! Next issue will be something of a surprise,
mainly because I have no idea on exactly what yet, but if
you have something to suggest, please do.
Ok, back to the task at hand, so we have a carb temp that
reflects the induction air temp we want or should I say
need, now it is a process of leaning just like in an
aeroplane with an IO engine. Simple stuff! Now would be
a good time to understand where to operate your engine
at different parameters, so get yourself educated.
This applies whether your mission is one that calls for
ROP operation or LOP operation.
Until the next edition, safe flying, and Live Life!
David Brown
Advanced Pilot Seminars Australia
www.advancedpilot.com
So to wrap up this a bit here, what if you have a fixed
pitch prop? At high altitudes like 9000' - 12,000' Wide
Open Throttle will be the answer, and if you lean back to
around 10-20 LOP which is where the best value for your
fuel dollar is, the RPM will fall away as you develop less
HP. In fact if you are able to get quite a bit LOP, and this
is quite possible, your mixture knob will become your
second RPM controller. How cool is that! Not just your
CHT's are cool now!
I am loath to give rules of thumb out as someone will
quote something out of context or something, but in
rough terms, if you set a power setting (MP & RPM) or
Page 16
https://twitter.com/BonanzaSociety
www.facebook.com/group.php?gid=49792577682
www.abs.org.au
WORKING WITH YOUR AUTOPILOT
For single pilot operators the autopilot is your co-pilot
and the way it is operated or integrated with your overall
operation of the aircraft will have a big influence on the
smoothness and efficiency of your flight.
How you manage the AP and when or how you initiate its
use or final disconnection will depend a lot on what
model and vintage it is, with late model equipment
being, naturally, more capable, much smoother in
intercepting altitudes, etc and in late model aircraft
autopilots fully integrated with glass cockpit systems.
With earlier model AP's like the Century III and IV which
still equip much of our fleet, a little more work is
required to smooth out the pilot/autopilot interface.
First and foremost it is important to have a good
understanding of AP operation and mode selection through
a careful study of the POH supplement. Also to be found
here is the autopilot checklist. Generally a full system check
is done on the first flight of the day and on subsequent
flights a simple test of selecting AP on and disconnect.
On departure autopilot modes are usually selected in
ascending order: pitch/roll > heading > nav; and then on
arrival, excepting approaches, descending order: nav >
heading > off. Engaging and using the autopilot should
be an integral part of the departure plan. On an IFR
departure with Century III / IV you would normally align
the heading bug with the departure runway, or
alternatively the initial assigned heading, then after take
off engage "Pitch / Roll" and then "Heading".
Actually, on the Century series AP's and others of similar
vintage like Piper's Navomatic, I have found the Pitch
wheel control on these types to be quite finicky for setting
the required climb and descent attitude so I have always
preferred to climb and descend these type AP's on aircraft
trim alone and then engage "Pitch" and "Altitude Hold"
together. As a matter of fact I flew around for something
like fifteen years on two separate A36's with nothing more
than a Century I single axis AP. The former one was simply
a wing leveller and the latter one, which I operated IFR,
had NAV steering but no heading function.
Admittedly that would not cut the mustard today with
SID's and STAR's etc and a more intense CTA
environment, but the point is that the Bonanza is very
stable at a trimmed airspeed and with Century III / IV
equipment I still prefer this technique for climbing and
descending which I find gives the smoothest result.
On later model AP's with Flight Director and or Control
Wheel Steer function it is easier to select the appropriate
attitude for climb or use vertical speed selection if you
have it. Just be sure the selected Vertical Speed for climb
is well within aircraft performance capability.
At Top of Climb with Century III / IV you can select "Pitch"
and "Alt" together or level out and trim manually via
applying pressure on the central control column, and
then select Pitch and Alt modes. Without altitude preselect of course you have to select "Alt" right on the
assigned altitude which can result in a rather abrupt
level out; in addition a lot of older AP's have got quite
sluggish in the electric trim which can mean the AP
never trims the aircraft precisely, leading to constant
www.facebook.com/group.php?gid=49792577682
www.abs.org.au
pressure on the pitch servo and a bit of an attitude bump
when you disengage the autopilot. So there can be a
number of reasons for using a manual pilot controlled
level out, exerting control column pressure on elevators
alone while still retaining "Heading" or "Nav" mode easy to do on Bonanzas and Barons with the central
control column.
At top of descent on Century series AP's you can pitch
down using the pitch control on the AP, or as I prefer,
switch off "Pitch" and "Alt" modes, pull the power back
by 5" Manifold Pressure, and descend at the cruise trim
setting, which gives the required 500fpm. On reaching
the assigned altitude you can re-select "Pitch & Alt" and
bring the power to the required setting: Cruise or
Approach power.
On later model AP's with vertical speed mode it is simply
a matter of selecting 500fpm (or use the Vertical Nav
Mode if you have it) and controlling speed with power.
Of course the trap with modern autopilot (or "Integrated
Flight Control System") is its very capability and
consequent potential for pilots to become absorbed in
peripheral matters at the expense of situational
awareness. The three principal questions for the pilot to
continually ask of the autopilot are: "What Mode is it
in?"; "What is it Doing?" and even more importantly
"What is it Not Doing?" (eg managing power).
Setting up an Instrument Approach with Century series
AP's is going to depend a little on which model you have
so a careful study of the POH Supplement is important.
With any autopilot system be sure to give the AP the
same power settings for each segment of the flight as
you would give yourself if you were flying manually.
That way you know exactly what parameters the AP
should be following at any point in the flight. Study the
"Flight by the Numbers" in the BPPP training manual (or
at BPPP Online) for very valuable guidance.
Apart from the instances mentioned above in which you
might engage only "Roll" / "Heading" / "Nav" modes on
Century series autopilots during climb and descent, it is
not good policy to hold the controls while AP is engaged;
even then you would apply any pressure only to elevator
and only when "Pitch" mode is not engaged, not the
ailerons. It is best that there is no ambiguity as to who
or what is directing the course of the aircraft.
If the AP at any time is not doing what you expect it to
do either downgrade the Mode of operation, say from
"Nav" to "Heading" or, particularly if conducting an
autopilot coupled approach, immediately press the AP /
Trim Disconnect and take over control.
Think of using your autopilot via the old "Hand Over /
Take Over" practice of your training days: "Handing
Over" - AP Engage - Release Controls; "Taking Over" Hold Controls - AP Disengage.
Edgar Bassingthwaighte
bassb16@bigpond.com
North Stradbroke Island
25th august 2013
Page 17
Return on Investment in Aviation. Part II
We all joke about how we aerial travelling, magic
carpet owners make boat owners look like
financial geniuses, however what does our
chosen passion have to offer that is an excellent
ROI that even an accountant would believe in?
For those who read the last article I wrote on
ROI in aviation w ill recall my favourite saying is
the best return on investment in aviation (our
part of aviation-piston GA) is installing an engine
monitor system (EMS) and education (APS).
For this edition I want to look at a couple of
recent real life examples of where both of these
investments have paid off in spades, in just
one incident.
Yesterday, my good friend and active ABS
member David Young and I were discussing
things on all manner of topics, and he mentioned
that he had seen some lethargic responses from
mag checks on his No. 6 cylinder.
Normally when you have a faulty plug the EGT
w ill rise due to the slower flame front causing
a later peak pressure or greater Theta PP and
as a result the lesser expansion of the gasses
causing a higher EGT, or in extreme cases
combustion still going on out the exhaust, and
that really has a lesser expansion. PV=nRT for
those who are trying to remember their high
school physics classes.
Davids observations seemed to be not like this,
more like very little rise and on both plugs/mags.
So out we go to the hanger, pull the plugs, have
a look w ith the borescope while we were at it
and the object was to test the plugs for
resistance. After 1300 hours on these fine w ire
plugs the plug electrodes looked fine but the
multi-meter said differently. Instead of 5,000
ohms we had several hundred thousand and 1
million ohms.
So before we do anything further, the engine
deserves a full set of new plugs, the contacts
cleaning up from all the tracking going on inside
the plug entry, and then we w ill see if there are
any further bugs in the system.
Had David not had his engine monitor and some
understanding of what was normal and when
something was not, this would go on for a long
time, eventually resulting in stress damage to
the magneto coils and possibly an expensive
fault finding exercise in some remote location.
The costs avoided are potentially huge.
The best return on investment in aviation is
installing an engine monitor system (EMS) and
education (APS).
Page 18
The next storey is a little more complex and a bit
more interesting. Another Bonanza pilot who is a
graduate of the Advanced Pilot Seminar in
Brisbane a few months ago made a comment on an
engine related thread on Beech Talk. I noted his
comments and we started an offline discussion.
This particular chap is the envy of many of us, he
has a lovely A36 fitted w ith some very nice
Garmin glass goodies, and recently a Tornado
Alley Turbo upgrade to his IO520. The TNIO 520
is a thing of much beauty, and so is his panel.
Anyway as a graduate of APS he has the ongoing
tech support of myself, Andrew Denyer (Riverina
Airmotive), and if need be John, Walter and
George in the USA. So we start a discussion
related to his new installation and why the fuel
flow on takeoff at Full Rich is so high.
For a start, he realised this seemed to be higher
than expected, but it did run OK, all the EGT's
and TIT were as you expect, and the CHT's
were also good but maybe a bit lower than you
would expect. Nobody, including the LAME's
that did the installation seemed to realise there
was a problem.
I asked for some data, yes that pesky data
question, but w ithout it we are guessing. I
suspected there not just one problem here but in
fact two! I wonder how many of you have
worked this out already? If you have, great work.
If you have not worked it out, this is a clear
message you could do w ith a trip to Camden in
November to the next APS class.
So what on earth could give you excessive high
fuel flow, normal EGT/TIT and CHT (or a bit
lower than expected)? Well let's do a mental
exercise. What would you expect would happen
if we reduced the fuel flow back to 32 USGPH
which is where it should be? And yes you can roll
down the runway and make this adjustment.
The answer is the EGT should rise, and so should
the CHT. And it did exactly that!
So now we have an experiment where the fuel
flow is correct but the EGT and TIT are
abnormally high. Classic case of a mis-timed
engine. With a retarded engine you w ill have
higher EGT and lower CHT.
Just as I predicted the two problems were
cancelling each other out. The fuel flow was
about 3-4 GPH too high and the mags were
about 1.5 degrees retarded.
The cost of this over time would be huge in
terms of fuel burn and the deposits in the
engine, and if one or the other problem were
https://twitter.com/BonanzaSociety
www.facebook.com/group.php?gid=49792577682
www.abs.org.au
corrected the other would still remain and that
would have sub optimal effects.
Without an EMS how long could this have gone
on for undetected. What is more, having an
EMS would you know what you were looking at
anyway? I often say just like a dog watching TV,
most pilots watch their engine monitor. In this
example Martin was able to fly into the LAME's
airport and directly tell them what to do w ith
complete confidence. He flew out w ith a
perfect result.
That is priceless. And so are the photo's he sends
me of doing over 200 knots TAS, so next I need
to find him a static or pitot correction, if only to
make the rest of us feel better!!
http://www.advancedpilot.com/livecourse-au.html
If you have done the online course in the last
twelve months and can provide evidence of
doing so there is a discount available to you.
If you are in doubt about the value, find a local
Beech owner who has done it and ask them.
If you do not know one, email me and I w ill put
you in touch w ith a couple. This w ill not just
save you money, it may one day save your life!
We look forward to seeing you there!
Safe flying and live life!
David Brown
Advanced Pilot Seminars Australia
davidbrown@advancedpilot.com
Once again the best return on investment in
aviation is installing an engine monitor system
(EMS) and education (APS).
Andrew Denyer and myself are keen to see as
many ABS members at the next Advanced Pilot
Seminar to be held in Camden on the 8th-10th of
November. The course cost is $1290 including
GST and we guarantee if you complete the
course and do not learn a heap, we w ill refund
your money!
Bookings can be made by going to the APS
website at:-
For Sale - A36 VH-EUB
Dear ABS Members,
Tell your Beech-flying friends: International
members can now save US$38 with an electroniconly membership in the American Bonanza
Society. You get full member benefits, including
technical services, educational items,
unrestricted website access and the complete
ABS Magazine in its new online format. Go to
www.bonanza.org and click on Join ABS
Today and check the International (no
magazine/online only) membership option.
If it is time to renew your membership, click on
the renewal feature and complete the
information.
Put FNM in comments and we will only charge
your Visa or MasterCard US$55.00.
A36 Bonanza Serial No. E-251
TT 6610hrs This privately owned A36 has been
hangared and is in excellent mechanical condition
with a full leather interior and seats in new condition.
The aircraft has just been repainted. It comes with a
fresh 100hr annual in November 2011.
It has a near new super simitar prop. The a/c was
corrosion proofed in the factory and does not have any
corrosion issues. The engine was a special assembly with
balanced pistons and a RAM cam for extra HP.
It is in as new condition and is very smooth running.
The avionics have been completely updated with a
fully coupled S-Tec 55X autopilot linked to a Garmin
430 GPS. Extras include electric trim and vertical
speed control. The Garmin audio panel has full stereo
outlets to all passengers and auto squelch linked to a
CD player.
This membership type requires an email address.
Let me know if you have any questions!
This Bonanza is optioned with Dual Brakes and a dual
control column and is very light with an empty useful
load of approx 660kg and 430kg payload with full fuel.
There is nothing to spend and the first to see will buy.
Paula Tomlinson ABS Membership Coordinator
Email:bonanza5@bonanza.org
$150,000+GST ONO. Ph. Rob 0428 811 167
www.facebook.com/group.php?gid=49792577682
www.abs.org.au
E-Mail kerr@mira.net
Page 19
FOR SALE - VH-RNR 1977 B55 BARON
SERIAL NUMBER TC 2083
Century 1V Autopilot and Yaw Damper.
Garmin GNS 430 nav/com/gps coupled to
Autopilot
Trimble 2000T GPS with Navalert.
Garmin GMA 340 audio panel.
Collins WXR 220 Colour Radar.
Collins 351/251 Nav/Com
Collins TDR 950 transponder
Collins ADF 650
King KI 229 dual needle RMI
NSD 360 HSI/ remote compass system.
Sunair HF.
Monroy Air Traffic Detector
Shadin Digiflow
Shadin AMS 2000 altitude management.
EDM 760 engine monitoring system.
GAMI injectors.
Two air driven ADIs
R.C.Allen electric ADI
Electric turn and slip indicator.
Dual controls and co-pilot brakes.
Beryl D'Shannon VG kit
Airwolf remote oil filters.
Bose headsets.
Rosen sunvisors.
Full Soundex noise insulation.
Pneumatic door seal
Starter engaged lights
Fuel pressure warning lights.
Eagle fuel drains.
Approach plate holder.
Davtron yoke chronometer.
As new leather upholstery.
Custom fitted curtains.
Excellent paint.
TOTAL TIME: 3,170 HOURS. SAME OWNER LAST 14 YEARS. ALWAYS HANGARED.
FEATURED AS BEECHCRAFT OF THE MONTH AMERICAN ABS MAGAZINE DECEMBER 2005.
AIR WORK/IFR/PRIVATE MAINTENANCE RELEASE
ENGINES: HAWKER BLUE SEAL CALENDAR EXPIRED
Left engine: 1410 hrs (90 hrs to run) Right engine: 1370 hrs (130 hrs to run)
TOP OVERHAUL CARRIED OUT BY RIVERINA AIRMOTIVE PARAFIELD IN AUGUST 2006.
METICULOUSLY MAINTAINED BY AERO SERVICE PARAFIELD.
WING BOLT 15 YEAR A.D. COMPLETED 2011.
CABIN HEATER REPLACED 2012.
FRESH ANNUAL COMPLETED AUGUST 2012.
NEW 3 BLADE PROPELLORS APRIL 2008.
1700 HRS and 6 YRS before first overhaul due.
FRESH ANNUAL WITH SALE or
PRE-BUY INSPECTION REFUNDED UPON SALE
$150,000 No GST.
Ph. Ted 08 85564882 0418 660 744
E-Mail: grape-escape@bigpond.com
,&)$$$*&
(
&)$$$*&
(
&)$$$*&
&
& +
+ ''()*++,-+./""+-
''()*++,-+./""+-
Page 20
!"##$
!"##$
%&
!""
%&
!""
www.facebook.com/group.php?gid=49792577682
-.,/0/)
.,/0/)
!
!
"#$%
&'$$
"#$% &'$$
www.abs.org.au
AIRCRAFT MAINTENANCE
SPECIALISTS
ALL PROPELLERS & GOVERNORS
For your next overhaul or repair call Nigel
or visit: www.propcare.com.au
Capabilities:
h Repair, Overhaul & Sales of ALL TYPES
of propellers
h Repair, Overhaul & Sales of ALL TYPES
of piston engine governors.
h Non-destructive testing service.
h Re-pitching service.
h Shot Peening.
PROP CARE AUSTRALIA PTY LTD
•Periodic inspections to charter IFR requirements
• Beechcraft Specialists
• Re-weighs & C of A's
• Pre-purchase inspections
• Insurance repairs
• Aircraft salvage & transport up to C400 series
• Large inventory of new & serviceable parts
• Environmental systems
• Aircraft refurbishment
• G & D Aero tinted window inserts (Authorised Installers)
• Corrosion proofing
• ABS member
A.B.N. 84 083 605 529
HANGAR 2 ARCHERFIELD AIRPORT
PO Box 67, ARCHERFIELD Qld 4108
Ph: (07) 3272 9800
Fax: (07) 3272 9850
Email: nigel@propcare.com.au
David Foord
Avionics
ACN 080 417 054 ABN 29 819 859 907
Autopilot Specialists
v Does your autopilot work, correctly?
v Are you tired of repeated attempts
to fix your avionics defects?
v Do you have avionics problems that bug you?
If your aircraft avionics are not performing as
advertised, then we have the expertise
and experience to solve your problems.
Your autopilot repairs and avionics installations
are flight tested before being released to you.
At David Foord Avionics we
GUARANTEE ALL OUR WORK
Our other capabilities include:
v Instrument overhaul & repair
v Periodic radio inspections
v Avionics advice & installations
RSD 470 Finniss to Clayton Road FINNISS SA 5255
Ph: 08 8536 0159
dave@davidfoordavionics.com.au
www.facebook.com/group.php?gid=49792577682
www.abs.org.au
16 PATHFINDER DRIVE, CALOUNDRA AIRPORT
CALOUNDRA QLD 4551
Ph: 07 5491 6819 I Fax: 07 5491 8010
ams99@optusnet.com.au I www.ams99.com.au
SOUTHERN
AIRCRAFT
SERVICES
ABN 65 138 515 349 - Certificate of Approval 1-EON4C
❃ Maintenance of Aircraft & Helicopters
❃ Maintenance of Airframe, Engine and
Electrical Components
❃ Manufacture of
Fibre Reinforced Composites
❃ Aircraft Modifications and Rebuilds
Specialised Beechcraft LAME trained in
USA Beech approved workshops
Member of the ABS - Contact: David Page
Phone: (03) 5143 2009
Fax: (03) 5143 2023
Email: southernaircraft@bigpond.com
West Sale Airport, Victoria
Page 21
TRA
AV
VEL FEA
ATURE
T
B2Osh,
B
B2O
B2
2O
Os
sh,
sh,
- my
my
ggo
gosh
osshh
os
B2Oshers getting ready
"How would
o
you
o fanc
a cy flying into Oshk
kosh
o in
n a Bonanzza forma
o
tion?"
ask
ked
e Bas Scheff
c ffe
e of OzRun
ers
z
wayss. Knowing
g my penchant for
o the
beautiful Beech, the answer
e was
a obvious: it would
o
be the aerronautic
o
cal
a
equiv
valen
a t of winning
ning a lux
xury
u holida
ay; it would
ou
o
be the most stylish
y
and
excciting way to be
egin the grrea
e te
est show on earth!
arth! Beffor
ore I drrowned him
in enthusiasm, Bas gave me the addrres
ess of Larry Gaines, coor
o rdina
d to
or of
B2Osh – a grroup
o of arround
o
120 Bonanzzas
a and Barro
ons who mak
ke the trip
frrom
o Rockf
o for
ord,
d Illinois
Ill
every
e year
e r.
Within days I'd heard back from Larry –
who is a big fan of Australians – inviting
me to join the aerial caravan that
formally invented the formation fly in to
AirVenture. Larry was instantly likeable,
boasting the most fabulous combination
of enthusiasm, determination, leadership
and seriousness about flight safety. He
filled me in with the group's history,
operations and schedules, as well as
forwarding the NOTA
AMs for Oshkosh
(about the size of the
e Ye
ellow Pages) and a
party list (most of which were compulsory
and would not be a problem for any selfrespecting Aussie).
'B2Osh' made its first flight as a group
in 1990 and have flown in every year since.
I was to participate in the 24th B2Osh
event, which promised to be a biggie.
The only flight whereby the group have
been unable to land was in 2010, and was
known as Sploshkosh because it was so
wet. This yearr, Larry would be leading
the first element with Wayne Collins and
Larry's predecessorr, Elliot
E
t Schiffman.
Page 22
Before the event there is months
of training, culminating in a clinic at
Porterville, California. The clinic is cohosted by B2OSH's Stephen Blythe and
the Mooney Caravan's Director of Training
Dave Marten, active duty USAF, and an
instructor at Edwards Air Force Base's
Tes
e t Pilot School.
"I doubt the world has a better training
scenario for a civilian pilot to learn
formation flying," said Gaines. And with
that, I felt confident that I would be taking
part in one of the year's most exciting and
well-organised events.
B
B-Day
-Day
At last, the day arrived. Alighting the bus
at Rockford, Illinois with another Aussie
and a Scotsman in tow, we arrived in time
for the meet-and-greet hangar party,
where I immediately spotted Larry. He was
just as I expected: dashing, humorous and
in control. I gifted him an Akubra
a hat and
he, in exchange, gave us the compulsory
B2Osh t-shirts (green this year).
Glenn Wimbish
The next morning's weather was
overcast, but not problematic. The mass
compulsory briefing took place in the
morning. Altitudes and procedures
were discussed and finalised, along with
probable runways at Wittman, go-around
procedures and radio etiquette (all calls
to be kept to an absolute minimum, with
each element leader responsible for their
element's calls).
Looking around the room of around 250
green-shirted pilots and co-pilots, I could
feel the buzz: the camaraderie, excitement
and obvious life-long friendships, which
had been formed over the years. There
were children, babies, elderly men and
women and teenagers. I noted I was the
only co-pilot in green t-shirt and heels.
Everyone was smiling, taking photographs,
and introducing themselves to the
www.facebook.com/group.php?gid=49792577682
www.abs.org.au
B2Osh, m
my
y gosh
newcomers. The remaining passengers
were paired with their pilots. I scored
Glenn Wimbish, a southern gentleman
from Burlington North Carolina, with a
serious expression and a voice that could
read me a bedtime story every night for
the rest of my life. "Ahhh, y'all be safe with
Glenn," remarked the gentleman next to
me. "A
As long as you don't try and drink
beer in his cockpit. He's very serious, and
an excellent, excellent pilot."
After introducing myself, Glenn and the
element leaders had a final brief, and I
walked out to the aircraft. And there she
was; my dream bird – an immaculately
maintained 1973 V35B – just begging me
to take her home. Upon Glenn's return, I
asked about her history, "She's the only
airplane ah've ever owned. One wife and
one bird is enough for me," Glenn drawled.
"I'll sell her to you, if you like," he teased,
before we climbed in and waved goodbye
to the other 108 aircraft waiting to taxi. As
absolute luck would have it, we were in
the fourth element (although I was in my
complete element!) and so would take off
right near the beginning of the formation.
Glenn, as element leaderr, would be taking
the lead and the radio calls, and I promised
him I wouldn't prattle on, or drink beer in
his cockpit. "Y
Yo
w t you liiiiike,
ou can do wha
ah don't mand at awl," he smiled, and I
could see the others had been pulling my
leg about his taciturnity.
With Larry taking the lead at the first
element, we were cleared to start up and
taxi, element by element, three by three. It
was a sight of great awesomeness to see
108 Bonanzas and Barons (the Barons at
the back) of all ages and models, taxiing
en masse to the runway. To our left was
a super splendid 1962 Beech P35, owned
by Mr Kevin Smith, and on the right a
mint 2001 A36 and her proud owner Mr
Clarence Lambe. We were in fine company
as we rolled out of Rockford and into the
sky for our cruising altitude of 2000ft.
Oshkosh, my gosh!
It was a flawless flight of a little over
an hourr, with Larry keeping check of the
formation from the front, and the Baron
at the back holding up the tail end.
Glenn concentrated furiously and flew
seamlessly, this being his twenty-third
(and final, he claims, although someone
told me he says that every year!) B2Osh
trip. For me, as lookout, it was over so
quickly; it seemed only minutes before
Larry was making contact with Osh
tower (the world's busiest control tower
for one week a year) informing them of
our imminent arrival. The reception from
the tower was unexpectedly enthusiastic,
after Larry announced the arrival of
a formation of 109 aircraft, inbound:
www.facebook.com/group.php?gid=49792577682
"She's
'ss the
th only airplane ah've
ve eve
ver
er owned.
o
One wife
fe
e and one birrd
d is enough for
for me,"
e,
Eschelon
Glenn's Beautiful V-tail
o guys rock!"
"Welcome to Oshkosh. You
declared the controllerr, who then went
ahead and made an announcement to
everyone on frequency that we were
arriving.
The rule is that each element leader
calls 'gear down' and visually checks their
ear.. I cannot put into words
element's gear
the sound of 36 pilots, one after anotherr,
minute by minute, calling their gear is
down and they're ready. And then, the
famous Osh tower monologue began:
"Bonanza formation, element one, cleared
runway 33 left and 36 right, land on the
purple dot and keep it rolling."
As we were fourth to land, we were
treated to the marvellous sight of the
previous aircraft landing on the purple dot,
while we were cleared for the yellow dot,
which of course Glenn made with great
elegance. As we rolled off the runway
and were marshalled onto the taxiway,
I caught sight of the crowd gathered to
welcome us. Waving and gesticulating, I
had to remind myself that the flight is not
over until the wheels are chocked, and
that we may be at the greatest show on
earth, but we still had some distance to
our final field.
www.abs.org.au
When Glenn killed the engine and shut
down, a marshal came running up and
said, "Welcome to Oshkosh, can I help you
with anything?" to which I was, for once,
speechless, as rows and rows of Beech
aircraft lined up, tied down and started
setting up camp. "Whaale, we're here.
Welcome to Oshkosh," declared Glenn.
"Y'all wanna come do it again next year?"
he asked with the sardonic smile of a man
who knows he will be doing this every
year for the rest of his life. "Y
Yo
ou betcha!" I
retorted, in my new American vernacular
as I skipped off to find the media tent
before returning for the after-flight pizza
party and speeches.
And with that, I acknowledged that
Glenn Wimbish would not be the only pilot
to return, year after yearr, in a beautiful
Bonanza. Who knows, maybe after eight
years or so, I might be brave enough to fly
one in myself. Q
Krre
Kreisha
eisha would
wo
ould like
lik
ke to
to thank Larry
Larry
Gaines,
G
a
aines, Glenn Wimbish
Wiimbish and everybody
everybody
verybody
in the B2Osh formation;
fo
ormation; and, of course,
co
ourse,
B
a
as Scheffers,
Scheff
c ffe
ers, ffor
or
o making this happen.
h
Bas
Page 23
COMING EVENTS
4 Oct - 12 Oct 2013
ABS South Australian & Kangaroo Island
Safari 2013
Mount Gambier - 2 nights.
Kangaroo Island - 3 nights.
Port Lincoln - 2 nights.
Mildura - 2 nights ABS Fly-in & AGM.
David Herbert
P: 08 8725 2761
M: 0408 849 080
F: 03 4206 7170
E: info@abs.org.au
28 Jul - 03 Aug 14
Airventure Oshkosh 2014
24 Feb - 01 Mar 15
Avalon2015 International Airshow
World's Greatest Aviation Celebration. ABS
will be in the same location with hospitality
and Tent Topics including BPPP LIVE and other
Tent Topics.
Peter Gordon
T: 03 5261 5382
M: 0418 526 325
Peter Gordon
T: 03 5261 5382
M: 0418 526 325
01 Mar - 07 Mar 2015
ABS Tasmanian Safari 2015
E: info@abs.org.au
24 Jan - 27 Jan 14
ABS Lord Howe Island Fly In
Australia Day long weekend visit to Lord
Howe Island. Itinerary details to follow.
http://www.lordhoweisland.info/
Debbi Smith
P: 03 5143 2077
M: 0438 347 904
F: 03 4206 7170
E: debbi@janper.com.au
20 July - 03 Aug 2014
ABS Kimberley Safari 2014
14 days around the Kimberley, Darwin,
Broome, Cape Leveque - Home Valley Station
Kununurra. Final itinerary and Event details
yet to be finalised
Debbi Smith
M: 0438 347 904
F: (03) 4206 7170 E: info@abs.org.au
Disclaimer:
The ABS and Printer cannot accept
responsibility for the correctness or
accuracy of the matters printed herein
or for any opinions expressed. Opinions
of the Editor or contributors do not
necessarily represent the position of
the ABS. The Editor reserves the right to
reject any material submitted for
publication. Copy submitted for
publication shall become the property
of the ABS and will not be returned.
Photography will be returned by the
printer. The ABS does not endorse
products or services advertised in the
Newsletter
E: info@abs.org.au
Technical assistance to CASA - Non-destructive testing and metallurgical
examination of a Beechcraft Bonanza aircraft wing spar bolt
Investigation number: AE-2013-054
Investigation status: Discontinued
Summary
In March 2013, the Australian Transport Safety Bureau (ATSB) received a request from
the Civil Aviation Safety Authority (CASA) to assist with the non-destructive testing
(NDT) and metallurgical examination of a wing spar bolt from a Beechcraft Model 35
(Bonanza) aircraft. The bolt had been removed for inspection as part of compliance
activities with airworthiness directive AD/BEECH 35/67 and was reported as showing
crack indications during preliminary NDT.
The ATSB was requested to examine the bolt with a view to confirming (or otherwise)
the suspected cracking, and to provide commentary as to the likely contributing factors
should the cracking be confirmed. To facilitate the work and provide for the issuing of a
public report on conclusion of activities, the ATSB initiated an External Investigation
under the provisions of the Transport Safety Investigation Act 2003.
Subsequently, the ATSB's non-destructive inspection of the bolt using both Magnetic
Particle (MPI) and Fluorescent Dye Penetrant (DPI) techniques failed to reveal any
indications of the reported cracking. To verify the NDT findings, the ATSB offered to
conduct destructive metallurgical sectioning and metallographic examination, and in
preparation for this, the wing spar bolt was returned to CASA and subsequently to the
owner for re-examination to confirm the original findings.
In September 2013, following no further requests or confirmation of follow-up work, the
ATSB discontinued the investigation in accordance with the provisions of section 21 (2)
of the Transport Safety Investigation Act 2003.
Don't forget that your
participation in the Australian
Bonanza Society BPPP's and
Service Clinics will be
rewarded not only with the
increased knowledge that you
will know exactly what shape
your aircraft is in, and the
knowledge that you continue
to learn more about your own
flying abilities, but you will
also receive these discount
vouchers from QBE for your
aircraft insurance.
Address: 3 Petriana Court Torquay Vic 3228
Page 24
F: (03) 4206 7170
7 days around Tasmania.
Organiser to be confirmed.
12 Oct - 13 Oct 13
ABS Annual General Meeting Mildura
Join us for a weekend of fun and the Annual
General Meeting of the Australian Bonanza
Society in Mildura at the conclusion of the
South Australian Safari 2013.
Debbi Smith
P: 03 5143 2077
F: 03 4206 7170
M: 0438 347 904
E: debbi@janper.com.au
E: info@abs.org.au
Facsimile: (03) 4206 7170
Email: info@abs.org.au
www.facebook.com/group.php?gid=49792577682
www.abs.org.au
AUSTRALIAN BONANZA SOCIETY LIMITED
(A Company Limited by Guarantee)
AUDITED FINANCIAL STATEMENTS
FOR THE YEAR ENDED
30TH JUNE 2012
Contents:
Directors' Report
Auditor's Independence Declaration
Income Statement
Statement of Financial Position
Statement of Changes in Equity
Statement of Cash Flows
Notes to the Financial Statements
Directors' Declaration
Independent Auditor's Report
AUSTRALIAN BONANZA SOCIETY LIMITED
(A Company Limited by Guarantee)
DIRECTORS' REPORT
th
Your directors present this report on the company for the financial year ended 30 June 2012.
Directors
The names of each person who has been a director during the year and to the date of this report are:
David Young
Mark Davey
Peter Janssen
Jan Novakovic
Peter Gordon
Loretta Kelly
Ron Koyich
Keith Russell
(resigned 29/10/2011)
Directors have been in office since the start of the financial year to the date of this report unless
otherwise stated.
Principal Activities
The principal activity of the Company during the year remained the encouragement and development
of aviation by the use, enjoyment and maintenance of Beechcraft Bonanza and similar aircraft as a
form of recreation.
Short-term and Long-term Objectives
The company's short-term objectives are to:
• To provide the opportunity to use light aircraft to visit areas of Australia or surrounding
countries.
• To ensure all pilots in command are familiar with the latest operational requirements of both
the aircraft type and the aviation environment.
• To ensure all aircraft owners are familiar with the current regular maintenance requirements to
ensure the safe operation of their aircraft.
The company's long-term objectives are to
• To encourage the continued operation of the Beechcraft Bonanza aircraft and its variants.
• To ensure the maintenance of the aircraft involved is of the highest standard possible and
develops that standard as technological methods evolve.
• To ensure all pilots who are members of the Australian Bonanza Society exhibit the highest
degree of airmanship and safety in the air possible.
AUSTRALIAN BONANZA SOCIETY LIMITED
(A Company Limited by Guarantee)
DIRECTORS' REPORT (CONTINUED)
Strategies
To achieve its stated objectives, the company has adopted the following strategies:
• The biannual operation of the Bonanza Pilot Proficiency Program which entails concentrated
training in both a Ground School and Flying situation.
• The operation of a Bonanza Service Clinic where member's aircraft are comprehensively
inspected by a specialized Licenced Aircraft Mechanic to ensure any maintenance issues have
been resolved.
• A social Flying program during which a group of members and their families will visit various
parts of Australia or nearby countries. Several of these occur annually.
Information on Directors
Name
Qualifications
Special Responsibilities
Mark Davey
Company Director since 1976
Diploma of Business Administration
President and Treasurer
Name
Qualifications
Special Responsibilities
Peter Janssen
Nil
Vice President
Name
Qualifications
Special Responsibilities
Jan Novakovic
Nil
Secretary
Name
Qualifications
Special Responsibilities
Peter Gordon
Nil
Committee
Name
Qualifications
Special Responsibilities
Loretta Kelly
Nil
Committee
Name
Qualifications
Special Responsibilities
Ron Koyich
Bachelor of Engineering
Committee
Name
Qualifications
Special Responsibilities
Keith Russell
Nil
Committee
AUSTRALIAN BONANZA SOCIETY LIMITED
(A Company Limited by Guarantee)
DIRECTORS'
REPORT (CONTINUED)
Meetings of Directors
During the financial year, 4 meetings of directors were held. Attendances by each Director were as
follows:
Directors'
Meetings
Number eligible
to attend
David Young
Mark Davey
Peter Janssen
Jan Novakovic
Peter Gordon
Loretta Kelly
Ron Koyich
Keith Russell
4
4
4
4
4
4
4
4
Number
Attended
3
4
4
4
4
1
3
4
The company is incorporated under the Corporations Act 2001 and is a company limited by guarantee.
If the company is wound up, the constitution states that each member is required to contribute a
maximum of$50 each towards meeting any outstanding obligations of the entity. At 30 June 2012, the
total amount that members of the company are liable to contribute if the company is wound up is
$7,600 (2011: $8,200)
Auditor's
Independence
Declaration
The auditor's independence declaration for year ended 30 June 2012 has been received as required
under Section 307C of the Corporations Act 2001.
Signed in accordance with a resolution of the Board of Directors:
Dated this 26th day of October 2012.
AUSTRALIAN BONANZA SOCIETY LIMITED
(A Company Limited by Guarantee)
AUDITOR'S
INDEPENDENCE DECLARATION UNDER SECTION 307C
OF THE CORPORATIONS ACT 2001
I declare that, to the best of my knowledge and belief, during the year ended 30 June
2012 there have been:
(i)
no contraventions of the auditor independence requirements as set out in
the Corporations Act 2001 in relation to the audit; and
(ii)
no contraventions of any applicable code of professional conduct in
relation to the audit.
Signed at Melbourne this 24th day of October 2012.
Eddy Partners
LevelS
501 Latrobe Street
MELBOURNE, VIC., 3000
Tel: (03) 9602-5177
Fax: (03) 9602-5766
EDDY PARTNERS,
Certified Practising Accountants.
David James EddYt CPA.
Registered Company Auditor.
AUSTRALIAN BONANZA SOCIETY LTD
(A Company Limited by Guarantee)
INCOME STATEMENT
FOR THE YEAR ENDED 30TH JUNE 2012
This Year
SALES
Sales - Books, T-Shirts, Caps
etc.
LESS: COST OF GOODS SOLD
Opening Stock
Purchases
Closing Stock
GROSS LOSS FROM TRADING
Last Year
400
60
347
408
510
510
102
408
245
8
185
The accompanying notes form part of these financial statements.
AUSTRALIAN BONANZA SOCIETY LTD
(A Company Limited by Guarantee)
INCOME STATEMENT
FOR THE YEAR ENDED 30TH JUNE 2012
This Year
OTHER INCOME
Fly In Income - NT & Top End
Safari (net of expenses)
Fly In Income - AGM Torquay
(net of expenses)
Fly In Income - Barcaldine (net
of expenses)
Fly In Income - Tyabb BPPP (net
of expenses)
Fly In Income - Hervey Bay (net
of expenses)
Fly In Income - Paramatta AGM
(net of expenses)
Fly In Income - Sapphire Coast
(net of expenses)
Interest Received
Members'Subscriptions
Advertising Income
Sponsorship Income
EXPENDITURE
Audit & Accountancy Fees
Bank Charges
Bookkeeping Expenses
Committee Meeting Expenses
Computer Software Expenses
Donations
General Expenses
Insurance
Internet & Website Expenses
Photo Album Expenses
Postage, Printing & Stationery
Subscriptions
Telephone
977
(669)
406
(500)
(10.069)
570
(2,433)
1,231
3,306
25,330
6,988
10,000
3,187
26,885
2,932
10,000
44,492
33,649
44,484
33,464
3,300
1,132
7.300
6,626
156
200
3,190
1,803
7,286
1,002
771
515
704
3.496
1.190
385
20,783
134
1,366
3,490
1,356
15,360
380
1,489
41,304
SURPLUS/(DEFICIT)
FOR YEAR
Accumulated Funds - Beginning
of Year
ACCUMULATEDFUNDSASAT
30TH JUNE 2012
Last Year
42,110
3,180
(8,646)
83,909
92,555
$87,089
$83,909
The accompanying notes form part of these financial statements.
AUSTRALIAN BONANZA SOCIETY LTD
(A Company Limited by Guarantee)
STATEMENT OF FINANCIAL POSITION
AS AT 30TH JUNE 2012
This Year
MEMBERS' FUNDS
Accumulated Funds
Last Year
87,089
83,909
Represented by:
CURRENT ASSETS
Interest Receivable
Sundry Debtors
Cash at Bank - Commonwealth Bank
Prepayments
Stock on Hand
34
1,690
17,009
16,907
102
907
1,427
26,368
2,606
510
35,742
INVESTMENTS
Term Deposit - CBA
CURRENT LIABILITIES
Sundry Creditors
NET ASSETS
57,489
61,668
TOTAL ASSETS
31,818
61,668
57,489
97,410
89,307
10,321
5,398
10,321
5,398
$87,089
$83,909
The accompanying notes form part of these financial statements.
AUSTRALIAN BONANZA SOCIETY LIMITED
(A Company Limited by Guarantee)
STATEMENT OF CHANGES IN EQUITY
FOR THE YEAR ENDED 30TH JUNE 2012
Retained
Profits
$
Total
$
Balance at 1 July 2010
92,555
92,555
Surplus/(Deficit) for year
(8,646)
(8,646)
Balance at 30 June 2011
83,909
83,909
Surplus/(Deficit) for year
3,180
3,180
Balance at 30 June 2012
87,089
87,089
NOTE
The accompanying notes form part of these financial statements.
AUSTRALIAN BONANZA SOCIETY LIMITED
(A Company Limited by Guarantee)
STATEMENT OF CASH FLOWS
FOR THE YEAR ENDED 30TH ~E
2012
Year Ended
30/6/12
NOTE
CASH INFLOW/(OUTFLOW)
OPERATING ACTIVITIES
Year Ended
30/6/11
$
$
FROM
Receipts:
Sales - Merchandise
Receipts from Members
Interest Received
Members Subscriptions
Sundry Income
2
400
41,945
4,179
25,330
16,988
60
123,705
2,777
26,885
12,932
88,842
166,359
(94,022)
(197,670)
(5,180)
(31,311 )
Net Increase/(Decrease) In Cash Held
Add: Cash Held 1st July 2011
(5,180)
83,857
(31,311 )
115,168
CASH HELD 30TH JUNE 2012
78,677
83,857
REPRESENTED BY:
Cash at Bank - Cheque Account
Term Deposit - CBA
17,009
61,668
26,368
57,489
78,677
83,857
Payments:
Payments to Suppliers
Net Cash Provided By/(Used In)
Operating Activities
CASH INFLOW/(OUTFLOW)
FROM NON-OPERATING ACTIVITIES
Proceeds:
Payments:
Net Cash Provided By/(Used In)
Non-Operating Activities
The accompanying notes form part of these financial statements.
AUSTRALIAN BONANZA SOCIETY LIMITED
(A Company Limited by Guarantee)
NOTES TO AND FORMING PART OF THE FINANCIAL STATEMENTS
FOR THE YEAR ENDED 30 JUNE 2012
1.
SUMMARY OF SIGNIFICANT
ACCOUNTING
POLICIES
The directors have prepared the financial statements on the basis that the
company is a non-reporting entity because there are no users who are dependent
on its general purpose financial statements. These financial statements are
therefore special purpose financial statements that have been prepared in order
to meet the requirements of the Corporations Act 2001. The company is a notfor-profit entity for financial reporting purposes under Australian Accounting
Standards.
The financial statements have been prepared in accordance with the mandatory
Australian Accounting Standards applicable to entities reporting under the
Corporations Act 2001 and the significant accounting policies disclosed below,
which the directors have determined are appropriate to meet the needs of
members. Such accounting policies are consistent with those of previous periods
unless stated otherwise.
The following is a summary of the material accounting policies adopted by the
company in the preparation of the financial statements.
Accounting Policies
(a) Basis of Accounting
The financial statements are prepared on an accruals basis and are based on
historical costs and do not take into account changing money values or, except
where specifically stated, current valuations of non-current assets.
(b) Cash
For the purposes of the statement of cash flows, cash includes cash on hand,
cash at bank and cash on deposit with a bank or other financial institution and
readily convertible to cash.
(c) Inventories
Inventories are measured at the lower of cost and net realisable value. Cost is
based on the first-in-out principle and includes expenditure incurred in acquiring
the inventories and bringing them to their existing condition and location.
(d) Income Tax
No provision for income tax has been raised as the entity is exempt from income
tax under Div 50 of the Income Tax Assessment Act 1997.
AUSTRALIAN BONANZA SOCIETY LIMITED
(A Company Limited by Guarantee)
NOTES TO AND FORMING PART OF THE FINANCIAL STATEMENTS
FOR THE YEAR ENDED 30 JUNE 2012 (CONTINUED)
2.
RECONCILATION
OF
OPERATING ACTIVITIES
FOR THE YEAR
CASH
INFLOW/(OUTFLOW)
FROM
WITH OPERATING SURPLUS/(DEFICIT)
Year Ended Year Ended
30/6/12
30/6111
$
$
Surplus/(Deficit) as per Income Statement
Changes in Assets and Liabilities
(Increase )lDecrease in Sundry Debtors
(Increase )lDecrease in Prepayments
(Increase )lDecrease in Interest Receivable
(Increase )lDecrease in Stock on Hand
Increase/(Decrease) in Sundry Creditors
Increase/(Decrease) in Funds received in Advance
Net Cash Provided By/(Used In)
Operating Activities
3.
ENTITY DETAILS
The registered office of the company is
Australian Bonanza Society Ltd
15 Viscount Drive
Tallai
QLD4213
The principal place of business is
Australian Bonanza Society Ltd
3 Petriana Court
Torquay
VIC 3228
3,180
(8,646)
(263)
(14,301)
873
408
4,923
21,927
22
(410)
(163)
(33,076)
(10,965)
(5,180)
(31,311)
AUSTRALIAN BONANZA SOCIETY LIMITED
(A Company Limited by Guarantee)
DIRECTORS'
DECLARATION
The directors have determined that the company is not a reporting entity and that this
special purpose financial report should be prepared in accordance with the accounting
policies described in Note 1 to the financial statements.
The directors of the company declare that:
1.
2.
The financial statements and notes are in accordance with the Corporations Act
2001 and;
a.
comply with the Accounting Standards applicable to the company; and
b.
give a true and fair view of the financial position as at 30 June 2012 and
of the performance of the company for the year ended on that date in
accordance with the accounting policies described in Note 1 to the
financial statements.
In the directors' opinion there are reasonable grounds to believe that the
company will be able to pay its debts as and when they become due and
payable.
This declaration is made in accordance with a resolution of the Board of Directors.
~Ji
Director
Dated this 26th day of October 2012
INDEPENDENT AUDITOR'S REPORT TO THE MEMBERS OF
AUSTRALIAN BONANZA SOCIETY LIMITED
(A Company Limited by Guarantee)
We have audited the accompanying financial report, being a special purpose financial
report of the Australian Bonanza Society Limited, which comprises the statement of
financial position as at 30 June 2012, the income statement, statement of changes in
equity and statement of cash flows for the year then ended, notes comprising a
summary of significant accounting policies and other explanatory information, and the
directors' declaration
Directors' Responsibility for the Financial Report
The directors of the company are responsible for the preparation of the financial
report and have determined that the accounting policies described in Note 1 to the
financial report are appropriate to meet the requirements of the Corporations Act 2001
and are appropriate to meet the needs of the members. The directors' responsibility
also includes such internal control as the directors determine is necessary to enable the
preparation of a financial report that is free from material misstatement, whether due
to fraud or error.
Auditor's responsibility
Our responsibility is to express an opinion on the financial report based on our audit.
We have conducted our audit in accordance with Australian Auditing Standards.
Those standards require that we comply with relevant ethical requirements relating to
audit engagements and plan and perform the audit to obtain reasonable assurance
whether the financial report is free from material misstatement.
An audit involves performing procedures to obtain audit evidence about the amounts
and disclosures in the financial report. The procedures selected depend on the
auditor's judgment, including the assessment of the risks of material misstatement of
the financial report, whether due to fraud or error. In making those risk assessments,
the auditor considers internal control relevant to the company's preparation of the
financial report that gives a true and fair view in order to design audit procedures that
are appropriate in the circumstances, but not for the purpose of expressing an opinion
on the effectiveness of the entity's internal control. An audit also includes evaluating
the appropriateness of accounting policies used and the reasonableness of accounting
estimates made by the directors, as well as evaluating the overall presentation of the
financial report.
We believe that the audit evidence we have obtained is sufficient and appropriate to
provide a basis for our audit opinion.
Basis of Accounting
Without modifying our opinion, we draw attention to Note 1 to the financial report,
which describes the basis of accounting. The financial report has been prepared for
the purpose of fulfilling the directors' financial reporting responsibilities under the
Corporations Act 2001. As a result, the financial report may not be suitable for
another purpose.
INDEPENDENT AUDITOR'S REPORT TO THE MEMBERS OF
AUSTRALIAN BONANZA SOCIETY LIMITED
(A Company Limited by Guarantee)
Independence
In conducting our audit, we have complied with the independence requirements of the
Corporations Act 2001. We confirm that the independence declaration required by the
Corporations Act 2001, which has been given to the directors of Australian Bonanza
Society Limited, would be in the same terms if given to the directors as at the time of
the auditor's report.
Qualification
As is common for organisations of this type, it is not practicable for Australian
Bonanza Society Ltd to maintain an effective system of internal control over
donations, subscriptions and other fundraising activities until their initial entry in the
accounting records. Accordingly, our audit in relation to fundraising was limited to
amounts recorded. We have not verified the existence or value of the stock on hand
but we have relied on certification received from the officer responsible for control
over the stock.
Qualified Audit Opinion
Subject to the foregoing, in our opinion, the financial report of Australian Bonanza
Society Limited is in accordance with Corporations Act 2001, including:
a. giving a true and fair view of the company's financial position as at 30 June 2012
and of its performance for the year ended on that date; and
b. complying with Australian Accounting Standards to the extent described in Note 1
and the Corporations Regulations 2001.
.
.
SIgned at Melbourne this 3\
~~
Eddy Partners
8th Floor,
501 Latrobe Street
MELBOURNE, VIC,. 3000
Tel: (03) 9602-5177
Fax: (03) 9602-5766
day of October 2012.
EDDY PARTNERS,
Certified Practising Accountants.
D.§:by,CPA.
Registered Company Auditor.