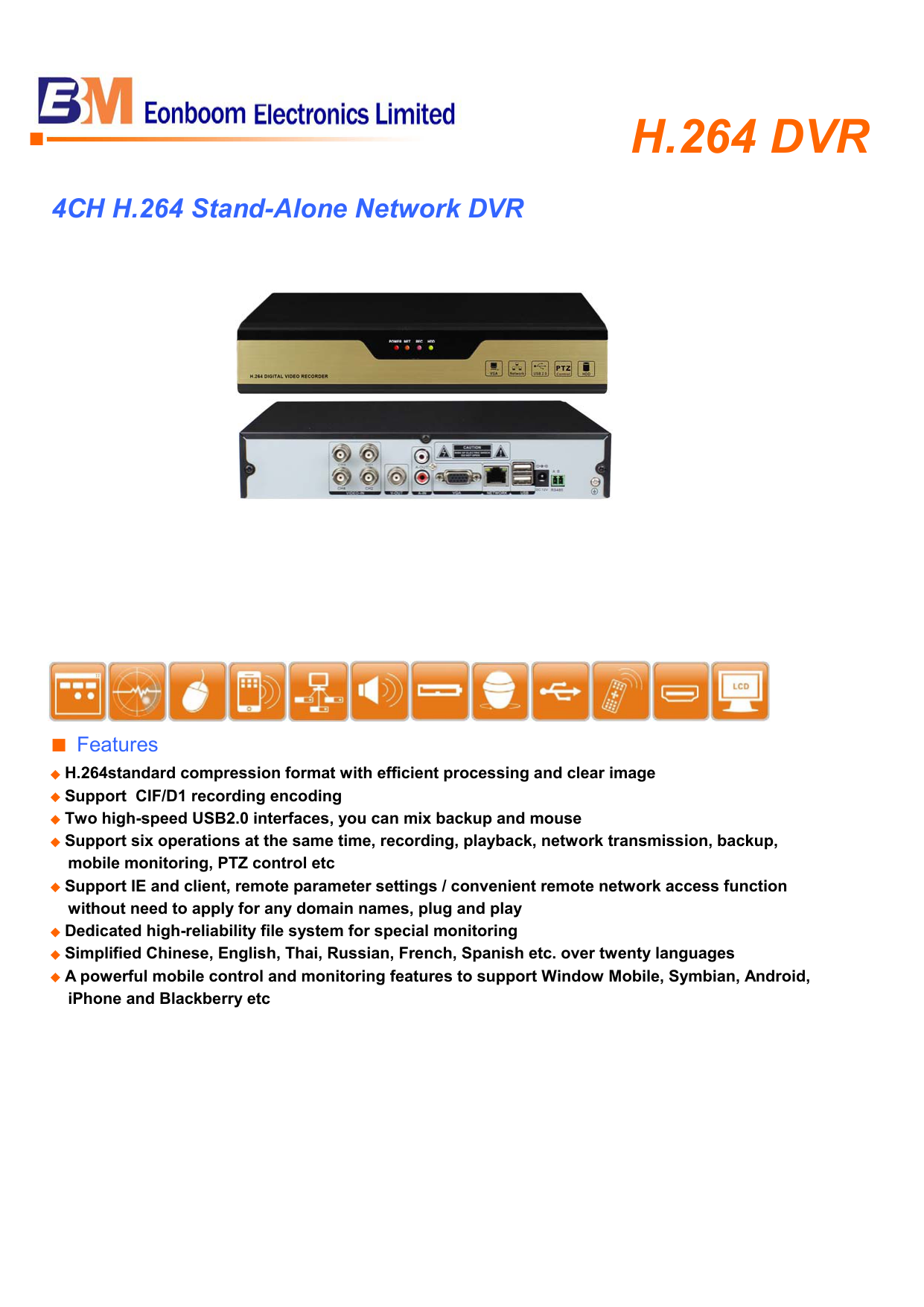 H.264 DVR
■
4CH H.264 Stand-Alone Network DVR
■ Features
H.264standard compression format with efficient processing and clear image
◆ Support CIF/D1 recording encoding
◆ Two high-speed USB2.0 interfaces, you can mix backup and mouse
◆ Support six operations at the same time, recording, playback, network transmission, backup,
mobile monitoring, PTZ control etc
◆ Support IE and client, remote parameter settings / convenient remote network access function
without need to apply for any domain names, plug and play
◆ Dedicated high-reliability file system for special monitoring
◆ Simplified Chinese, English, Thai, Russian, French, Spanish etc. over twenty languages
◆ A powerful mobile control and monitoring features to support Window Mobile, Symbian, Android,
iPhone and Blackberry etc
◆
■ Specifications
Model Name EN-6704E
Main Processor
System
Video
Audio
Display
Recording
Control Mode
Hisilicon Hi3515A
Sixfold operation: Live recording, Playback, Backup, Remote access,
PTZ control, Mobile monitoring
USB mouse,Network
Input
4×BNC,(1.0Vp-p,75Ω)
Standard
2CH D1 + 2CH CIF real time ,NTSC:120FPS,PAL:100FPS
Output
1×BNC,(1.0Vp-p,75Ω),1×VGA
Input
1×RCA
Output
1×RCA
Display Split
1/4
Resolution
VGA:1280*1024, 1024*768, 800*600
Tour Display
Support
OSD
Camera title, Time, Video loss, Motion detection, Recording
Video/Audio
H.264/ADPCM
Image Resolution
D1(720*576/720*480), HD1(704*288/720*288), CIF(352*288/352*240)
Performance
2CH D1 + 2CH CIF
System Resource
Encoding stream
Main stream D1:100fps@PAL、120fps@NTSC
Extra
Recording Mode
Manual, schedule,Motion detection,Alarm
Recording Priority
Manual>Alarm>Motion detection
Trigger events
Recording, PTZ movement, Alarm, E-mail
Video detection Motion detection
& Alarm
Video loss
Playback &
Backup
Playback channel
2CH D1 + 2CH CIF
Playback speed
D1:50fps@PAL、60fps@NTSC,CIF:100fps@PAL、120fps@NTSC
Search mode
Time/date, Alarm, Motion detection
Play, Pause, Stop, Fast forward, Slow forward, Full screen etc. Recording
files can be viewed by dragging the progress bar back and forth
U-disk /USB-HDD/USB-CD /Network
Playback function
Mobile Phone
RJ-45port(10/100M)
TCP/IP,UDP,DHCP,DNS,IP filter, PPPOE, E-mail, Alarm server, UPNP,
DDNS,DNS Binding
Monitor, PTZ control, Playback, System setting, files download, Log
information
Support Window Mobile, Symbian, Android, iPhone, Blackberry etc.
Hard disk
1 SATA port, the capacity of single hard disk MAX 2T
Space occupation
Audio: 14.4MB/H, Video: 56-900MB/H
HDD management
Hard disk hibernation technology, HDD faulty alarm, file restoration
USB
Two USB2.0 interface, for connecting mouse, U-disk, USB hard disk
Network function
Network
Remote operation
Environment
Support
None
Physical interface
Auxiliary
Interface
Zones:396(22*18),Sensitivity:1-5(Level 5 is the highest)
Alarm
Backup mode
Hard Disk
CIF:20FPS
RS485
PTZ control
Power supply
12V/3A
Working environment
-10℃~+55℃/10~90%RH/86~106Kpa
Dimension
250*235*45mm(Product size)
Weight
2.0kg(W/O HDD);Package Weight:2.8Kg
Design and specifications are subject to change without notice.