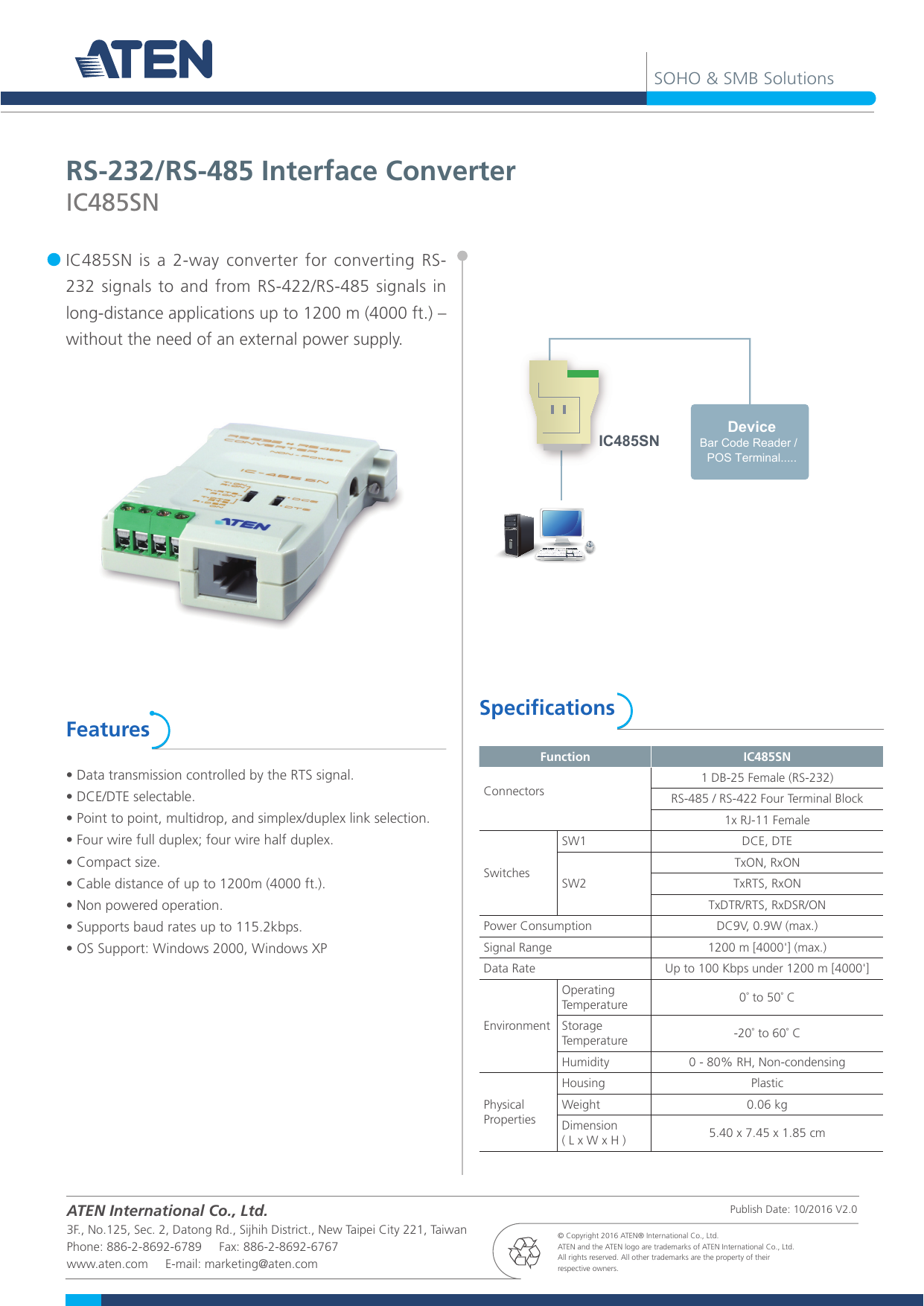 SOHO & SMB Solutions
RS-232/RS-485 Interface Converter
IC485SN
IC485SN is a 2-way converter for converting RS232 signals to and from RS-422/RS-485 signals in
long-distance applications up to 1200 m (4000 ft.) –
without the need of an external power supply.
IC485SN
Features
Specifications
Function
• Data transmission controlled by the RTS signal.
• DCE/DTE selectable.
RS-485 / RS-422 Four Terminal Block
1x RJ-11 Female
• Four wire full duplex; four wire half duplex.
• Cable distance of up to 1200m (4000 ft.).
SW1
Switches
SW2
TxRTS, RxON
TxDTR/RTS, RxDSR/ON
• Supports baud rates up to 115.2kbps.
Power Consumption
• OS Support: Windows 2000, Windows XP
Signal Range
Up to 100 Kbps under 1200 m [4000']
Operating
Temperature
Environment Storage
Temperature
Humidity
Physical
Properties
DC9V, 0.9W (max.)
1200 m [4000'] (max.)
Data Rate
3F., No.125, Sec. 2, Datong Rd., Sijhih District., New Taipei City 221, Taiwan
Phone: 886-2-8692-6789 Fax: 886-2-8692-6767
www.aten.com E-mail: marketing@aten.com
DCE, DTE
TxON, RxON
• Non powered operation.
ATEN International Co., Ltd.
IC485SN
1 DB-25 Female (RS-232)
Connectors
• Point to point, multidrop, and simplex/duplex link selection.
• Compact size.
Device
Bar Code Reader /
POS Terminal.....
0˚ to 50˚ C
-20˚ to 60˚ C
0 - 80% RH, Non-condensing
Housing
Plastic
Weight
0.06 kg
Dimension
(LxWxH)
5.40 x 7.45 x 1.85 cm
Publish Date: 10/2016 V2.0
© Copyright 2016 ATEN® International Co., Ltd.
ATEN and the ATEN logo are trademarks of ATEN International Co., Ltd.
All rights reserved. All other trademarks are the property of their
respective owners.

* Your assessment is very important for improving the work of artificial intelligence, which forms the content of this project