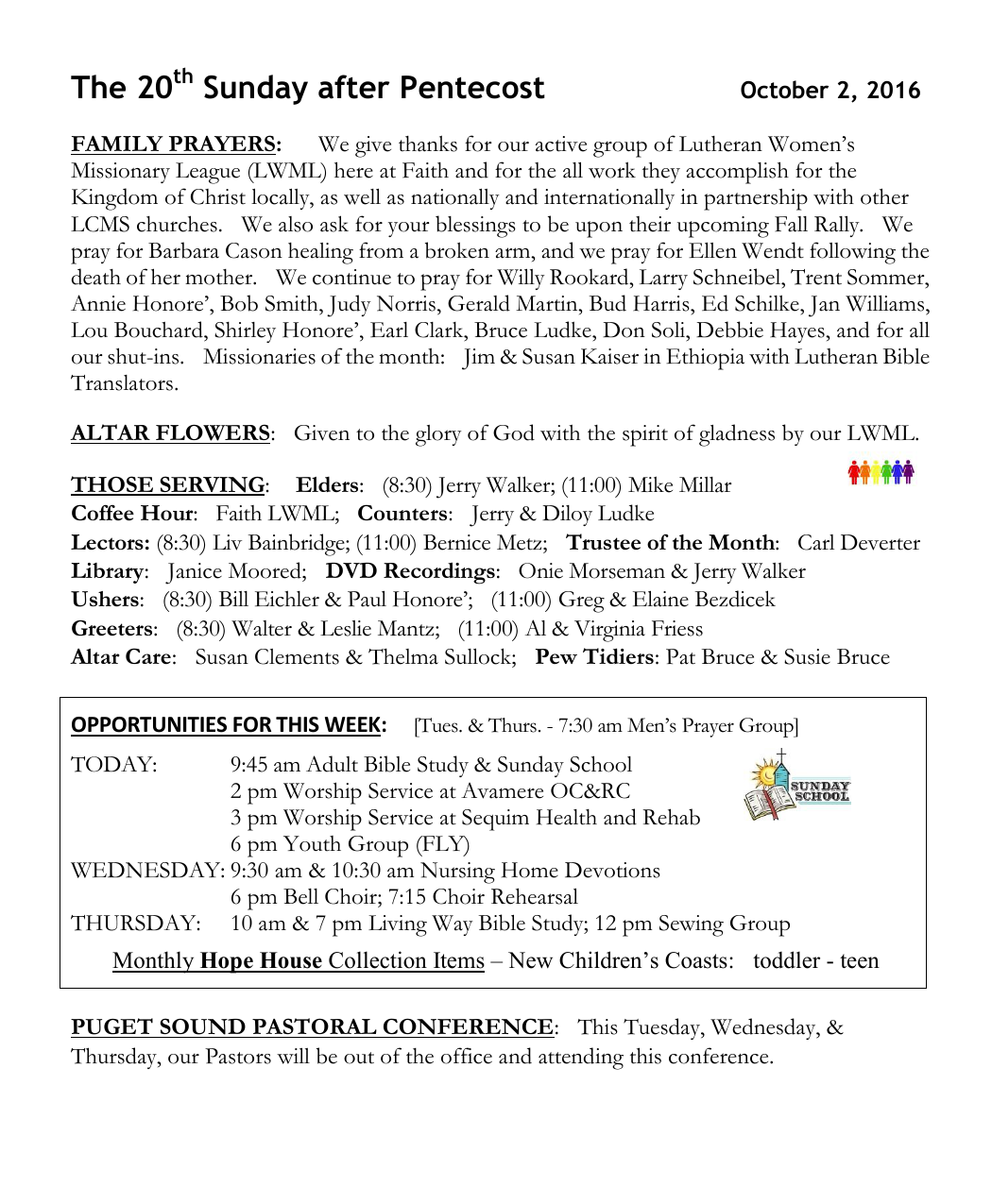 The 20th Sunday after Pentecost
October 2, 2016
FAMILY PRAYERS:
We give thanks for our active group of Lutheran Women's
Missionary League (LWML) here at Faith and for the all work they accomplish for the
Kingdom of Christ locally, as well as nationally and internationally in partnership with other
LCMS churches. We also ask for your blessings to be upon their upcoming Fall Rally. We
pray for Barbara Cason healing from a broken arm, and we pray for Ellen Wendt following the
death of her mother. We continue to pray for Willy Rookard, Larry Schneibel, Trent Sommer,
Annie Honore', Bob Smith, Judy Norris, Gerald Martin, Bud Harris, Ed Schilke, Jan Williams,
Lou Bouchard, Shirley Honore', Earl Clark, Bruce Ludke, Don Soli, Debbie Hayes, and for all
our shut-ins. Missionaries of the month: Jim & Susan Kaiser in Ethiopia with Lutheran Bible
Translators.
ALTAR FLOWERS: Given to the glory of God with the spirit of gladness by our LWML.
THOSE SERVING: Elders: (8:30) Jerry Walker; (11:00) Mike Millar
Coffee Hour: Faith LWML; Counters: Jerry & Diloy Ludke
Lectors: (8:30) Liv Bainbridge; (11:00) Bernice Metz; Trustee of the Month: Carl Deverter
Library: Janice Moored; DVD Recordings: Onie Morseman & Jerry Walker
Ushers: (8:30) Bill Eichler & Paul Honore'; (11:00) Greg & Elaine Bezdicek
Greeters: (8:30) Walter & Leslie Mantz; (11:00) Al & Virginia Friess
Altar Care: Susan Clements & Thelma Sullock; Pew Tidiers: Pat Bruce & Susie Bruce
OPPORTUNITIES FOR THIS WEEK:
[Tues. & Thurs. - 7:30 am Men's Prayer Group]
TODAY:
9:45 am Adult Bible Study & Sunday School
2 pm Worship Service at Avamere OC&RC
3 pm Worship Service at Sequim Health and Rehab
6 pm Youth Group (FLY)
WEDNESDAY: 9:30 am & 10:30 am Nursing Home Devotions
6 pm Bell Choir; 7:15 Choir Rehearsal
THURSDAY: 10 am & 7 pm Living Way Bible Study; 12 pm Sewing Group
Monthly Hope House Collection Items – New Children's Coasts: toddler - teen
PUGET SOUND PASTORAL CONFERENCE: This Tuesday, Wednesday, &
Thursday, our Pastors will be out of the office and attending this conference.
NEW CHURCH DIRECTORIES: are now available for pick up in the narthex! These
paper directories are easy to write in and include useful church info on the first 3rd pages.
Please take one home and properly dispose of your old one. Thank you. Danielle Roth
BASIC BIBLE TRUTHS class begins next Wed. Oct. 12, at 7 p.m. This six week course
covers the major teachings of the Bible and is team taught by our Pastors. Those interested in
becoming a member of Faith Lutheran Church, and anyone wishing to review the basics of the
Christian Faith are welcome to join. Please contact a Pastor or the Church Office to register.
NEW SUNDAY ADULT CLASS – The Hollywood movie "Luther" will be the
basis for our study during the month of October. Next year is the 500th
anniversary of the Protestant Reformation, and now is the time to refresh your
understanding of what caused it and how it still impacts the church today. Class
begins each week at 9:45 a.m. with coffee & tea available. Come join us!
NEW CHURCH CARPET PROJECT: The carpet has been ordered and paid for and
$1,330 was donated last week to go towards the labor for installation. Thank you for your
support! About $5,383.29 is still needed to cover labor expenses. Please make checks
payable to: Faith Lutheran Church, For: Carpet Fund (in the memo line). See the display
in the narthex or call Bob Donaldson ph: 681-0103, for more information.
FREE PRAYER GUIDE – A prayer booklet which covers the month of October
is available on the table in the narthex. During the coming month, prayers are
encouraged for our nation and every state, along with those who lead and serve
throughout our country. Please take one home, and pray! 
"AGAPE" SHARE TABLE: At this time of year, members like to share the
joy of God's blessings from their gardens and fruit trees. Help yourself to the
fresh produce in the narthex.
PRESCHOOL PANCAKE BREAKFAST: Thank you to all who came out for breakfast
at Applebee's yesterday. We appreciate your support. Preschool Teachers & Board
BELL CHOIR, CHOIR, SEWING GROUP, & LIVING WAY BIBLE STUDY:
All these groups welcome new members! The music groups meet on
Wed. evenings at 6 pm & 7:15 pm. On Thursdays, Living Way meets at
10 am & 7 pm and the sewing group starts work at noon.
SHRED EVENT & FOOD DRIVE: First Federal in Sequim and the
Sequim Food Bank are partnering to offer a Shred Event and Food Drive on Saturday,
October 8. Bring your items to shred to the Sequim High School parking lot between
10am-1pm and also a donation to the Sequim Food Bank.

* Your assessment is very important for improving the work of artificial intelligence, which forms the content of this project