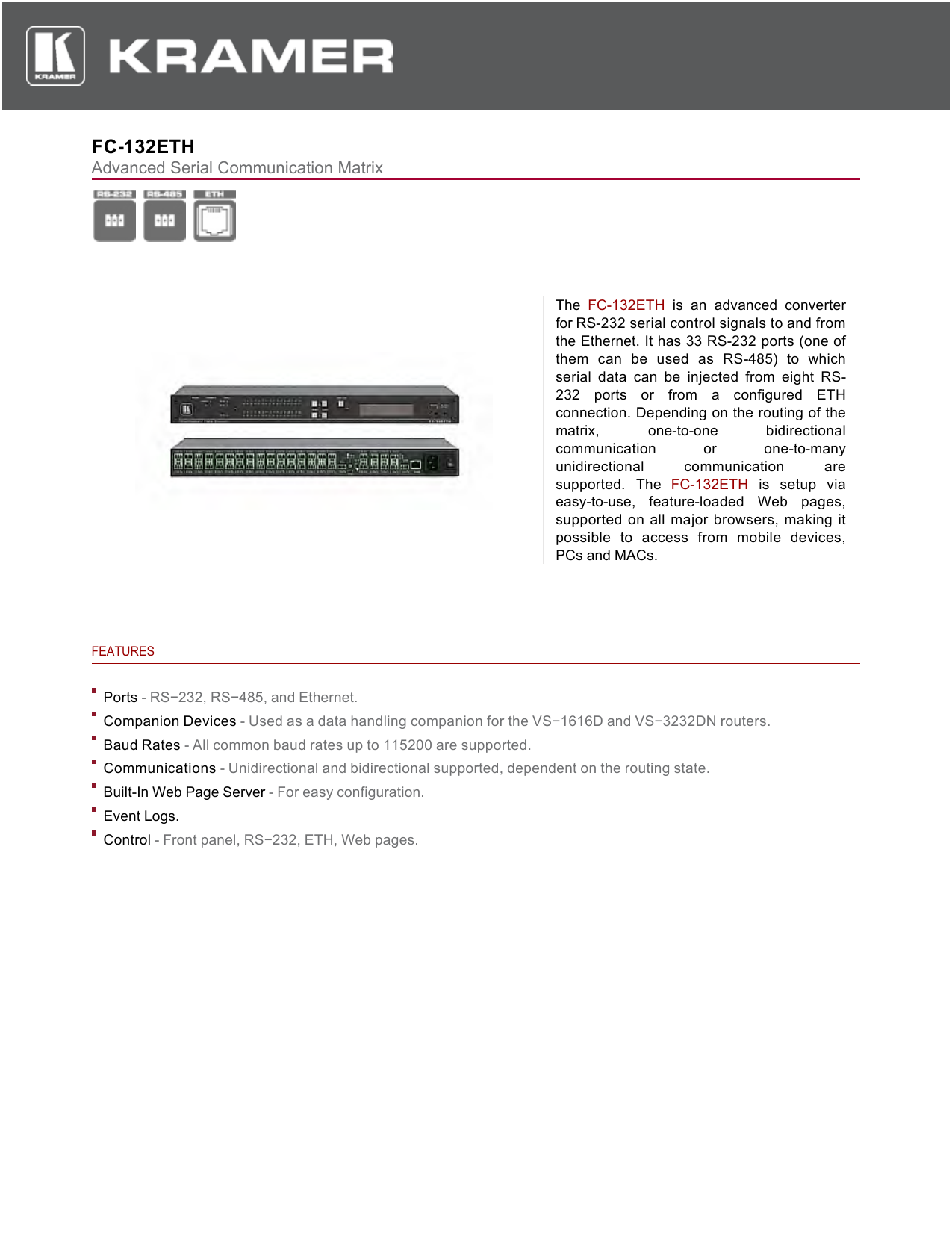 FC-132ETH
Advanced Serial Communication Matrix
The FC-132ETH is an advanced converter
for RS-232 serial control signals to and from
the Ethernet. It has 33 RS-232 ports (one of
them can be used as RS-485) to which
serial data can be injected from eight RS232 ports or from a configured ETH
connection. Depending on the routing of the
matrix,
one-to-one
bidirectional
communication
or
one-to-many
unidirectional
communication
are
supported. The FC-132ETH is setup via
easy-to-use, feature-loaded Web pages,
supported on all major browsers, making it
possible to access from mobile devices,
PCs and MACs.
FEATURES
Ports - RS−232, RS−485, and Ethernet.
Companion Devices - Used as a data handling companion for the VS−1616D and VS−3232DN routers.
Baud Rates - All common baud rates up to 115200 are supported.
Communications - Unidirectional and bidirectional supported, dependent on the routing state.
Built-In Web Page Server - For easy configuration.
Event Logs.
Control - Front panel, RS−232, ETH, Web pages.
FC-132ETH
TECHNICAL SPECIFICATIONS
PORTS:
Ports: 8 RS−232 serial data connections on 3−pin terminal blocks, 1 Ethernet on an RJ−45
connector, 1 RS−232 control port on a 3−pin terminal block. Data: 32 RS−232 serial ports on
3−pin terminal blocks, 1 RS−232/RS−485 dual−use port on a 3−pin terminal block.
RS-232
COMMUNICATION:
SUPPORTED WEB
BROWSERS:
OVERALL DEVICE
BAUDRATE SUPPORT:
POWER CONSUMPTION:
Transparent up to 115200bps.
CONTROLS:
Front panel buttons, RS−232, RS−485, Ethernet.
OPERATING
TEMPERATURE:
STORAGE
TEMPERATURE:
HUMIDITY:
0° to +40°C (32° to 104°F).
DIMENSIONS:
19" x 7.24" x 1U (W, D, H).
WEIGHT:
1.48kg (3.26lbs) approx.
ACCESSORIES:
Power cord, rack "ears".
Microsoft IE V9.0 and higher, Google Chrome, Firefox V3.0 and higher.
310kbps.
100−240V AC, 50/60Hz, 17VA.
–40° to +70°C (–40° to 158°F).
10% to 90%, RHL non−condensing.

* Your assessment is very important for improving the work of artificial intelligence, which forms the content of this project