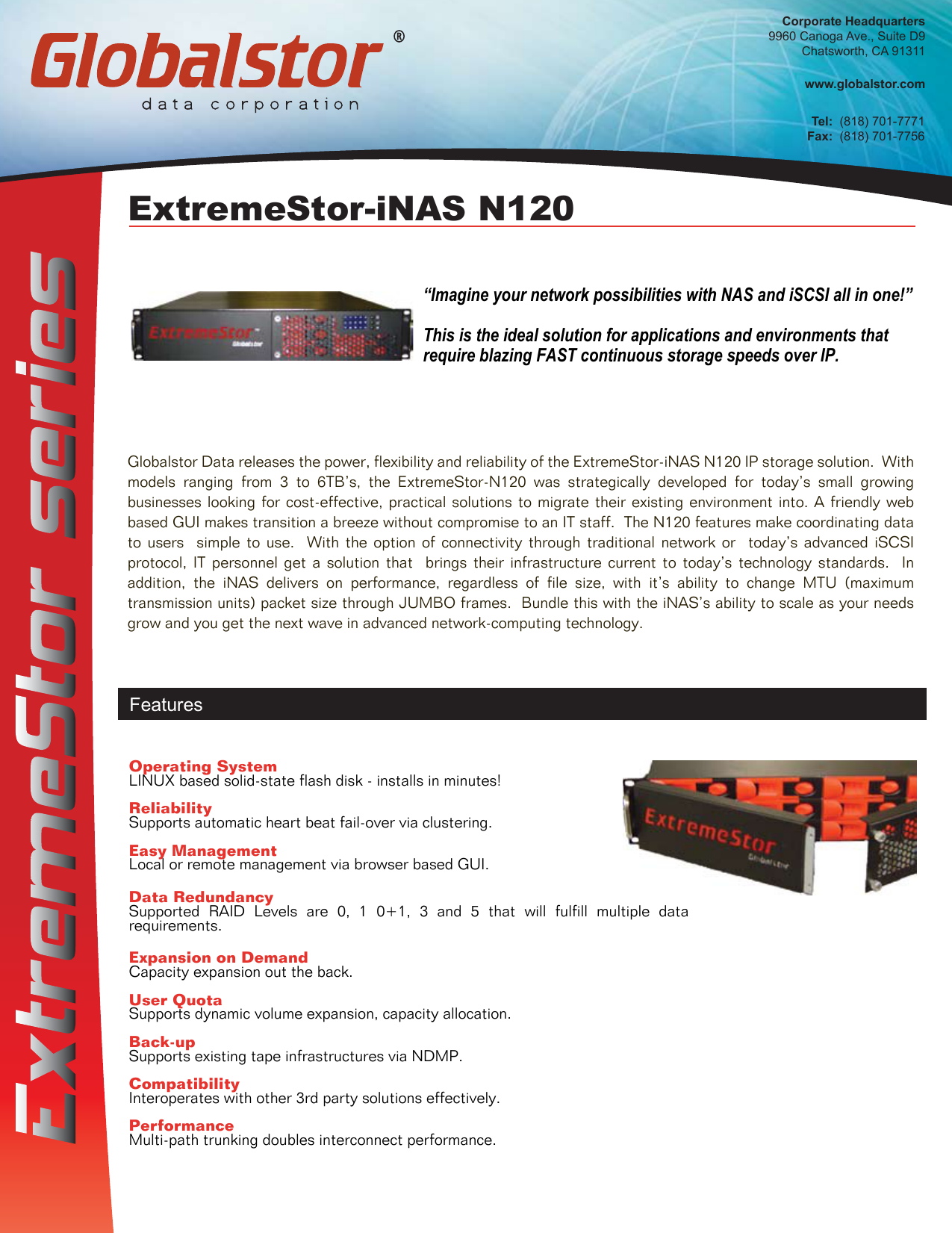 Corporate Headquarters
9960 Canoga Ave., Suite D9
Chatsworth, CA 91311
www.globalstor.com
Tel: (818) 701-7771
Fax: (818) 701-7756
ExtremeStor-iNAS N120
"Imagine your network possibilities with NAS and iSCSI all in one!"
This is the ideal solution for applications and environments that
require blazing FAST continuous storage speeds over IP.
Globalstor Data releases the power, flexibility and reliability of the ExtremeStor-iNAS N120 IP storage solution. With
models ranging from 3 to 6TB's, the ExtremeStor-N120 was strategically developed for today's small growing
businesses looking for cost-effective, practical solutions to migrate their existing environment into. A friendly web
based GUI makes transition a breeze without compromise to an IT staff. The N120 features make coordinating data
to users simple to use. With the option of connectivity through traditional network or today's advanced iSCSI
protocol, IT personnel get a solution that brings their infrastructure current to today's technology standards. In
addition, the iNAS delivers on performance, regardless of file size, with it's ability to change MTU (maximum
transmission units) packet size through JUMBO frames. Bundle this with the iNAS's ability to scale as your needs
grow and you get the next wave in advanced network-computing technology.
Features
Operating System
LINUX based solid-state flash disk - installs in minutes!
Reliability
Supports automatic heart beat fail-over via clustering.
Easy Management
Local or remote management via browser based GUI.
Data Redundancy
Supported RAID Levels are 0, 1 0+1, 3 and 5 that will fulfill multiple data
requirements.
Expansion on Demand
Capacity expansion out the back.
User Quota
Supports dynamic volume expansion, capacity allocation.
Back-up
Supports existing tape infrastructures via NDMP.
Compatibility
Interoperates with other 3rd party solutions effectively.
Performance
Multi-path trunking doubles interconnect performance.
Hardware and Technical Specifications
www.globalstor.com
Dimensions and Weight
Unit weight: 78.8lbs. (35.74kg) fully populated with 12 disk drives
Shipping weight: 88.8lbs (40.28kg) carton packaging
Unit Height: 5.2" (2U) (88mm)
Unit Width: 19"
(483mm)
Unit Depth: 25.6"
(650mm)
Network Interface
Supports: (2) 10/100/1000 Gigabit Ethernet ports
System Processor
(2) AMD Opteron CPU's (standard)
System Cache
(2) 1GB ECC Registered memory modules (standard)
System Storage Capacity
(12) 250gb hard disk drives in Hot-swap disk canisters, Ref PN: IN12TO22
(12) 500gb hard disk drives in Hot-swap disk canisters, Ref PN: IN12TO52
External Expansion Port
(2) VHDCI68 Pin U320/SCSI disk channels (standard)
Power
Power supply: (2) combined 600 Watt N+1 Hot-swap PFC load balancing power
supplies
Input range: 110 to 240V
Frequency: 47 to 63Hz
Power source: (2) standard AC power cords
Cooling
Blowers: (4) 80mm Heavy-duty ball bearing fans for maximized airflow
Blowers: (3) 40mm Exhaust fans
Temperature: +5 C to +40 C operating
Humidity: 5% to 95% non-condensing
Upgrade Options:
·
·
·
·
add-on Gigabit Ethernet network port via PCI X slot
add-on 10 Gigabit Ethernet network port via PCI X slot
add-on 2GB FC connectivity via PCI X slot
add-on system memory in 1GB increments
Note: The ExtremeStor-iNAS N120 model is limited to (1) available PCI X slot
Address: 9960 Canoga Ave., Suite D9, Chatsworth, CA 91311
Tel: (818) 701-7771 Fax: (818) 701-7756
Product information and specifications are subject to change without notice. This publication may include inadvertent technical inaccuracies or typographical errors. Globalstor provides this
information "as is", without warranty of any kind, either express or implied, including any implied warranties of merchantability or fitness for a particular purpose (this exclusion may not apply
to you as some jurisdictions do not allow the exclusion of implied warranties). Globalstor and ExtremeStor are either registered trademarks or trademarks of Globalstor Data Corporation in
the U.S.A. and other countries. All other brand names, product names or trademarks belong to their respective holders.

* Your assessment is very important for improving the work of artificial intelligence, which forms the content of this project