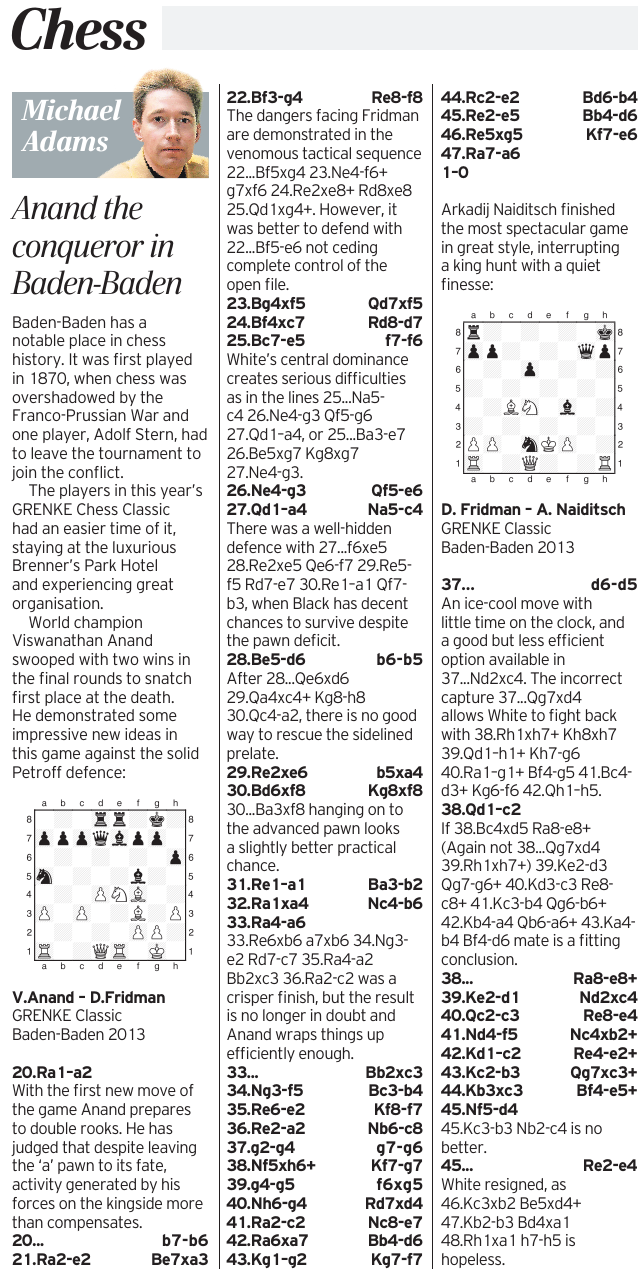 Chess
Michael
Adams
Anand the
conqueror in
Baden-Baden
Baden-Baden has a
notable place in chess
history. It was first played
in 1870, when chess was
overshadowed by the
Franco-Prussian War and
one player, Adolf Stern, had
to leave the tournament to
join the conflict.
The players in this year's
GRENKE Chess Classic
had an easier time of it,
staying at the luxurious
Brenner's Park Hotel
and experiencing great
organisation.
World champion
Viswanathan Anand
swooped with two wins in
the final rounds to snatch
first place at the death.
He demonstrated some
impressive new ideas in
this game against the solid
Petroff defence:
XABCDEFGHY
8-+-trr+k+(
7zppzpqvlpzp-'
6-+-+-+-zp&
5sn-+-+l+-%
4-+-zPNvL-+$
3zP-zP-+L+P#
2-+-+-zPP+"
1tR-+QtR-mK-!
xabcdefghy
V.Anand – D.Fridman
GRENKE Classic
Baden-Baden 2013
20.Ra1–a2
With the first new move of
the game Anand prepares
to double rooks. He has
judged that despite leaving
the 'a' pawn to its fate,
activity generated by his
forces on the kingside more
than compensates.
20...
b7-b6
21.Ra2-e2
Be7xa3
22.Bf3-g4
Re8-f8
The dangers facing Fridman
are demonstrated in the
venomous tactical sequence
22...Bf5xg4 23.Ne4-f6+
g7xf6 24.Re2xe8+ Rd8xe8
25.Qd1xg4+. However, it
was better to defend with
22...Bf5-e6 not ceding
complete control of the
open file.
23.Bg4xf5
Qd7xf5
24.Bf4xc7
Rd8-d7
25.Bc7-e5 f7-f6
White's central dominance
creates serious difficulties
as in the lines 25...Na5c4 26.Ne4-g3 Qf5-g6
27.Qd1–a4, or 25...Ba3-e7
26.Be5xg7 Kg8xg7
27.Ne4-g3.
26.Ne4-g3
Qf5-e6
27.Qd1–a4
Na5-c4
There was a well-hidden
defence with 27...f6xe5
28.Re2xe5 Qe6-f7 29.Re5f5 Rd7-e7 30.Re1–a1 Qf7b3, when Black has decent
chances to survive despite
the pawn deficit.
28.Be5-d6 b6-b5
After 28...Qe6xd6
29.Qa4xc4+ Kg8-h8
30.Qc4-a2, there is no good
way to rescue the sidelined
prelate.
29.Re2xe6 b5xa4
30.Bd6xf8
Kg8xf8
30...Ba3xf8 hanging on to
the advanced pawn looks
a slightly better practical
chance.
31.Re1–a1
Ba3-b2
32.Ra1xa4
Nc4-b6
33.Ra4-a6
33.Re6xb6 a7xb6 34.Ng3e2 Rd7-c7 35.Ra4-a2
Bb2xc3 36.Ra2-c2 was a
crisper finish, but the result
is no longer in doubt and
Anand wraps things up
efficiently enough.
33...
Bb2xc3
34.Ng3-f5
Bc3-b4
35.Re6-e2
Kf8-f7
36.Re2-a2
Nb6-c8
37.g2-g4 g7-g6
38.Nf5xh6+
Kf7-g7
39.g4-g5 f6xg5
40.Nh6-g4
Rd7xd4
41.Ra2-c2
Nc8-e7
42.Ra6xa7
Bb4-d6
43.Kg1–g2
Kg7-f7
44.Rc2-e2
45.Re2-e5
46.Re5xg5
47.Ra7-a6
1–0
Bd6-b4
Bb4-d6
Kf7-e6
Arkadij Naiditsch finished
the most spectacular game
in great style, interrupting
a king hunt with a quiet
finesse:
XABCDEFGHY
8r+-+-+-mk(
7zpp+-+-wqp'
6-+-zp-+-+&
5+-+-+-+-%
4-+LsN-vl-+$
3+-+-+-+-#
2PzP-snKzP-+"
1tR-+Q+-+R!
xabcdefghy
D. Fridman – A. Naiditsch
GRENKE Classic
Baden-Baden 2013
37… d6-d5
An ice-cool move with
little time on the clock, and
a good but less efficient
option available in
37...Nd2xc4. The incorrect
capture 37...Qg7xd4
allows White to fight back
with 38.Rh1xh7+ Kh8xh7
39.Qd1–h1+ Kh7-g6
40.Ra1–g1+ Bf4-g5 41.Bc4d3+ Kg6-f6 42.Qh1–h5.
38.Qd1–c2
If 38.Bc4xd5 Ra8-e8+
(Again not 38...Qg7xd4
39.Rh1xh7+) 39.Ke2-d3
Qg7-g6+ 40.Kd3-c3 Re8c8+ 41.Kc3-b4 Qg6-b6+
42.Kb4-a4 Qb6-a6+ 43.Ka4b4 Bf4-d6 mate is a fitting
conclusion.
38...
Ra8-e8+
39.Ke2-d1
Nd2xc4
40.Qc2-c3
Re8-e4
41.Nd4-f5
Nc4xb2+
42.Kd1–c2
Re4-e2+
43.Kc2-b3
Qg7xc3+
44.Kb3xc3
Bf4-e5+
45.Nf5-d4
45.Kc3-b3 Nb2-c4 is no
better.
45...
Re2-e4
White resigned, as
46.Kc3xb2 Be5xd4+
47.Kb2-b3 Bd4xa1
48.Rh1xa1 h7-h5 is
hopeless.

* Your assessment is very important for improving the work of artificial intelligence, which forms the content of this project