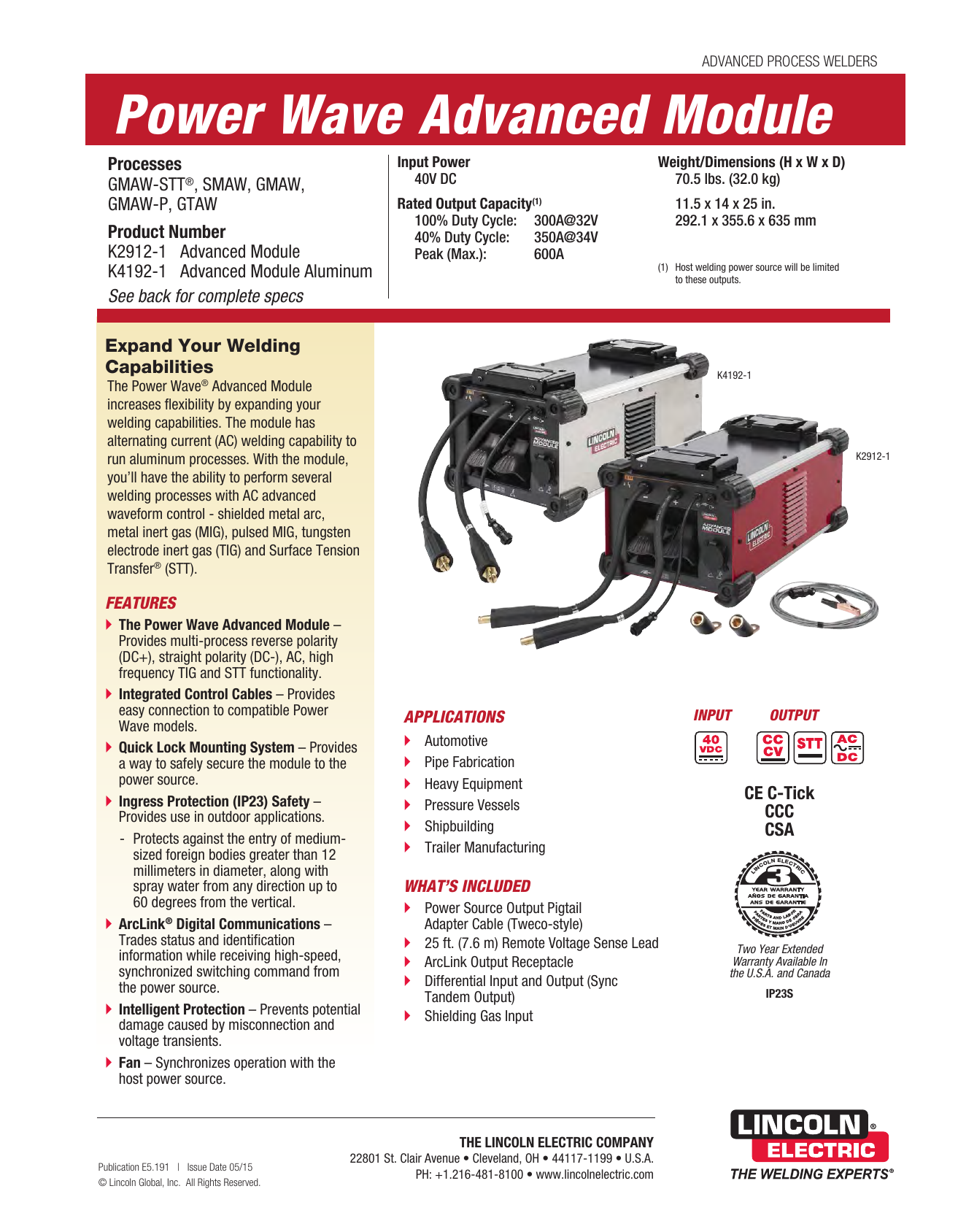 ADVANCED PROCESS WELDERS
Power Wave Advanced Module
Processes
GMAW-STT®, SMAW, GMAW,
GMAW-P, GTAW
Product Number
K2912-1 Advanced Module
K4192-1 Advanced Module Aluminum
See back for complete specs
Input Power
40V DC
Weight/Dimensions (H x W x D)
70.5 lbs. (32.0 kg)
Rated Output Capacity(1)
100% Duty Cycle: 300A@32V
40% Duty Cycle: 350A@34V
Peak (Max.):
600A
11.5 x 14 x 25 in.
292.1 x 355.6 x 635 mm
(1) Host welding power source will be limited
to these outputs.
Expand Your Welding
Capabilities
K4192-1
The Power Wave® Advanced Module
increases flexibility by expanding your
welding capabilities. The module has
alternating current (AC) welding capability to
run aluminum processes. With the module,
you'll have the ability to perform several
welding processes with AC advanced
waveform control - shielded metal arc,
metal inert gas (MIG), pulsed MIG, tungsten
electrode inert gas (TIG) and Surface Tension
Transfer® (STT).
K2912-1
FEATURES
APPLICATIONS
Automotive
Pipe Fabrication
Heavy Equipment
Pressure Vessels
Shipbuilding
Trailer Manufacturing
IN
CO
LN ELECT
RI
WHAT'S INCLUDED
 Power Source Output Pigtail
Adapter Cable (Tweco-style)
 25 ft. (7.6 m) Remote Voltage Sense Lead
 ArcLink Output Receptacle
 Differential Input and Output (Sync
Tandem Output)
Shielding Gas Input
THE LINCOLN ELECTRIC COMPANY
Publication E5.191 | Issue D­ate 05/15
© Lincoln Global, Inc. All Rights Reserved.
CE C-Tick
CCC
CSA
L






OUTPUT
INPUT
C
 The Power Wave Advanced Module –
Provides multi-process reverse polarity
(DC+), straight polarity (DC-), AC, high
frequency TIG and STT functionality.
 Integrated Control Cables – Provides
easy connection to compatible Power
Wave models.
 Quick Lock Mounting System – Provides
a way to safely secure the module to the
power source.
 Ingress Protection (IP23) Safety –
Provides use in outdoor applications.
- Protects against the entry of mediumsized foreign bodies greater than 12
millimeters in diameter, along with
spray water from any direction up to
60 degrees from the vertical.
 ArcLink® Digital Communications –
Trades status and identification
information while receiving high-speed,
synchronized switching command from
the power source.
 Intelligent Protection – Prevents potential
damage caused by misconnection and
voltage transients.
 Fan – Synchronizes operation with the
host power source.
22801 St. Clair Avenue • Cleveland, OH • 44117-1199 • U.S.A.
PH: +1.216-481-8100 • www.lincolnelectric.com
Two Year Extended
Warranty Available In
the U.S.A. and Canada
IP23S
KEY CONTROLS
CASE FRONT DESCRIPTIONS
1.
Status light-emitting diode (LED) provides
ArcLink status of module.
2.
Connects to workpiece, regardless of process.
3.
Connects to feeder for MIG welding, regardless
of process.
4.
Power source mounting bracket.
5.
Negative input and positive input.
6.
Sense lead input provides voltage feedback to
the power source from the module.
7.
Sense lead output provides voltage feedback.
8.
TIG electrode connects internally to MIG
electrode, and provides high frequency
capability for TIG starting.
4.
1.
2.
3.
5.
6.
7.
8.
CASE BACK DESCRIPTIONS
1.
Differential input and output pigtail connects to the
differential input and output receptacle on the rear
of the power source.
2.
Differential input and output (sync tandem)
output supports synchronized MIG welding with
compatible power sources.
3.
ArcLink pigtail connects to the ArcLink output
receptacle on the rear of the power source.
1.
4.
ArcLink (output) provides a pass through
connection for all compatible wire feeders.
2.
3.
5.
Gas input provides a solenoid controlled gas feed to
TIG on case front.
4.
5.
6.
Removable cover; a channel for cable
management.
NOTE: For operation with the K2823-3 Power Wave S350 power source or K2862-3 Power Wave S350 Ready-Pak®
models with code numbers prior to 11600, the S28481 retrofit kit is required. Contact the customer service team in
Cleveland, Ohio to order a kit at no charge to assure proper connection to the Advanced Module.
THREE REASONS TO BUY
The Advanced Module adds three important capabilities to Lincoln Electric's mid-sized modular, multi-process S-Series
Power Wave power sources, which include the following:
1
2
3
AC polarity welding capability for aluminum MIG and TIG welding.
High frequency starting use when necessary to aid arc initiation.
STT welding is great for root pass welding on pipe or thin sheet metal applications.
[ 2 ] | Power Wave Advanced Module
6.
AC Aluminum Pulse for superior quality welding*.
Increases travel speed up to 40%
Increases deposition up to 75%
ADVANCED
MODULE burnthrough
CAPABILITIES
Decreases
Improves gap bridging
1
PULSE
10.1"
AC ALUMINUM PULSE
14.1"
AC POLARITY WELDING CAPABILITY
Adding the Advanced Module to your Power Wave augments the inverter-based DC welding
AC Aluminum
Pulse
(GMAW)
brings
that
be realized
with
standard
architecture
of the
Power Wave
withfeatures
AC welding.
Usecannot
AC for cleaning
action on
aluminum
when DC pulse MIG welding. The AC pulse
process reduces
heat or
input
thetoenergy
away
the base plate and switching the polarity of the arc.
MIG or TIGthe
welding,
use itby
forfocusing
stick welding
help combat
arcfrom
blow problems.
Productivity increases with improved deposition rates using AC Aluminum Pulse (GMAW) waveform technology are
Benefits:
available exclusively
on the Power Wave® Advanced Module. This is possible because the negative polarity arc redirects
the heat away
from
the
workpiece,
reducing the chance of burnthrough. The UltimArc™ and synergic precision controls
Increases
wire
feed
speed
give the user
full
control
over
heat
input,
penetration
while improving cleaning action, and allowing for faster travel speeds
Reduces burn-through with improved heat
control
on thin material.
Increases cleaning
With this technology, it is now easier to weld thin aluminum and bridge gaps. Precise control of the heat input is achieved
with the UltimArc™ control using AC Aluminum Pulse (GMAW). UltimArc™ adjusts the amount of DC negative time
during the background to allow less heat to be transferred to the workpiece.
FEATURES
Compares to conventional pulse processes
LOW
TRAVEL SPEED
HIGH
AC Aluminum Pulse vs. Pulse
AC ALUMINUM
PULSE
PULSE
THIN
MATERIAL THICKNESS
THICK
E
AC ALUMINUM
LS
MAX
PU
DEPOSITION
HE AT INP UT
MIN
Burnthrough
AC ALUMINUM
PULSE
LOW
HEAT INPUT
WIRE FEED
WFSSPEED
HIGH
MIN
AC ALUMINUM
MAX
PULSE
*Based on a side by side comparison of AC Aluminum Pulse and Pulse using a Power Wave® S350 with SuperGlaze® 4043 3/64" wire on a 1.5mm lap. AC
Aluminum Pulse parameters: Mode 393, WFS 215 in/min, Travel Speed 40 in/min, 0.75 Trim and -5 WC. Pulse parameters:Mode72, WFS 130 in/min, Travel
Speed 30 in/min, 0.8Trim and 0 WC.
2
HIGH FREQUENCY STARTING
When welding in DC- on steel or AC polarity mode on aluminum, it's helpful to have a high
TE12.009frequency current to improve arc starting performance. While the use of continuous high frequency
can interfere with surrounding shop equipment, instantaneous bursts designed to aid arc starting
have little or no effect. The Advanced Module incorporates a high frequency starting mode that can
be controlled at the wire feeder or power source user interface. The careful use of high frequency
starting can improve the appearance of TIG welding arc starts and helps to reduce contamination
caused by scratch starts.
Power Wave Advanced Module | [ 3 ]
THREE REASONS TO BUY, CONT'D.
3
STT
STT is a controlled MIG short circuit transfer
process that uses current controls to adjust the heat
independent of wire feed speed, resulting in superior
arc performance, good penetration, low heat input
control and reduced spatter and fumes.
For more information see Nextweld® Document NX-2.20
Conventional CV short circuit transfer
using carbon dioxide (CO2) and
0.045 in. solid wire.
Advantages of STT
• Reduces lack of fusion
• Increases puddle control
• Capable of producing consistent X-ray
quality welds
• Reduces training time
• Lowers fume generation and spatter
• Uses various compositions of shielding gas
• Uses 100 percent CO2 on mild steel
• Functions four times faster than MIG
• Uses vertical down welding
• Shields gas using various compositions
• Welds stainless, nickel alloys and mild steel
• Provides consistent x-ray quality welds
STT Application
STT using CO2 and 0.045 in. solid wire
(Note reduced spatter and fume).
Using STT
STT is the process of choice for low heat input
welds and is ideal for the following:
• Open root – pipe and plate
• Thin gauge material – automotive
• Stainless steel and nickel alloy – petrochemical
utility and food industry
• Silicon bronze – automotive
• Galvanized steel
• Semiautomatic and robotic
applications
Inside of an 8 in. x .375 in.
wall API 5L-X52 pipe,
welded in 5G position
Inside of an 8 in. x 0.375 in. wall
API 5L-X52 pipe,
welded in 5G position.
PRODUCT SPECIFICATIONS
Product
Name
Product
Number
Input
Power
Rated Output Capacity(1)
Current/Voltage/Duty Cycle
HxWxD
inches (mm)
Net
Weight
lbs. (kg)
Power Wave
Advanced Module
K2912-1
40 V DC
100% Duty Cycle: 300A@32V
40% Duty Cycle: 350A@34V
Peak (Max.): 600A
11.5 x 14 x 25
(292.1 x 355.6 x 635)
70.5
(32)
Power Wave Advanced
Module Aluminum
K4192-1
(1) Host welding power source will be limited to these outputs.
Manufactured at a facility with certified ISO Quality and Environmental Management Systems. Go to www.lincolnelectric.com for details.
For best welding results with Lincoln Electric equipment,
always use Lincoln Electric consumables. Visit www.lincolnelectric.com for more details.
CUSTOMER ASSISTANCE POLICY
T he business of The Lincoln Electric Company is manufacturing and selling high quality welding equipment, consumables, and cutting equipment. Our challenge is to meet the needs of our customers and to exceed their expectations. On
occasion, purchasers may ask Lincoln Electric for information or advice about their use of our products. Our employees respond to inquiries to the best of their ability based on information provided to them by the customers and the knowledge
they may have concerning the application. Our employees, however, are not in a position to verify the information provided or to evaluate the engineering requirements for the particular weldment. Accordingly, Lincoln Electric does not warrant
or guarantee or assume any liability with respect to such information or advice. Moreover, the provision of such information or advice does not create, expand, or alter any warranty on our products. Any express or implied warranty that might
arise from the information or advice, including any implied warranty of merchantability or any warranty of fitness for any customers' particular purpose is specifically disclaimed. Lincoln Electric is a responsive manufacturer, but the selection and use of specific products sold by Lincoln Electric is solely within the control of, and remains the sole responsibility of the customer. Many variables beyond the control of Lincoln
Electric affect the results obtained in applying these types of fabrication methods and service requirements.
Subject to Change – This information is accurate to the best of our knowledge at the time of printing. Please refer to www.lincolnelectric.com for any updated information.