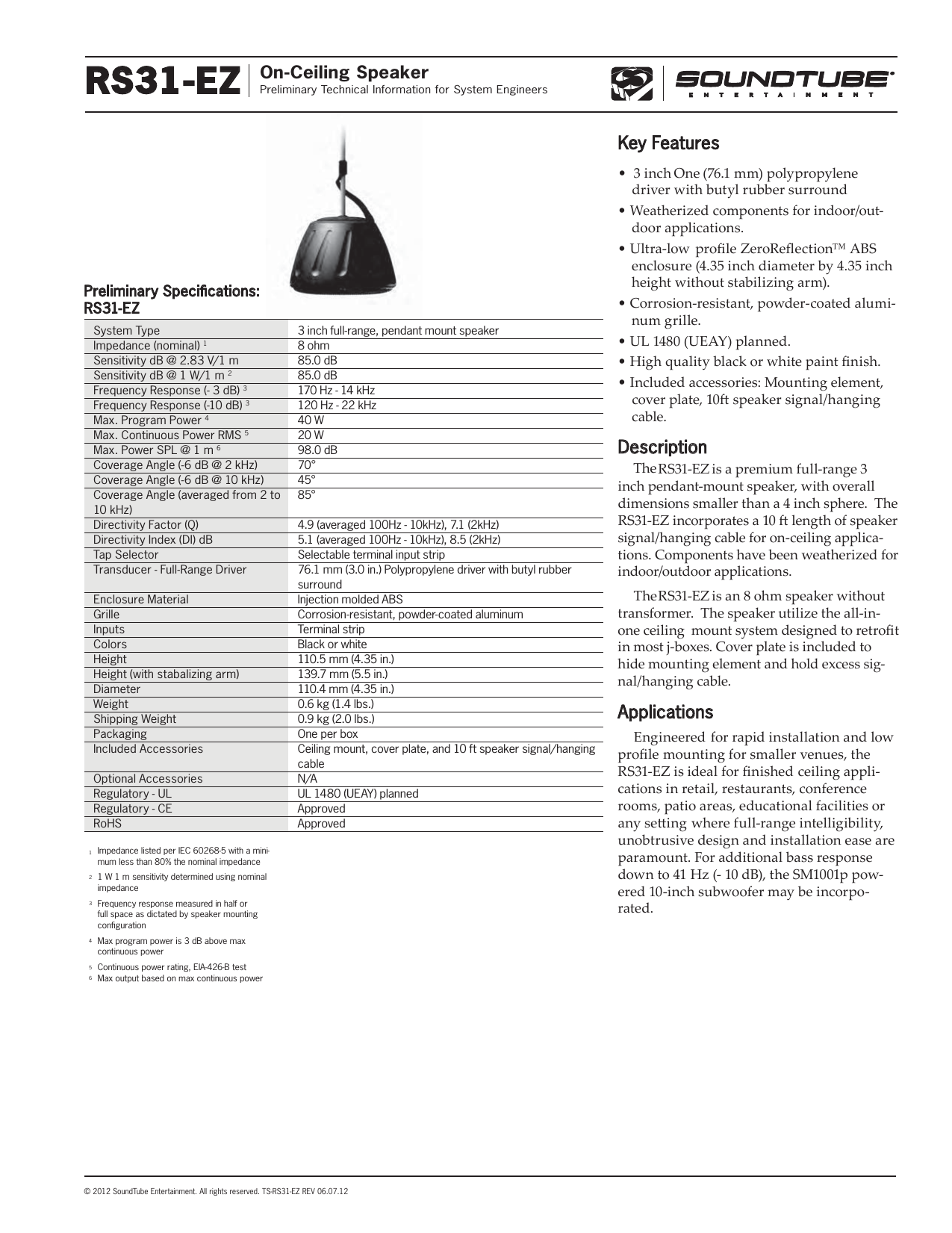 RS31-EZ
On-Ceiling Speaker
Preliminary Technical Information for System Engineers
Key Features
Preliminary Specifications:
RS31-EZ
System Type
Impedance (nominal) 1
Sensitivity dB @ 2.83 V/1 m
Sensitivity dB @ 1 W/1 m 2
Frequency Response (- 3 dB) 3
Frequency Response (-10 dB) 3
Max. Program Power 4
Max. Continuous Power RMS 5
Max. Power SPL @ 1 m 6
Coverage Angle (-6 dB @ 2 kHz)
Coverage Angle (-6 dB @ 10 kHz)
Coverage Angle (averaged from 2 to
10 kHz)
Directivity Factor (Q)
Directivity Index (DI) dB
Tap Selector
Transducer - Full-Range Driver
Enclosure Material
Grille
Inputs
Colors
Height
Height (with stabalizing arm)
Diameter
Weight
Shipping Weight
Packaging
Included Accessories
Optional Accessories
Regulatory - UL
Regulatory - CE
RoHS
1
4.9 (averaged 100Hz - 10kHz), 7.1 (2kHz)
5.1 (averaged 100Hz - 10kHz), 8.5 (2kHz)
Selectable terminal input strip
76.1 mm (3.0 in.) Polypropylene driver with butyl rubber
surround
Injection molded ABS
Corrosion-resistant, powder-coated aluminum
Terminal strip
Black or white
110.5 mm (4.35 in.)
139.7 mm (5.5 in.)
110.4 mm (4.35 in.)
0.6 kg (1.4 lbs.)
0.9 kg (2.0 lbs.)
One per box
Ceiling mount, cover plate, and 10 ft speaker signal/hanging
cable
N/A
UL 1480 (UEAY) planned
Approved
Approved
Impedance listed per IEC 60268-5 with a minimum less than 80% the nominal impedance
2
1 W 1 m sensitivity determined using nominal
impedance
3
Frequency response measured in half or
full space as dictated by speaker mounting
configuration
4
Max program power is 3 dB above max
continuous power
5
Continuous power rating, EIA-426-B test
Max output based on max continuous power
6
3 inch full-range, pendant mount speaker
8 ohm
85.0 dB
85.0 dB
170 Hz - 14 kHz
120 Hz - 22 kHz
40 W
20 W
98.0 dB
70°
45°
85°
© 2012 SoundTube Entertainment. All rights reserved. TS-RS31-EZ REV 06.07.12
Ȋ 3 inch One (76.1 mm) polypropylene
driver with butyl rubber surround
Ȋ Weatherized components for indoor/outdoor applications.
Ȋ Ultra-low proęle ZeroReĚection™ ABS
enclosure (4.35 inch diameter by 4.35 inch
height without stabilizing arm).
Ȋ Corrosion-resistant, powder-coated aluminum grille.
Ȋ UL 1480 (UEAY) planned.
Ȋ High quality black or white paint ę—ish.
Ȋ Included accessories: Mounting element,
cover plate, 10Ğ speaker signal/hanging
cable.
Description
TheRS31-EZ is a premium full-range 3
inch pendant-mount speaker, with overall
dimensions smaller than a 4 inch sphere. The
RS31-EZ incorporates a 10 Ğ length of speaker
signal/hanging cable for on-ceiling applications. Components have been weatherized for
indoor/outdoor applications.
TheRS31-EZ is an 8 ohm speaker without
transformer. The speaker utilize the all-inone ceiling mount system designed to retroęt
in most j-boxes. Cover plate is included to
hide mounting element and hold excess signal/hanging cable.
Applications
Engineered for rapid installation and low
proęle mounting for smaller venues, the
RS31-EZ is ideal for ę—ished ceiling applications in retail, restaurants, conference
rooms, patio areas, educational facilities or
any seĴing where full-range intelligibility,
unobtrusive design and installation ease are
paramount. For additional bass response
down to 41 Hz (- 10 dB), the SM1001p powered 10-inch subwoofer may be incorporated.
RS31-EZ
On-Ceiling Speaker
Preliminary Technical Information for System Engineers
Patented SoundTube
Technologies
SoundTube Entertainment and the
MSE Audio Group constantly develop
new technologies which enhance audio
product performance. SoundTube Entertainment innovations are protected by
multiple U.S. and international patents,
which explicitly cover SoundTube dome,
enclosure and dispersion technologies.
The MSE Audio Group actively defends
its patents in order to protect SoundTube
resellers and end-users.
Technical Data and
Specification Tools
Technical Data
SoundTube Entertainment strives to
provide complete and eěective technical
information and data to dealers, engineers and designers. All data are available from SoundTube Entertainment or at
www.soundtube.com.
Technical data and downloads include:
EASE™ data – 3-D polar plots.
EASE™ Address – 2-D modeling for distributed systems
Autodesk® Revit® soĞware
Tech Sheets – Technical information and
architectural specs for system engineers
SoundTubeSPEC™ – Proprietary speaker
placement soĞware
Performance specięcations for a typical production unit shall be as follows:
Useable frequency response shall extend
from 120 Hz – 22 kHz (- 10 dB). Measured
sensitivity (2.83 volt input, 1 meter) shall be
at least 85.0 dB. Rated power capacity shall
be at least 20 waĴs continuous (RMS) and
conform to EIA-426-B. Maximum continuous power output at 1 meter shall be 98 dB.
Installation shall be by mounting element designed to retro-ęt in most junction
boxes. The speaker will hang via 10 foot
signal/hanging cable (included). Cover
plate is inculded to store excess signal/
hanging cable as it is screwed into place,
concealing the mounting element and
junction box. The speaker utilizes weatherized components for indoor and outdoor
applications.
External wiring shall be by low-proęle
screw terminal and shall accept from 10 –
22-gauge wire.
The enclosure shall be constructed of
injection-molded, ABS. The grille shall be
constructed of powder-coated aluminum
for lasting performance and aĜx to the
speaker baĝe via pressure ęt. Overall
cabinet dimensions shall be no more than
110.5 mm (4.35 in.) in height by 110.5 mm
(4.35 in.) in diameter. The unit height with
stabilizing arm shall be no more than 139.7
mm (5.5 in.).
The system shall be the RS31-EZ for
low-impedance applications.
Acquisition and Verification
All data for SoundTube speakers are
independently collected from and verięed by NWAA Labs (www.nwaalabs.
com) using their proprietary MACH
testing system. All data are collected and
analyzed according to ASTM, ISO and
AES standards using EASERA, TEF and
MLSSA. Full balloon data including both
phase and magnitude is compiled into
a variety of formats including EASE 4.x,
GLL and CLF.
Architectural Specifications
The loudspeaker transducer shall
consist of one full-range 76.2 mm (3.0 in.)
polypropylene cone with butyl rubber surround.
SoundTube Entertainment
6430 North Business Park Loop
Park City, Utah 84098
Phone
435.647.9555
Fax
435.647.9666
Toll Free 800.647.TUBE
www.soundtube.com
All SoundTube products come
with a 5-year limited warranty.
RS31-EZ
On-Ceiling Speaker
Preliminary Technical Information for System Engineers
Graphs and Plots
Frequency Response
Vertical Beamwidth (-6 dB)
Phase/Impedance Response
Directivity Index (DI)
RS31-EZ
On-Ceiling Speaker
Preliminary Technical Information for System Engineers
Horizontal
Vertical
Polar Plots
125 Hz
250 Hz
500 Hz
1,000 Hz
2,000 Hz
4,000 Hz
8,000 Hz
10,000 Hz
Technical data, EASE™ plots, SoundTubeSPEC™ software and product downloads available at www.soundtube.com
Mechanical Drawings
110.5 mm (4.35 in.)
110.5 mm (4.35 in.)
SoundTube Entertainment manufactures a complete line of speakers for:
Open-CeilinHtIn-CeilinHtSurface-MounUtOutdooStSound-Focusing
All SoundTube products are designed and engineered in the USA.

* Your assessment is very important for improving the work of artificial intelligence, which forms the content of this project