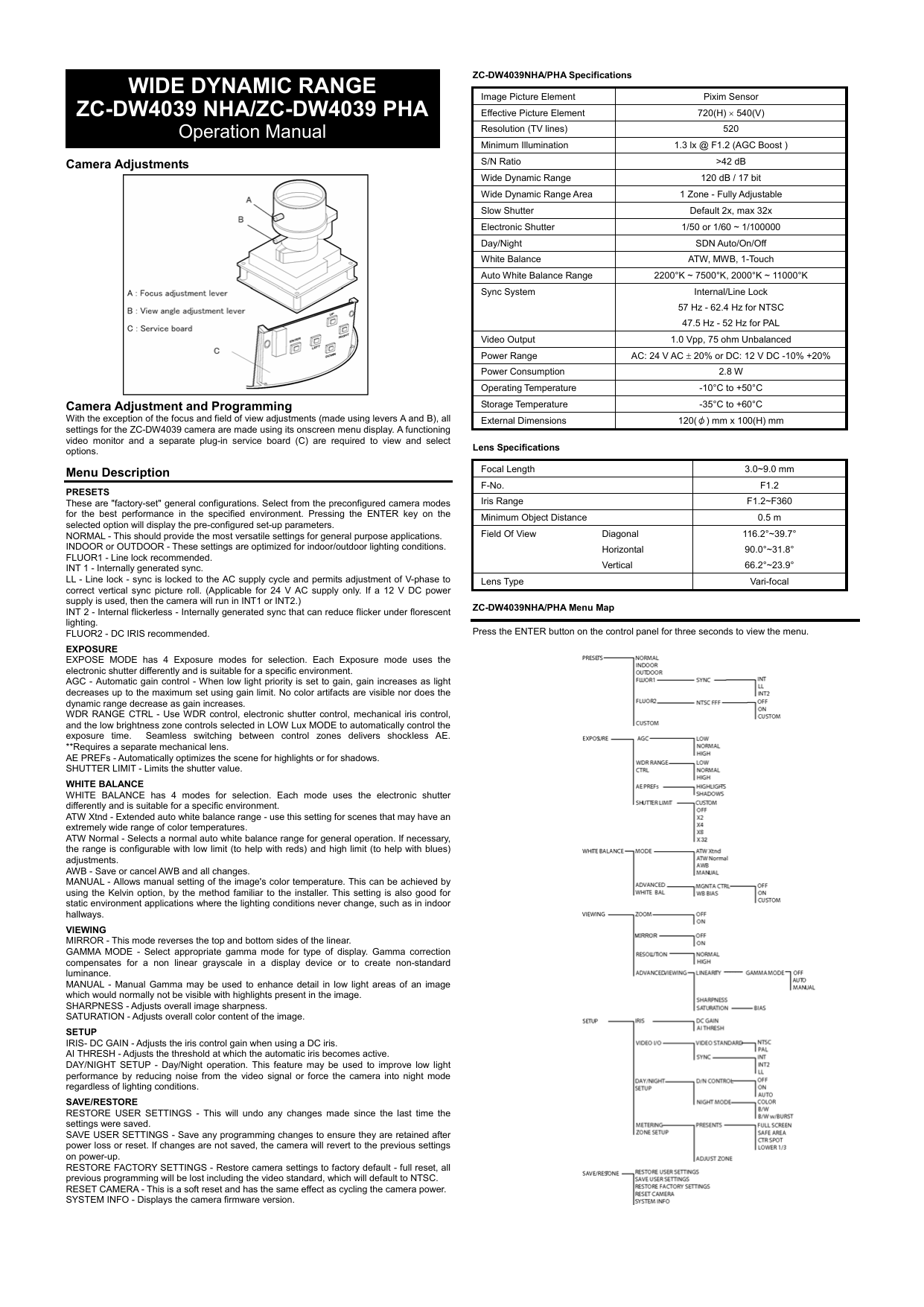 WIDE DYNAMIC RANGE
ZC-DW4039 NHA/ZC-DW4039 PHA
Operation Manual
Camera Adjustments
ZC-DW4039NHA/PHA Specifications
Image Picture Element
Pixim Sensor
720(H) × 540(V)
Effective Picture Element
Resolution (TV lines)
520
Minimum Illumination
1.3 lx @ F1.2 (AGC Boost )
S/N Ratio
>42 dB
Wide Dynamic Range
120 dB / 17 bit
Wide Dynamic Range Area
1 Zone - Fully Adjustable
Slow Shutter
Default 2x, max 32x
Electronic Shutter
1/50 or 1/60 ~ 1/100000
Day/Night
SDN Auto/On/Off
White Balance
ATW, MWB, 1-Touch
Auto White Balance Range
2200°K ~ 7500°K, 2000°K ~ 11000°K
Sync System
Internal/Line Lock
57 Hz - 62.4 Hz for NTSC
47.5 Hz - 52 Hz for PAL
Video Output
1.0 Vpp, 75 ohm Unbalanced
Power Range
AC: 24 V AC ± 20% or DC: 12 V DC -10% +20%
Power Consumption
2.8 W
Operating Temperature
-10°C to +50°C
Camera Adjustment and Programming
Storage Temperature
-35°C to +60°C
With the exception of the focus and field of view adjustments (made using levers A and B), all
settings for the ZC-DW4039 camera are made using its onscreen menu display. A functioning
video monitor and a separate plug-in service board (C) are required to view and select
options.
External Dimensions
120(φ) mm x 100(H) mm
Menu Description
PRESETS
These are "factory-set" general configurations. Select from the preconfigured camera modes
for the best performance in the specified environment. Pressing the ENTER key on the
selected option will display the pre-configured set-up parameters.
NORMAL - This should provide the most versatile settings for general purpose applications.
INDOOR or OUTDOOR - These settings are optimized for indoor/outdoor lighting conditions.
FLUOR1 - Line lock recommended.
INT 1 - Internally generated sync.
LL - Line lock - sync is locked to the AC supply cycle and permits adjustment of V-phase to
correct vertical sync picture roll. (Applicable for 24 V AC supply only. If a 12 V DC power
supply is used, then the camera will run in INT1 or INT2.)
INT 2 - Internal flickerless - Internally generated sync that can reduce flicker under florescent
lighting.
FLUOR2 - DC IRIS recommended.
EXPOSURE
EXPOSE MODE has 4 Exposure modes for selection. Each Exposure mode uses the
electronic shutter differently and is suitable for a specific environment.
AGC - Automatic gain control - When low light priority is set to gain, gain increases as light
decreases up to the maximum set using gain limit. No color artifacts are visible nor does the
dynamic range decrease as gain increases.
WDR RANGE CTRL - Use WDR control, electronic shutter control, mechanical iris control,
and the low brightness zone controls selected in LOW Lux MODE to automatically control the
exposure time.
Seamless switching between control zones delivers shockless AE.
**Requires a separate mechanical lens.
AE PREFs - Automatically optimizes the scene for highlights or for shadows.
SHUTTER LIMIT - Limits the shutter value.
WHITE BALANCE
WHITE BALANCE has 4 modes for selection. Each mode uses the electronic shutter
differently and is suitable for a specific environment.
ATW Xtnd - Extended auto white balance range - use this setting for scenes that may have an
extremely wide range of color temperatures.
ATW Normal - Selects a normal auto white balance range for general operation. If necessary,
the range is configurable with low limit (to help with reds) and high limit (to help with blues)
adjustments.
AWB - Save or cancel AWB and all changes.
MANUAL - Allows manual setting of the image's color temperature. This can be achieved by
using the Kelvin option, by the method familiar to the installer. This setting is also good for
static environment applications where the lighting conditions never change, such as in indoor
hallways.
VIEWING
MIRROR - This mode reverses the top and bottom sides of the linear.
GAMMA MODE - Select appropriate gamma mode for type of display. Gamma correction
compensates for a non linear grayscale in a display device or to create non-standard
luminance.
MANUAL - Manual Gamma may be used to enhance detail in low light areas of an image
which would normally not be visible with highlights present in the image.
SHARPNESS - Adjusts overall image sharpness.
SATURATION - Adjusts overall color content of the image.
SETUP
IRIS- DC GAIN - Adjusts the iris control gain when using a DC iris.
AI THRESH - Adjusts the threshold at which the automatic iris becomes active.
DAY/NIGHT SETUP - Day/Night operation. This feature may be used to improve low light
performance by reducing noise from the video signal or force the camera into night mode
regardless of lighting conditions.
SAVE/RESTORE
RESTORE USER SETTINGS - This will undo any changes made since the last time the
settings were saved.
SAVE USER SETTINGS - Save any programming changes to ensure they are retained after
power loss or reset. If changes are not saved, the camera will revert to the previous settings
on power-up.
RESTORE FACTORY SETTINGS - Restore camera settings to factory default - full reset, all
previous programming will be lost including the video standard, which will default to NTSC.
RESET CAMERA - This is a soft reset and has the same effect as cycling the camera power.
SYSTEM INFO - Displays the camera firmware version.
Lens Specifications
Focal Length
3.0~9.0 mm
F-No.
F1.2
Iris Range
F1.2~F360
Minimum Object Distance
Field Of View
0.5 m
Diagonal
116.2°~39.7°
Horizontal
90.0°~31.8°
Vertical
66.2°~23.9°
Lens Type
Vari-focal
ZC-DW4039NHA/PHA Menu Map
Press the ENTER button on the control panel for three seconds to view the menu.
Português/Portuguese
Eliminação do seu antigo aparelho
1. Quando este símbolo de latão cruzado estiver afixado a um produto, significa
que o produto é abrangido pela Directiva Europeia 2002/96/EC.
2. Todos os produtos eléctricos e electrónicos devem ser eliminados
separadamente da coleta de lixo municipal através de pontos de recolha
designados, facilitados pelo governo ou autoridades locais.
3. A eliminação correcta do seu aparelho antigo ajuda a evitar potenciais
consequências negativas para o ambiente e para a saúde humana.
4. Para obter informaçõs mais detalhadas acerca da eliminação do seu aparelho
antigo, contacte as autoridades locais, um serviço de eliminação de resíduos
ou a loja onde comprou o produto.
English
Disposal of your old appliance
1. When this crossed-out wheeled bin symbol is attached to a product it means
the product is covered by the European Directive 2002/96/EC.
2. All electrical and electronic products should be disposed of separately from
the municipal waste stream via designated collection facilities appointed by
the government or the local authorities.
3. The correct disposal of your old appliance will help prevent potential negative
consequences for the environment and human health.
4. For more detailed information about disposal of your old appliance, please
contact your city office, waste disposal service or the shop where you
purchased the product.
Français/French
Élimination de votre ancien appareil
1. Ce symbole, représentant une poubelle sur roulettes barrée d'une croix,
signifie que le produit est couvert par la directive européenne 2002/96/EC.
2. Tous les produits électriques et électroniques doivent être éliminés
séparément de la chaîne de collecte municipale des ordures, par
l'intermédiaire des installations de collecte prescrites et désignées par le
gouvernement ou les autorités locales.
3. Une élimination conforme aux instructions aidera à réduire les conséquences
négatives et risqueséventuelspour l'environnement et la santé humaine.
4. Pour plus d'informations concernant l'élimination de votre ancien appareil,
veuillez contacter votre mairie, le service des ordures ménagères ou encore le
magasin où vous avez acheté ce produit.
Deutsch/German
Entsorgung von Altgeräten
1. Wenn dieses Symbol eines durchgestrichenen Abfalleimers auf einem
Produkt angebracht ist, unterliegt dieses Produkt der europäischen Richtlinie
2002/96/EC.
2. Alle Elektro- und Elektronik-Altgeräte müssen getrennt vom Hausmüll über
die dafür staatlich vorgesehenen Stellen entsorgt werden.
3. Mit der ordnungsgemäßen Entsorgung des alten Geräts vermeiden Sie
Umweltschäden und eine Gefährdung der persönlichen Gesundheit.
4. Weitere Informationen zur Entsorgung des alten Geräts erhalten Sie bei der
Stadtverwaltung, beim Entsorgungsamt oder in dem Geschäft, wo Sie das
Produkt erworben haben.
Italiano/Italian
INFORMAZIONE AGLI UTENTI
Ai sensi dell'art. 13 del Decreto Legislativo 25 luglio 2005, n. 151"Attuazione
delle direttive 2002/95/CE, 2002/96/CE e 2003/108/CE, relative alla riduzione
dell'uso di sostanze pericolose nelle apparecchiature elettriche ed elettroniche,
nonché allo smaltimento dei rifiuti"
Il simbolo del cassonetto barrato riportato sull'apparecchiatura o sulla sua
confezione indica che il prodotto alla fine della propria vita utile deve essere
raccolto separatamente dagli altri rifiuti.
La raccolta differenziata della presente apparecchiatura giunta a fine vita è
organizzata e gestita dal produttore. L'utente che vorrà disfarsi della presente
apparecchiatura dovrà quindi contattare il produttore e seguire il sistema che
questo ha adottato per consentire la raccolta separata dell'apparecchiatura
giunta a fine vita.
L'adeguata raccolta differenziata per l'avvio successivo dell'apparecchiatura
dismessa al riciclaggio, al trattamento e allo smaltimento ambientalmente
compatibile contribuisce ad evitare possibili effetti negativi sull'ambiente e sulla
salute e favorisce il reimpiego e/o il riciclo dei materiali di cui è composta
l'apparecchiatura. Lo smaltimento abusivo del prodotto da parte del detentore
comporta l'applicazione delle sanzioni amministrative previste dalla normativa
vigente.
Polski/Polish
Utylizacja starych urządzeń
1. Kiedy do produktu dołączony jest niniejszy przekreślony symbol kołowego
pojemnika na śmieci, oznacza to, że produkt jest objęty europejską dyrektywą
2002/96/EC.
2. Wszystkie elektryczne i elektroniczne produkty powinny być utylizowane
niezależnie od odpadów miejskich, z wykorzystaniem przeznaczonych do
tego miejsc składowania wskazanych przez rząd lub miejscowe władze.
3. Właściwy sposób utylizacji starego urządzenia pomoże zapobiec potencjalnie
negatywnemu wpływowi na zdrowie i środowisko.
4. Aby uzyskać więcej informacji o sposobach utylizacji starych urządzeń, należy
skontaktować się z władzami lokalnymi, przedsiębiorstwem zajmującym się
utylizacją odpadów lub sklepem, w którym produkt został kupiony.
Español/Spanish
Cómo deshacerse de aparatos eléctricos y electrónicos viejos
1. Si en un producto aparece el símbolo de un contenedor de basura tachado,
significa que éste se acoge a la Directiva 2002/96/EC.
2. Todos los aparatos eléctricos o electrónicos se deben desechar de forma
distinta del servicio municipal de recogida de basura, a través de puntos de
recogida designados por el gobierno o las autoridades locales.
3. La correcta recogida y tratamiento de los dispositivos inservibles contribuye a
evitar riesgos potenciales para el medio ambiente y la salud pública.
4. Para obtener más información sobre cómo deshacerse de sus aparatos
eléctricos y electrónicos viejos, póngase en contacto con su ayuntamiento, el
servicio de recogida de basuras o el establecimiento donde adquirió el
producto.
FCC INFORMATION
WARNING: This equipment has been tested and found to comply with the limits
for a Class B digital device, pursuant to Part 15 of the FCC Rules. These limits
are designed to provide reasonable protection against harmful interference in a
residential installation. This equipment generates, uses, and can radiate radio
frequency energy and, if not installed and used in accordance with the
instructions, may cause harmful interference to radio communications. However,
there is no guarantee that interference will not occur in a particular installation. If
this equipment does cause harmful interference to radio or television reception,
which can be determined by turning the equipment off and on, the user is
encouraged to try to correct the interference by one or more of the following
measures:
- Reorient or relocate the receiving antenna.
- Increase the separation between the equipment and receiver.
- Connect the equipment into an outlet on a circuit different from that to which
the receiver is connected.
- Consult the dealer or an experienced radio/television technician for help.
Any changes or modifications not expressly approved by the party responsible
for compliance could void the user's authority to operate the equipment.
This device complies with Part 15 of the FCC Rules. Operation is
subject to the following two conditions: (1) this device may not cause
harmful interference, and (2) this device must accept any interference
received, including interference that may cause undesired operation.
This Class B digital apparatus complies with Canadian ICES-003.
The CE Marking is a Directive Conformity mark of the European Union (EU).
MINI DOME CAMERA
ZC-D4000 series
Enclosure Installation Sheet
Precautions
• Do not attempt to disassemble the camera module mounted within the dome. There are
no user-serviceable parts within the camera module. Have all servicing carried out by to
qualified service personnel.
• Handle the camera with care.
could damage the camera.
Avoid dropping or shaking it.
Improper handling or storage
• Irrespective of whether the camera is in use or not, never face it towards the sun. Use
caution when operating the camera in the vicinity of spotlights or other bright lights and
light-reflecting objects.
• Do not operate the camera beyond its temperature, humidity or power source ratings.
Please refer to the environmental information provided overleaf.
Methods for mounting the enclosure
There are three ways to mount and fix the dome enclosure:
A: Surface mount using screws
B: Surface mount with the optional Quick Install Kit
Note: Always use the template provided
Packing list
In addition to this installation sheet:
•
•
•
•
•
•
1 × Torx driver
3 D5 fastening screws
3 Wall plug
T2 fastening screw
1/2" Cable Entry Grommet
3/4" Cable Entry Grommet
Installing the dome enclosure
1. Remove the dome cover and the camera linear
Gently turn the dome cover counter-clockwise to unlock and pull free of the dome base. Remove the
camera linear by gently pulling it free of the two notches (D4) in the camera base (see fig. D)
2. Use the template to mark and prepare the mounting area
This installation sheet is designed to maintain the IP and NEMA rating independent of the chosen
installation method. Therefore, all mounting access positions are sealed until they are ready to be
used. When mounting the dome to a ceiling or wall using screws, use the template to cut a hole as
the circle marked"T5" with a hole cutter.
3. Open the required knock-out panel
Use a sharp knife or side cutter pliers to cut one of the side knock-outs (C3) to the size required to
allow cable insertion. Be careful not to hurt yourself or damage the camera when using knives and
side cutter pliers.
4. Mount the dome enclosure
Using one of the mounting schemes discussed overleaf (Methods for mounting the enclosure), fix
the dome enclosure in place.
5. Connect the connecters
All wires have been connected to the circuit board sealed
on the dome base. When the enclosure is mounted
securely to a surface, connect your video out and power
in the cables to the G1 and G2 connectors.
A service jack socket is also provided for temporary video
connection when focusing the camera, using an optional
Service jack socket.
Important: Use only a Class 2 certified power supply.
6. Adjust the camera position
You can adjust the focusing position by rotating and
panning the camera base (see fig. E)
7. Install the camera liner
Carefully fit the camera linear (F1) over the camera base so that it snaps into place as shown in fig F
and does not obstructed the camera lens.
8. Replace the dome cover
Replace the dome cover (F2) and rotate to close it as shown in fig.F.
secure the whole enclosure (see fig. G)
Use the supplied T2 screw to
9. Install the Quick Mount Kit (optional) (see fig.H)
a. Use the screws to adjust the position of the two locking arms on the Quick Mount adapter.
b. Thread cables through the Quick Mount adapter (H1) and install it onto the dome enclosure.
c. Attach Camera to Quick Mount Install Adapter using the thread.