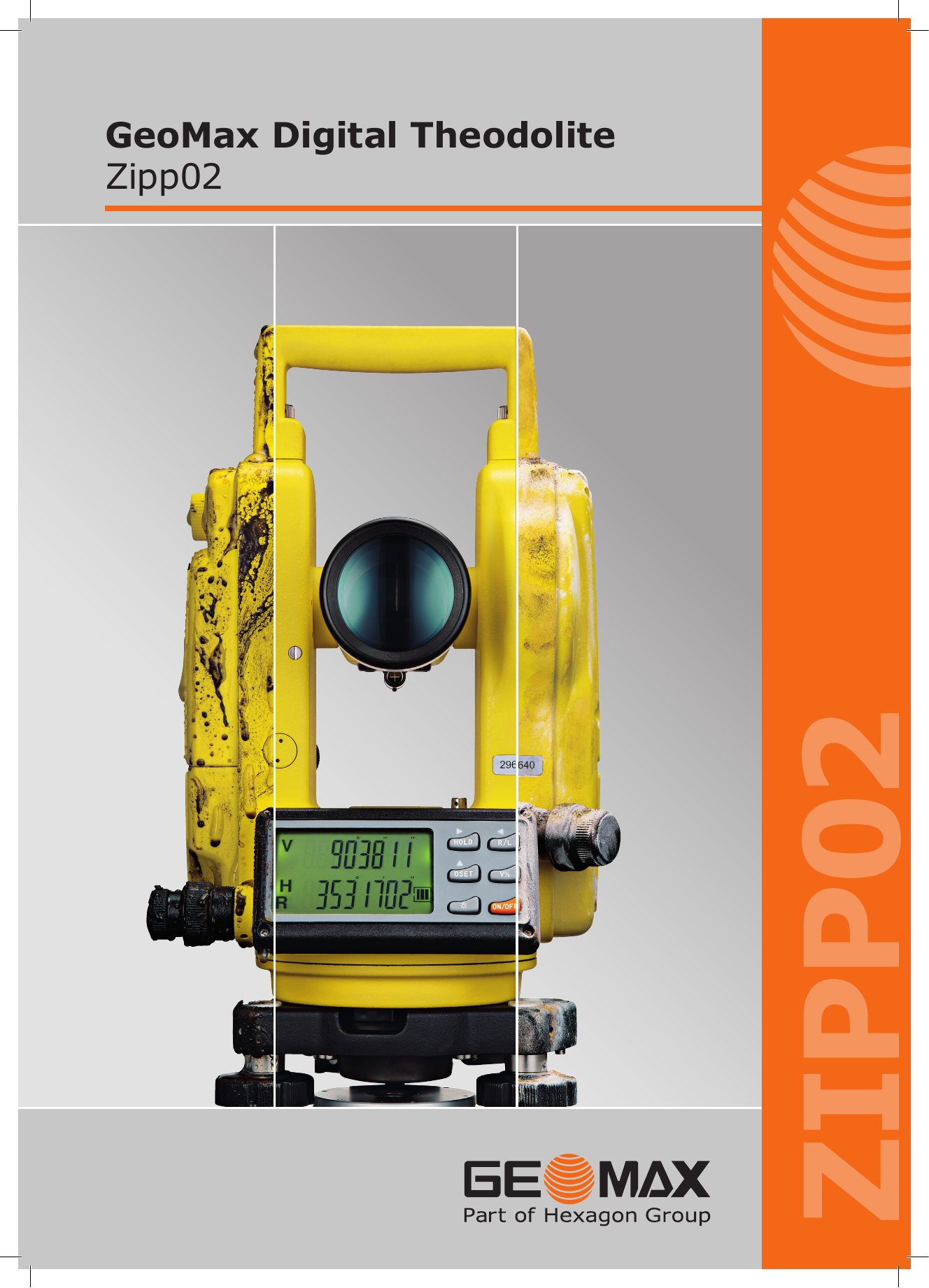 ZIPP02
GeoMax Digital Theodolite
Zipp02
Closing
the gap
Zipp
Zipp02
Closing the gap, Zipp02: For all your general construction tasks requiring accurate
angle measurement. Affordable, easy to use, flexible – simply "Works when you do".
illuminated reticle
solid metal handle
rechargeable
NiMH batteries &
alkaline spare
battery holder
30 x magnification
dust & water
resistant
large
back-lit LCD
With vertical compensation and 2"
accuracy the Zipp02 provides you with
the precision required for your most
demanding jobs for an affordable price
without adding complexity. Various dis-
vertical
compensator
play modes, hold and set zero for hori-
dual side display
auto power-off
Zipp02 – Closing the gap
quick setup and
easy operation
zontal angle, a variation of measurement
units, simple distance measurement via
stadia lines combined with six function
keys guarantee easy use. The visible
laser plummet enables you to set up over
various display
modes & units
2" accuracy
visible laser
plummet
battery status
indicator
a point faster and easier than ever. The
Zipp02 is the tool of your choice when it
comes to checking angles, alignments,
Angle measurements (Hz, V)
Precision
Display resolution
Display units
2"
1" or 5"
DEG (360° 00' 00"), GON (400), MIL (6400), V / %
Telescope
Magnification
Objective aperture
Minimum focusing distance
Stadia multiplication factor/constant
30x
45 mm (1.7 in)
1.35 m (4.43 ft)
100/0
Compensator
System
Working Range
Automatic vertical compensator, User set On/Off
± 3'
Operation
Display
Keys
Double side large character back-lit LCD
6 one touch button functions
Laser plummet
Type
Accuracy
Visible laser point
1.5 mm at 1.5 m instrument height
Environmental conditions
Protection to dust and water
Dust and water resistant
Weight
Weight including battery and tribrach
4.5 kg (9.9 lb)
Battery/Power management
Type of battery
Operation period without laser plummet
Rechargeable NiMH, replacement alkaline battery pack
36 h
>1/4s
Laser plummet: Laser class 2 in accordance with IEC 60825-1 resp. EN 60825-1
All trademarks and trade names are those of their respective owners.
Copyright GeoMax AG. Illustrations, descriptions and
technical specifcations are not binding and may change.
Printed in Switzerland / 03.2011 / 783256en
GeoMax AG
www.geomax-positioning.com
info@geomax-positioning.com
Works when you do
grade work and short range levelling.

* Your assessment is very important for improving the work of artificial intelligence, which forms the content of this project