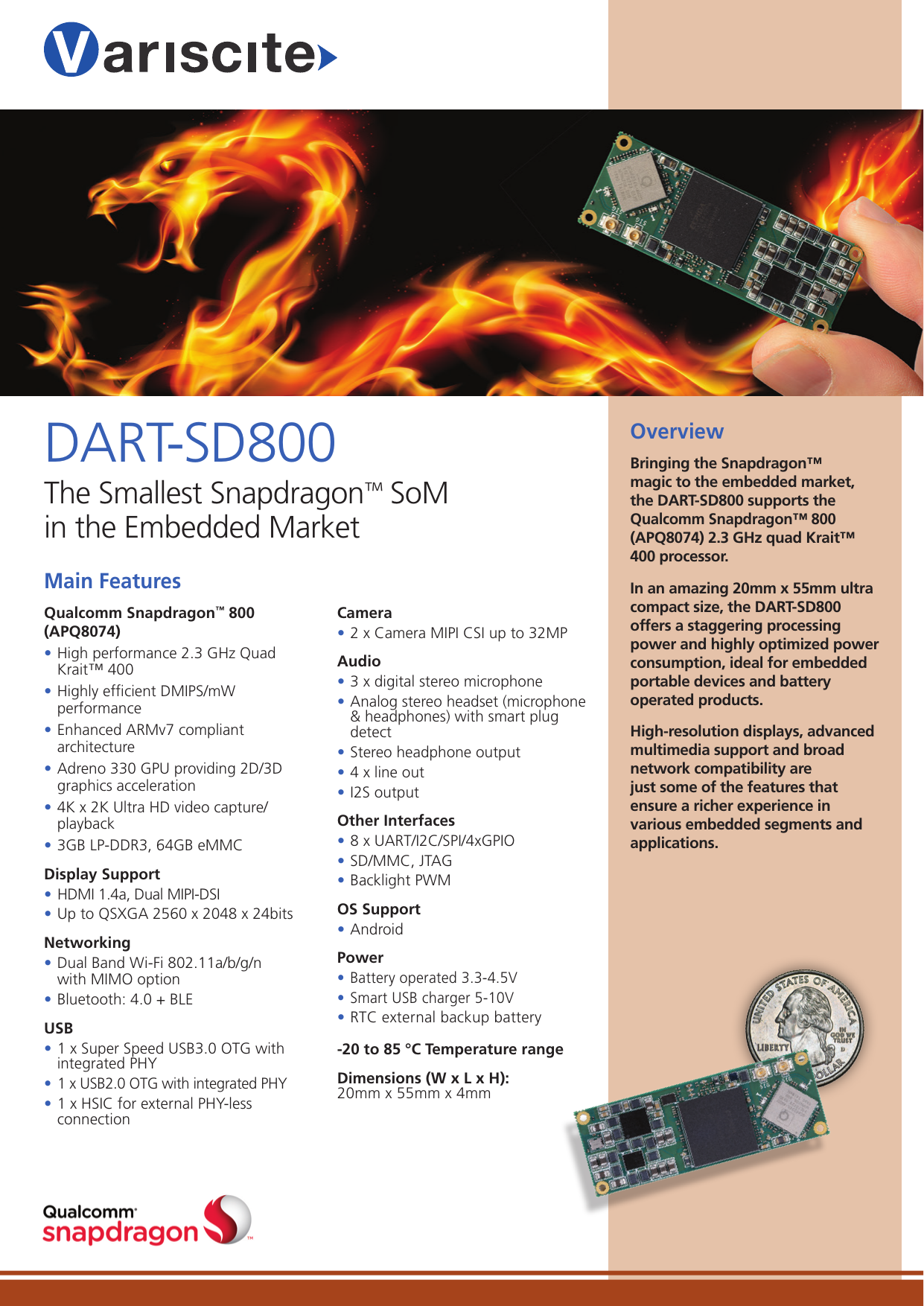 DART-SD800
The Smallest Snapdragon™ SoM
in the Embedded Market
Main Features
Qualcomm Snapdragon 800
(APQ8074)
•High performance 2.3 GHz Quad
Krait™ 400
•Highly efficient DMIPS/mW
performance
•Enhanced ARMv7 compliant
architecture
•Adreno 330 GPU providing 2D/3D
graphics acceleration
•4K x 2K Ultra HD video capture/
playback
•3GB LP-DDR3, 64GB eMMC
™
Display Support
•HDMI 1.4a, Dual MIPI-DSI
•Up to QSXGA 2560 x 2048 x 24bits
Networking
•Dual Band Wi-Fi 802.11a/b/g/n
with MIMO option
•Bluetooth: 4.0 + BLE
USB
•1 x Super Speed USB3.0 OTG with
integrated PHY
• 1 x USB2.0 OTG with integrated PHY
•1 x HSIC for external PHY-less
connection
Camera
•2 x Camera MIPI CSI up to 32MP
Audio
•3 x digital stereo microphone
•Analog stereo headset (microphone
& headphones) with smart plug
detect
•Stereo headphone output
•4 x line out
•I2S output
Other Interfaces
•8 x UART/I2C/SPI/4xGPIO
•SD/MMC, JTAG
•Backlight PWM
OS Support
•Android
Power
• Battery operated 3.3-4.5V
• Smart USB charger 5-10V
•RTC external backup battery
-20 to 85 °C Temperature range
Dimensions (W x L x H):
20mm x 55mm x 4mm
Overview
Bringing the Snapdragon™
magic to the embedded market,
the DART-SD800 supports the
Qualcomm Snapdragon™ 800
(APQ8074) 2.3 GHz quad Krait™
400 processor.
In an amazing 20mm x 55mm ultra
compact size, the DART-SD800
offers a staggering processing
power and highly optimized power
consumption, ideal for embedded
portable devices and battery
operated products.
High-resolution displays, advanced
multimedia support and broad
network compatibility are
just some of the features that
ensure a richer experience in
various embedded segments and
applications.
Complementing the DART-SD800
VAR-DVK-SD800 Evaluation Kit
Overview
VAR-DVK-SD800 - Supporting DART-SD800
The VAR-DVK-SD800 allows the customer to fully evaluate the DART-SD800
hardware & software capabilities, serving as a complete development platform as well
as a reference design for the customer's specific end-product.
The VAR-DVK-SD800 includes:
•DART-SD800
•Carrier board
•7" LCD + capacitive touch panel
•Power supply and communication cables
•Documentation and design package
The VAR-DVK-SD800 carrier board
includes the following features:
Display support:
•Dual 3-pair 18-bit LVDS
•HDMI 1.4a
Capacitive Touch Panel
•6-Pin FFC/FPC
Camera
•On board dual MIPI-CSI connectors
Audio
•Stereo line-out
•On board digital microphone
•Headset (microphone plus
headphone)
•I2S on expansion header
USB
•1x USB 2.0 host
•1 x USB 3.0 OTG
•1 x micro USB debug port
Variscite DART-SD800 022015 | Design: SRVC.co.il
Ethernet
•10/100Mb Ethernet
Storage
•SD/MMC interface
Additional Connectors
•8 x BLSP interfaces, configurable
to I2C, UART, SPI, 4x GPIO
•Backlight driver
•JTAG
Battery
•1-cell Li-Ion or Lithium
•3V Lithium backup battery
Power: 5V DC Input
About Variscite
In less than a decade Variscite has taken a leading position in the System on Modules (SoM) design and
manufacture market. A trusted provider of development and consulting services for a variety of embedded
platforms, Variscite transforms clients' visions into successful products.
For more information contact:
[email protected]
www.variscite.com
Copyright ©2015 Variscite. All rights reserved. Variscite Ltd. logos and product names are registered trademarks of Variscite Ltd. No part of this document may be reproduced by any means, nor translated to any electronic medium
without the written consent of Variscite. Information contained in this document is believed to be accurate and reliable; however, Variscite assumes no responsibility for its use. Specifications are subject to change without notice.

* Your assessment is very important for improving the work of artificial intelligence, which forms the content of this project