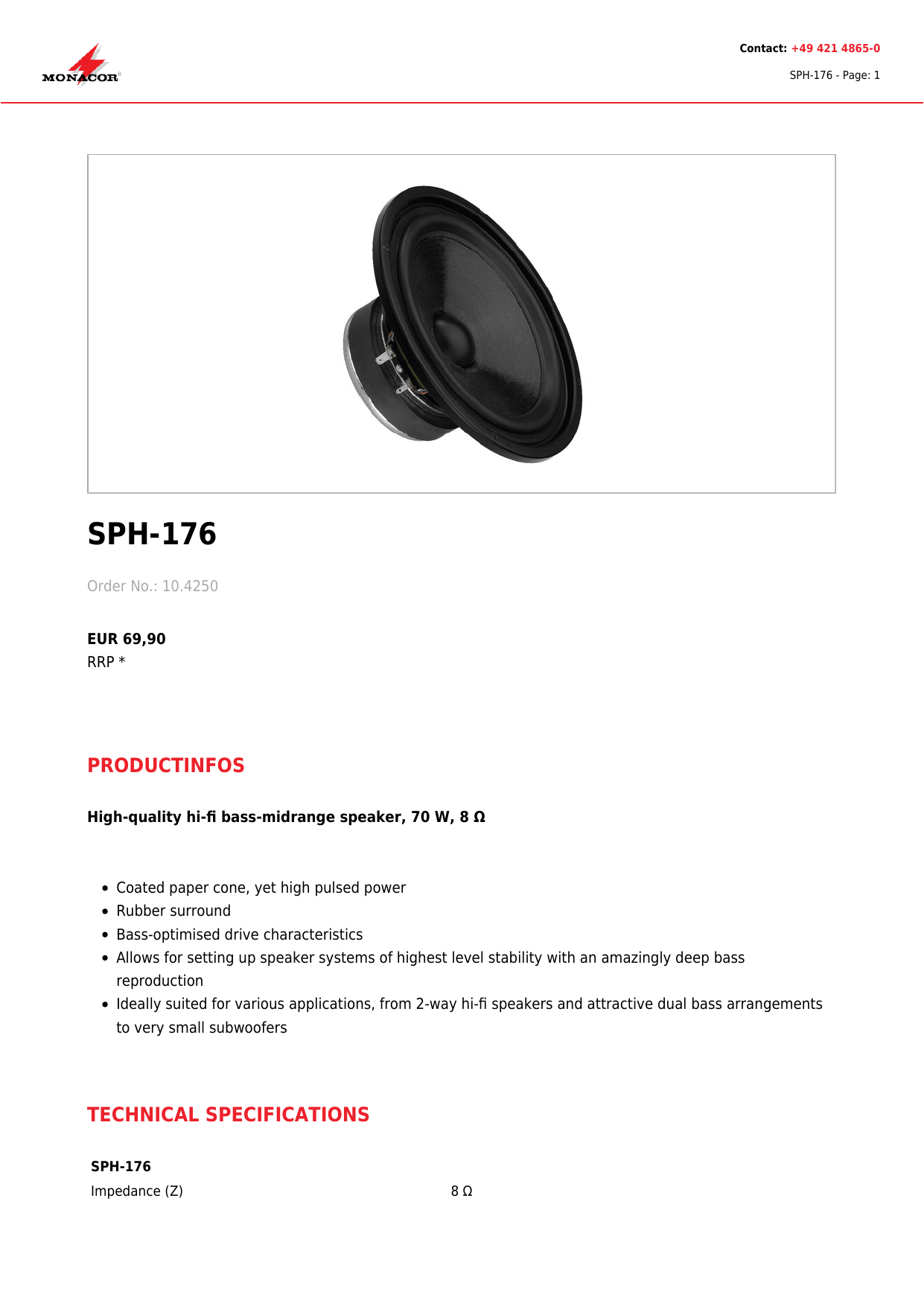 Contact: +49 421 4865-0
SPH-176 - Page: 1
SPH-176
Order No.: 10.4250
EUR 69,90
RRP *
PRODUCTINFOS
High-quality hi-fi bass-midrange speaker, 70 W, 8 Ω
Coated paper cone, yet high pulsed power
Rubber surround
Bass-optimised drive characteristics
Allows for setting up speaker systems of highest level stability with an amazingly deep bass
reproduction
Ideally suited for various applications, from 2-way hi-fi speakers and attractive dual bass arrangements
to very small subwoofers
TECHNICAL SPECIFICATIONS
SPH-176
Impedance (Z)
8Ω
Contact: +49 421 4865-0
SPH-176 - Page: 2
SPH-176
Frequency range
f3-4,500 Hz
Resonant frequency (fs)
39 Hz
Power rating
70 W
Peak music power output
120 W
Sensitivity
90 dB
Suspension compl. (Cms)
1.01 mm/N
Moving mass (Mms)
14 g
Mech. Q factor (Qms)
2.27
Electr. Q factor (Qes)
0.44
Total Q factor (Qts)
0.37
Equivalent volume (Vas)
27 l
DC resistance (Re)
6.6 Ω
Force factor (BxL)
7.7 Tm
Voice coil induct. (Le)
0.75 mH
Voice coil diameter
Ø 25 mm
Voice coil former
aluminium
Linear excursion (XMAX)
± 5.5 mm
Eff. cone area (Sd)
140 cm2
Magnet weight
450 g
Magnet diameter
Ø 90 mm
Mounting cutout
Ø 144 mm
Mounting depth
68 mm
Outside diameter
Ø 175 mm
Width
Ø 175 mm
Depth
75 mm
Admiss. ambient temp.
0-40 °C
Weight
1.23 kg
Sales unit
1
Type of speaker
* Important Notice: The retail prices shown here are non-binding recommendations that retailers can charge their customers. They are not
part of any specific offer or advertisement. These prices include all charges as well as VAT, but do not cover any additional delivery and
shipping costs. Our latest price lists for the retail market include all applicable delivery and payment terms for retailers.

* Your assessment is very important for improving the work of artificial intelligence, which forms the content of this project