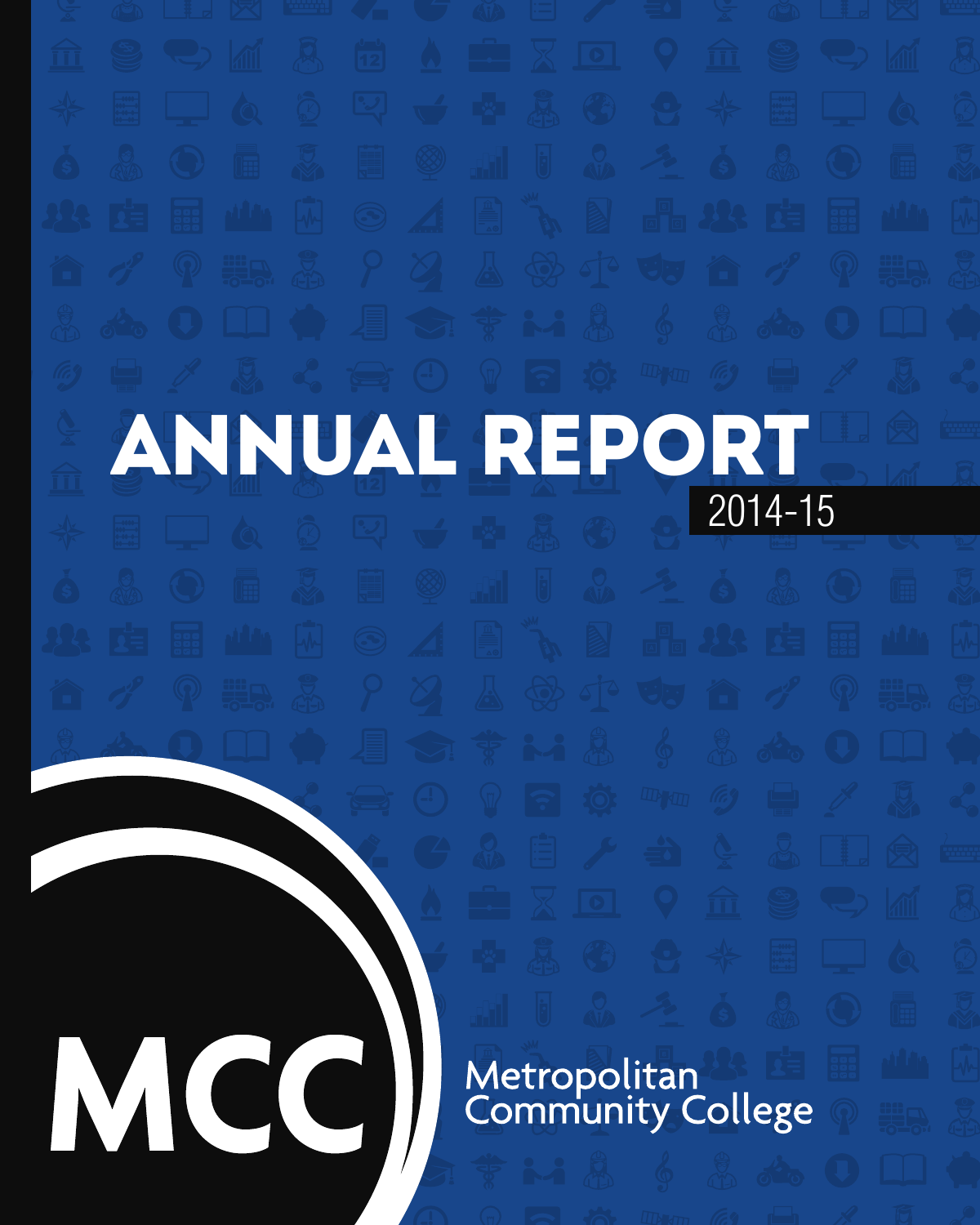 ANNUAL REPORT
2014-15
In 2014-15, Metropolitan Community College
— founded as the Kansas City Polytechnic
Institute in 1915 — celebrated 100 years of
educating Greater Kansas City.
OUR MISSION
Preparing Students, Serving Communities, Creating Opportunities.
We prepare students by offering a college experience that is uniquely suited to their needs. A Metropolitan Community
College education provides the foundation to further one's education or embark immediately on a career. We serve our
communities by providing educational resources that extend beyond the classroom. MCC fuels local commerce by
cultivating tomorrow's workforce and providing business support services that sustain economic development. In addition,
cultural activities offered on each of our five campuses enrich the lives of our students, staff and communities. We
create opportunities by providing affordable access to quality higher education to those who might not otherwise have it.
Regardless of their background, age or experience, we help prospective students overcome barriers in order to access a
college education. In short, MCC is an education that works – for students, for employers and for the Kansas City region.
CONTENTS
From the Chancellor........................................ 1
Creating Opportunities .............................12-13
Board of Trustees and Officers ......................2-3
Enrollment................................................14-15
#MCC100.....................................................4-7
Financials...................................................... 15
Preparing Students.......................................8-9
MCC Foundation......................................16-20
Serving Communities ..............................10-11
Donors......................................................21-28
Metropolitan Community College is accredited by
the Higher Learning Commission of the North Central
Association of Colleges and Schools.
From the chancellor
We're always looking to the future at Metropolitan
Community College, but in 2014-15 we also had the
pleasure of reflecting on the rich 100-year history of our
institution and its significance to the communities of Greater
Kansas City.
academic programs combined with the work of the MCC
Institute for Workforce Innovation — which delivers
customized workforce certificate programs to the region's
business and industry — make MCC a recognized regional
academic and economic engine.
It might surprise some to learn that MCC is the oldest and
largest public institution of higher education in Kansas City
and the fourth largest in Missouri. MCC was founded in
1915 as the Kansas City Polytechnic Institute and has since
built upon an extraordinary academic foundation laid by
the faculty who taught that inaugural class of 234 students.
In 1919 the institute got a new name, the Junior College
of Kansas City, and became one of the first colleges in the
nation to award the associate degree.
In preparation for the next century of service to our
community, MCC embarked on a new strategic planning
process in Spring 2015 involving employees, students and
representatives from the community. Five priorities — MCC
Climate and Campus Culture, Targeted Student Success,
Eliminating the Achievement Gap, System Functions and
Processes, and Strategic Financial Plan — have been
identified as the core of this new strategic plan.
A century later, in April 2015, MCC hosted a Centennial
Celebration attended by Kansas City civic and business
leaders, alumni, employees and students. They gathered to
honor the history and service of the institution, raise money
for student scholarships, and pay tribute to notable alumni.
These MCC alumni include CEOs, state and local political
leaders, chiefs of public safety agencies, professional
athletes, U.S. Olympians, educators, engineers, nurses and
other successful graduates numbering in the hundreds of
thousands, most of whom call Greater Kansas City home.
These days, MCC is highly sought out for academic
collaborations and transfer agreements. Our quality
We'll always remember and honor the tremendous
accomplishments of everyone who came before us at MCC.
At the same time, I'm confident that we're well on our way to
achieving even greater things over the next 100 years.
Sincerely,
Mark S. James
Chancellor
Preparing students, serving communities, creating opportunities.
1
Board of Trustees
Christopher Whiting (from left), Mariann Tow, Robert Martin, Richard Tolbert, David Disney and Trent Skaggs.
David Disney
President
Subdistrict 2
Trent Skaggs
Subdistrict 1
Christopher Whiting
Subdistrict 4
Mariann Tow
Vice President
Subdistrict 6
Richard Tolbert
Subdistrict 3
Robert Martin
Subdistrict 5
Trustees, who are elected by the public, serve
six-year terms. The board meets monthly.
2
Metropolitan Community College | Annual Report 2014-15
OUR OFFICERS
Mark S. James
Chancellor
Michel Hillman, Ph.D.
Interim Vice Chancellor,
Academic Affairs
Shelley Temple Kneuvean
Vice Chancellor, Financial and
Administrative Services
Michael Banks, Ph.D.
President
MCC-Blue River
Hasan Naima, Ph.D.
President
MCC-Business & Technology
Utpal K. Goswami, Ph.D.
President
MCC-Maple Woods
Kirk A. Nooks, Ed.D.
President
MCC-Longview
Joseph Seabrooks, Ph.D.
President
MCC-Penn Valley
Preparing students, serving communities, creating opportunities.
3
#MCC100
Celebrating
a century of service
Birthdays are always special occasions, but Number 100 is a particularly big deal — and
Metropolitan Community College did it up right. Throughout 2014-15, MCC toasted its
century mark in various ways.
Kansas City Mayor Sly James, himself an MCC
alumnus, kicked off the 100th academic year
by paying a visit to the Business & Technology
campus, where he talked about the College's
impact on KC's workforce and economy.
Business & Technology employees presented
the mayor (at left) with a 3-D wood plaque
they designed and created. Inspired by a
topography map, it featured the city logo.
Members of the 100th graduating class received medallions of a new MCC seal, which made its
debut at the commencement ceremony in May. Thousands of family members and friends were on
hand at Municipal Auditorium to honor the 900-plus new MCC alumni. U.S. Rep. Emanuel Cleaver
II, the keynote speaker, encouraged the grads to continue to push, innovate and move forward:
"Don't give in and don't ever give up."
4
Metropolitan Community College | Annual Report 2014-15
The party of the century, at least from MCC's perspective, was the Centennial Celebration at the Kansas City Convention
Center. The April 18 black-tie gala, attended by about 800 guests, broke fundraising records for the College. The event was
also a tribute to one of MCC's best-known alumni: entrepreneur and philanthropist Ewing Kauffman. (See Pages 16-17 for
more on the Centennial Celebration.)
The College launched a major fundraising campaign,
"100 for 100," to underwrite 100 scholarships for
students seeking associate degrees.
Kansas City and other municipalities in MCC's area
issued proclamations in honor of the College's 100th
birthday. The Missouri Senate passed a resolution
congratulating MCC for "providing education excellence
and service to students." State Senator Ryan Silvey
(right) presented the resolution to Chancellor Mark
James.
Preparing students, serving communities, creating opportunities.
5
#MCC100
100 years, 100 stories
In honor of the College's centennial, we decided to share "100 Stories" about members
of the MCC community past and present. Here's a quick glance. Learn more about these
people and others at mcckc.edu/our-history/100stories.asp.
"I still remember probably more of those entry-level classes I
had at Longview than I do the rest of my entire college career."
— MCC alumnus Charlie Shields, Truman Medical Centers
CEO. The former Missouri legislator is also a member of
the MCC Foundation board of directors.
"The teachers I had, I still remember to this day."
— "41 Action News" anchor Rhiannon Ally, who took classes
at MCC's Penn Valley and Longview campuses. She and
her husband, Mike Marusarz, both Kansas City natives,
moved back to the area from Miami in 2015.
"They were looking at me like, 'You don't look
like a police officer at all,' so it is kind of a good
thing to get out there and surprise them."
— Terin Humphrey, Olympic silver medalist who later
enrolled in the police academy at MCC-Blue River,
following in her brother's footsteps. Humphrey won two
silver medals in gymnastics at the 2004 Summer Games
in Athens. After graduating from MCC, she worked as
a police officer for 4 ½ years. Shannon Humphrey is a
Blue Springs police sergeant who teaches at Blue River's
Public Safety Institute.
"I'd like for it to be around another 100 years,
because it has benefited me and so many other
family members and friends."
— Kansas City Police Chief Darryl Forte, who earned an
associate degree at MCC-Penn Valley
6
Metropolitan Community College | Annual Report 2014-15
"I was nervous to leave high school, but my dad told me
to look at the big picture."
— Queen Wilkes (right), winner of MCC's inaugural
MLK Chancellor's Scholarship, named for Dr. Martin Luther
King Jr. Through the Early College Academy program, Wilkes
started at MCC while still a Kansas City Public Schools student.
She calls MCC a "gateway to opportunity."
"Going to MCC helped me develop expectations
of what an education could be."
— Idris Raoufi (right), a transportation planner and
alumnus of MCC-Penn Valley. He also co-founded
the 816 Bicycle Collective, a community recycled
bike shop.
"Every semester we would come home and talk about students
who you could tell would go on to do great things that they
would not have been able to do without that college."
— Judith Flynn, mom of bestselling novelist Gillian Flynn, whose blockbuster "Gone Girl" was turned into a movie starring Ben Affleck. Judith and her husband, Matt, both taught at MCC.
"It was a natural fit, because I'd heard good things about the
program and they accommodated a firefighter's schedule."
— Kansas City Fire Chief Paul Berardi, who graduated from
MCC-Penn Valley in 1992 with an associate degree, fire science
emphasis. Berardi and the Kansas City Fire Department recently
established an MCC scholarship to attract and train paramedics.
"(MCC is) very much involved now in preparing people for careers.
I think that's extremely important, that we have an institution that is
focused on the job market."
— Kansas City Mayor Sly James, who used the G.I. Bill to study at
MCC-Penn Valley before attending Rockhurst University and law school
Preparing students, serving communities, creating opportunities.
7
PREPARING STUDENTS
Early College Academy
grows its numbers
High school and college commencement ceremonies within
days of each other? That's reality for graduates of MCC's
Early College Academy.
In May the program celebrated 39 student success stories,
the largest number in three years of graduates. Through
Early College Academy, a partnership with Kansas City
Public Schools, highly motivated students spend most of their junior and senior years of high school at
MCC-Penn Valley. Then, at the end of their senior year, students earn an associate degree at the same
time they graduate from high school.
Similar early-college opportunities are also offered at MCC's other campuses.
Jessica Halperin
Katherine Ellis
MCC faculty honored for
excellence in teaching
Missouri Community College Association bestowed Governor's Awards for
Excellence in Teaching to five MCC faculty members in April.
Brian Chasteen
DeAnna Skedel
Randall Moore
The College's honorees: Brian Chasteen, MCC-Penn Valley counselor;
Katherine Ellis, MCC-Business & Technology computer science instructor;
Jessica Halperin, MCC-Maple Woods sociology instructor; Randall Moore,
MCC-Longview history instructor and social science division chair; and
DeAnna Skedel, MCC-Blue River art instructor.
The annual awards are presented to Missouri educators who demonstrate
effective teaching and advising, are dedicated in their service to the college
community, and who nurture student success in and out of the classroom.
MCC named a 'Military Friendly School'
Through programs such as Veterans
Upward Bound, MCC strives to help
military veterans achieve success
in and out of the classroom. These
efforts were validated when the College
was named a 2015 "Military Friendly
School" by Victory Media, publisher of
such media channels as G.I. Jobs and
Vetrepreneur.
more than 10,000 schools
nationwide.
The Military Friendly designation is
awarded to the top 15 percent of higher
education institutions "that are doing
the most to embrace military students."
"It is not just the faculty and
employees who care about
veterans, it's also the other students,"
he said. "You can really feel the
support here."
Victory Media says its list was compiled
through data-driven surveys of
8
Andrew Forbeck (right), an
MCC-Penn Valley student
who served in the U.S. Navy
from 2009 to '13, praised MCC's
efforts at making veterans feel
comfortable on campus.
Metropolitan Community College | Annual Report 2014-15
Sizable federal grant targets
STEM training at MCC
Following on the heels of two other "MoWINs" grants, MCC learned in
September 2014 that it would receive substantial federal dollars to train
long-term unemployed and other dislocated workers in the STEM fields:
science, technology, engineering and math.
MCC was awarded about $2.7 million as its share of $15 million in
MoSTEMWINs funds distributed to Missouri two-year colleges. MCC was the
lead fiscal institution for the initiative.
Through MoSTEMWINs, the College is offering a medical assistant program
— the first group of students started in June — as well as supplemental
instruction for computer science students. Thanks to the grant, MCC expects to
serve 190 students; training continues through 2018.
MoWINs (that stands for Missouri Workforce Innovation Networks) grants come from the U.S. Department of Labor in
partnership with the U.S. Department of Education.
Oh, baby, baby, baby
Multiple babies have been born at MCC-Penn Valley's
Health Science Institute since early 2015. But funny
thing: They all look alike.
They also all have the same mom.
Credit goes to new arrival "Victoria," a birthing simulator
at HSI's Virtual Hospital. Victoria is virtual, too, capable
of giving birth — to rubber "babies" — hundreds of
times, all for the benefit of HSI students.
"One of the many exciting features that drew us to
Victoria is that once the baby is delivered, it has very
lifelike responses, such as crying, moving, cyanosis,
heart sounds and lung sounds," says MCC health-care
simulation instructor Todd Geringer.
The Virtual Hospital and its simulators help students get
the clinical hours they need. Real hospitals aren't always
available to students, and in the case of birthing, not all
soon-to-be-moms want students observing.
A study from the Johns Hopkins School of Medicine
found that up to half of a student's clinical hours can be
replaced in a high-quality simulation lab with no dropoff
in learning.
MCC's 10,000-square-foot Virtual Hospital was one
of the first academic simulation centers to receive
national accreditation from the Society for Simulation in
Healthcare.
Preparing students, serving communities, creating opportunities.
9
SERVING COMMUNITIES
Events, programs
put the 'community' in MCC
Learning and earning: Employees of the Unilever plant in Independence faced the prospect of
layoffs as the plant switched from "wet" production (salad dressings and such) to "dry" (gravy mixes).
But thanks to state funding, 120 workers spent the summer of 2015 being retrained at the MCCBusiness & Technology campus in such areas as OSHA safety, hydraulics and pneumatics. They
received full paychecks while they were learning.
Santa's shoeboxes: Through MCC-Blue River's Operation
Christmas Child, volunteers filled shoeboxes with school supplies,
toys, treats and personal hygiene items, plus handwritten notes
of encouragement. The effort netted 251 boxes and more than
$1,700 in cash to ship the care packages to kids in need all over
the world.
10
Metropolitan Community College | Annual Report 2014-15
Lending a hand in Dr. King's name: As part of MCC's centennial, the College set a goal of providing 100 volunteer
hours during the 2015 Martin Luther King Jr. Day of Service in January. Students and employees from all five campuses
pitched in and far exceeded that goal, working with organizations such as Hillcrest Transitional Housing, St. Charles Food
Pantry, ASPCA in Independence, Habitat for Humanity, Hope House, KC Pet Project, Harvesters and the American Red
Cross.
Fifteen years of good stories: MCC-Maple Woods'
annual Kansas City Storytelling Celebration turned 15
in the fall of 2014. Storytelling events, held on campus
as well as at other venues around the city, featured
culturally diverse tellers, both local and national, with
the ultimate goal of encouraging positive dialogue about
their listeners' similarities, not differences.
A chapter in baseball history: At a
February program at MCC-Longview, Bob
Kendrick, president of the Negro Leagues
Baseball Museum, discussed the history of
the Negro Leagues and how the museum
came to be located in Kansas City. Founded
in 1990, it has become a center of the study
of race and sports in American history. The
program, to which the public was invited,
even drew Royals great Frank White (shown
at left with Kendrick) — he's not only a friend
of Kendrick's but also an MCC-Longview
alumnus.
Preparing students, serving communities, creating opportunities.
11
CREATING OPPORTUNITIES
International students
add cosmopolitan flair
It's true that most MCC students live within a 50mile radius of Kansas City. But some students
come from much, much farther away.
Any given semester, about 200 international
students from more than 50 countries are enrolled
at MCC. The College started tracking international
student attendance in 1996, and over that 19-year
span, nearly 4,000 students from 129 countries
studied here.
International students say they choose MCC for
the smaller class sizes and affordable cost. Many
are referred by family or friends who previously
attended. And as you can imagine, these students
arrive speaking a variety of languages and
representing many cultures and customs.
Most have some English language skills, and
those who need extra help usually bring someone
with them to assist in translating. Students who
need additional English assistance attend MCCPenn Valley's Applied Language Institute to take
courses in reading, writing, vocabulary, speaking
and sometimes tutoring. For international students
seeking extra one-on-one attention, MCC has an
international student counselor who specializes
in issues like homesickness and adjusting to
American life.
"I think these students are so very brave. They get
on a plane, leave all they know thousands of miles
away to go to an unknown land with hopes and
dreams of an American education," says Bobbie
Gustin, MCC's international student coordinator.
During Gustin's 14-year tenure, she has learned
how to navigate potentially difficult situations for
students and guide them toward a successful
academic experience. For example, she'll offer
assistance on using the health care and banking
systems or even grocery stores.
"All I can do," Gustin says, "is give them the best
possible advice and help them create a successful
experience at MCC."
Chancellor
helps draft
higher-ed 'Blueprint'
MCC Chancellor Mark James, along with other education leaders and representatives of commerce,
industry and government, was named to a statewide steering committee on higher education.
The Coordinating Board for Higher Education's initiative, "Preparing Missourians for Success: A
Blueprint for Higher Education," included public hearings around the state. The group met at MCC's
Health Science Institute in April.
The steering committee was charged with developing broad themes and recommendations for
responding to the state's current and future needs for higher education.
The plan will focus on four areas: improving college readiness and accessibility to higher education;
affordability; education quality; and helping students complete their certificate and degree programs.
A final report was expected in December 2015.
12
Metropolitan Community College | Annual Report 2014-15
Northland
CAPS program
lauded by
GOVERNOR Nixon
Hearing someone sing your praises is always nice,
especially when it's someone like the governor.
Missouri Gov. Jay Nixon, at an event at Cerner headquarters
in January, announced that the Northland CAPS program
had been designated an Innovative Education Partnership
by the Missouri Department of Higher Education. The honor
also came with grant money for the program.
Northland CAPS — that's Center for Advanced Professional
Studies — puts high school students in workplaces such
as Cerner, BankLiberty, Ford Motor Co., Holland 1916 and
North Kansas City and Liberty hospitals.
The program targets students interested in high-demand/
high-skill careers such as engineering, information
management, advanced manufacturing and nursing.
Northland CAPS is a partnership of MCC, six Northland
school districts, Northwest Missouri State University and
area businesses. Students receive college credit through
MCC and Northwest.
Nixon said Northland CAPS "is already putting hundreds
of students on a fast track to success in future careers, and
this official designation will ensure that hundreds more will
have this opportunity in the years ahead."
National recognition
for Missouri Innovation
Campus
The Missouri Innovation Campus in Lee's Summit was
named a finalist for a prestigious national award that
recognizes community college innovation.
How competitive was the field? More than 1,000 programs
were nominated for Bellwether Awards in three categories,
presented by the University of Florida's Community College
Futures Assembly. The winners were announced in January
at a CCFA conference in Orlando, Florida. The innovation
campus was a Top 10 finalist in the workforce development
category.
The program is a collaboration of MCC-Longview, Lee's
Summit R-7 School District and the University of Central
Missouri. The program, focused on the science, technology,
engineering and math fields, provides an opportunity for
students to earn a four-year degree two years after high
school.
At the end of 2014-15, 58 Lee's Summit students were
enrolled. MIC's three tracks: systems engineering
technology, drafting and design technology, and software
design. Each student interns with a business partner such as
Black & Veatch, Burns & McDonnell, Cerner, DST, KCP&L
and St. Luke's Health System.
Seven students from MIC's first 2012-16 cohort went
through MCC commencement in 2015 (nine graduated the
previous year). From that 2012-16 group, 12 students are
expected to earn bachelor's degrees in systems engineering
technology in May 2016 from UCM.
Preparing students, serving communities, creating opportunities.
13
ENROLLMENT
High School Penetration
(Percentage of in-district high school graduates attending MCC)
2014
21.1%
2013
21%
2012
23.8%
Students
2014
18,222
2013
19,234
2012
20,151
Credit Hours
2014
165,834
2013
177,611
2012
183,240
62%
58%
42%
Part-Time
Female
Male
43%
Male
38%
57%
Female
Full-Time
59%
Part-Time
2012
41%
43%
Male
Full-Time
57%
Female
2013
61%
Part-Time
2014
Full-Time
39%
STUDENT ENROLLMENT STATUS
Numbers are from fall semester. Source: MCC Office of Institutional Research and Assessment
14
Metropolitan Community College | Annual Report 2014-15
STUDENT RACE/ETHNICITY
2014
ian
nic
65%
White
American Indian .4%
Pacific Islander .3%
Multiracial 6.2%
Unspecified .5%
16%
Black
l
Hispa
nic
64%
White
cia
ltira
As
l
Hispa
nic
Mu
l
cia
ltira
ian
Unspecified
16%
Black
Mu
cia
ltira
As
Hispa
White 64%
Black 16%
Hispanic 9%
Asian 3%
2012
Unspecified
16%
Black
Mu
Pacific
Islander
American
Indian
As
ian
2013
Unspecified
White 65%
Black 16%
Hispanic 9%
65%
White
Asian 3%
Multiracial 6%
Unspecified 1%
White 65%
Black 16%
Hispanic 8%
Asian 3%
Multiracial 6%
Unspecified 1%
COLLEGE FINANCIAL RESULTS
Revenues
Local Taxes
State Aid
Student Fees
Grants and Contracts (including Pell)
Auxiliary
Other
Instruction
Institutional Support
Community Services
Student Services
Plant
Academic Support
Student Aid
Depreciation
Interest
Auxiliary
31,605,159
29,447,940
21,734,681
41,373,453
10,514,255
7,543,936
2012-13
31,831,624
29,705,779
22,543,810
41,426,472
11,129,310
6,702,517
142,219,424
143,339,512
2014-15
2013-14
2012-13
$42,397,980
$17,689,784
$2,364,475
$14,040,303
$11,090,673
$14,180,997
$5,184,499
$6,865,121
$2,934,670
$7,049,352
44,548,476
22,886,397
3,353,484
13,411,453
10,387,029
14,107,610
5,981,304
6,953,151
3,228,271
7,765,719
51,072,981
25,403,729
2,197,877
13,613,662
11,805,290
15,283,744
7,136,597
6,981,574
3,529,494
8,197,694
132,622,894
145,222,642
Total Revenue $136,711,530
Expenditures
2013-14
2014-15
$32,527,980
$31,678,098
$22,426,080
$34,465,697
$9,567,453
$6,046,222
Total Expenditures $123,797,854
Preparing students, serving communities, creating opportunities.
15
MCC FOUNDATION
The celebration
of a century
A gala 100 years in the making, the Metropolitan
Community College Centennial Celebration, drew
about 800 guests to the Grand Ballroom of the
Kansas City Convention Center on April 18, 2015.
Through event sponsorships and individual
donations, the Centennial Celebration also set a
fundraising record for the MCC Foundation: more
than $420,000 raised in support of the "100 for
100" initiative. The campaign sought to make a
college education possible for 100 more students
in our community by underwriting 100 MCC
associate degrees.
16
MCC Foundation executive committee members
Jason Dalen and CiCi Rojas led a planning
committee of more than 40 community members
and college employees that developed and executed
all aspects of the evening, from fundraising
to programming. Lou and Sharon Smith were
honorary chairpersons.
During his remarks, Chancellor Mark James
recognized the work of the committee and the
ongoing leadership of the Board of Trustees. He
also announced the launch of the "MCC Works"
fundraising campaign and thanked donors for lead
gifts.
Metropolitan Community College | Annual Report 2014-15
Emcees Bonyen Lee and Charlie Shields
Sharon Smith (from left), Chancellor Mark James and
Julia Irene Kauffman, who hosted a patrons party at
her home
The Centennial Celebration was designed to tell MCC's
story and recognize its impact on the Greater Kansas City
community. That storytelling was led by emcees Bonyen Lee
and Charlie Shields, both MCC alumni.
Julia Irene Kauffman with MCC students (from left) Nick
Wang, Andrew Williams, Morgan Simpson, Marcus Harris,
Emily Zahn, Sami Cintron and Margarita Araiza
The evening also highlighted the legacy of one of the College's
most accomplished alumni, Ewing Kauffman. "Mr. K" earned
an associate degree from MCC (then known as the Junior
College of Kansas City) in 1936, his only college experience.
Kauffman went on to transform the community like few
before or since. The newly named MCC Skyward Award was
presented to Kauffman's daughter, Julia Irene Kauffman, in
honor of his significant accomplishments in and contributions
to education, entrepreneurship and the arts.
Chancellor Mark James (from left), trustee Christopher Whiting,
Mayor Sly James and Licia Clifton-James, Board of Trustees president
David Disney and vice president Mariann Tow
Event chairs Jason Dalen
and CiCi Rojas
Sharon and Lou Smith, Peggy and Terry Dunn
MCC Foundation directors Kevin Seabaugh
(from left), Michael Roane and Jim Martin
with Kent Huyser at the patrons party
Preparing students, serving communities, creating opportunities.
17
MCC FOUNDATION
About the MCC Foundation
The MCC Foundation, established in 1976, raises money to support student scholarships and special
campus initiatives across the five-campus Metropolitan Community College system. In 2014-15, the
Foundation awarded 444 scholarships to 244 students for a total award amount of about $280,000.
Executive committee
Carolyn Watley, Chair | President, CBIZ Benefits and Insurance Service
Jason Dalen, Vice Chair | Financial Advisor, UBS Financial Services Inc.
CiCi Rojas, Secretary | CEO and President, Central Exchange
Jim Martin, Treasurer | Retired
Kathy Achelpohl, Officer at-Large | Architect, PGAV Architects
Josh Maxfield, Officer at-Large | Assistant General Counsel, Garmin International Inc.
Directors
Bret Bonge | Director, Employee Relations and Staffing, KCP&L
Carl Chinnery | Founding Partner, Chinnery Evans & Nail
Elizabeth DeZeeuw | Chief Operating Officer | ECCO Select
Rafael Garcia | Principal, Garcia Architecture LLC
Mark Larrabee | President and CEO, Greater Kansas City, Arvest Bank
David Levy | Director, Strategic Solutions, Kinetic Supply
Matt McFadden | Principal and Senior Vice President, Newmark Grubb Zimmer
Mike Pospisil | Partner, Edgar Law Firm LLC
Michael Roane | Senior Vice President and Chief HR Officer, JE Dunn
Tony Rohr | National Managing Principal, Gould Evans Associates
Kevin Seabaugh | Director, Physician Experience, Cerner Corp.
Darin Shank | Assistant Vice President, ASA Group, Merrill Lynch, Pierce, Fenner & Smith Inc.
Charlie Shields | President and CEO, Truman Medical Centers
Jami Shipman | Partner, Lathrop & Gage
Don Sipes | Vice President, Regional Services, Saint Luke's Health System
Michele Watley | Director, Kansas City branch office, Missouri Secretary of State
Maurice Watson | Chairman, Husch Blackwell LLP
Vicki Westerhaus | Partner, Stinson Leonard Street
Ex-officio members
Kent Huyser | Associate Vice Chancellor for Advancement, Metropolitan Community College
Mark S. James | Chancellor, Metropolitan Community College
Mariann Tow | Board of Trustees representative, Metropolitan Community College
Advisory members
Dr. Don R. Blim | Retired
Herb Kramer | Retired
Directors emeritus
Thomas Brusnahan | Vice President, Commercial Lending, Bank Midwest
Carl J. DiCapo | Retired
John A. Dillingham | Dillingham Enterprises
William H. Dunn Jr. | Director of Market Services, Campione Interior Services
Mary Hunkeler | Retired
Anita L. Maltbia | Director, Green Impact Zone
Gene Sands | Retired
18
Metropolitan Community College | Annual Report 2014-15
Bloch scholarship
helps fulfill dreams
Karla Vega, a Kansas City Public Schools student, was
thrilled when she earned her high school diploma. "As a
Latina, the expectation for me to graduate was less than
50 percent," she says.
But graduate she did, and by enrolling at MCC she
became the first member of her family to attend college.
She also became a recipient of the Henry W. Bloch
Scholarship, which finances not only an MCC associate
degree but also a UMKC bachelor's degree. Each year the
H&R Block Foundation, partnering with the MCC
Foundation and MCC-Penn Valley, awards scholarships
to a number of Penn Valley students. In 2014-15, 32
Bloch Scholars participated in the program at Penn Valley.
Vega has now moved on to UMKC and hopes to one day
earn a master's degree in psychology.
"The idea of helping people better themselves was really
meaningful to me," she says. "The person I want to be is
caring, inspiring, motivated, independent, strong."
MCC helped her become those things, Vega says.
The opportunity to attend college has been lifechanging, she adds, one that would have been
impossible without scholarships.
"I will forever be grateful for that," Vega says. "I never
knew I had so much potential until I came here."
The Bloch Scholarships, by the way, do not require a
high GPA, high ACT score or high class rank. They're
designed for average students, like Henry W. Bloch
himself was, who have the drive and determination to
succeed.
Since the program began in 2000, it has awarded more
than $550,000 to more than 220 MCC students.
Family Campaign
demonstrates
employee pride
MCC's first Family Campaign in 15 years — encouraging
employees to donate any amount to the MCC Foundation
to support student success — resulted in a 38 percent
participation rate.
"To go 15 years between employee-giving campaigns and
realize a response like this, it speaks to the passion and
dedication of MCC faculty, staff and administrators," says
Kent Huyser, associate vice chancellor for advancement.
"As we ask the community to philanthropically invest
in MCC, this commitment shows that we are leading by
example." During the Spring 2014 initiative, part of the
larger MCC Works campaign, 326 employees signed up to
give.
The total financial commitment: more than $50,000.
Lee Ann Zech (MCC-Maple Woods) and Christopher Gray
(now at MCC-Penn Valley and Administrative Center) cochaired the Family Campaign committee.
Another employee giving program is expected to be
launched in Spring 2016.
Preparing students, serving communities, creating opportunities.
19
Elements of the
MCC Works
campaign
MCC WORKS
CAMPAIGN
Goal: $20 million
PROGRESS:
$6,394,493
(as of June 30, 2015)
Priority 1, Transforming the Workforce ($6 million):
creating a customized training fund to meet the needs of business
and industry; creating a career and technical education fund to
enhance equipment and expand capacity of existing MCC
programs; and establishing a Workforce Transformation Center.
Priority 2, Student Success ($8 million): establishing
Student Success Centers on each campus; creating endowed
scholarships; and creating a Francis Institute for Child and Youth
Development Endowment as a permanent source of support for
the institute.
Learn more at mccworks.com
Priority 3, Teaching and Learning Excellence ($6 million):
creating a Science and Technology Fund to enhance the College's
resources and projects in these areas; creating a Campus
Improvement Fund to support needed renovations throughout the
college district.
Student Success
Centers envisioned
on all campuses
Student success is the College's paramount
focus, and fostering that success is one of the
major goals of the MCC Works fundraising
campaign.
MCC Works, initiated in Spring 2013, is striving
to raise $20 million to transform the way the College
serves our students and our communities. One-fourth
of that amount, $5 million, would be earmarked for a
Student Success Center on each campus.
The success centers are envisioned as state-of-the-art
spaces created through renovation of 31,000 square
feet of existing space across all five campuses.
20
Rather than having student services in different locations,
the Student Success Centers would bring together career
planning, math resources, writing lab, counseling and
tutoring services, and the peer mentor program. The
centers would also contain computers, a resource library,
conference rooms and collaborative learning
spaces.
The goal of the success centers: to promote greater
academic achievement, improved student retention and,
most important, increased graduation rates.
Metropolitan Community College | Annual Report 2014-15
DONORS
Chancellor's Round Table ($25,000+)
Carter Community Memorial Trust
The Stanley H. Durwood Foundation
The Francis Family Foundation
The H & R Block Foundation
Hall Family Foundation
Kansas City Fire Department
Ewing Marion Kauffman Foundation
Irven E. and NeVada P. Linscomb Foundation
Marion and Henry Bloch Family Foundation
Muriel McBrien Kauffman Foundation
Richard Richardson Educational Opportunities Trust
Mr. Louis and Mrs. Sharon Smith
Chancellor's Club ($10,000-$24,999)
Anonymous
Cerner Corporation
City of Kansas City, Missouri
The Glass Family Foundation
Jim Falk Motors
Missouri Arts Council
United Way of Greater Kansas City
Mrs. Doris Wilson
President's Club ($1,000-$9,999)
Anonymous
ADM Milling Company
ArtsKC-Regional Arts Council
Arvest Bank
Avila University
Ballweg Chevrolet Buick
Bank of Kansas City, N.A.
Bank On More
Dr. and Mrs. Michael Banks
BKD Foundation
Black & Veatch Corporation
Blue Cross Blue Shield of Kansas City
Brauer Supply Co
Brisley Scholarship Trust
James D. Browning Endowment Fund
Bryan Cave LLP
Builders Association of Greater Kansas City
Central Exchange
Central Methodist University
Kansas City Chiefs Football Club, Inc.
Children's Mercy Hospitals & Clinics
Chuck Anderson Ford, Inc
Ms. Evelyn Claiborne
Commerce Bank
Cornell Roofing & Sheet Metal Co
Cowboy-Up Events, LLC
Ms. Jeanne Crews
Dr. Rebecca R. Curtis
Mr. Jason Dalen
Davis, Sands & Collins, P.C.
Kathy and David Disney
DST Systems, Inc.
Ms. Carla Duryee
Edgar Law Firm LLC
Mr. and Mrs. Jon Ellis
Ms. Katherine D. Ellis
Faith Outreach Foundation
Mr. and Mrs. Charles F. Falkenberg
First Federal Bank
Mr. and Mrs. Tyrone Flowers
Matthew and Judith Flynn
Garcia Architecture, LLC
Garmin International Inc.
General Motors Milford Proving Grounds
Dr. Utpal K. Goswami
Gould Evans Associates, P.C.
Grantham University
Guadalupe Centers
Hallmark Cards Inc.
Shirley & Barnett Helzberg Foundation
Honeywell Federal Manufacturing & Technologies
Dr. John and Mrs. Mary Hunkeler
Hunt Midwest Enterprises, Inc.
Husch Blackwell LLP
Mr. and Mrs. Kent M. Huyser
Mr. Mark S. James
JE Dunn Construction Company
Kansas City Life Insurance Company
Preparing students, serving communities, creating opportunities.
21
DONORS
President's Club (continued)
Kansas City Royals
Kansas City University of Medicine & Biosciences
Ms. Sandra Kauffman
KCP&L
Kiewit Power Constructors Co
KLove Radio
KPMG LLP
Herbert F. Kramer
Mr. Mark Larrabee
Lathrop & Gage LLP
Lee's Summit Economic Development Council
Mr. David Levy
Lockton Companies, Inc.
Jim and Linda Martin
Mary Elizabeth Martin Scholarship Trust
Mr. Josh Maxfield
Mayor's Corps of Progress for a Greater Kansas City
McCownGordon Construction, LLC
Mr. Matt McFadden
McGladrey LLP
Mr. Jim E. McGraw
Mrs. Merley McMurry
Mid-West Terminal Warehouse
Ms. Cassandra Neff
Newmark Grubb Zimmer
Dr. Kirk Nooks
Oppenstein Brothers Foundation
Park University
PGAV Architects
Piper Jaffray
Populous
Mr. Michael Roane
Mr. Tony Rohr
Ms. CiCi Rojas
Saint Luke's College of Health Sciences
Mr. Mike A. Schultz
Mr. Kevin Seabaugh
Mr. and Mrs. John Sherman
Mr. Scott Simpson
Mr. David A. Smith
Drs. Jacqueline Snyder and Ken Gibson
22
State Farm Insurance Companies
Mrs. Robin L. Stimac
Stinson Leonard Street
Success Meals
Sysco Kansas City, Inc
Tension Envelope Corporation
Ms. Mariann Tow
Truman Medical Centers
Truman State University
UMB
University of Central Missouri
University of Missouri - Kansas City
Mr. Maurice Watson
Mr. Douglas Westerhaus
Ms. Vicki Westerhaus
Western Governor's University
Dr. Benjamin F. Young
Dean's Club ($250-$999)
Anonymous
Mr. Jack Accurso
Mrs. Kathy Achelpohl
Ms. Courtney Adams
Mr. and Mrs. Scott E. Alvested
Ameristar Casino
Mr. Daniel E. Ascheman
Dr. David C. Belt
Mr. Irvin V. Belzer
Ms. Kristy Bishop
Don R. Blim, M.D.
Ms. Mary A. Blitt
Ms. Gretchen S. Blythe
BNIM Architects, Inc.
Ms. Ebony Bowman
Ms. Emily Buckley
Mr. Brian Chasteen
Mr. and Mrs. Carl L. Chinnery
City of Lee's Summit
CliftonLarsonAllen LLP
Mr. Russ Cline
Mr. Steven Closser
Mr. Thomas Cooley
Metropolitan Community College | Annual Report 2014-15
Mr. and Mrs. Gene F. Cota
Mr. Vernon D. Cox Jr.
Cristo Rey High School
Ms. Ellen Dalen
Ms. Gina Danner
Dr. Cheryl Carpenter Davis
Ms. Elizabeth DeZeeuw
Mr. and Mrs. John A. Dillingham
Mr. Louie Disney
Mr. Lewis W. Diuguid
Ms. Rossann C. Downing
Mr. and Mrs. Bill Dunn Jr
Mr. Carlton R. Fowler
Mr. Laurence M. Frazen
Mr. David Gale
Mr. Arthur I. Greene, Jr
Dr. Fred L. Grogan
Nancy Harrington
Mr. and Mrs. Philip W. Hatterman
Mr. Patrick Healy
Mr. Ben Hilmes
Mr. Leo J. Hirner
Mr. and Mrs. Gary Humbarger
Independence Chamber of Commerce
International Architects Atelier
Ms. Cynthia K. Johnson
Ms. Melinda Johnson
Kansas City, Missouri School District
KCPT Public Broadcasting 19 Inc
Mr. and Mrs. Kevin Kelley
Mr. Donald Lee
Mr. Harlan L. Limpus
Mr. Gary Lindsey
Mr. Basil Lister
Ms. Betty R. Livers
Mr. Rodney M. Loesch
Mr. Paul D. Long
Anita and Gary Maltbia
Mr. Eric Mann
Mr. Bob Marcusse
Mr. and Mrs. Robert H. Martin
Mrs. Mindy McCallum
Mr. Alfred B. McMurry
MetLife Charity Trust
Mid-Continent Public Library
Ms. Elizabeth M. Miller
Missouri Bank & Trust Co.
Missouri Community College Assoc.
Mrs. Karen Moore
Mr. Richard R. Moore
Mr. David C. Oehler
Mr. Robert L. Page Jr.
Park Hill School District
Mrs. Christina Pollard
Polsinelli, P.C.
Ms. Elizabeth Post and Mr. Rob Cowan
Mr. Steven V. Potter
Dr. A. Rae Price
Prosperity Advising Group
PT's Coffee Roasting Co
R.U.B.I.E.S., Inc.
Ms. Vicki D. Raine
RED Development, LLC
Ms. Jacqueline M. Roberts
Ms. Gwendolyn K. Robertson
Jan Rog and Steven Cromwell
Mr. and Mrs. Landon Rowland
Ms. Amy L. Royston
S&S Service Center, Inc.
Dr. Merna Saliman and Mr. Stewart Saliman
Ms. Carol Schumacher
Ms. Dachia Scroggins
Dr. Joseph Seabrooks
Cynthia Sexton Proctor
Mr. Jamison K. Shipman
Shook Hardy Bacon LLP
Ms. Mary A. Simpson
Mr. Don Sipes
Ms. Diane Sjolander
Mr. Ron Slepitza
Dr. David L. Smith
Ms. Lisa M. Spaulding
Mr. Brad Speaks
Spin! Neapolitan Pizza
Stewardship Capital
Ms. Shelli Stufflebeam-Ely
Summit Bank of Kansas City
Summit Fair and Summit Woods Crossing
Preparing students, serving communities, creating opportunities.
23
DONORS
Dean's Club (continued)
Swope Community Enterprises
Swope Parkway United Christian Church
Ms. Shelley Temple Kneuvean
Mr. James Tomlinson
Truman Heartland Community Foundation
University Academy
University of Kansas Edwards Campus
US Bank
WB Family Offices
Ms. Theresa Weaver
Dr. Tom Wheeler
Mr. Mark Whitlow
Williams, Spurgeon, Kuhl & Freshnock
Ms. Stephanie L. Zerkel-Humbert
Honor Roll ($1-$249)
Anonymous
54th Street Bar & Grill (KRM, Inc.)
A.B. May
Aaron's Family Fun Center
Abel Machine, LLC
Abuelo's
Accessible Technologies, Inc.
Ms. Marti Adams
Mr. Carl E. Alexander
Mr. Michael Allen
Michele Allen
American Endowment Foundation
Ms. Barbara J. Anderson
Ms. Carolyn Anderson
Mr. and Mrs. Stephen A. Arbo
Ms. Jennifer Arth
Arts Alive KC Inc.
Ms. Diane M. Aubrey
Aunt Annie's
Ms. Alvinia Axford
Ms. Carrie S. Ayvar
Baader Linco, Inc.
Ms. Janice S. Bacon
Mr. Hossein Bahmaie
Ms. Melanie Bailey
24
Mr. and Mrs. Lee Barewin
Ms. Kathryn Barker
Barnes & Noble - Zona Rosa
Ms. Mary D. Basara
Ms. Carolyn R. Baskett
Ms. Taffany Beachner
Dr. Brian Bechtel
Ms. Rene S. Bennett
Ms. Margaret H. Berter
Best Tool & Manufacturing Co., Inc.
Ms. Helen Betts
Ms. Mary Birch
Dr. Julia A. Bishop
Ms. Susan Blaser
Ms. Stacey Blum
Mr. Albert A. Boan
Mrs. Lisa Boggess
Mr. Bret Bonge
Mr. Nelson Borys
Mr. Clarence P. Boswell
Mr. and Mrs. Kirwin L. Bowman
Mr. and Mrs. Bradley G. Boyd
Ms. Dawn Brady
Ms. Nancy Brant
Bravo! Zona Rosa
Brio Tuscan Grill
Mr. and Mrs. Wallace E. Brockhoff
Brogdon Machine
Ms. Kay Bromert
Mrs. Carol J. Brown
Browne's Irish Market Place
Mrs. Stacy Brown-Stiffler
Brunson Instrument
Buffalo Wild Wings
Mr. David R. Buie
Burger & Brown Engineering, Inc.
Dr. and Mrs. Jonathan L. Burke
Ms. Tracey Burns
Ms. Elizabeth Cain
Mr. and Mrs. Lyle Cain
Ms. Michelle B. H. Capps
Ms. Kelly Carnago
Metropolitan Community College | Annual Report 2014-15
Mr. and Mrs. Scott A. Carter
Ms. Cindy Castillon
Ms. Misty Chandler
Ms. Carolyn Chapman
Ms. Tiffany Chapman
Ms. Shveta Chaudhary
Chipotle Mexican Grill
Ms. Carol S. Clark
Clay & Bailey Manufacturing Company
Ms. Carrie Clothier
Ms. Angela Cochneuer
Ms. Joan Cohen
Ms. Susan Combs
Mr. Bryan D. Compton
Ms. Lauren Cornell
Ms. Kourtney M. Cox
Creative Blow Mold Tooling
Creos Pizzeria
Culver's
Cupcake A'La Mode
Dr. Karen E. Curls
CVC-KC
Mr. Daniel L. Davis
Ms. Jael L. Dawson
Ms. Muna Dempsey
Ms. Tara E. Dettmer
Dr. Randy Dewar
Ms. Kristine Deweese
Mr. and Mrs. Theodore M. Dinges
Direct Messenger Service, Inc.
Discount Tire
Ms. Gina Draper
Mr. Robert Dumler
Ms. Kristy Edmondson
Ms. Linda K. Edwards
Mr. Paul L. Efros
Ms. Lori Elliott
Ms. Patricia Elliott
Evolve Paleo Chef
Ms. Kim A. Fernandes
Ms. Patricia Feurer
Fike Corporation
Mr. Terence R. Finn
First Watch
Five Guys
Mr. Robert K. Florence
Ms. Judith A. Foglio
Fogo De Chao
Mr. Doug Fox
Ms. Barbara Friedmann
Ms. Cassi Furderer
Mr. David A. Gann
Ms. Rebecca Gauthier
Ms. Melissa Giese
Wayne and Sue Giles
Ms. Anne Girdner
Ms. JoAnn Gloor
Go Chicken Go
Golden Corral
Mr. and Mrs. Nick Goos
Mr. David C. Grady
Ms. Sara Graves
Dr. Jon R. Gray
Great Western Manufacturing Company, Inc.
Mr. Alex Grigsby
G's Jamaican Quisine Restaurant and Bar
Ms. Bobbie R. Gustin
Ms. Ruth Hall
Ms. Jessica Halperin
Hanchette Family Charitable Fund
Ms. Barbara K. Hankins
Ms. Shari Harden
Ms. Johnetter Harris
Ms. Mary Beth Head
Heartland Fabrication & Machine, Inc.
Mr. Matthew Heck
Mr. Lowell G. Heide
Ms. Jana Henderson
Heubel Material Handling Inc.
Mr. and Mrs. Rich Higgason
Mr. Michel Hillman
Ms. Charlee Hodson
Ms. Meg Holcomb
Ms. Patricia Holland
Mr. Robert Hollman
Mr. Marty Holyfield
Ms. Patricia Holzworth
Ms. Kimberly Hooker
Preparing students, serving communities, creating opportunities.
25
DONORS
Honor Roll (continued)
Ms. Raiyana Howard
Mr. Daniel Hubbard
James Hughes
Huhtamaki, Inc.
Mr. Brian G. Hurley
Mr. Mike Hutcherson
Industrial Spring Corporation
Ingredient
Ms. Julianne Jacques
Mr. Warren L. Jarrett
Jason's Deli
Jazz A Louisiana Kitchen
Ms. Amber Jenkins
Mr. Clint Johnson
Ms. Jennifer Johnson
Mrs. Monica L. Johnston
Ms. Aisha R. Jones
Mr. Brian K. Jones
Ms. Susan J. Joplin
Jose Pepper's
Mrs. Carol Journagan
Ms. Evadene Judge
Mr. Nathan Jump
Kansas City Academy
Mr. Keith Kaster
Kauffman Foundation Matching Gifts Program
Ms. Jennifer Keffer
Ms. Virginia B. Keleher
Ms. Kristina Keller
Ms. Maureen A. Kennedy
Ms. Marla S. Kessler
Ms. Guruparwaz K. Khalsa
Ms. Patricia Kies
Mr. Mike Kimbrel
Ms. Kaye Klassen
Ms. Tami Knight
Kocher + Beck USA, L.P.
Ms. Rochelle Kolseth
Ms. Jenny Koonce
Mr. Keet L. Kopecky
Ms. Kay Kozak
26
Ms. Sandra S. Kremer
K-Ter Imagineering, Inc.
Ms. Carol J. Kuznacic
Mr. Nic LaHue
Laird Plastics
Ms. Kristy A. Lambert
Ms. Erin Lang
Ms. Dominga Levin
Mr. David Locke
Ms. Jill D. Lomonte
Mr. Tristan Londre
Ms. Teresa A. Loney
Longview Funeral Home & Cemetery
Ms. LeAnn L. Lotz-Todd
Ms. Lucille Lowe
Ms. Ruth Lowenstein
Ms. Jo Ann Lowry
Ms. Anne Mahoney
Mr. Sean D. Malone
Mr. David R. Mareske
Ms. Lois Markley
Ms. Melissa A. Marr
Ms. Patricia L. Marriott
Marsh's Sunfresh Market
Mr. Todd Martin
Ms. Dee Mathison
Mr. and Mrs. Timothy H. Maxey
May Technology & Mfg, Inc.
Jim and Robin McClain
Ms. Jill McCumby
Ms. Sandra McIlnay
Ms. Stacey McMillen
Mr. Ryan Meador
Ms. Katherine Melles
Ms. Rachel Merlo
Ms. Ashley Meyer
Ms. Sandra R. Michel
Ms. Susi Mickey
Microtool, Inc.
Mid- America Fittings, Inc.
Ms. Jean Miller
Mr. and Mrs. Michael A. Miller
Metropolitan Community College | Annual Report 2014-15
Mr. Andy Minor
Missouri Botanical Garden
Ms. Megan M. Mitchell
MO Sports
Mongolian BBQ
Ms. Ty'Isha R. Moore
Morningstar Communications Company
Mr. Robert L. Morris
Dr. Chris Morrow
Ms. Gwen Moss
Ms. Jane Mulvihill-Jones
Ms. Mary Lynn Munger
Ms. Rose M. Munoz
Ms. Kathleen Murphy
Ms. Robin E. Murrell
Ms. Therese A. Nash
Mr. and Mrs. John Nelson
New Market Sun Fresh
Niecie's Restaurant
Ms. Jessica Nolker
Mr. Aaron North
Mrs. Mary Northrup
Mr. and Mrs. John R. O'Connell 2012
Ms. Rosemary Olas
Olive Garden
Mr. Charles B. Olney
Ms. Mary Olson
Ms. Carroll V. O'Neal
Ms. Erin O'Neil
Ms. Sabrina K. Osborn
Ms. Sharla R. M. Oswald
Mr. David Owens
Ms. Erin L. Owensby
Ms. Diane Pacheco
Paciugo Gelato & Gaffe
Mrs. Fran Padow
Ms. Lynette Palmer
Panera Bread
Ms. Leawna Parker
Mr. David Patience
Ms. Stacy Patton
Pei Wei
Ms. Marcy Pellegrino
Periugo Gelato Gaffe
Pet Resorts IMC
Ms. Kelly Phillips
Irvin and Carrie Pickerel-Brooks
Pie Time Pizza Company
Pizza Hut
Pizza Ranch
Ms. Kim Poindexter
Mr. Michael Pospisil
Mr. and Mrs. James L. Pratt
PRO-CON
Mr. and Mrs. John Puszczewicz, Jr.
Ms. Sharon L. Pyant
Mr. Rowdy Pyle
Raymore Dairy Queen
Ms. Carol Raysik
Red Robin
Ms. Victoria Reeds
Mr. Dick Rees
Mr. David Reeves
Mr. Rodney Rein
Ms. Marie Ridge
Ms. Kimberly R. Riley
Ms. Betty J. Roberts
Ms. Debbie Roberts
Melanie Roberts
Ms. Elizabeth S. Robertson
Royal Machine Co.
Ms. Erin Royston
Ms. Kendra Rusk
Ms. Nancy Russell
Salty Iguana
Mr. Matthew A. Scharhag
Ms. Michelle B. Schmiedeler
Mr. Todd Schuetz
Ms. Linda Schumacher
Scrub Hub
Mr. James Sears
Mr. Tim Sears
Ms. Sheila Seck
Shick Tube-Veyor
Mr. and Mrs. Charlie Shields
SHO Kundalini Yoga Center
Mrs. Barbara A. Shoemaker
Ms. Michele Simmons
Preparing students, serving communities, creating opportunities.
27
DONORS
Honor Roll (continued)
Mr. Anthony A. Sims
Mr. Gurbhushan Singh
Slim Chicken
Smashburger
Mr. and Mrs. Michael R. Smith
Smokehouse Bar-B-Que Zona Rosa
Ms. Stephanie Snyder
Mr. Manuel Solano
SOR
Ms. Helen Y. Speed
Ms. Connie R. Spies
Ms. Michelle E. Sprague
Starbucks
Ms. Carol Steel
Ms. Jennifer Steen
Ms. Harrietta Stevens 2005
Mr. Keith Stiffler
Mr. Dennis Strait
Mr. Nick Suarez
Succotash
Summit Scribes
Ms. Yvette Sweeney
Mr. and Mrs. Thomas J. Tepesch
Texas Roadhouse
The Hertz Group
The Melting Pot
Mrs. Susan Thompson
Mr. Avery B. Throckmorton
Ms. Evelyn J. Trice
Triumph Structures
Ms. Mary Truex
Ms. Shanee M. Turner
Mr. Michael D. Tyler
UltraSource LLC
Van Am Tool & Engineering LLC
Mr. Chris VanDell
Vector Tool & Engineering
Mr. Jeff A. Vincent
Vista Manufacturing
Hans von Rautenfeld
Mrs. and Mr. Lourdes Vosseller
28
Ms. Brenda G. Wagner
Mr. Alton Waller
Ms. Kathy Walter-Mack
Mr. Mike T. Warren
Mr. Steve Watts
Ms. Susanne Weber
Mrs. Ann W. Wedaman
Ms. Carla Weist
Mr. Gordon Wells, Jr
Ms. Lauren Wells
Which Wich
Ms. Temeca M. White
Dr. Kim Wilcox
Ms. Sawnia Wilkes
Ms. Katherine Williams
Mr. Gary D. Wilson
Mr. and Mrs. Jeffrey Wilt
Ms. Noreen Wittwer
Ms. Leslie Wolfe
Ms. Grace M. Wong
Ms. Sandee L. Woods
Mr. Daniel Wright
Mrs. Shirley J. Wright
Ms. Elizabeth Wyatt
Mrs. Janet K. Wyatt
Ms. Morgan J. Young
Ms. Shanell K. Young
Ms. Lee Ann Zech
Zephyr Products, Inc.
Metropolitan Community College | Annual Report 2014-15
MCC's monumental moments
1915: The Kansas City school board creates
the Kansas City Polytechnic Institute to provide
convenient postsecondary education for
students. The Institute, in the former Central
High School building at 11th and Locust streets,
includes a junior college, mechanical arts
school, business school and teacher training.
Nurses training would be added two years later.
1919: The Junior College
of Kansas City is born.
Post-World War I enrollment
swells to 1,341. Meanwhile,
the other programs at 11th
and Locust spin off to other
locations.
1941: The College moves to
3845 McGee St., the former
Westport Junior High. This facility
offers four floors of classrooms
and a chemistry lab as well as a
cafeteria, men's and women's gyms,
and a swimming pool.
1945: The passage of the G.I.
Bill and the return of veterans
from World War II overloads
the McGee facility. As a result,
classes are scheduled from 7
a.m. to 10 p.m. five days a week.
1954: The segregated Lincoln Junior College is
consolidated with the Junior College of Kansas
City. Another college started by the KC school
board, Northeast Junior College, had joined
in 1937.
1964: The Metropolitan Community College District
is created when seven suburban school districts join
forces with the Kansas City School District. The new
400-square-mile MCC district includes parts of four
counties and is governed by a board of trustees.
To that point, the junior college had been
run by the KC district.
1965: Voters approve a $25 million bond issue
for construction of new campuses.
Late 1960s: Metropolitan Junior College, as it's now known,
leases a building at 560 Westport Road to alleviate crowding at
the main campus. Meanwhile, the College hires a consulting
firm to recommend sites for new campuses. The north and south
campuses (which would become Maple Woods and Longview,
respectively) are well received, but the central-city site (Penn
Valley) is more controversial. J.C. Nichols Co., for instance,
doesn't want a junior college so close to the Country Club Plaza.
1969: The three campuses open in interim
facilities. Transfer programs and business, data
processing, engineering, law enforcement and
secretarial science classes are offered at all three
locations. More expensive specialized programs are
assigned to single campuses: health occupations
at Penn Valley, automotive technology at Longview,
and aviation maintenance at Maple Woods.
Early 1970s: The Pioneer
campus is created at 18th Street and
Prospect Avenue as an extension
of Penn Valley. Later it becomes
MCC's fourth college, then reverts
to Penn Valley and is eventually
closed.
1984: After the Blue Springs School District votes
to join MCC, the College opens a Blue Springs
campus as a satellite of Longview.
1986: The Park Hill School District votes to join the
MCC district.
1993: The Independence and Fort Osage school
districts vote to join MCC.
1995: After MCC acquires part of the Kansas City
Merchandise Mart at I-435 and Front Street, the Business
& Technology Center is born. This move concentrates
the College's business consulting services and technical
training at one location.
1997: A fourth permanent MCC campus
is created by consolidating the Blue
Springs campus and an Independence
location (opened in 1995) to form the
Blue River campus at its current location
in Independence.
2002: The Business & Technology
location expands to create a
340,000-square-foot facility that
includes an exhibit hall and expo
center. It becomes MCC's fifth
permanent campus.
2005: The institution, which had been
known as Metropolitan Community Colleges, becomes "one MCC" — one college
with five campuses. It drops the "s" to
become simply Metropolitan Community
College.
2010: The MCC Foundation holds its inaugural Five
Star Gala at the Marriott-Muehlebach Tower. The
fundraising event honors Henry W. Bloch
and the Bloch Scholars program.
2014-15: Metropolitan Community College
celebrates its 100th birthday with a visit from
Kansas City Mayor Sly James, the unveiling of a
new MCC seal at the 100th commencement
exercises, and the Centennial
Celebration gala.
MCC-Blue River
20301 East 78 Highway
Independence, Missouri 64057
MCC-Business & Technology
1775 Universal Avenue
Kansas City, Missouri 64120
MCC-Longview
500 Southwest Longview Road
Lee's Summit, Missouri 64081
MCC-Maple Woods
2601 Northeast Barry Road
Kansas City, Missouri 64156
MCC-Penn Valley
3201 Southwest Trafficway
Kansas City, Missouri 64111
mcckc.edu
This annual report was produced by
MCC Communications and Marketing.