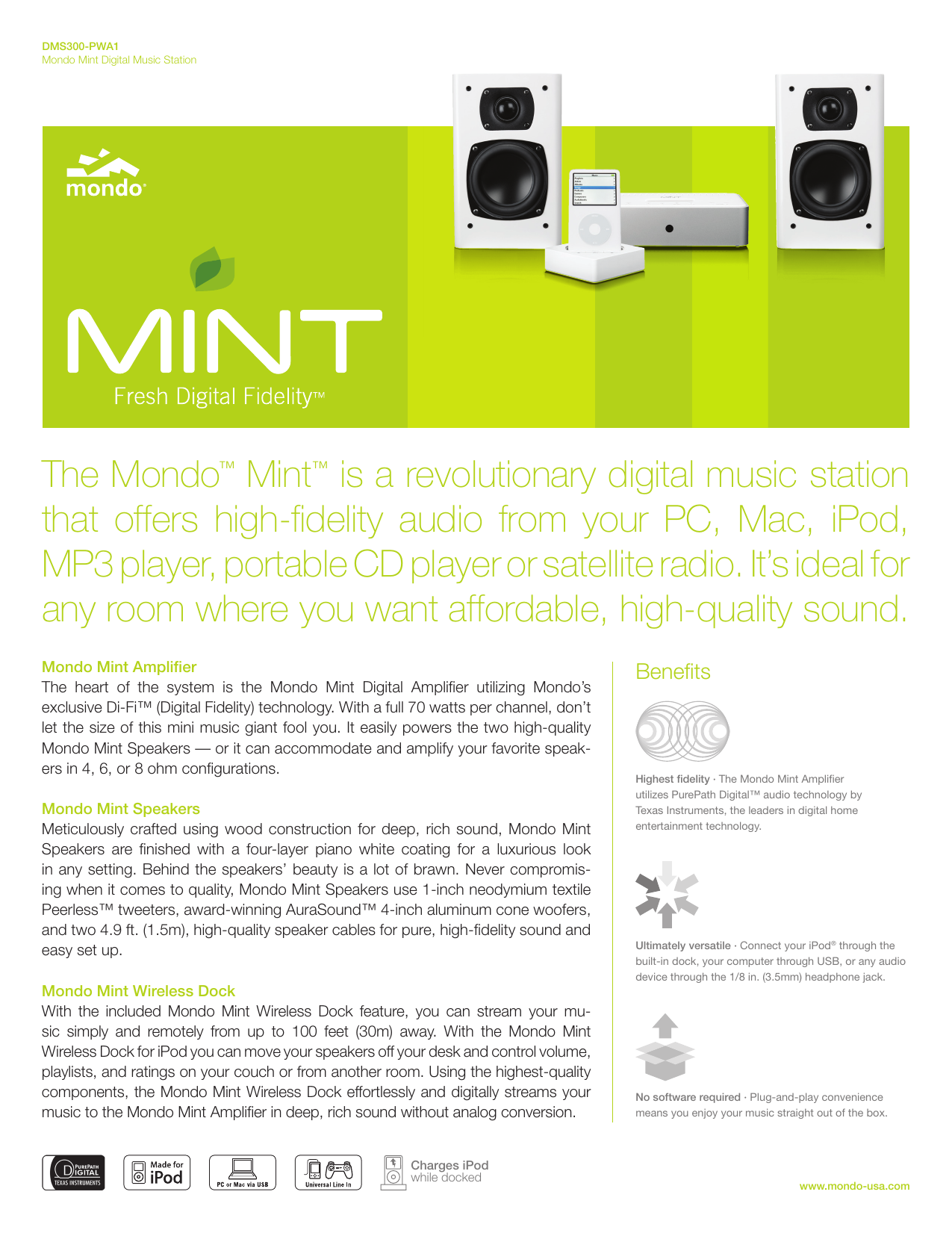 DMS300-PWA1
Mondo Mint Digital Music Station
The Mondo™ Mint™ is a revolutionary digital music station
that offers high-fidelity audio from your PC, Mac, iPod,
MP3 player, portable CD player or satellite radio. It's ideal for
any room where you want affordable, high-quality sound.
Mondo Mint Amplifier
The heart of the system is the Mondo Mint Digital Amplifier utilizing Mondo's
exclusive Di-Fi™ (Digital Fidelity) technology. With a full 70 watts per channel, don't
let the size of this mini music giant fool you. It easily powers the two high-quality
Mondo Mint Speakers — or it can accommodate and amplify your favorite speakers in 4, 6, or 8 ohm configurations.
Mondo Mint Speakers
Meticulously crafted using wood construction for deep, rich sound, Mondo Mint
Speakers are finished with a four-layer piano white coating for a luxurious look
in any setting. Behind the speakers' beauty is a lot of brawn. Never compromising when it comes to quality, Mondo Mint Speakers use 1-inch neodymium textile
Peerless™ tweeters, award-winning AuraSound™ 4-inch aluminum cone woofers,
and two 4.9 ft. (1.5m), high-quality speaker cables for pure, high-fidelity sound and
easy set up.
Mondo Mint Wireless Dock
With the included Mondo Mint Wireless Dock feature, you can stream your music simply and remotely from up to 100 feet (30m) away. With the Mondo Mint
Wireless Dock for iPod you can move your speakers off your desk and control volume,
playlists, and ratings on your couch or from another room. Using the highest-quality
components, the Mondo Mint Wireless Dock effortlessly and digitally streams your
music to the Mondo Mint Amplifier in deep, rich sound without analog conversion.
Charges iPod
while docked
Benefits
Highest fidelity · The Mondo Mint Amplifier
utilizes PurePath Digital™ audio technology by
Texas Instruments, the leaders in digital home
entertainment technology.
Ultimately versatile · Connect your iPod® through the
built-in dock, your computer through USB, or any audio
device through the 1/8 in. (3.5mm) headphone jack.
No software required · Plug-and-play convenience
means you enjoy your music straight out of the box.
www.mondo-usa.com
DMS300-PWA1
Mondo™ Mint™ Digital Music Station
Technical Specifications
Box Contents
Mondo Mint Amplifier (1) DMS300-AWA1
Mondo Mint Speakers (2) DMS300-SWA1
Mondo Mint Wireless Dock (1) DMS300-DWA1
Mondo Mint Remote Control, with battery (1) 1400117
4.9 ft. (1.5m) speaker cables (2) 3400022
4.9 ft. (1.5m) USB cable (1) 1400121
6.5 ft. (1.9m) power cable for amplifier (1) 1400125
6.2 ft. (2m) power adapter for wireless dock (1) 1400118
Wireless audio antenna (1) 1400116
iPod adapters (5)
Speaker feet (8)
User guide (English/Spanish/French)
Warranty card (1)
Physical Characteristics
Dimensions (W × D × H): 23.2 in. × 11.3 in. × 12.5 in.
(589mm × 287mm × 318mm)
Weight: 18.8 lb. (8.5kg)
Mondo Mint Amplifier
Mondo Mint Speakers
Mondo Mint Wireless Dock
Part number DMS300-AWA1
Class-D digital amplifier with Texas Instruments
PurePath Digital™ audio technology
Part number DMS300-SWA1
Two-way speakers
Part number DMS300-DWA1
Proprietary digital wireless audio transmitter
Physical Characteristics
Type: Wood construction
Color: Four-layer piano coat white finish; removable
front covers
Dimensions (W × D × H): 5.60 in. × 6.97 in. × 8.90 in.
(142mm × 177mm × 226mm)
Weight: 5.51 lb. (2.5kg) each
Physical Characteristics
Color: White
Dimensions (W × D × H): 3.43 in. × 3.43 in. × 1.02 in.
(87mm × 87mm × 26mm)
Weight: 6.3 oz. (180g)
Buttons: volume control, mute, pairing
Made for iPod dock: charges iPod when plugged into
outlet
Mondo Mint Digital Music Station
Part number DMS300-PWA1
UPC 843758001000
Physical Characteristics
Color: Silver/white
Dimensions (W × D × H): 8.23 in. × 5.32 in. × 2.05 in.
(209mm × 135mm × 52mm)
Weight: 2 lb. (920g)
Audio Specifications
Minimum RMS output power for left/right: 70W at
4 ohms per channel
Total harmonic distortion + noise (THD+N) at 1W:
<0.1% @ 8 ohm, 1kHz
Frequency response: 60Hz ~ 25KHz
Dynamic range: >105dB
Channel separation: >65dB
Signal-to-noise ratio: >100dB
Damping factor: >20
Audio Specifications
Tweeter: 1 in. (25mm) Peerless™ neodymium textile
tweeter
Woofer: 4 in. (100mm) AuraSound™ aluminum cone
with patented NRT magnetic structure
Frequency range: 60Hz ~ 25kHz
Nominal impedence: 4 ohm
Power capacity: 70W
Input Specifications
Connectors: Binding post with banana-type connectors
Cable: 4.9 ft. (1.5m) high-quality speaker cable with
banana type connectors (2)
Input Specifications
USB: USB device class definition for audio devices
USB V1.1, B-type, full speed
Compatible with any iPod with dock connector:
*Also compatible with iPod shuffle through Line In.
Wireless Transmitter Specifications
Operating range: 100 ft. (30.5m)
Operating frequency: 2.402~2.480GHz unlicensed
ISM band
RF output: Max 20dBm
Sensitivity: <0.1% BER at -85dBm
Internal chip-type antenna
Power Adapter Specifications
Input voltage: 90V~264V, 50/60Hz power adapter
Power cord length: 6.2 ft. (1.9m)
Output voltage: 5V, 1A
iPod
Mute
iPod: Made for iPod dock with five iPod adapters;
charges iPod when plugged into outlet
Manufacturing Data
Designed by: Mondo Systems, Seoul, South Korea
North American Headquarters: Santa Ana, California
Manufactured in China
+
–
USB
Wireless
Audio
LINE-IN
VOL
Line In: 1/8 in. (3.5mm) mini stereo jack
Wireless antenna: Dipole-type antenna for use with
Mint Wireless Dock
Output Specifications
Connections: Binding post with banana-type
connectors; front right, front left
Compatibility for powering other speakers: Compatible
with external speakers rated 4, 6, or 8 ohms
Power Supply
AC90-265V, 50-60Hz, 0.6/1.0A switching mode
power supply
Power cord length: 6.5 ft. (2m)
Mondo Mint Remote Control
Part number 1400117
Infrared remote control with battery
Physical Characteristics
Color: White
Dimensions (W × D × H): 1.57 in. × 3.35 in. × 0.67 in.
(40mm × 85mm × 17mm)
Weight: 0.7 oz. (20g)
Buttons: Power on/off, source selection, volume up/
down and mute
Battery: Lithium coin battery (CR2025, 3V), included
Mondo USA
1221 E. Dyer Road, Suite 290
Santa Ana, CA 92705
(714) 662-7405
www.mondo-usa.com
Copyright © 2007 Mondo Systems, Incorporated. All rights reserved.
Mondo and Mint are trademarks of Mondo Systems. iPod, Mac, and
Mac OS are trademarks of Apple, Inc., registered in the United States
and/or other countries. PurePath is a trademark of Texas Instruments.
Certain other product names, brand names and company names
may be trademarks or designations of their respective owners. FCC
compliant Class B digital device, pursuant to part 15 of FCC Rules.
Complies with Canadian ICES-003 Class B specifications. Specifications subject to change. iPod not included.