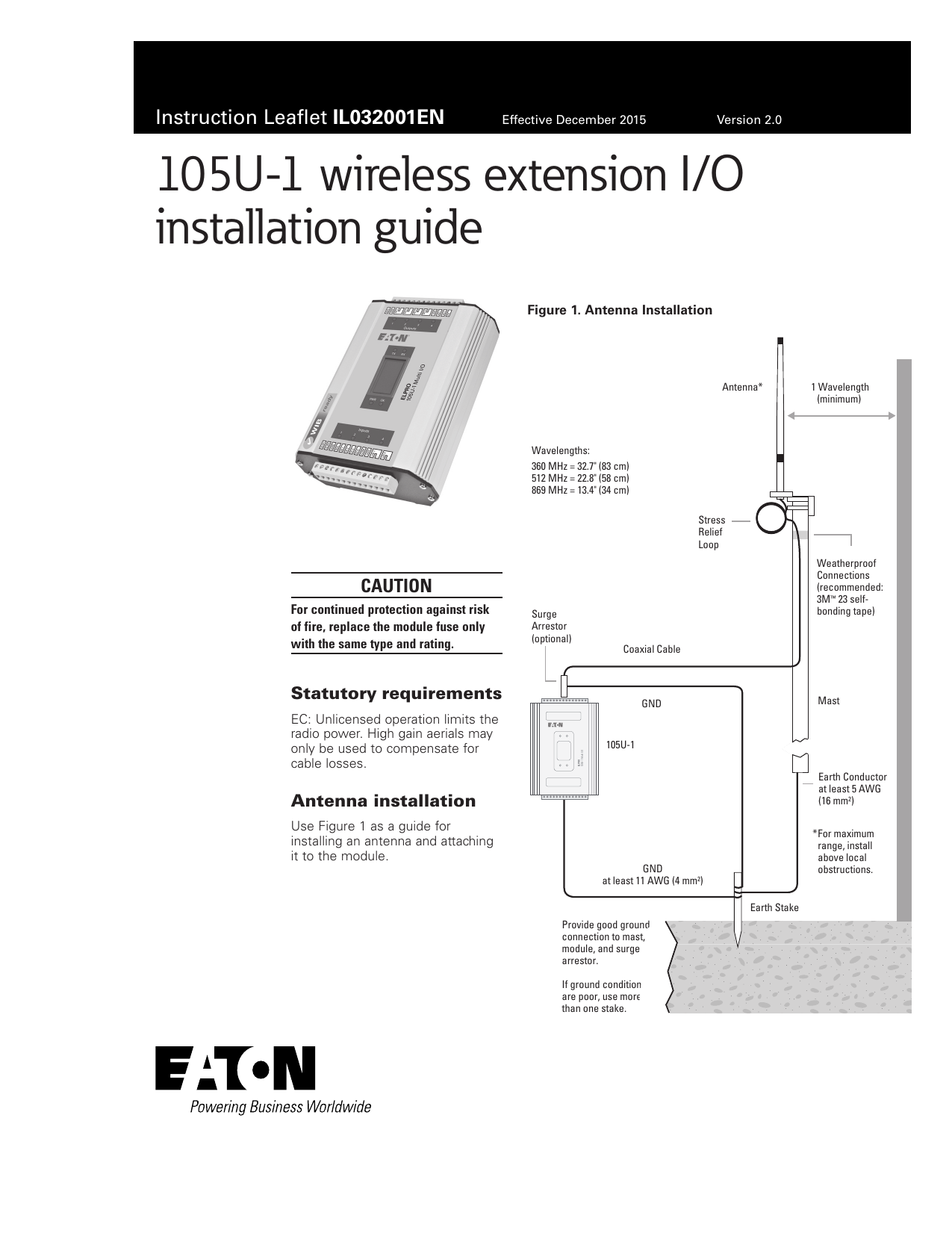 Instruction Leaflet IL032001EN
Effective December 2015
Version 2.0
105U-1 wireless extension I/O
installation guide
Figure 1. Antenna Installation
Antenna*
1 Wavelength
(minimum)
Wavelengths:
360 MHz = 32.7" (83 cm)
512 MHz = 22.8" (58 cm)
869 MHz = 13.4" (34 cm)
Stress
Relief
Loop
Weatherproof
Connections
(recommended:
3M™ 23 selfbonding tape)
CAUTION
For continued protection against risk
of fire, replace the module fuse only
with the same type and rating.
Surge
Arrestor
(optional)
Coaxial Cable
Statutory requirements
Mast
GND
ELPRO
105U-1 Multi I/O
EC: Unlicensed operation limits the
radio power. High gain aerials may
only be used to compensate for
cable losses.
105U-1
Earth Conductor
at least 5 AWG
(16 mm2)
Antenna installation
Use Figure 1 as a guide for
installing an antenna and attaching
it to the module.
* For maximum
range, install
above local
obstructions.
GND
at least 11 AWG (4 mm2)
Earth Stake
Provide good ground
connection to mast,
module, and surge
arrestor.
If ground conditions
are poor, use more
than one stake.
Instruction Leaflet IL032001EN
105U-1 wireless extension I/O installation guide
EATON_105U-1 Install Guide

Effective December 2015
Version 2.0
Figure 2. Wiring Diagram
Solar panel with battery
After choosing a power supply
option, wire the module as
shown in Figure 2.
AC Relay
Supply
+ –
+24V
Loop
Supply
+
–
2A
BAT+
NNote: All I/O must be SELV.
To Com
To Com
PO
•
11–15 Vdc Supply or
Optional 12V Backup Battery
to 12 Ah for AC/DC
to 100 Ah for Solar
Output Counter
External DC Supply
Max. 30 Vdc, 500 mA
+ –
+ –
+24V
11–15 Vdc, 1.5A
– +
AO 1
•
DC Relay
Supply
DO 4
15–30 Vdc, 1.5A CSA certified
Class 2
DO 3
•
Analog Outputs Digital Outputs DO 2
12–24 Vac, 1.5A CSA certified
Class 2
GND
•
AO 2
Choose a power supply option:
DO 1
Installation
a Digital outputs are relay contacts. For ratings
see your product user manual. For AC supply,
use 10 nF 250V surge capacitor.
For DC supply, use bypass diode.
1
2
3
4
OUTPUTS
b Analog outputs are either loop powered or
externally powered. Output loops are earthed
(not floating).
ELPRO
105U-1 Multi I/O
When the wiring is completed,
connect the module to a
computer (PC) and configure
it using the configuration
software. For details, refer to
the user manual.
Before operating the module,
read the sections on operation
and configuration in the user
manual to take advantage of all
product features.
WARNING
EXPLOSION HAZARD
Do not disconnect while circuit
is live unless area is known to be
non-hazardous.
INPUTS
+
–
-
+AI 2
+AI 1
-
+24V
4
COM
DI 4
3
DI 3
DI 1
SOL
GND
SUP1
SUP2
SOL
GND
SUP1
SUP2
DI 2
2
1
+ –
+ –
AC Supply
12–24 Vac;
Min. 15 Vac
for Battery
Charging
12V Solar
Panel Supply;
Max. 20 Vdc
Max. 30W Panel
DC Supply
15–30 VDC;
Min. 17 VDC
for Battery
Charging
Digital Input
Voltage-Free
Contact or
Transistor
Device
LoopPowered
Analog
Transducer
External–Powered
Analog Transducer
Do not earth
SUP1 or SUP2
connection.
To Earth Stake
Eaton
1000 Eaton Boulevard
Cleveland, OH 44122
United States
Eaton.com
Eaton's wireless business
www.eaton.com/wireless
© 2014 Eaton
All Rights Reserved
Printed in USA
Publication No. IL032001EN
December 2015
Eaton is a registered trademark.
All other trademarks are property
of their respective owners.

* Your assessment is very important for improving the work of artificial intelligence, which forms the content of this project