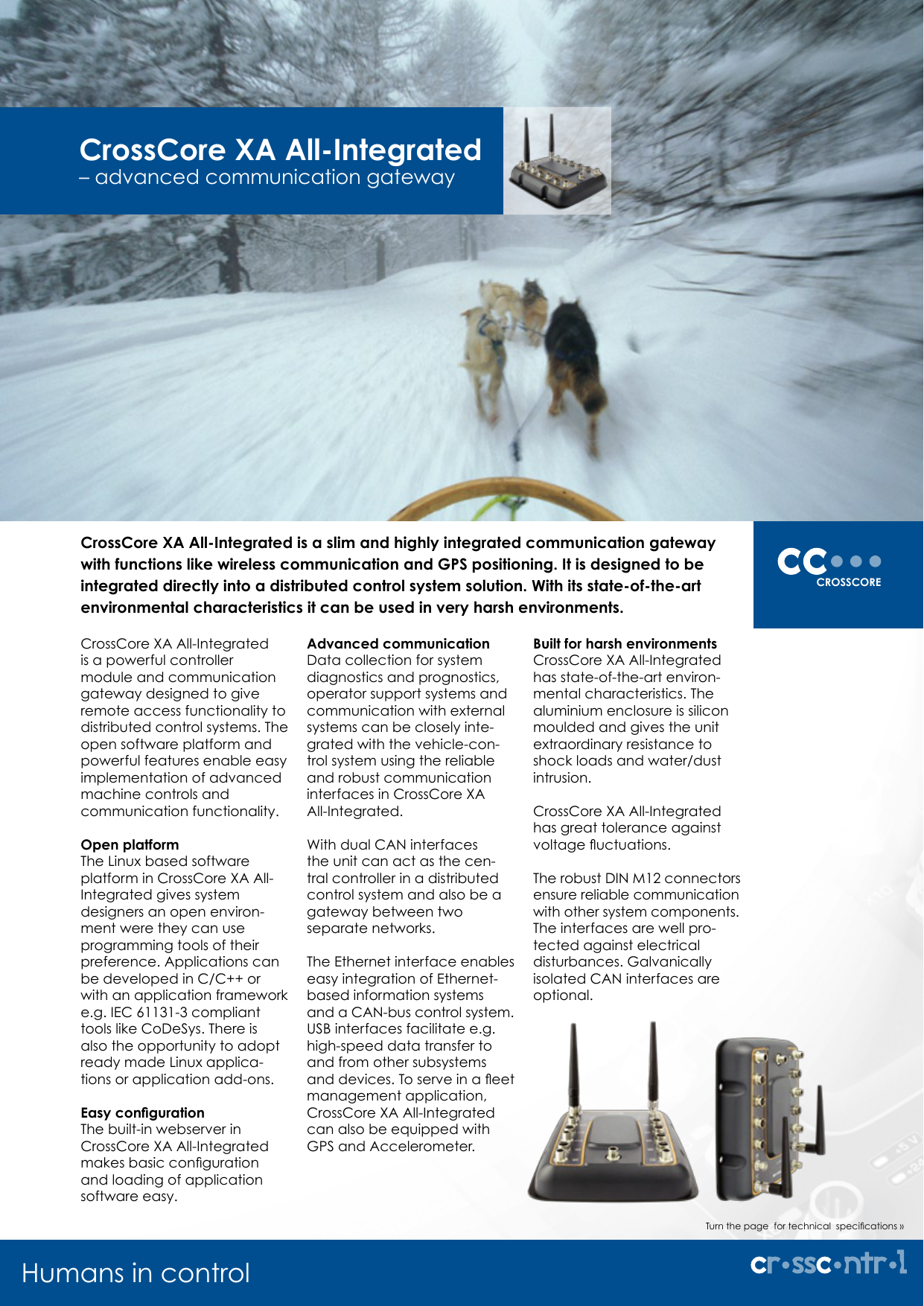 CrossCore XA All-Integrated
– advanced communication gateway
CrossCore XA All-Integrated is a slim and highly integrated communication gateway
with functions like wireless communication and GPS positioning. It is designed to be
integrated directly into a distributed control system solution. With its state-of-the-art
environmental characteristics it can be used in very harsh environments.
CrossCore XA All-Integrated
is a powerful controller
module and communication
gateway designed to give
remote access functionality to
distributed control systems. The
open software platform and
powerful features enable easy
implementation of advanced
machine controls and
communication functionality.
Advanced communication
Data collection for system
diagnostics and prognostics,
operator support systems and
communication with external
systems can be closely integrated with the vehicle-control system using the reliable
and robust communication
interfaces in CrossCore XA
All-Integrated.
Open platform
The Linux based software
platform in CrossCore XA AllIntegrated gives system
designers an open environment were they can use
programming tools of their
preference. Applications can
be developed in C/C++ or
with an application framework
e.g. IEC 61131-3 compliant
tools like CoDeSys. There is
also the opportunity to adopt
ready made Linux applications or application add-ons.
With dual CAN interfaces
the unit can act as the central controller in a distributed
control system and also be a
gateway between two
separate networks.
Easy configuration
The built-in webserver in
CrossCore XA All-Integrated
makes basic configuration
and loading of application
software easy.
The Ethernet interface enables
easy integration of Ethernetbased information systems
and a CAN-bus control system.
USB interfaces facilitate e.g.
high-speed data transfer to
and from other subsystems
and devices. To serve in a fleet
management application,
CrossCore XA All-Integrated
can also be equipped with
GPS and Accelerometer.
CROSScore
Built for harsh environments
CrossCore XA All-Integrated
has state-of-the-art environmental characteristics. The
aluminium enclosure is silicon
moulded and gives the unit
extraordinary resistance to
shock loads and water/dust
intrusion.
CrossCore XA All-Integrated
has great tolerance against
voltage fluctuations.
The robust DIN M12 connectors
ensure reliable communication
with other system components.
The interfaces are well protected against electrical
­disturbances. Galvanically
­isolated CAN interfaces are
optional.
Turn the page for technical specifications »
Humans in control
100322 | C226-501-EN
CrossCore XA All-Integrated
– advanced communication gateway
SPECIFICATIONS
Environment
Kernel
Processor
ARM9, Atmel AT91SAM9263, 240 Mhz
IP class
IP67
Program memory
256 MB NAND flash
EMC conformity
RAM
128 MB SDRAM
2004/108/EC, EN61000-6-2:2005,
EN61000-6-4:2007, ISO 14982:1998
Data storage
2 GB flash memory,
optionally up to 8 GB
Vibration
0.005-0.03 g2/Hz 5-1000 Hz 3,72 g
(RMS)
Shock
30 g/6 ms
Temperature
range [ºC]
-25+ to +70 operating
-40 to +85 storage
HMI
Status LED
Tricolor led status indicator with
configurable behaviour
CAN status
Tricolor LED according to
CAN-CiA DR-303
Material
Die cast aluminium
Ethernet status
Activity and Link LED indicator
Treatment
Embedded
web server
Built-in web server for configuration
and program loading
White cromated
Powder coated paint
Connectors
DIN M12
TNC for antennas
Enclosure
Interface
Dimensions
CAN
2 x CAN ISO 11898, 2.0B,
max 1 Mbit/s
USB
1 x host, 1 x device, V 2.0, Full-Speed
Ethernet
1 x 10/100 Base-T
Serial
1 x RS232
Digital I/O
8 digital Inputs, 2 Digital Outputs
GPS
NMEA-0183
GPRS / 3G
Quad band GPRS modem or
optional 3G modem
WLAN
802.11 b/g
Bluetooth
Optional, class 1 range
Accelerometer
Optional, triaxial
Size (W x H x D)
(mm)
200 x 232 x 55
Software
Operating system
Linux
Application
framework
Support for CoDeSys
Power
Voltage
24 VDC nominal
Current
Typ. 160 mA at 24 VDC
Energy backup
For safe shut down at power loss
CANopen is a registered trademark of CAN in Automation (CiA). CoDeSys is a trademark of 3S Smart Software Solutions GmbH. Linux is the registered trademark of Linus Torvalds.
Phone: +46 (0)271 75 76 00 | Sales contact: sales@crosscontrol.com | General: info@crosscontrol.com | www.crosscontrol.com
© 2010 CrossControl AB. All rights reserved. Product specifications are subject to change without notice.

* Your assessment is very important for improving the work of artificial intelligence, which forms the content of this project