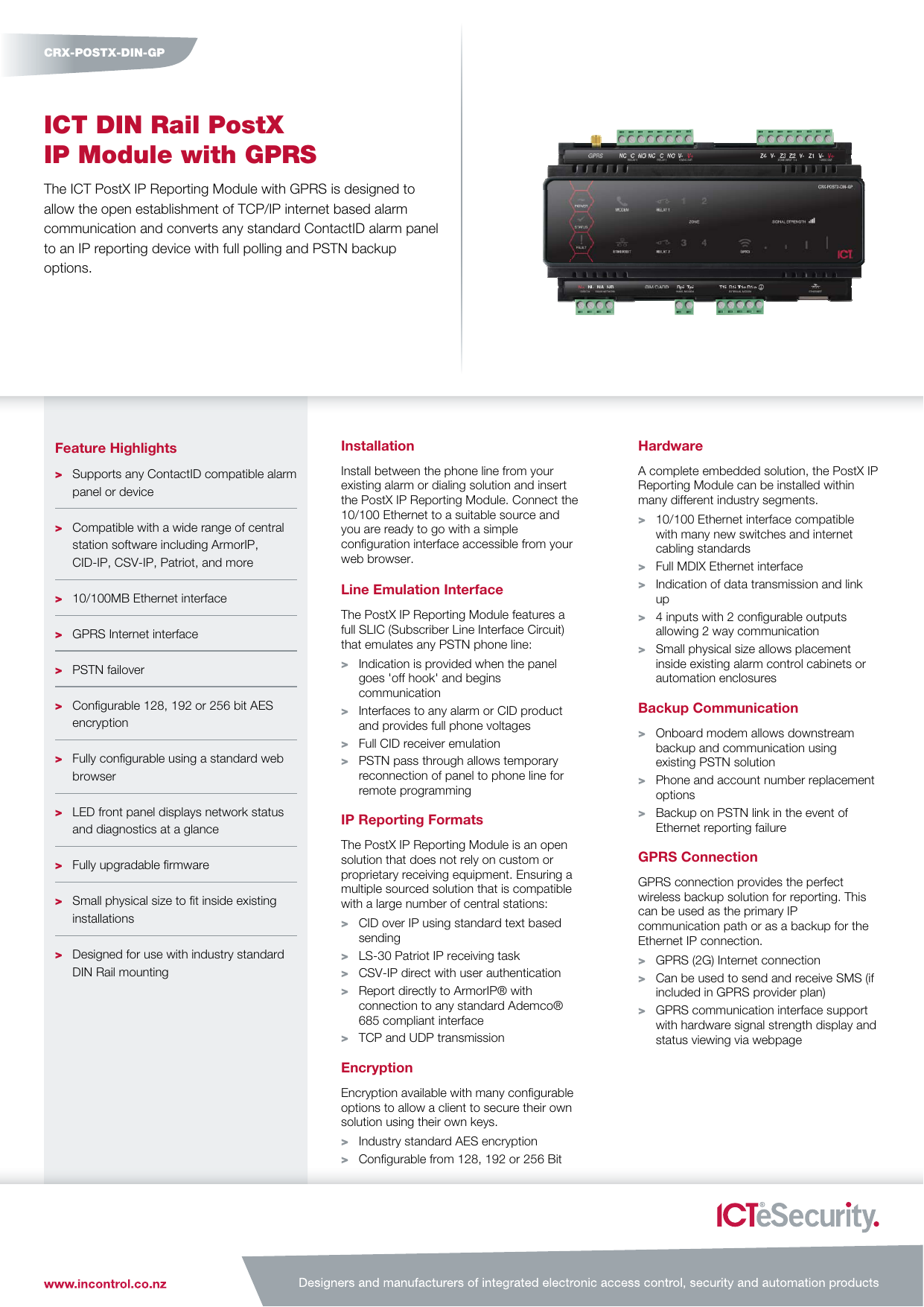 CRX-POSTX-DIN-GP
ICT DIN Rail PostX
IP Module with GPRS
The ICT PostX IP Reporting Module with GPRS is designed to
allow the open establishment of TCP/IP internet based alarm
communication and converts any standard ContactID alarm panel
to an IP reporting device with full polling and PSTN backup
options.
Feature Highlights
Installation
Hardware
> Supports any ContactID compatible alarm
panel or device
Install between the phone line from your
existing alarm or dialing solution and insert
the PostX IP Reporting Module. Connect the
10/100 Ethernet to a suitable source and
you are ready to go with a simple
configuration interface accessible from your
web browser.
A complete embedded solution, the PostX IP
Reporting Module can be installed within
many different industry segments.
> Compatible with a wide range of central
station software including ArmorIP,
CID-IP, CSV-IP, Patriot, and more
> 10/100MB Ethernet interface
> GPRS Internet interface
> PSTN failover
> Configurable 128, 192 or 256 bit AES
encryption
> Fully configurable using a standard web
browser
> LED front panel displays network status
and diagnostics at a glance
> Fully upgradable firmware
> Small physical size to fit inside existing
installations
> Designed for use with industry standard
DIN Rail mounting
Line Emulation Interface
The PostX IP Reporting Module features a
full SLIC (Subscriber Line Interface Circuit)
that emulates any PSTN phone line:
> Indication is provided when the panel
goes 'off hook' and begins
communication
> Interfaces to any alarm or CID product
and provides full phone voltages
> Full CID receiver emulation
> PSTN pass through allows temporary
reconnection of panel to phone line for
remote programming
IP Reporting Formats
The PostX IP Reporting Module is an open
solution that does not rely on custom or
proprietary receiving equipment. Ensuring a
multiple sourced solution that is compatible
with a large number of central stations:
> CID over IP using standard text based
sending
> LS-30 Patriot IP receiving task
> CSV-IP direct with user authentication
> Report directly to ArmorIP® with
connection to any standard Ademco®
685 compliant interface
> TCP and UDP transmission
Encryption
Encryption available with many configurable
options to allow a client to secure their own
solution using their own keys.
> Industry standard AES encryption
> Configurable from 128, 192 or 256 Bit
> 10/100 Ethernet interface compatible
with many new switches and internet
cabling standards
> Full MDIX Ethernet interface
> Indication of data transmission and link
up
> 4 inputs with 2 configurable outputs
allowing 2 way communication
> Small physical size allows placement
inside existing alarm control cabinets or
automation enclosures
Backup Communication
> Onboard modem allows downstream
backup and communication using
existing PSTN solution
> Phone and account number replacement
options
> Backup on PSTN link in the event of
Ethernet reporting failure
GPRS Connection
GPRS connection provides the perfect
wireless backup solution for reporting. This
can be used as the primary IP
communication path or as a backup for the
Ethernet IP connection.
> GPRS (2G) Internet connection
> Can be used to send and receive SMS (if
included in GPRS provider plan)
> GPRS communication interface support
with hardware signal strength display and
status viewing via webpage
Onboard Input/Output Control
> 4 inputs, each of which can be
independently configured to send
Contact ID message, emails or SMS
messages when the input state changes.
> 2 programmable outputs that can be
used to indicate when communication
errors occur, or to activate bell sirens,
lighting circuits, door locks, relay
accessory products and other
automation points. Outputs can also be
manually controlled by sending an SMS
to the POSTX.
Technical Specifications
Power Supply
DC Input Voltage
12VDC (+/-10%)
Operating Current
110mA (Typical)
220mA (Peak, Panel Off Hook)
Low Voltage Cutout
8.7VDC
Low Voltage Restore
10.5VDC
Communication
RS-485
RS485 Menu Interface
Ethernet
10/100 Auto Negotiation
Full PSTN Emulation
Modem Security Reporting
GPRS
2G network 850/900/1800/1900MHz quad band
Outputs
Programmable Outputs
2 FORM C Relay Outputs, 7A 250V Max
Inputs
Inputs
4
Dimensions
Dimensions (L x W x H)
156.8 x 90 x 60mm (6.17 x 3.54 x 2.36")
Weight
453g (15.98oz)
Temperature
Operating
5˚- 55˚ Celsius (41˚ - 131˚ Fahrenheit)
Storage
-10˚- 85˚ Celsius (14˚ - 185˚ Fahrenheit)
Humidity
0%-85% (Non-Condensing)
Disclaimer: Whilst every effort has been made to ensure accuracy in the representation of this product, neither Integrated Control Technology Ltd nor its
employees, shall be liable under any circumstances to any party in respect of decisions or actions they may make as a result of using this information. In
accordance with the Integrated Control Technology policy of enhanced development, design and specifications are subject to change without notice.

* Your assessment is very important for improving the work of artificial intelligence, which forms the content of this project