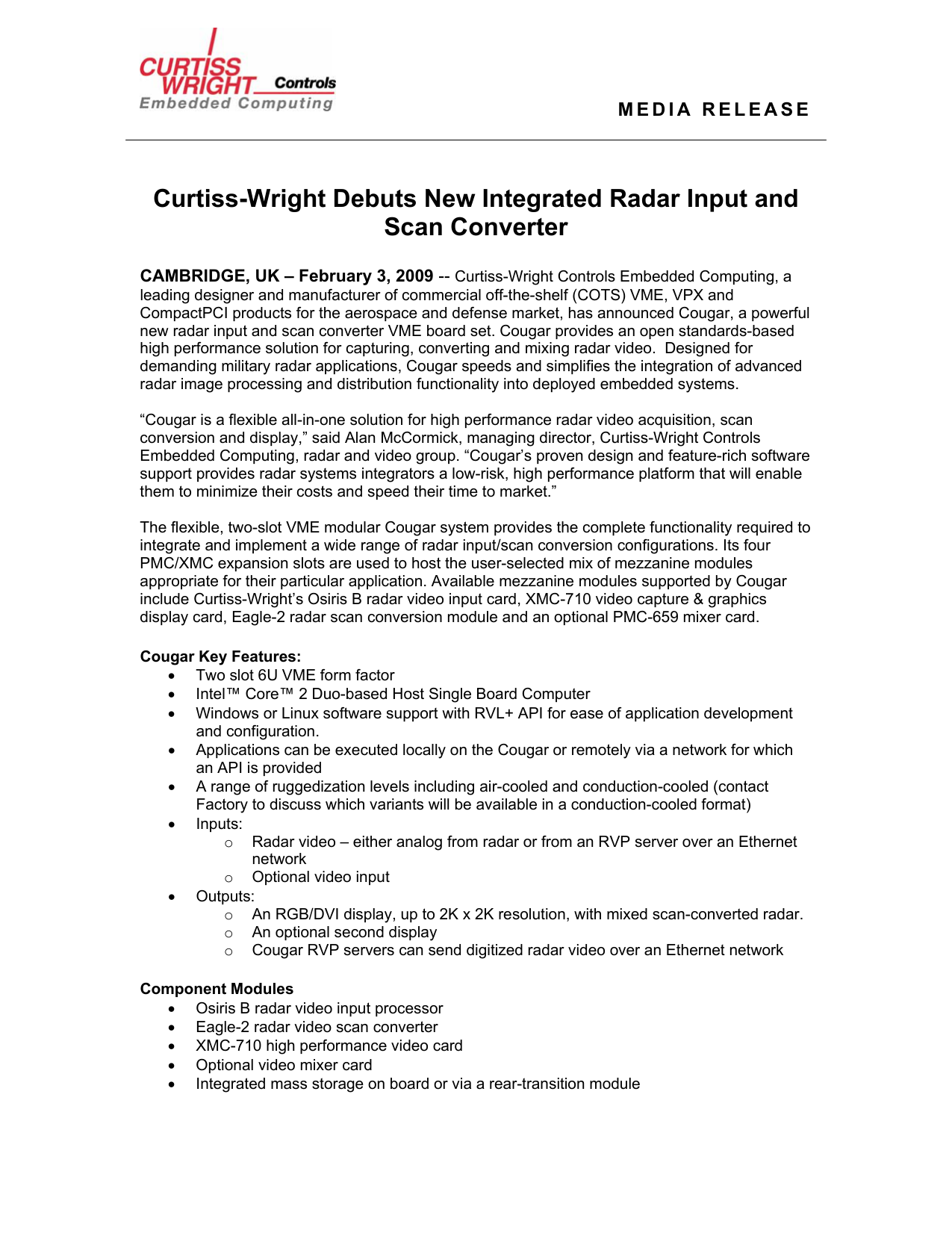 MEDIA RELEASE
Curtiss-Wright Debuts New Integrated Radar Input and
Scan Converter
CAMBRIDGE, UK – February 3, 2009 -- Curtiss-Wright Controls Embedded Computing, a
leading designer and manufacturer of commercial off-the-shelf (COTS) VME, VPX and
CompactPCI products for the aerospace and defense market, has announced Cougar, a powerful
new radar input and scan converter VME board set. Cougar provides an open standards-based
high performance solution for capturing, converting and mixing radar video. Designed for
demanding military radar applications, Cougar speeds and simplifies the integration of advanced
radar image processing and distribution functionality into deployed embedded systems.
"Cougar is a flexible all-in-one solution for high performance radar video acquisition, scan
conversion and display," said Alan McCormick, managing director, Curtiss-Wright Controls
Embedded Computing, radar and video group. "Cougar's proven design and feature-rich software
support provides radar systems integrators a low-risk, high performance platform that will enable
them to minimize their costs and speed their time to market."
The flexible, two-slot VME modular Cougar system provides the complete functionality required to
integrate and implement a wide range of radar input/scan conversion configurations. Its four
PMC/XMC expansion slots are used to host the user-selected mix of mezzanine modules
appropriate for their particular application. Available mezzanine modules supported by Cougar
include Curtiss-Wright's Osiris B radar video input card, XMC-710 video capture & graphics
display card, Eagle-2 radar scan conversion module and an optional PMC-659 mixer card.
Cougar Key Features:
• Two slot 6U VME form factor
• Intel™ Core™ 2 Duo-based Host Single Board Computer
• Windows or Linux software support with RVL+ API for ease of application development
and configuration.
• Applications can be executed locally on the Cougar or remotely via a network for which
an API is provided
• A range of ruggedization levels including air-cooled and conduction-cooled (contact
Factory to discuss which variants will be available in a conduction-cooled format)
• Inputs:
o Radar video – either analog from radar or from an RVP server over an Ethernet
network
o Optional video input
• Outputs:
o An RGB/DVI display, up to 2K x 2K resolution, with mixed scan-converted radar.
o An optional second display
o Cougar RVP servers can send digitized radar video over an Ethernet network
Component Modules
• Osiris B radar video input processor
• Eagle-2 radar video scan converter
• XMC-710 high performance video card
• Optional video mixer card
• Integrated mass storage on board or via a rear-transition module
MEDIA RELEASE
Osiris B Radar Video Input Features Features
• Supports two independent radar channels inputs at rates up to 16k samples per return
• Inputs supported include radar video, triggers and azimuth turning data for RADDS,
ACP/ARP and other specialized formats.
• Sampling rates up to 50 MHz on each of two analog inputs, which can be mixed with up
to 8 digital radar inputs.
• After digitizing and processing, outputs two streams of radar video directly to the host
processor at rates up to 25 MB/s per channel.
• Additional features include dual trigger input, gain control as a function of range, range
and azimuth correlation, digital filtering, a built-in test generator, dual azimuth input and
interference suppression.
Eagle-2 Radar Video Scan Conversion Features
• Supports rotation rates of 90 rpm at 2048 x 2048 display resolution
• Field-proven White-Powell scan-conversion algorithms
• Simultaneous scan-conversion of multiple radar sources
• Multiple radar display windows
• PPI, A-Scan and B-Scan display formats
• Supports sector-scan, random-scan and reverse-scan inputs
• Integrated digital video keying of radar with graphics
• Single-link or dual-link DVI input
• Supports graphics video input at resolutions up to 2560 x 1600 (including 2048 x 2048)
• Single-link or dual-link DVI or analog RGB video output
• Available in air-cooled L0 and L100 ruggedization levels
• Radar data transfer over PCI-X bus from local (Osiris radar input card) or networked
(RVP) radar source
Software Support
Software support for Cougar includes drivers for Windows and Linux operating environments. For
full details, please contact the factory
Pricing for Cougar configurations start at $19000. Availability is Q4, 2008.
For editorial information regarding Curtiss-Wright Controls Embedded Computing Multi
Computing products or services, contact John Wranovics, Director of Media Relations, CurtissWright Controls Embedded Computing, Tel: (925) 640-6402; email.
jwranovics@curtisswright.com. Web site: www.cwcembedded.com.
Inquiries: Please forward all Sales and reader service inquiries to Jerri-Lynne Charbonneau,
Curtiss-Wright Controls Embedded Computing, Tel: (613) 254-5112; Fax: (613) 599-7777; e-mail:
sales@cwcembedded.com.
About Curtiss-Wright Controls Embedded Computing
Curtiss-Wright Controls Embedded Computing is the industry's most comprehensive and
experienced single source for embedded solutions, ranging from Processing, Subsystems, Data
Communication, DSP, Video & Graphics to the most advanced board level components and fully
integrated custom systems. The Embedded Computing group serves the defense, aerospace,
MEDIA RELEASE
commercial and industrial markets and is part of Curtiss-Wright Controls Inc. For more
information about Curtiss-Wright visit www.cwcembedded.com.
About Curtiss-Wright Controls, Inc.
Headquartered in Charlotte, North Carolina, Curtiss-Wright Controls is the motion control
segment of Curtiss-Wright Corporation (NYSE: CW). With manufacturing facilities around the
world, Curtiss-Wright Controls is a leading technology-based organization providing niche motion
control products, subsystems and services internationally for the aerospace and defense
markets. For more information, visit www.cwcontrols.com.
###
Note: All trademarks are property of their respective owners.