Safety in the Landscaping Industry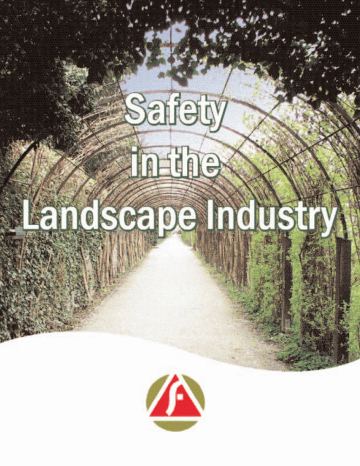 Safety in the
Landscape Industry
O
PERATION
& S
AFETY
M
ANUAL
FOR
L
ANDSCAPE
W
ORKERS AND
O
WNERS IN
O
NTARIO
produced by
ii
For additional copies of this manual contact the Farm Safety Association Inc.
101 - 75 Farquhar Street
Guelph, Ontario N1H 3N4
Toll Free: 1.800.361.8855
Web Site: www.farmsafety.ca
Fax: 519.823.8880
S
AFETY IN THE
L
ANDSCAPE
I
NDUSTRY
C
ONTENTS
Managing for Safety
Extending the Circle of Safety
Taking Safety to our Customers
Safety Requires Leadership
The Safety Mindset
Operator Danger Signs
Due Diligence
Building your Safety Program
Health & Safety policy
Safety program components
Occupational Health & Safety Act and regulations (OHSA)
WSIB Requirements (Workplace Safety & Insurance Board)
Worker Orientation
Disciplining Workers
Worker Training Tips for the Supervisor
Documenting Worker Training
Personal Protective Equipment:
Safety Footwear
Eye Protection
Hand Protection
Hearing Protection
Head Protection
Respiratory Protection
Environmental Hazards:
Sun Exposure
Severe Weather
Heat Exposure
Cold Weather
Uneven Terrain, Ponds etc.
Common Equipment Hazards:
Pinch Points
Wrap Points
Shear Points
Crush Points
Thrown Objects
Free Wheeling
Pull in Points
Stored Energy Hazards
On Site Electrical Hazards
Lockout Procedures
Vibration from Equipment
Shielding and Guarding
Equipment Maintenance
Fatigue
Slips, Trips and Falls
Safe Lifting and Carrying
16
16
17
17
18
18
19
19
19
19
20
11
11
11
12
14
15
20
23
24
24
24
25
25
7
9
9
7
8
10
6
7
5
6
4
5
3
3
3
4
2
3
1
2
1
1 iii
iv
S
AFETY IN THE
L
ANDSCAPE
I
NDUSTRY
Shoveling and Digging
Planting Trees and Shrubs
Excavations
Handling Hazardous Materials
Tetanus
Bee and Insect Contacts
Rodents and Other Animals
Proper Hand Washing
Working Around People and Vehicles
Landscaping Equipment:
Riding Mowers
Push Mowers
Tractors with Rotary Mowers
String Trimmers
Leaf Blowers
Chain Saws
Quick-Cut Saws
Skid Steers/Loaders
Tractor/Loaders
Post Hole Augers
Grinders and Chippers
Rotary Tillers
Hand Tools
Snow Blowers
Powered Blades and Sweepers
Ladders
Fire Safety:
Refueling Equipment
Transporting Fuels
Fire Extinguisher Use
Equipment Transport:
Circle Check your Vehicles and Equipment
Equipment on Trailers
Securing Loads
Road Safety- Traffic Control for the Job
Chemicals and WHMIS Products
Pesticide Storage and Transport
WHMIS (Workplace Hazardous Materials Information System
C
ONTENTS
40
43
44
44
44
34
35
35
36
38
45
45
46
47
47
48
28
29
29
29
26
27
28
28
29
30
30
32
33
48
48
48
48
49
50
50
50
51
S
AFETY IN THE
L
ANDSCAPE
I
NDUSTRY
M
ANAGING FOR SAFETY
E
XTENDING THE CIRCLE OF SAFETY
T
AKING SAFETY TO OUR CUSTOMERS
Managing for Safety
Occupational injuries and illnesses cost money and affect more than your job. You've got medical bills and equipment repairs. You lose time on the job, which upsets the customer, and can possibly affect your personal life as well. You can avoid and control these expenses with an effective safety awareness program. Take a minute and do the math on what a workplace accident can cost. Insurance, lost time, lost product, lawyers, doctors, lost income, lost revenue and missed customer opportunities that you will never recover. Safety training and accident prevention aren't just a legal responsibility. They go right to your bottom line. To start with, a safe, alert, well-trained employee will cost you less in machine repairs and down time. In Ontario, the Workplace Safety & Insurance Board (WSIB) calculates that the average cost of a lost time claim for a fracture is more than 7 thousand dollars with about 44 lost days.
In 2006, the cost on average lost-time injury was approximately $98,000. Direct costs to the
WSIB account for about 20% of this figure (average cost is $19,560 per LTI). Indirect costs to the companies involved make up the rest of the total costs, including: l Property damage l Lost production l Manager and supervisor time l Compliance costs associated to the Ministry of Labour (MOL) orders l Lowered employee productivity while on light duty
A business operating on a 6 percent profit margin would need over one and half million in sales to recover the costs of a single injury. So "Safety Makes Good Business Sense".
More and more landscape industry employers are adopting zero-tolerance safety policies,making safety compliance a basic condition of employment with programs that not only protect reckless, unsafe workers, but also protect everyone - including customers and their families from unsafe practices. These operators understand that it can keep them out of court and bankruptcy.
Extending the Circle of Safety
As the owner/manager of a landscape industry business, you are the one person who is ultimately responsible for making sure your employees have a safe place to work, that they continue to work in it safely and that they extend their circle of safety to include every person they come in contact with during the work day.
Taking Safety to our Customers
Make safety part of your sales and marketing. A safe company is an efficient company. Many of your customers already work for corporations where safety is an established priority. A good safety program tells them that your employees are well trained, effective, efficient and also have the customers' safety in mind at all times. It also means that your company and employees will work to protect the safety of customers' property, family and belongings. In addition, many government, institutional and corporate landscape contracts require you to prove that your employees will work safely and obey the law while on their property. Developing an effective safety program will take some time and effort but the benefits to you and your company will make it worthwhile.
1
2
S
AFETY IN THE
L
ANDSCAPE
I
NDUSTRY
S
AFETY REQUIRES LEADERSHIP
T
HE SAFETY MINDSET
Safety Requires Leadership
Employees will pretty much adopt the attitudes and behaviors of management, so it's important that everyone in a supervisory position supports and is involved in your program. This support will make or break it. You should draft a policy statement that clearly communicates you mean business.
If you work in the grounds keeping and nursery industry, there are a lot of ways you can be injured on the job. Slips, lifting, equipment accidents, falls-all can lead to lost work or permanent disability. Almost every day your work presents a new set of problems. You have a wide variety of tools and equipment to become familiar with at each job site. Your responsibility will always include the safety of the people you work for— their property and family. You work in an industry where the season is usually short, the deadlines for job completion are generally difficult and the working conditions are often less than ideal.
The Safety Mindset
Your most important piece of safety equipment is your brain. Anything that interferes with concentration on the job at hand makes you dangerous. A worker that is angry, preoccupied or distracted, anxious or frustrated is just as dangerous as if they were under the influence of drugs or alcohol.
You have the ability to think and act from knowledge, experience, and judgment. Unfortunately the most common equipment failure in our industry is the failure to use our brain.The difference between getting home safely and ending up as an accident statistic depends on the interaction of three basic elements.
The machine or tool you are operating, the conditions that you are working in, and you the operator make up a triangle of safety. A breakdown in any link between these three elements can spell danger and death. Studies have shown that equipment failures, injuries, and deaths are the result of three things, either alone or in combination.
Most of our work is outdoors where we have little or no control over the environment. But we do control the decisions we make. Our decisions are often influenced by natural conditions — what to do and when to do it.
The threat of bad weather makes you want to push harder to finish before conditions change. Rushing to get the job done and long hours contribute to accidents where the operator was tired or distracted.
Some environmental hazards can be avoided or minimized. Rough or rocky ground, slopes, and ravines increase risk of equipment damage or overturns. Working around operating equipment when the ground is muddy or icy puts us at risk of falling and getting caught up in the machine.
S
AFETY IN THE
L
ANDSCAPE
I
NDUSTRY
O
PERATOR DANGER SIGNS
D
UE DILIGENCE
B
UILDING YOUR SAFETY PROGRAM
Operator Danger Signs
l Forgetfulness l Taking shortcuts l Risk taking l Ignoring warnings l Unsafe practices l Preoccupation or distraction l Failing to recognize a hazard
Due Diligence
You need to practice due diligence. This means taking every reasonable precaution to protect your workers, customers and the general public in the course of your work. There is often only one way to prove due diligence and that is with a written safety program and written records. You may need to prove that workers have been trained, that equipment has been maintained etc. The paper trail will become important. Yes it will require more work, perhaps in the off season, but it will give you some peace of mind and a written program to follow and implement with your employees.
Building Your Safety Program
Health & Safety Policy
The first step in your safety program is to develop a health and safety policy statement that is your commitment to safety in your operation and to your employees. This statement needs to be posted for your workers to see. Below is an example of a Health & Safety Policy:
[Employer name/Company name ] is vitally interested in the health and safety of its employees.
Protection of employees from injury or occupational disease is a major continuing objective.
[_____ ] will make every effort to provide a safe, healthy work environment. All supervisors and workers must be dedicated to the continuing objective of reducing risk of injury.
[_____ ], as employer, is ultimately responsible for worker health and safety. As the employer of
[______], I give you my personal promise that every reasonable precaution will be taken for the protection of workers. Supervisors will be held accountable for the health and safety of workers under their supervision. Supervisors are responsible to ensure that machinery and equipment are safe and that workers work in compliance with established safe work practices and procedures.
Workers must receive adequate training in their specific work tasks to protect their health and safety.
Every worker must protect his or her own health and safety by working in compliance with the law and with safe work practices and procedures established by the company.
It is in the best interest of all parties to consider health and safety in every activity. Commitment to health and safety must form an integral part of this organization, from the owner to the workers.
Signed: [______________ ]
Employer
3
S
AFETY IN THE
L
ANDSCAPE
I
NDUSTRY
B
UILDING YOUR SAFETY PROGRAM
OHSA &
REGULATIONS
Safety Program Components
In addition to preparing a health and safety policy like the one above, the employer must also have a program in place to implement that policy. This program will vary, depending upon the hazards encountered in a particular workplace. Program elements may include all or some of the following:*
1. Worker training e.g., new employees, new equipment, new job procedures
2. Workplace inspections and hazard analysis
3. Analysis of the accidents and illnesses occurring at the workplace
4. A health and safety budget
5. A formal means of communication to address promptly the concerns of workers
6. Confined space entry procedure
7. Lock-out procedure
8. Machine guarding
9. Material-handling practices and procedures
10. Preventing occupational disease, e.g., preventing the transmission of diseases from animals to humans
11. Maintenance and repairs
12. Housekeeping
13. Personal protective equipment, e.g.., respirators, hearing protection
14. Emergency procedures
15. First-aid and rescue procedures
16. Electrical safety
17. Fire prevention
18. Engineering controls e.g., ventilation
OHS Act & Regulations
The Occupational Health and Safety Act sets out the rights and duties of all parties in the workplace. Its main purpose is to protect workers against health and safety hazards on the job. The Act establishes procedures for dealing with workplace hazards, and it provides for enforcement of the law where compliance has not been achieved voluntarily. There are specific requirements for landscapers under the Act. If you are working on an industrial site or a constructions site, specific regulations for those industries will apply to you. Refer to the Occupational Health & Safety
Act for specifics or visit the Ontario Ministry of Labour's web site.
4
*This is not a comprehensive list.
S
AFETY IN THE
L
ANDSCAPE
I
NDUSTRY
WSIB
REQUIREMENTS
W
ORKER ORIENTATION
WSIB Requirements
In Ontario, the Workplace Safety and Insurance Act requires all operations to have no-fault insurance coverage for their employees that is administered through the Workplace Safety and Insurance Board.
This applies even if you hire someone for half a day! It's the law!
WSIB coverage is also mandatory for contract workers hired through an employment agency, if the employment agency doesn't have coverage. Therefore it is very important that when you do utilize an outside employment agency to provide temporary seasonal workers, that you request a WSIB Clearance
Certificate from the agency that certifies that the agency does have WSIB coverage for the temporary contract workers that they provide to you.
The WSIB provides disability benefits, monitors the quality of health care, and assists in the early and safe return to work for workers who are injured on the job or contract an occupational disease. A worker who is entitled to compensation under this act may not take action in the courts against the employer for injury or disease sustained in the course of employment.
Failure to register as an employer or report a workplace injury or occupational disease could result in fines and penalties. The WSIB benefits paid to injured workers are funded by the insurance premiums paid solely by the employer. It is an offence against the Act to require any contribution from employees.
The WSIB also requires employers to have trained first aid persons in the workplace. The number may vary depending upon the size of your workforce and various work locations.
WSIB regulation 1101 – First Aid, outlines requirements for employers.
Worker Orientation
When new workers arrive on your operation they will require orientation. This may be an informal process or may be done in a more formalized setting. Orientation will ensure that the individuals are familiar with your company's expectations for health and safety. It will also familiarize them with hazards in the workplace as well as company rules and program. Some of the subjects that can be covered in an orientation session include: l Health and Safety Policies l Roles and responsibilities l Safe work procedures l Work refusal procedures l Injury/illness/near miss/hazard reporting l Specific hazard information l Emergency procedures l Discipline policy l Personal protective equipment l Health and safety representatives or joint health and safety committee if applicable l Your orientation may include a brief tour of the operation.
5
6
S
AFETY IN THE
L
ANDSCAPE
I
NDUSTRY
D
ISCIPLING WORKERS
W
ORKER TRAINING TIPS
Disciplining Workers
Occasionally you may need to discipline workers, sometimes for not following safety rules or procedures. It is good due diligence to have a disciplinary procedure in writing and presented when you orient workers so that they know what is expected of them. A progressive disciplinary policy includes items such as informal discussions, verbal warnings, written warnings, suspension from work or dismissal from the job.
Worker Training Tips for the Supervisor
Before you assign any worker to a new job, you should assess the individual's skills for performing the required task.. Adequate training will be the key to safe, efficient job performance.
Following are basics that should be considered when training new workers:
1.
Explain how and why a particular job is to be performed. Make sure that you have the full attention of your employee. New surroundings can often distract.
2.
Personally demonstrate the correct way of doing the work. You should go through the task first at a normal pace, then repeat it at a slower pace, pointing out the various steps and answering any questions they may have.
3.
Point out any hazards associated with the job.
4.
Before leaving the new worker on their own, make sure that they can demonstrated their ability to perform the work in the correct manner. Have the trainee go through the process explaining to you what they are doing and why. Don't leave workers until you are confident that they will carry out the required tasks as instructed. They may work at a slower pace at first, then gradually come up to speed.
5.
Make frequent checks on the new workers. In most situations, positive reinforcement is considerably more effective than harsh criticism. If the employee is unable or unwilling to perform the work properly after a reasonable period of time it may be necessary to switch them to a different job or let them go.
6.
All employees should be instructed in proper lifting techniques. Improper lifting is a major cause of accidents.
7.
Employees should be made aware of specific hazards and encouraged to report unsafe conditions or equipment on their specific job task.
8.
Check if the employee remembers how they are to deal with emergencies such as fire or situations requiring first aid.
S
AFETY IN THE
L
ANDSCAPE
I
NDUSTRY
W
ORKER TRAINING TIPS
D
OCUMENTING WORKER TRAINING
P
ERSONAL PROTECTIVE EQUIPMENT
How does a person learn new things?
It is important to follow training steps as outlined because humans tend to learn and remember things based their involvement. It is not good enough just to give verbal instructions.
A learner tends to remember: l 20% of what the learner hears -your verbal instructions to them l 30% of what the learner sees -while they watch the job being demonstrated l 50% of what the learner sees and hears -while you explain the job and demonstrate it at the same time l 70% of what the learner says while talking -they are repeating the steps to you l 90% of what the learner says while doing something -they are verbalizing about the job while actually showing you the various steps
Documenting Worker Training
2
When you give job specific training to a new worker or workers in general, it is a good practice to document such training. A checklist specific to the job will assist you in covering all aspects of the work and makes sure that you have not forgotten to pass on important safety information to the worker.
A brief summary of the content covered is also necessary to document. Once you have completed the training with the individual, you may have them sign the training sheets indicating that they have received and understood the training. This sort of documentation is often not required for simple task, but would be used in situations such as machinery, tractor or mower operation training, as these jobs require some level of competence.
Personal Protective Equipment:
Preparing your landscape workforce
Safety Footwear
Injuries to the feet occur in the landscape industry. The most common types of foot injuries are from punctures, crushing, sprains and lacerations. The second group of injuries are from slips, trips and falls.
Safety footwear is vital to a landscape worker's safety.
Safety footwear must be comfortable. Discomfort or improper fitting shoes or boots can lead to fatigue and other foot related problems. It can also aggravate existing foot problems a person may have.
For workers exposed to foot hazards on the job, the required foot protection is protective footwear certified by the Canadian Standards Association
(CSA Standard- "Protective Footwear", CAN/CSA-Z195-M92)
A steel toe cap should cover the whole length of the toes from tips to beyond the natural bend of the foot. A soft pad covers the edge of the toe cap. It the cap cuts into the foot, the size or style of the footwear is incorrect. Soles need to be chosen according to the type of specific hazards in the workplace. A steel midsole which protects the foot against penetration by sharp objects should be flexible enough to allow the foot to bend.
7
8
S
AFETY IN THE
L
ANDSCAPE
I
NDUSTRY
P
ERSONAL PROTECTIVE EQUIPMENT
Check the sole and treads to make sure they are the best for the type of work. No one type of non-slip footwear can prevent the wearer from slipping on every surface type.
Working in cold weather may require you to use insulated footwear. Normal protective footwear is not normally designed for cold weather.
Eye Protection
Try to imagine your life without sight. Close your eyes, and try walking 50 feet down the lane.
Then consider how your life would be changed if you lost this most precious of senses.
The eyes are very sensitive. They need to be protected against impact, chemicals, dust, chaff, and numerous other farm workplace hazards.
Always wear eye protection when spray painting, grinding, drilling, welding, sawing, working in a dusty environment, or handling chemicals. Develop the habit of putting on safety glasses or goggles whenever you work with hand or power tools.
Several types of eye protection devices are available:
Safety glasses
Standard eyeglasses and sunglasses provide frontal protection only. If you wear glasses, make sure they have impact resistant lenses. Safety glasses have heavier lenses that can withstand more shock than ordinary lenses.
Goggles
Plastic goggles protect the eyes against front and side impact. Non-vented or chemical splash goggles also offer protection against chemical vapours and liquids.
Always wear goggles when striking hardened metal tools and hardened metal surfaces. This will protect the eyes against flying metal chips.
Face shields protect the face against splashing, dust, and chaff. However, standard designs offer very little protection against impact.
If impact protection is needed, wear safety glasses or goggles under the face shield. Special impact-resistant shields are also available.
Sun protection also important
In addition to increasing risk of skin cancer, prolonged exposure to the sun's ultraviolet rays can be damaging to the eyes. Always wear sunglasses to protect you eyes while working outdoors.
S
AFETY IN THE
L
ANDSCAPE
I
NDUSTRY
P
ERSONAL PROTECTIVE EQUIPMENT
Hand Protection
When deciding on what hand protection your landscape crew will need, you must look at the potential hazards that they will encounter in their day to day work. You need to choose hand protection that will adequately protect the worker's hands from the hazard.
Whatever type of glove is chosen, it is crucial that the hand protection fits properly.
Consider where the worker will encounter sharp edges, such as on equipment that is lifted onto and off of vehicles. Where can abrasions occur, puncture wounds, cuts?
Heavy leather gloves offer the best protection in many landscape situations. Light cotton gloves may do the trick when working with leaves or plants. Always expect the unexpected. What if someone disposed of a needle or piece of glass in that pile of leaves. You want to make sure the worker doesn't get jabbed or cut. Handling chemicals may require rubber or neoprene type gloves. Consider the fact that some individuals have sensitivity to rubber or latex.
Cold weather may require gloves that will keep the hands adequately warm yet offer dexterity to do the work at hand.
Hearing protection
Noise-induced hearing loss is permanent and irreversible; no medical treatment, no surgery, not even a hearing aid can restore your hearing.
However, noise-induced hearing loss can be prevented and further damage to your hearing can be avoided even if some noise-induced hearing loss is experienced.
Noise is an annoying, often hazardous part of the workplace. Many people work in noisy industrial environments, such as construction, lumber, mining, steel, and manufacturing where they are exposed daily to the incessant din of machinery. Landscape workers who operate equipment are also exposed to harmful noise levels. Noise-induced hearing loss is one of the most prevalent, irreversible occupational hazards.
Noise is not just a nuisance; in addition to being one of the leading causes of hearing loss it poses other health hazards to workers by reducing concentration and increasing worker injuries. It is an additional, harmful stressor in our lives.
9
S
AFETY IN THE
L
ANDSCAPE
I
NDUSTRY
P
ERSONAL PROTECTIVE EQUIPMENT
10
Dangerous Noise Levels
To recognize a noise hazard, ask these questions: l Is communication so difficult you have to shout at someone close by?
l Do your ears ring after working in the noise for several hours?
l Is your hearing "dull" after several hours of exposure to noise?
If any of these conditions are detected: l Find out how much noise you are exposed to at work l Wear hearing protection where necessary
The effectiveness of hearing protection is reduced greatly if the hearing protectors do not fit properly or if they are worn only part time during periods of noise exposure. To maintain their effectiveness, they should not be modified. Remember, radio headsets are not substitutes for hearing protectors and should not be worn where hearing protectors are required to protect against exposure to noise.
Select hearing protection that is: l Correct for the job. Refer to the Canadian Standards Association (CSA) Standard Z94.2-02
"Hearing Protection Devices - Performance, Selection, Care and Use" or contact the agency responsible for occupational health and safety legislation in your jurisdiction for more information. l Capable of providing adequate protection. Check the manufacturer's literature. l Comfortable enough to be accepted and worn during all exposure to noise.
What types of hearing protectors are available?
Ear plugs are inserted to block the ear canal. Ear plugs are sold as disposable products or reusable plugs. Custom molded ear plugs are also available.
Semi-insert ear plugs which consist of two ear plugs held over the ends of the ear canal by a rigid headband.
Ear muffs consist of sound-attenuating material and soft ear cushions that fit around the ear and hard outer cups. They are held together by a head band.
Head protection
If you are landscaping on an industrial or construction site or if you are involved in landscape construction, you may be required by law to wear appropriate head protection while on site.
You will need to ensure that you have chosen the correct headwear for the job.
Refer to CSA Standard Z94.1 (M1977 or –92), "Industrial Headwear" or the legislation under the Occupational Health & Safety Act, Ontario.
There are different classes for headwear and include: l Class G- General usage (non-conducting) l Class E- Electrical Trades (non-conducting) l Class C- Conducting
S
AFETY IN THE
L
ANDSCAPE
I
NDUSTRY
P
ERSONAL PROTECTIVE EQUIPMENT
E
VIRONMENTAL HAZARDS
Headwear consists of a shell and suspension system that work together to protect you. These need to be inspected regularly. Headwear should never be worn backwards- brim forward….always! Do not store the hats in the windows of vehicles. Shells exposed to sunlight, heat or chemicals can become brittle and not offer proper protection. If hairline cracks appear or if the hat has been struck, replace it, even if no damage is visible. Do not drill holes or modify the shell in any was as this reduces the protection offered. Paint solvents can also make the hat brittle. Don't paint it.
Respirators/dust masks
Ensure that the respirator you are using is appropriate for the task. Chemicals require a chemical cartridge respirator with specific filters for the chemical you are using. Dust masks rated as N95 will protect you from airborne dusts and some other contaminants such as bacteria and certain viruses.
Environmental Hazards
Sun exposure
Be aware of the danger
A lot of landscape work involves being outdoors when the sun's radiation is most intense.
Repeated daily exposure to the sun over a number of years increases an individual's risk of developing a number of health problems, including: l Aging, wrinkling, and drying out of the skin.
l Skin cancer.
l Lip cancer.
l Damage to the eyes.
Fair skinned individual's are at greatest risk. However, excessive exposure to the sun's ultraviolet rays can even be harmful if you have dark hair and dark skin.
Did you know that it is even possible to get sunburned on a cloudy day?
Take steps to protect yourself
Solar radiation is strongest between 10:00 A.M. and 3:00 P.M. It's especially important to protect your skin against the sun during these hours.
l Try to limit your time in the sun. That can be tough in the landscape workplace!
If you have to work outside all day, take your breaks indoors, if possible. At least try to get into the shade for a few minutes every hour.
l Liberally apply sunscreen lotion on the face, neck, hands, forearms, ears, and any other unprotected skin. Use a product with a sun protection factor (SPF) of 15 or higher.
l Put sunscreen on before heading outdoors. Reapply the lotion as required during the day.
l Eye damage can result from prolonged exposure to the sun. Always wear sunglasses that filter out at least 90 percent of the sun's ultraviolet rays.
11
S
AFETY IN THE
L
ANDSCAPE
I
NDUSTRY
E
NVIRIONMENTAL HAZARDS
12
Choose the right clothing to protect the rest of the body. You won't be more comfortable without a shirt!
Remember, today's tan could lead to serious skin health problems in the future.
1.
Cover up as much as possible. Lightweight, tightly woven shirts and long pants will block most of the sun's rays. Light coloured cotton is most comfortable under hot summer conditions.
Garments should fit comfortably and not be too tight. However, loose or floppy clothes should not be worn if there is any chance you will be working around machinery.
2.
You must wear a hat. It should shade the ears, face, temples, and back of the neck. Standard baseball caps don't offer much protection against the sun. You need to add a neck shade to protect the back of the neck and the ears. The best choices in head gear include hats with extra wide brims.
Learn to recognize skin problems
We all need to check our skin regularly for signs of damage that could indicate a health problem.
Take a close look at the top of your head, face, lips, and the tips of your ears. Use a full-length mirror for a "head-to-toe" inspection.
Look for the following during your skin check.
1.
Changes in the size, shape, or colour of moles. In particular, watch for: l irregular borders on moles (ragged, notched, or blurred edges).
l moles that aren't symmetrical (one half doesn't match the other).
l colours that aren't uniform throughout.
l moles that are bigger than a pencil eraser.
2. Also be on the lookout for: l sores that bleed and don't heal.
l a change in the sensation of a mole, such as itchiness or pain.
l red patches or lumps. Don't overlook the top of the head l new moles.
Severe Weather
Lightning Safety
Lightning safety awareness is a priority when working outdoors as landscape workers. Awareness of and understanding about lightning is the single most important means to achieving lightning safety.
The following steps are suggested:
1.
Monitor weather conditions in the early morning hours before work starts
2.
Suspension and resumption of work activities should be planned in advance.
Understanding of SAFE shelters is essential. SAFE evacuation sites include: l Fully enclosed metal vehicles with windows up l Substantial buildings l Low ground -- seek cover in clumps of bushes l Trees of uniform height, such as a forest
S
AFETY IN THE
L
ANDSCAPE
I
NDUSTRY
E
NVIRIONMENTAL HAZARDS
3.
UNSAFE SHELTER AREAS include all outdoor metal objects, like power poles, fences and gates, high mast light poles, metal bleachers, electrical equipment, mowing and road machinery.
AVOID solitary trees. AVOID water. AVOID open fields. AVOID high ground and caves.
4.
Lightning's distance from you is easy to calculate: If you hear thunder, the associated lightning is within audible range ... about 6-8 miles away. The distance from Strike A to Strike B also can be 6-8 miles. Suspend activities, allowing sufficient time to get to shelter. Of course, different distances to safety will determine different times to suspend activities.
A good lightning safety motto is: l If you can see it (lightning), flee it; l if you can hear it (thunder), clear it.
5.
If you feel your hair standing on end, and/or hear "crackling noises," you are in lightning's electric field. If caught outside during close-in lightning, immediately remove metal objects
(including baseball cap), place your feet together, duck your head, and crouch down low in baseball catcher's stance with hands on knees.
6.
Wait a minimum of 30 minutes from the last observed lightning or thunder before resuming activities. Be extra cautious during this phase as the storm may not be over.
People who have been struck by lightning do not carry an electrical charge and are safe to handle. Apply first aid immediately if you are qualified to do so. Get emergency help promptly.
Tornadoes
The safest place to be during a tornado is underground, preferably under something sturdy like a workbench.
If there's no basement or cellar nearby, a small room in the middle of house -- like a bathroom or a closet -- is best. The more walls between you and the outside, the better your chances of survival.
If you are driving during a tornado:
Tornadoes can toss cars and large trucks around like toys. Never try to outrun a tornado.
If you see a funnel cloud or hear a tornado warning issued on the radio or by siren, get out of your vehicle and seek a safe structure or lie down in a low area with your hands covering the back of your head and neck; keep alert for flash floods
13
S
AFETY IN THE
L
ANDSCAPE
I
NDUSTRY
E
NVIRIONMENTAL HAZARDS
14
Heat exposure
Heat stress needs to be taken seriously
Working in a hot environment puts stress on the body's cooling system. When heat is combined with other stresses--like hard physical work, loss of fluids, or fatigue--it may lead to heat-related illness, disability, or even death!
The body is always generating heat and passing it to the environment. The harder you work, the more heat your body has to lose. Heat leaves your body in several ways: l transfer from skin to air.
l evaporation by perspiration.
l exhaling hot air.
l touching a cool object.
Water is crucial to helping the body adjust to high temperatures. The rate of water intake must equal the increased rate of water loss by perspiration to keep body temperature normal.
When it's hot, drink plenty of water!
Your body must work even harder to get rid of excess heat when conditions are both hot and humid.
Unfortunately, perspiration can't evaporate as readily under muggy conditions. The process is easier if the surrounding air is moving. That's why we welcome a cool breeze, or turn on a fan when the air is "sticky".
Sickness and accident rates increase when heavy work is done at temperatures above 30 degrees.
Don't push yourself beyond your limits. It could be harmful to your health, and could put you at increased risk of having an accident.
Heat stress hazards
Following are three common conditions that can result from the body overheating.
Heat cramps: Heavy sweating drains the body of salt, which cannot be replaced by simply drinking water. Painful cramps occur in the arms, legs, or stomach while on the job, or later at home. Move to a cool area at once if cramping is experienced. Loosen clothing and drink cool, lightly-salted water or a commercial fluid replacement beverage. Seek medical aid if the cramps are severe, or don't go away.
Heat exhaustion: Inadequate water and salt intake causes the body's cooling system to break down.
Symptoms include heavy sweating, cool, moist skin, body temperature over 38 degrees, weak pulse, and normal or low blood pressure. The victim is likely to be tired, weak, clumsy, upset, or confused.
They will be very thirsty, and will pant or breath rapidly. Their vision may be blurred. Get medical help immediately! Heat exhaustion can lead to heat stroke, which can kill. Move the person to a cool, shaded area. Loosen or remove excess clothing. Provide cool, lightly-salted water. Fan and spray the victim with cool water.
S
AFETY IN THE
L
ANDSCAPE
I
NDUSTRY
E
NVIRIONMENTAL HAZARDS
Heat stroke can kill a person quickly! Once the body uses up all its water and salt, sweating ceases.
Temperature can rise quickly. You can assume a person is suffering from heat stroke if their body temperature is over 41 degrees, and any of the following symptoms are present: l weakness, confusion, distress, strange behaviour.
l hot, dry, red skin.
l rapid pulse.
l headache or dizziness.
l In later stages of heat stroke, a victim may pass out and have convulsions.
Call an ambulance immediately if heat stroke is suspected. The victim's life may be on the line!
Until help arrives, move the victim to a cool area and remove excess clothing. Fan and spray them with cool water. Offer sips of water if the victim is conscious.
Heat wave guidelines
The following measures should help prevent the development of heat-related illnesses.
1. Slow down in hot weather. Your body's temperature regulating system faces a much greater workload when temperature and humidity are high.
2. Heed early warnings of heat stress, such as headache, heavy perspiration, high pulse rate, and shallow breathing. Take a break immediately and get to a cooler location. Watch for heat stress signs among your co-workers.
3. Dress for hot weather. Lightweight, light-coloured clothing reflects heat.
4. Drink plenty of water. Don't let yourself "dry out".
5. Increase your salt intake, preferably by adding salt to your food.
(Consult your physician if you are on a salt-restricted diet.)
6. Try to get used to warm weather gradually. Take it easy for those first two or three hot days. Your body will have a better chance to adjust if you take it slow.
7. Get out of the heat occasionally. Physical stress increases with time in hot weather.
Take breaks in a cool, shady location.
8. Don't try to get a suntan while you are working ! It's harder for your internal cooling system to work through sunburned skin. Wear a hat and long-sleeved shirt to prevent burning (which we know can increase the risk of skin cancer.)
Cold weather
Frostbite and Hypothermia
Frostbite is a severe reaction to cold exposure that can permanently damage its victims. A loss of feeling and a white pale appearance in fingers, toes, or nose and earlobes are symptoms of frostbite.
Hypothermia is a condition brought on when the body temperature drops to less than 13 degrees.
Symptoms include uncontrollable shivering, slow speech, memory lapses, frequent stumbling, drowsiness and exhaustion.
15
S
AFETY IN THE
L
ANDSCAPE
I
NDUSTRY
16
E
NVIRIONMENTAL HAZARDS
C
OMMON EQUIPMENT HAZARDS
Treatment:
If Frostbite or Hypothermia is suspected begin warming the person slowly and seek immediate medical assistance. Warm the person's trunk first. Use your own body heat to help. Arms and legs should be warmed last because stimulation of the limbs can drive cold blood toward the heart and lead to heart failure.
Put the person in dry clothing and wrap the entire body in a blanket. Never give a Frostbite or
Hypothermia victim caffeine or alcohol. Caffeine, stimulant, can cause the heart to beat faster and hasten the effects the cold has on the body. Alcohol, a depressant, can slow the heart and also hasten ill effects of cold body temperatures.
Uneven terrain/working near ponds etc
Uneven terrain poses special risks to the landscape worker when operating riding mowers, tractors and other equipment. It can also lead to tripping, slipping and twisted ankles while workers traverse it.
If there are obstacles in a yard or field the workers should be made aware of them. If it is the first time servicing the site, you may need to do a walk through to find problem areas.
When working near ponds and embankments there is always the danger of soil shearing off due to the weight of the equipment as it comes near the edge. Always stay as far way from the edge of the embankment as it is deep. This is the shear line and can give way under heavy weight.
Common Equipment Hazards
Recognition, avoidance, prevention
To prevent landscape equipment accidents, you first must learn to recognize the hazards that these machines present. Develop good safety habits to ensure that you have no contact with operating machinery.
l Under no circumstances should you ever reach into any part of an operating machine. Always disengage power, shut off the engine, take the key, and wait for all parts to stop moving before attempting to service or unplug equipment.
l All guards and shields must be in place and properly maintained. Replace all shielding that was removed to make repairs.
l When hitching equipment, the helper should stand clear until the tractor or truck is backed into position. Always inch the tractor or truck forward (never backward) to make necessary positioning adjustments.
l Bystanders should be kept away from areas where they could be struck by thrown objects.
It is vital to "THINK" about actions before you take them. For example, no one can react quickly enough when a boot lace gets wrapped onto a rotating shaft. The bottom line is that you must never attempt to do any kind of work on landscape equipment while the power is engaged.
S
AFETY IN THE
L
ANDSCAPE
I
NDUSTRY
C
OMMON EQUIPMENT HAZARDS
Pinch Points
l Pinch points are formed when two rotating objects move together and at least one of them moves in a circle. For example, the point at which a belt runs onto a pulley is a pinch point. l Belt drives, chain drives and gear drives are other sources of pinch points in power transmission devices.
Fingers, hands and feet can be caught directly in pinch points, or they may be drawn into the pinch points by loose clothing that becomes entangled. Contact may be made by just brushing against unshielded parts or by falling against them.
l You can become entangled in pinch points if you take chances and reach over or work near rotating parts. Machines move too fast to get out of a pinch point once you become caught in it.
To avoid injury from pinch points, be aware of the areas where pinch points occur and avoid them.
Wear clothing that fits well and is not loose or floppy. Never reach over or work near rotating parts.
Turn off machinery to work on it. Always replace shields if you must remove them for maintenance.
Pinch Points
Wrap Points
Rotating shafts are the most common source of wrap point accidents, although any exposed machine part that rotates can be a wrap point. A cuff, sleeve, pant leg or just a thread can catch on a rotating part and result in serious injury. Entanglement with a wrap point can pull you into the machine, or clothing may become so tightly wrapped that you are crushed or suffocated. In other cases, you could be thrown off balance and fall into other machine parts.
Even a perfectly round shaft can be a hazard if there is enough pressure to hold clothing against the shaft. Shafts that are not round increase the hazard significantly. Clothing is more likely to catch if there is a little mud or a nick on the shaft. Ends of shafts that protrude beyond bearings are also dangerous. Universal joints, keys and fastening devices can also snag clothing.
Check all equipment for potential wrap points, and shield those that can be shielded. Place warnings on those that cannot be covered, or paint them a bright color, perhaps with wide stripes. Be aware of wrap points and be alert to their danger.
17
S
AFETY IN THE
L
ANDSCAPE
I
NDUSTRY
C
OMMON EQUIPMENT HAZARDS
Shear Points
l Shear points are created when the edges of two objects are moved closely enough together to cut a soft material, as in the case of a pair of shears or an auger. l Cutting points are created when a single object moves forcefully or rapidly enough to cut, as in the case of a sickle blade.
Both shear and cutting points are created on machinery designed to cut, as in lawn mowers, and on those that are not designed to cut, as in an auger. They are hazards because of their cutting force, and because they often move so rapidly that they may not be visible. It can be easy to forget that they are operating. l Because some cutting and shearing points cannot be guarded, it is important to be aware of the hazard and to be especially alert when they are operating. l It is also important to warn others and to look out for their safety, because of the danger of thrown objects while using cutting-type equipment.
Crush Points
l Crush points are created when two objects move toward each other or one object moves toward a stationary one. For example, hitching tractors to implements may create a potential crush point.
l Failure to block up equipment safely can result in a fatal crushing injury. A jack may slip, a hose or overhead support may break, or the equipment may roll. Be sure to take extra precautions when working with machinery that is raised for any reason.
l Crushing injuries most commonly occur to fingers that are crushed at the hitching point.
Wait until the tractor or truck has stopped before stepping into the hitching position. l If possible arrange the hitch point so that the tractor or truck can be backed into position without anyone between. Always know what the other person is doing.
The head or chest of an operator may be crushed between the equipment and a low beam, pole or other part of a structure. Usually, these accidents occur when operating the machine in reverse Tree limbs are also potential hazards when working with tractors and other riding mowers.
l To prevent being crushed or pinned, first, recognize the potentially dangerous situations, then, avoid them whenever possible.
l Block all machinery securely if you must work under it. If an implement can roll freely, block its wheels so it cannot roll.
18
S
AFETY IN THE
L
ANDSCAPE
I
NDUSTRY
C
OMMON EQUIPMENT HAZARDS
Thrown Objects
Almost any object can be lethal if it is propelled with enough force. Rotary mowers and string trimmers are both examples of machines that can cause thrown object injuries. Both machines can hurl stones and other debris endangering other workers and casual bystanders.
You need to recognize which machines can throw objects. Be sure that you are following the manufacturers' instructions for shielding to reduce the hazard.
You also need to now how far and in what directions objects can be thrown and make certain that everyone in your work area stays a safe distance away from the likely path of thrown objects.
Your responsibility also includes the safety of everyone in the path of a thrown object hazard.
Your work area should be "off limits" to bystanders and pets.
Free-Wheeling Parts
Many machine parts continue to spin after the power is shut off. Examples of this are rotary mower blades, fans, flywheels, etc. l Never touch these parts until they have stopped moving completely.
This may take as long as several minutes.
Pull-in Points
Pull-in points usually occur when someone tries to remove plant material or other obstacles that have become stuck machinery parts. Always shut off the power before attempting to clear plugged equipment.
Stored Energy Hazards
Hydraulic systems store considerable energy. They lift implements, such as plows, change the position of implement components, such as a combine header or bulldozer blade, operate hydraulic motors and assist in steering and braking.
Careless servicing, adjustment or replacement of parts can result in serious injury. High-pressure blasts of hydraulic oil can injure eyes or other body parts by burning or penetrating the tissue due to the liquid being hot. Leaks are a serious hazard. l Never inspect hydraulic hoses with your hands because a fine jet of hydraulic fluid can pierce the skin. Jet streams from even pinhole leaks can penetrate flesh. Get medical attention quickly, or you could lose that part of the body that was injected. l Use a piece of cardboard to test the hose for leaks. Before attempting any service on hydraulic systems, shut off the engine, which powers the hydraulic pump. l Lower the implement to the ground and relieve the pressure. Follow the instructions in your operator's manual, because the specific procedures for servicing the systems are very important to your safety.
19
S
AFETY IN THE
L
ANDSCAPE
I
NDUSTRY
C
OMMON EQUIPMENT HAZARDS
On Site Electrical Hazards
Two major sources of fatality and injury are coming into contact with overhead power lines or contacting buries cables while digging in the soil.
These forms of contact can occur when trimming trees, moving metal ladders, trenching in the soil, etc. Before doing any major digging, especially at a new site that you may be unfamiliar with, contact the local utilities and have underground power lines located. Landscape workers need to be vigilant when using pole type pruners and other raised equipment that there may be overhead wires. They need to constantly be check up as well as down.
Cleaning up after a storm may also put workers into contact with downed power lines. Never touch or try to move downed lines. It could be deadly.
If your workers use any electrical equipment, don't trust the outlets at customer locations. It would be wise to invest in a portable GFCI (ground fault circuit interrupter) to give your workers added protection.
Lockout Procedures
Lockout/Tagout is a proven system for preventing injuries to workers who are repairing, cleaning out, or setting up machinery. It's a methodical procedure that ensures someone else won't accidentally start equipment while repair work is being done. Lockout/Tagout programs are a common part of most industrial safety programs.
General lockout recommendations when servicing machines: l Disengage the power and stop the machine before servicing.
l Do not clean unplug lubricate, adjust or repair any machine while it is running, unless it is specifically recommended in the service or owner's manual.
l Lock out the ignition and put a warning sign over the ignition that tells everyone that you are working on the machine.
l Engaged safety locks if the hydraulic cylinders are so equipped.
Lockout
Most people immediately think of electricity as a potentially hazardous energy source, but there are other sources of energy, though, that can be just as hazardous. These energy sources include thermal, chemical, pneumatic, hydraulic, mechanical, and gravity.
It is important to remember that all sources of energy have the potential to un-expectedly start-up, energize, or release must be identified and locked, blocked, or released before servicing or maintenance is performed on machinery or equipment.
20
S
AFETY IN THE
L
ANDSCAPE
I
NDUSTRY
C
OMMON
E
QUIPMENT
H
AZARDS
Pre-planning for a lockout.
l An initial survey should be made to determine which switches, valves, or other energy isolating devices apply to the equipment being locked out. More than one energy source
(electrical, mechanical, hydraulic, pneumatic, chemical, thermal, or others) may be involved. l Any questionable identification of sources must be cleared by the employees with their supervisors. l Energy isolating devices must be operated only by trained individuals
All energy isolating devices must be adequately labeled or marked to indicate their function.
The identification includes the following: l Equipment supplied l Energy type and magnitude l Where system complexity requires, a written sequence in checklist form should be prepared for equipment access, lockout/tagout, clearance, release, and start-up.
LOCKOUT/TAGOUT PROCEDURES.
Preparation
l Notify all affected employees that a lockout is required and the reason therefore.
Machine or equipment shut down
l If the equipment is operating, shut it down by the normal stopping procedure (depress stop button, open toggle switch, etc.). l Disconnect switches should never be pulled while under load, because of the possibility of arcing or even explosion. l Personnel knowledgeable of equipment operation should be involved with shut down or re-start procedures.
Machine or equipment isolation
l Operate the switch, valve, or other energy-isolating device so that the energy source(s)
(electrical, mechanical, hydraulic, etc.) is (are) disconnected or isolated from the equipment. l Stored energy, such as that in capacitors, springs, elevated machine members, rotating flywheels, hydraulic systems, and air, gas, steam, or water pressure, etc., must also be dissipated, disconnected, or restrained by methods such as grounding, repositioning, blocking, bleeding-down, etc.
l Pulling fuses is not a substitute for locking out. A yanked fuse is no guarantee the circuit is dead, and even if it was dead, there's nothing to stop someone from unthinkingly replacing the fuse. l Caution: Intermittently operating equipment such as pumps, blowers, fans, and compressors may seem harmless when dormant. Don't assume that because equipment isn't functioning, it will stay that way.
21
S
AFETY IN THE
L
ANDSCAPE
I
NDUSTRY
C
OMMON EQUIPMENT HAZARDS
22
Application of lockout
l Lockout and tag the energy isolating device with an assigned individual lock, even though someone may have locked the control before you. You will not be protected unless you put your own padlock on it. . l Both locks and tags must clearly indicate the identity of the employee who applied the device.
This provides positive identification as to who is servicing the machinery and equipment. The identification will also indicate who may not have finished working in a multiple lockout situation.
l The locks and tags must be durable enough to withstand the environment in which they will be used. Information on the locks and tags must remain legible.
l Locks must be substantial enough to prevent removal without the use of excessive force.
Tags must be substantial enough to prevent accidental or inadvertent removal.
l Both locks and tags are to be standardized by either color, shape, or size.
Tags must have a standard print and format.
l For some equipment it may be necessary to construct attachments to which locks can be applied. An example is a common hasp to cover an operating button. Tags must be attached to the energy isolating device(s) and to the normal operating control and must be attached in such a manner as to preclude operation.
Verification of Isolation
l After ensuring that no personnel can be exposed and as a check on having disconnected the energy sources, operate the push button or other normal operating controls to make certain the equipment will not operate. l If there is a possibility of re-accumulation of stored energy to a hazardous level, verification of isolation must be continued until the maintenance or repair is completed, or until the possibility of such accumulation no longer exists. l Caution: Return operating controls to neutral position after the test. A check of system activation (e.g. use of voltmeter for electrical circuits) should be performed to assure isolation.
The equipment is now locked out.
Lockout interruption
In situations where the energy isolating device(s) is locked/tagged and there is a need for testing or positioning of the equipment/process, the following sequence applies: l Clear equipment/process of tools and materials. l Clear personnel. l Clear the control of locks/tags according to established procedure. l Proceed with test, etc. l De-energize all systems and re-lock/re-tag the controls to continue the work.
S
AFETY IN THE
L
ANDSCAPE
I
NDUSTRY
C
OMMON EQUIPMENT HAZARDS
Release from lockout
l Before lockout devices are removed and energy is restored to the machine or equipment, inspect the work area to ensure that non-essential items have been removed and to ensure that machine or equipment components are operationally intact. l Check work areas to ensure that all employees are in the clear. l Notify affected employees that lockout devices have been removed.
Vibration from equipment
Landscape workers often spend hours on end driving a lawnmower or tractor performing various functions from cutting lawns to transporting product. It is not uncommon for a machine operator to feel the effects of long hours. Some of these could include shoulder, neck and back pain, poor circulation in the legs, and a potential for degeneration of spinal discs. Lifting heavy objects after long hours of driving can lead to an increased chance of low back injury.
This is why it is important for machine operators to take rest and stretch breaks, even just five minutes per hour. Making sure that the seat is properly adjusted along with the steering wheel will go a long way to reducing stresses on the body. You need to be able reach and operate the pedals without moving your back off the seat. A good suspension system and extra padding will absorb vibration from the machine, and shifting positions while operating helps too.
Try to keep fit. Being overweight contributes to the problem. The main factors affecting you while operating your tractor or other machines are sitting for long periods of time and the whole body vibration from the machine.
Rough terrain can cause whole body vibration that stimulates bursts of back muscle activity. This results in tired neck and back muscles at a greater pace and decreases the support these muscles give to your spine. This whole body vibration, over time can lead to herniated discs in your back.
Sitting for long periods of time in a vehicle can speed up this process.
Whole body vibration may affect multiple body parts and organs depending upon the vibration characteristics. Segmental vibration, unlike whole body vibration, appears to be more localized in creating injury to the fingers and hands of workers using tools, such as pneumatic hammers, rotary grinders or other hand tools which cause vibration. Hand-arm vibration exposure can cause a condition known as "white-finger" disease or Reynaud's phenomenon which affects the fingers.
Early symptoms of this disease are tingling and numbness of the fingers, especially when exposed to the cold. Prolonged exposure may lead to persistent numbness and loss of grip.
Take a look at your situation and make some of the suggested changes above, and you back will last a lot longer.
23
S
AFETY IN THE
L
ANDSCAPE
I
NDUSTRY
C
OMMON EQUIPMENT HAZARDS
F
ATIGUE
Shielding & Guarding
You need to ensure that all of your landscape equipment has its original shields and guards in place.
Maintenance of equipment and ensuring that shields and guards are in place is a requirement by law.
If for some reason a shield or guard is removed temporarily, then other measures must be taken to protect workers while operating the equipment until that shield can be replaced.
Equipment Maintenance
Employers have an obligation under the Occupational health and Safety Act to ensure that equipment is maintained and in good working order before workers use it. Also, workers have a responsibility to report hazards to their supervisor or employer. Equipment that is not maintained properly can become a hazard. Make sure everything is in tip top shape.
Fatigue
Landscape workers will often work long hours during certain times of the year.
Spring and fall cleanup can involve a lot of strenuous work.
You've probably had the experience of working or exercising to the point that your body could no longer continue, and you had to rest. Fatigue may even affect the brain, but you may not recognize it as you do physical exhaustion. When fatigue is due to physical work, typical results are muscle tightness and cramping. Work requires conversion of chemical energy to mechanical energy in the muscles. Blood flow and respiration must increase to supply muscles with required energy and oxygen, and to carry off carbon dioxide and chemical waste.
When you work at a rate exceeding heart and lung capacity, aching in the muscles, cramping, tremor, and loss of control may result. To recover, you must stop to rest.
Muscle fatigue is like a safety device that prevents the tissue working beyond its capacity, Individual motivation (desire) plays a very significant role in determining this limit. If you reach the limit and continue to work, you are more likely to make mistakes. Due to loss of muscular output and control, lessening of attention, slowdown of reactions, and loss of sensitivity, you could cause an accident.
Exhausted legs may tremble and fail to operate the brakes. You may drop a load that you could normally lift and carry easily.
To avoid fatigue, take regular rest breaks. Frequent short pauses are more effective than longer breaks at wider intervals. Take extra breaks in the late morning and late afternoon.
24
S
AFETY IN THE
L
ANDSCAPE
I
NDUSTRY
S
LIPS
,
TRIPS
&
FALLS
S
AFE LIFTING
&
CARRYING
Slips, Trips and Falls
A fall can put you out of commission for a few minutes, a couple of hours, or the rest of your life. Most slips, trips and falls can be avoided if you recognize and avoid hazards. Always use a "3-point" system for climbing on and off equipment. At all times keep two hands and one foot, or two feet and one hand, in contact with the machine. Use hand rails and steps provided, and keep them in good condition.
Never jump off equipment!
Mud, grease, snow, and ice on the machine make poor footing. Slips and falls occur more often from a dirty machine than a clean one. Also, a slip can make you to bump a control lever and set the machine in motion, injuring yourself or a bystander. A slip can also make you fall into a moving part, with fatal consequences. General clutter on the operator platforms invites an accident. You need to be able to move without watching your feet. Don't leave chains, tools and other items on the platform.
When you have to work in wet or slippery conditions, it is very important to slow down and move deliberately. You need to be constantly aware of your footing, and try to keep your distance from the operating equipment. Think ahead. If you were to fall, where would you land?
Avoiding Slips, Trips and Falls
l Wear boots with slip-resistant soles in the workplace.
l Good "housekeeping" should become a habit. Don't allow mud, grease, and other debris to build-up on machine steps and platforms. Keep platforms free of tools and other objects.
l Always follow the "3-point" procedure when climbing on and off equipment.
Be aware of your working conditions. Take extra care when the weather is bad. Spread sand or salt on icy surfaces if you have to work around machinery.
Safe Lifting and Carrying
Improper lifting techniques are responsible for a large percentage of back injuries among landscape workers.
Proper methods of lifting and handling protect against injury, and will make the work easier.
You need to "think" about what you are going to do before bending to pick up an object.
Over time, safe lifting technique should become a habit.
Following are the basics steps of safe lifting and handling.
1. Size up the load and check overall conditions. Don't attempt the lift by yourself if the load appears to be too heavy or awkward. Check that there is enough space for movement, and that the footing is good. "Good housekeeping" ensures that you won't trip or stumble over an obstacle.
2. Make certain that your balance is good. Feet should be shoulder width apart, with one foot beside and the other foot behind the object that is to be lifted.
3. Bend the knees; don't stoop. Keep the back straight, but not vertical. (There is a difference.
Tucking in the chin straightens the back.)
25
S
AFETY IN THE
L
ANDSCAPE
I
NDUSTRY
S
AFE LIFTING
&
CARRYING
S
HOVELING
&
DIGGING
26
4. Grip the load with the palms of your hands and your fingers. The palm grip is much more secure. Tuck in the chin again to make certain your back is straight before starting to lift.
5. Use your body weight to start the load moving, then lift by pushing up with the legs.
This makes full use of the strongest set of muscles.
6. Keep the arms and elbows close to the body while lifting.
7. Carry the load close to the body. Don't twist your body while carrying the load.
To change direction, shift your foot position and turn your whole body.
8. Watch where you are going!
9. To lower the object, bend the knees. Don't stoop. To deposit the load on a bench or shelf, place it on the edge and push it into position. Make sure your hands and feet are clear when placing the load.
Make it a habit to follow the above steps when lifting anything--even a relatively light object.
Team lifting must be coordinated
If the weight, shape, or size of an object makes the job too much for one person, ask for help.
Ideally, workers should be of approximately the same size for team lifting. One individual needs to be responsible for control of the action to ensure proper co-ordination. If one worker lifts too soon, shifts the load, or lowers it improperly, either they or the person working with them may be injured.
Lifting heavy objects
Safe lifting of heavy items requires training and practice. For example, we've probably all seen a small person move heavy feed sacks with apparent ease. The secret lies in taking the proper stance and grip.
When equipment is available, it should be used to lift and carry heavy objects.
Loaders, forklifts, hoists, etc. are made for this purpose.
Shoveling and Digging
Prior to any digging at a worksite, locate underground utilities and other potential hazards.
Digging holes for planting, moving sand, gravel and mulch -if - there is one thing that landscapers really do a lot of it's shoveling. Whenever you are shoveling you need to be careful not to injure your lower back or legs. Paying attention to the proper use of a shovel will help prevent personal injury and lost work time.
Before you dig
l Make sure your shovel is in good repair before using it-never use a shovel with a cracked handle l Make certain that a spade or shovel has a sharp edge l Before digging always contact power, gas and other utilities for the location of cables and pipes l Choose the proper shovel for the job you are doing l Never underestimate the weight of wet soil
S
AFETY IN THE
L
ANDSCAPE
I
NDUSTRY
S
HOVELING
&
DIGGING
P
LANTING TREES
&
SHRUBS SAFELY
Shovel safety
l Keep your feet apart to stay balanced and maintain a solid footing l Turn your front foot in the direction you want to shovel the load to avoid twisting your body and injuring your back l Keep the loaded shovel close to your body and center of gravity
How Much Dirt Is Too Much?
Learning to recognize excavation hazards is very important. Safety inspectors often find that employees who are exposed to the danger of cave-ins lacked the proper training to recognize the hazards in their work environment. Sometimes workers don't realize how much dirt weighs and that a small amount of soil sloughing off in an unprotected trench can injure or kill them.
For example, 1 cubic foot of soil can weigh 100 pounds or more. Compare the weight of a cubic foot bag of concrete mix to a cubic foot of soil. The concrete mix usually weighs about 60 pounds. A chunk of earth the size of a washing machine can weigh 1,500 pounds or more. One cubic yard of soil
(slightly less than 1 cubic meter) can weigh 2,700 pounds or more. That's only 85 pounds lighter than the average subcompact car. One cubic yard of soil weighs nearly five times the world weightlifting records. Could you push back 500 pounds of soil with your arms or legs or, more importantly, could you breathe or even survive under the weight?
Plain old dirt is so heavy that when you get caught under it, you do not have the strength to move or breathe as the dirt presses against your chest. Think about it! That's why trenching work needs special protective systems—so workers can go home safe and healthy at the end of the day.
General excavation safety should provide sloping (or benching), shoring, or shielding to protect employees in excavations 5 feet or more in depth. The only exception is for a trench dug in stable rock, where there is no loose soil or likelihood of a cave.
Planting Trees and Shrubs Safely
Depending upon the product that you are handling and the size of it, tree planting may be hazardous if you are not alert to potential dangers. Some larger caliper trees may be awkward to handle and move.
You may need assistance from other workers.
Safety glasses are a must. It is not uncommon for branches and leaves to poke the eyes at the tree is dropped into place or moved. If specialized equipment is available such as ball carts or other lifting devices, use it. If not you need to plan the lift carefully and use proper lifting techniques.
l Never position yourself where you may become trapped by the tree or ball.
l Wear eye protection throughout the process.
l Use a proper post pounder when putting support stakes in the ground.
l Use caution when applying guy wires and try to avoid use of bare wire if possible.
l Wear appropriate protective equipment including steel toed work boots and gloves.
27
S
AFETY IN THE
L
ANDSCAPE
I
NDUSTRY
E
XCAVATIONS
H
ANDLING HAZARDOUS MATERIAL
T
ETANUS
28
Excavations
Employers and workers often forget that when they remove earth from the ground, they are creating a situation where extreme pressures can be put on the walls of the excavation where there is no supporting material. They also overlook the fact that one cubic meter of earth weighs about the same as a compact car—enough to crush and suffocate the average person. A good basic rule is that any depth above the mid-thigh requires reinforcement and support. It is almost impossible to predict the safety of an excavation without a proper support structure. A worker does not have to be completely buried in soil to be seriously injured or killed. Workers who have been only buried up to their waist have died as a result of the pressures exerted on their bodies. Excavations in or near "back-filled" or previously excavated ground are especially dangerous since the soil is "loose" and does not support itself well. Water increases the possibility of a cave in. Increased water pressure can be the final factor in causing the walls to collapse. Clay can be extremely treacherous when it is completely dried by the sun. Large chunks of material can break off the wall without warning. It is not safe to assume that because the walls are frozen that it is safe to enter. Frozen ground is not an alternative to proper shoring.
Handling Hazardous Materials- needles etc
Chemicals and Infectious Wastes
Infectious wastes include human waste, animal waste and objects and materials contaminated with blood and body fluids containing disease-causing micro-organisms.
Occasionally, you may encounter discarded hypodermic needles, syringes, condoms, and other objects or materials contaminated with blood or body fluids. You must exercise special precaution in handling such materials and objects. Often these biological wastes are contaminated with germs that can make you ill. Major concerns are the spread of Hepatitis B and AIDS. The bodies of dead animals should also be treated as infectiouswaste because they can carry diseases like rabies that are easily transmitted to humans.
Safety when dealing with infectious waste
Since parks and some other outdoor areas are places where drugs may be used and where human waste, animal waste and objects and materials contaminated with blood and body fluids may be found, supervisors and employees should anticipate that infectious waste may be encountered.
Tetanus
Employees in the landscape industry should ensure that their immunizations are up to date. Since most all landscape workers handle soil, they should make sure that their tetanus shots are up to date.
Tetanus is an acute and often fatal disease caused by an extremely potent neurotoxin produced by
Clostridium tetani, which is found in soil. Tetanus occurs sporadically worldwide but it is uncommon in Canada and other developed countries, mainly because of immunization and hygienic precautions taken in the management of wounds and surgical procedures.
Immunization against tetanus is highly effective and provides long-lasting immunity. Primary immunization against tetanus is recommended for all children in Canada and booster doses are recommended for adults at 10-year intervals.
S
AFETY IN THE
L
ANDSCAPE
I
NDUSTRY
B
EE
&
INSECT CONTACT
R
ODENTS
&
OTHER ANIMALS
P
ROPER HAND WASHING
W
ORKING AROUND PEOPLE
/
VEHICLES
Bee and Insect Contacts
Although most insects are just a nuisance, some can cause serious health problems or allergic reactions. Wearing insect repellant is one way to protect yourself if you know that a site has a particular infestation. Nests of bees and wasps should be removed only by experts, not landscape workers. Mosquitoes can carry the West Nile Virus and in certain individuals serious illness or even death can occur.
Rodents and Other Animals
Landscape workers need to use caution in areas where they may encounter wild animals or even unfriendly domestic ones. Skunks and foxes may carry the rabies virus. A bite from one of these may lead to serious medical conditions. Rodents such as certain types of mice carry the Hanta Virus.
This virus if contracted by a worker could lead to illness and even death. Workers that handle or cleaning up waste or leaves or dust which may contain mouse feces should wear appropriate respiratory protection. The virus can become airborne with dust and taking into your lungs.
Proper Hand Washing
Employees should be familiar with proper hand washing techniques. Whether it is from contact with animals at the worksite or handling soil and waste materials, it is important to make sure that hands are clean between operations as well as before eating. Employees handling plant material should also make sure that their hands have been thoroughly washed before eating or using the washroom.
Steps in proper hand washing include: l Wetting your hands with running water.
l Applying soap from a dispenser.
l Rubbing the hands together for 20 seconds.
l Cleaning under the finger nails and between the fingers.
l Rinsing the hands thoroughly under running water.
l Drying the hands with individual-use paper towels or a hand dryer.
Working Around People/Vehicles etc.
As a landscape equipment operator, you are not just responsible for your own safety. You must be also aware of dangers to others you are working with and to bystanders who can be harmed.
29
S
AFETY IN THE
L
ANDSCAPE
I
NDUSTRY
L
ANDSCAPING EQUIPMENT
30
Landscaping Equipment
Riding Mowers
Know your machine
Safe use of agricultural and industrial mowers depends on gaining an understanding of each machine's capacity and operating characteristics. For example, you need to find out which materials a particular unit can cut safely.
Study the operator's manual in detail before starting to use equipment. You must know how to use the mower, tractor, and various accessories. Determine the purpose of all the controls, gauges, and dials.
Learn the safe speed, slope capabilities, braking and steering characteristics, turning radius, and operating clearances.
Confirm that all guards, shields, and safety signs recommended by the manufacturer are installed.
Study the danger, warning, and caution decals affixed to the machine.
Don't operate a machine with missing or damaged protective devices.
Before the start of each workday, make the following checks: l Repair or replace any loose, broken, missing, or damaged parts on both mower and tractor.
l Sharpen or replace cutting blades as recommended by the manufacturer. Damaged blades do a poor job, and can cause dangerous imbalance.
l Make sure that all guards and shields are in place and tightly fastened.
l Check tractor and mower hydraulic systems. Have any leaks or damaged parts repaired.
Prepare the work area
Look for any condition that might be hazardous--ditches, potholes, drop-offs, steep slopes, stumps, etc.
Remove any objects which could be thrown by the mower. Remember that obstacles are harder to see in tall grass, weeds, or brush. Check for overhead clearance when operating boom or wing-type mowers.
Determine the best and safest way to proceed with cutting. Consider the height and type of material to be mowed, and the terrain over which you must operate. Plan a pattern that will allow you to travel straight forward as much as possible.
Protect yourself
Steel-toed safety footwear is mandatory. Full length, close-fitting clothes should be worn. A hat, safety eyewear, hearing protection, and gloves round out the proper garb for this type of work.
Watch out for others
Make sure no one is under, on, or near the machinery. Let other workers and bystanders know you will be starting up. Under no circumstances should children or pets be anywhere near the work area--
NO RIDERS! If anyone comes near the area while you are mowing, shut off the equipment. An object hurled by a mower could cause serious or fatal injury.
S
AFETY IN THE
L
ANDSCAPE
I
NDUSTRY
L
ANDSCAPING EQUIPMENT
Safe mowing practices
1.
Be sure the transmission is out of gear and the mower blade clutch disengaged before starting the engine.
2.
Engage the mower drive at low engine RPM and the equipment at maximum cutting height. Check for excessive vibration and unusual noises. If there is any indication of trouble, shut the machine down and carry out an inspection. Mower blades may continue to rotate for some time, so wait until all movement has stopped before leaving the tractor seat. Block the raised mower before inspection.
3. Raise speed to rated RPM, and lower the mower to the desired working height.
4. Proper ground speed will depend on the height, type and density of material to be cut, and the nature of the terrain.
5. Slow down on slopes and when turning sharply to avoid a rollover.
Be alert for holes or other hidden dangers.
6. With under mount, rear mount, pull-type, and wing mowers, always try to mow down slopes, never up or across the face.
7. With side mount, offset, and sicklebar mowers, always mow across the slope with the mower on the uphill side. Never operate with the mower pointed downhill.
Avoid turning uphill quickly or sharply with this class of mowers.
8. Use extreme caution when operating on very uneven terrain.
Ground speed should be slow, and turns wide and gradual.
9. Pass diagonally through sharp dips. Avoid sudden drop-offs to prevent "hanging up" of the tractor and mower.
10. Extreme caution is required when mowing ditch banks. If a wing or side mount mower hits an obstruction, the front of the tractor will usually swerve toward the ditch.
11. Do not mow in reverse unless specifically recommended in the operator's manual. Always look behind before backing up. Small children or bystanders may have strayed into the area without your knowledge.
12. Keep feet and hands away from v-belts, shafts, and other moving parts.
In fact, the mower should not be running unless the operator is sitting on the seat.
13. Follow recommended shutdown procedures before leaving the mower. Set the brakes, disengage power to the mower, turn off the engine, and remove the key. Never leave a mower on a slope.
31
S
AFETY IN THE
L
ANDSCAPE
I
NDUSTRY
L
ANDSCAPING EQUIPMENT
Push Mowers
l Know the controls and how to stop the machine quickly. l Make sure that shields and other guards, such as the rear drag shield and the discharge deflector, are in place and working properly. l Always push the mower in a forward direction. l Cut the throttle to idle and make sure the mower will not roll when stopping to pick up debris. l Proceed slowly into tall, heavy grass to avoid choking the mower or stalling the motor. l Set mower at the highest cutting level when operating on rough ground. l Use caution around low hanging branches and shrubs. l Operate a "push" mower standing up straight, not bent over.
l Mow across slopes. Your feet are less likely to slide under the mower and the mower cannot roll back. l Expose the underside of a mower for maintenance by tipping it by the handle but only, after shutting it off, ensuring the blade has stopped rotating, and disconnecting the spark plug wire
(or disconnecting an electric lawn mower). l Stop the lawn mower immediately if the blade hits any hard object, inspect the blade, and make the necessary repairs before using the mower again. l Keep hands away from the blades. l Use a stick to unclog or remove grass from the mower (after you have turned off the mower). l Mow away from the power cord if using an electric powered lawn mower. l Disconnect electric lawn mowers or turn off gas-powered mowers immediately after use.
DO NOT:
l pull the mower toward you (or your feet). l reach under machine. Disconnect the spark plug wire before sharpening, replacing and cleaning the blade or any part of the mower. l touch hot motor parts. l pray cold water on a hot engine. l fuel the mower when engine is hot or while the engine is running. l make wheel height adjustments while the motor is running. l lift or tilt the mower while it is running. l leave blades rotating when crossing a graveled area. l leave a running mower unattended. l remove the grass catcher or unclog the chute while the motor is running.
32
S
AFETY IN THE
L
ANDSCAPE
I
NDUSTRY
L
ANDSCAPING EQUIPMENT
Tractors with Rotary Mowers
l Before operating your mower, familiarize yourself with its maintenance procedures. Study your operator's manual carefully. l Learn the location and use of controls, gauges, and dials for the tractor. l Familiarize yourself with speeds, slope capabilities, braking and steering characteristics, and tractor-mower clearances. l Be sure the tractor is equipped with a rollover protective structure (ROPS) and a seat belt.
If not, have it retrofitted for one. In Ontario, tractors over 20 horsepower require a ROPS. l Check that the power take off, mower input driveline, drive belts, chains, and gears are all properly guarded. Repair or replace if necessary. l Check the discharge chute to see that it is present and pointed downward. l If you will be driving on public roads be sure the slow moving vehicle (SMV) emblem is in place. l Check that the warning lights are present and operating. l Check overhead clearance of electrical wires and other obstructions, especially if you are using a wing-type, boom-type, or flail mower. l If your tractor is equipped with rollover protection, use the seat belt. l Disengage the Power Take-Off (PTO) and set the brakes before dismounting your tractor for any reason l Be sure blades are stopped. Many rotary mowers have blades that continue to rotate for some time after the PTO is disengaged. Be sure they have stopped turning before approaching the mower. l Be careful when turning sharp corners .On pull-type mowers, the rear tractor wheels could catch the mower frame and throw it toward you. l With three-point hitch mounted mowers, the mower swings outward when you make a turn. Front wheel weights may be needed to help you keep control. l Rotary mowers are often equipped with runners and safety chain guards. To avoid excessive wear on the runners, keep the mower just high enough so that it doesn't ride on the runner shoes. l The chain guards reduce the possibility of objects being thrown from under the mower.
Be sure chain guards are maintained and kept in place. If you must remove them or raise them for certain crops, be sure to replace or readjust them as soon as you are finished. l Power transmission shafts should be protected by shields or guards. Keep them in place on the machine. Always replace shields and guards after maintenance or repair jobs are completed.
33
S
AFETY IN THE
L
ANDSCAPE
I
NDUSTRY
L
ANDSCAPING EQUIPMENT
String Trimmers
l Rotating cutting tools can throw objects or cut the operator.
l Read and follow the manufacturer's operating manual.
l Wear: sturdy and snug fitting overalls, jeans or long pants, heavy-duty non-slip gloves, safety boots with non-slip soles, safety goggles or face screen and safety glasses, and hearing protection (muffs or plugs).
l Select equipment with anti-vibration components if possible. Hold the unit firmly with both hands. Ensure that the cutter is tight. Replace bent, warped, damaged or dull cutter. Check that the throttle springs back to idle position.
DO
l Keep people and pets away from starting and operating areas.
l Check area for stones, glass, metal and debris.
l Start the unit on firm ground or other solid surfaces in an open area.
l Maintain good balance and secure footing when operating.
l Secure cutter to prevent fuel spillage and damage during transport.
l Keep the cutter tool covered with the carrying guard.
l Adjust harness and hand grip to suit work positions.
l Stop the engine before putting cutter down.
l Use unit at ground level only.
l Shut off engine before cleaning out clogged or stuck cutter.
l Make sure muffler is in good condition. In dry weather, use a fire-safe muffler.
DO NOT
l Leave tool running unattended.
l Wear short pants or sleeves.
l Use rigid blades in stony areas.
l Overreach. Keep proper footing and balance at all times.
l Repair damaged attachments.
34
S
AFETY IN THE
L
ANDSCAPE
I
NDUSTRY
L
ANDSCAPING EQUIPMENT
Leaf Blowers
l More than anything else, leaf blowers present a thrown object hazard for both the operator and others. Always plan your work before you use a leaf blower. Make certain that all people, pets and possessions remain outside of the safety circle that defines your work area.
l Always start and run the unit in an upright position. l Never operate the blower without the tubing. l Always use a mask in dusty or dirty areas or where dampness and decay create conditions where you might inhale mould spores.
l Never allow bystanders inside the danger zone of your operating blower
(approximately 10 metres or 30 feet).
l Always wear eye protection while operating a leaf blower because even a small stone can blind you-and hearing protection is recommended.
l Always direct the discharge of debris away from people, animals, glass, and solid objects that could cause material to ricochet.
l Never use the unit for spreading or misting chemicals, fertilizers or other toxic substances that will result in serious personal injury. l Never use the blower from ladders, trees, rooftops, or other unstable surfaces
Chain Saws
Electric and gasoline chainsaws can be useful tools on construction projects. Indeed, for tree cutting or removal, they are unparalleled for speed and efficiency when operated by a trained, certified chainsaw operator.
Starting the Chainsaw:
l Inspect the saw before starting. Don't use a saw with damaged, loose or missing parts.
A carrying case will prevent damage to the tool during transit and storage. It also provides convenient storage for the operating manual and tools. Check chain tension.
l Be familiar with the controls before using a chainsaw.
l Store fuel in an "approved" container. Keep the fuel clean and add the recommended type and amount of oil to the mix.
l Choose an area of bare ground when fuelling. Use a pouring spout or funnel to avoid spills. Keep lighted cigarettes and matches at least 3 metres (10 feet) away.
l Always shut off the engine and allow saw to cool before fuelling or adding chain oil.
l Always keep a fire extinguisher handy while adding fuel or operating the saw.
l After fuelling, wipe the saw clean and a dry cloth and move at least 3 metres
(10 feet) away from the filling area before starting.
l When starting, hold the saw firmly on the ground or other level support with the chain pointing away from your body and nearby obstructions. Use a quick, sharp motion on the starter pull. l Never "drop start" the saw. This leaves only one hand to control a running saw and has resulted in leg cuts.
35
S
AFETY IN THE
L
ANDSCAPE
I
NDUSTRY
L
ANDSCAPING EQUIPMENT
36
Protective clothing and equipment
l After starting and warm-up, the saw should idle without turning the chain. If the chain continues to rotate after the throttle switch is released, adjust the idle as shown in the owner's manual.
l Hold the saw in a firm two-handed grip with fingers and thumb surrounding the handles.
l When operating a chainsaw, personnel must wear a Canadian Standards Association (CSA) certified Class B hard hat and (CSA)-certified footwear with steel toe and sole protection.
l Eye protection in the form of plastic goggles or a face shield is recommended.
l Leather gloves offer a good grip on the saw, protect hands and absorb some vibration.
Gloves with ballistic nylon reinforcement on the back of the hand are recommended.
l Since most chainsaws develop a high decibel rating, hearing protection should be worn, especially during prolonged exposure.
l Trousers or chaps with sewn-in ballistic nylon pads provide excellent protection, particularly for the worker who regularly uses a chainsaw.
When the saw is not being used, a chain guard (sometimes called a scabbard) is useful for protecting the cutting components and preventing accidental contact with the chain
Kickback
To minimize the risk of kickback: l Use a low profile safety chain.
l Run the saw at high rpm when cutting.
l Sharpen the chain to correct specifications.
l Maintain correct chain tension.
l Hold the saw securely with both hands.
l Know where the bar tip is at all times.
l Make sure the chain brake is functioning.
Do Not:
l Allow the cut to close on the saw.
l Operate the saw when you're tired.
Quick-Cut Saws
Quick-cut saws are hand-held, portable, gasoline-powered circular saws used to cut concrete, masonry products, and metal.
There are four main types of hazards in operating quick-cut saws:
1.
cuts and entanglement
2.
flying particles
3.
airborne dust, carbon monoxide, and noise
4.
fire from refueling and sparks.
S
AFETY IN THE
L
ANDSCAPE
I
NDUSTRY
L
ANDSCAPING EQUIPMENT
Cuts and entanglement
Very serious injuries and even fatalities have resulted from the improper use of quick-cut saws.
Wounds and amputations can occur when the operator loses control of the saw or parts of the body get in the way of the blade.
l Ensure that the saw has a working guard on the blade. l Never hold materials in place with your feet. l Maintain control by always keeping two hands on the saw when it's running. l Avoid using the saw when you are in an awkward position or off-balance. l Never cut above chest height. It is very easy to lose control of the saw and lacerations to the neck or face could result.
When starting, set the saw on a smooth, hard surface. Take a solid, well balanced stance put a foot on the rear handle and one hand on the top handle to lift the blade off the surface. Then use the other hand to pull the starter cord.
l Never hold the saw in one hand and start it in a standing position.
A slip could result in a serious cut to the leg.
l Ensure that all material to be cut is supported so that it will not be thrown around by the blade and will not bind the blade.
l If the top part of the blade contacts the work, kickback can result.
Kickback has caused cuts, lacerations, and amputations.
The blade runs better and with less danger of kickback when the saw is operated at full throttle.
Injuries can occur when clothing catches in rotating parts of the saw and pulls the saw into the operator.
When using a quick-cut saw always wear snug clothing. Never wear bracelets or loose neck chains.
Flying particles
The quick-cut saw blade or disk can travel at up to 15,000 rpm. This can cause pieces of material being cut or shattered parts of the blade to fly out at up to 290 km/h (180 mph). One of these particles hitting the eye can cause severe injury and blindness. Cuts and burns to the face and other parts of the body may also result.
Particles have been known to pass under a face shield and safety glasses to cause eye damage.
Wear a face shield and goggles when using a quick-cut saw.
l Only use disks for the materials they are designed to cut. Never cut dry with blades recommended for wet cutting or use water with blades designed for dry cutting. l Special care is required with carbide-tipped blades. If the blade hits material harder than what it is designed to cut, the carbide tips may fly off. l Do not apply excessive pressure to a disk when cutting. l Do not make long continuous cuts with dry cutting blades.
Disk damage will result. Abrasive disks may fly apart if they become damaged. l Never use the side of the disk for cutting or try to change the direction of a cut part way through. l Replace damaged disks immediately.
37
S
AFETY IN THE
L
ANDSCAPE
I
NDUSTRY
L
ANDSCAPING EQUIPMENT
38
Carbon monoxide and dust
You breathe whatever you cut. Cutting blocks, bricks, or concrete without respiratory protection, you will breathe in large amounts of silica. Overexposure to silica can lead to long-term lung problems (silicosis) that can be fatal. Using water at the cutting surface will reduce exposure to silica. However, the disk must be designed for wet cutting. Use respiratory protection such as half- or full-face respirators with
N100 filters for protection from silica and lead. These filters do not, however, provide protection from carbon monoxide.
Carbon monoxide (CO) is a byproduct of all internal combustion engines. In confined areas such as trenches, crawlspaces, bathrooms, basements, and tanks, carbon monoxide can build up to dangerous levels. Only cut for short periods and ventilate the space.
Noise
Noise from quick-cut saws can exceed 105 db(A). Always wear hearing protection such as earplugs or muffs when using a quick-cut saw
Fire from refueling and sparks
To prevent fires from starting when refueling, l refuel away from the work area l let the quick-cut saw cool for a few minutes before refueling l let spilled gasoline on the saw evaporate before starting up.
Sparks from cutting can ignite any flammable or combustible material in the area.
Skid Steers/Loaders
Know your machine
l Balance is the key to the stability and turning capability of a skid steer.
With no load in the bucket, roughly two-thirds of the weight is on the rear axles. Weight shifts to the front wheels when the bucket is loaded.
l Overloading can make a skid steer excessively front heavy. This reduces stability and handling response. Don't exceed a loader's rated operating capacity.
l Never attempt to operate the steering levers or any other hydraulic controls while standing outside of the cab! Hydrostatic drive means that the skid steer will respond instantly when the levers are engaged.
l Operation of controls becomes almost instinctive for an experienced skid steer driver.
Novices can become confused as a result of having to perform a number of functions at one time. If this happens, it is usually best to remove hands and feet from the controls.
All machine functions will stop when pressure on the controls is released.
l Never remove the rollover protective structure from a skid steer. Keep side screens in place--fatal crushing injuries have occurred when individuals were caught between the loader arms and the skid steer frame on "unscreened" machines. l The seat belt and seat bar should be employed whenever you are operating a skid steer.
l Always make sure that attachment locking devices are in place, even if you are switching attachments for only a few minutes. If not locked, an attachment could break free and roll back down the loader arms, or fall onto a bystander.
S
AFETY IN THE
L
ANDSCAPE
I
NDUSTRY
L
ANDSCAPING EQUIPMENT
Safe skid steer travel
l Skid steer stability decreases as the loader arms are raised.
Always keep the bucket as low as possible when traveling or turning.
l Avoid steep slopes and rough terrain. Always travel up and down slopes, never across.
l Move up and down slopes with the heavy end of the loader pointed uphill. Remember, no load - most weight on the rear of the skid steer; loaded bucket=more weight on the front.
l Try to go around obstacles, rather than over or through them. l Stay as far away from creeks, gullies and ravines as the banks are deep.
Otherwise, the earth could shear and send the skid steer crashing to the bottom.
l Road travel with a skid steer is not recommended.
Work efficiently
l Drive slowly into material pile, then raise the front of the attachment.
Back away with the load in the tilted-up bucket or fork.
l Drive to the unloading site with loader arms down. Stop, raise the arms, and drive forward slowly until the bucket is just over the spreader or pile. l Use the hydraulics to keep the attachment level while raising the lift arms at a slow, even rate.
Be prepared to lower the load quickly if the skid steer becomes unstable.
Work safely
l Familiarize yourself with warning devices, gauges, and controls.
Study operating procedures outlined in the manual.
l Check for obstacles or soft soil conditions in the work area. l Check for overhead power lines.
l Riders must never be permitted on skid steer loaders.
l Never use a skid steer as a work platform or personnel carrier--hydraulic failure is always a possibility.
l Adjust speed to suit working conditions and terrain. Avoid sudden stops, starts, or turns.
l Never lift, swing, or otherwise move a load over anyone. In fact, you should insist that all bystanders leave the area before you start work.
l Take care when handling loose materials, such as rocks. Lifting the arms too high and rolling the bucket back too far could cause the objects to fall into the cab. That's way it is so important to keep the bucket level while the arms are being raised.
l Avoid dumping over fence posts or similar obstructions that could enter the cab if the loader were to tip forward.
l Take care when backfilling. The trench wall could collapse under the skid steer's weight.
l Never undercut a high embankment. The earth could give way and bury the loader.
l Never place any part of body or limb under raised loader arms. That's why it is so important to keep the safety screens in place.
If it is necessary to carry out repairs with the loader arms raised, be sure to lock the arms in place.
39
S
AFETY IN THE
L
ANDSCAPE
I
NDUSTRY
L
ANDSCAPING EQUIPMENT
40
Tractors/ loaders
Be aware of the danger
Tractor overturns--both sideways rollovers and backward "flips"--are likely to result in death if the operator is not protected by a rollover protective structure (or ROPS). ROPS are required on tractors over 20 horsepower in the landscape industry.
A tractor has a high centre of gravity, compared with a passenger car or pickup truck.
This makes them relatively top heavy, and more prone to tipping over.
Particularly in the case of 2-wheel-drive tractors, the back half of the machine accounts for more than two-thirds of the weight.
If a tractor's rear drive wheels can't turn, the machine will want to turn on its axle when power is engaged. Think about this one fact: it can take less than one second for a tractor to reach the "point of no return" in a backwards flip after the front wheels leave the ground!
Prevent sideways overturns
l Always remember these two key points: l Short, quick, high speed turns upset tractors.
l An attachment like a raised front loader increases a tractor's centre of gravity, making it even more "tippy".
l Lock brake pedals together before driving at high speed.
Application of uneven brake pressure can literally force a tractor to rollover.
l Keep your tractor under control at all times and under all conditions. Obstructions such as rocks and stumps, or depressions such as dead furrows and pot holes could cause a tractor to roll, particularly if the machine is traveling too fast. l Never let a tractor "bounce"--this causes loss of steering control.
l Pull heavy loads and equipment at safe speeds. A wagon that is fishtailing could throw the towing tractor out of control. Try to avoid quick stops, because the heavy load could push the tractor into a skid, and possible rollover.
l Slow down before turning! Quick, short turns at high speed overturn tractors.
l Use engine "braking" when going downhill. A runaway tractor--and particularly one towing a load--often tip over. Shift to a lower gear before starting downhill. Make sure that you don't use a speed range that allows the tractor to "freewheel".
l Avoid crossing steep slopes, if possible. Always turn downhill if stability becomes uncertain on a slope.
Stay at least as far away from ditches and streams as the banks are deep.
Any closer, and the tractor's weight could cause the bank to shear.
Take extra care with loader tractors. A raised, loaded bucket increases the centre of gravity, thereby making the tractor more subject to rollover. Keep the loader bucket as low as possible when turning or transporting. Watch carefully for obstructions or depressions. Avoid quick stops, starts, and turns.
S
AFETY IN THE
L
ANDSCAPE
I
NDUSTRY
L
ANDSCAPING EQUIPMENT
Prevent rear rollovers
l Never hitch a towed load higher than the tractor drawbar.
Hitching too high is major cause of rearward tractor flips.
l Front chassis weights can be used to counterbalance rear-mounted implements and heavy drawbar loads.
l Always start forward motion slowly. Gunning the engine and jerking your foot off the clutch is one of the surest ways to flip a tractor!
l Backing down a grade is risky. If brakes are applied, the tractor could rotate around the rear axle and tip over backward. The faster the speed and the steeper the slope, the greater the potential for flipping. If you have to back down a steep grade, do it slowly in a low gear.
That should let you stay off the brakes. Whenever possible, back tractors up steep slopes, and come down forward.
Suppose your tractor starts rolling backward down a steep grade with the clutch disengaged.
Engaging the clutch is much the same as applying the brakes in this situation--a backward flip could result. It's safer to let the tractor roll to the bottom of the slope without applying the brakes or engaging the clutch. Try not to get into this dilemma in the first place!
l Always drive around ditches. Never try to cross them. It is only safe to back a tractor out if the drive wheels get lodged in a ditch.
l Back your tractor out if it gets stuck in the mud.
Never, every put boards or logs in front of the drive wheels!
This practice has been responsible for a number of backward tips.
ROPS save lives
l A majority of farm tractors are now fitted with rollover protective structures.
ROPS cabs and frames are designed to minimize injury potential in the event of a rollover. l It is critical for an operator to securely fasten the seatbelt in a ROPS-equipped tractor. It is the belt that holds you within the protected zone should a rollover occur. l However, do not wear a seatbelt if your tractor doesn't have a ROPS.
On an open tractor, the belt would eliminate any chance of being thrown clear in the event of an overturn.
l Drivers must be alert at all times
As you can see, there is plenty to remember when it comes to avoiding tractor upsets. Operators have to be alert at all times, and maintain complete control of their machines. If you are ill, over-tired, or on medication, you have no business driving a tractor.
41
S
AFETY IN THE
L
ANDSCAPE
I
NDUSTRY
L
ANDSCAPING EQUIPMENT
Recognize the hazard
l A 540 PTO shaft travels more than two metres in less than a second. Anything caught by that spinning shaft--clothes, shoelaces, or hair will instantly be wrapped up. l PTO entanglement most often occurs when people try to make repairs while equipment is operating. Other victims have been caught while stepping over or onto rotating shafts.
l This leads to the cardinal rule of PTO safety--Never attempt to repair, adjust, or unplug equipment with the PTO engaged! l All PTO shielding must be correctly installed and properly maintained to prevent injury in the event of accidental contact. You should refuse to use a machine with damaged or missing PTO shields.
l Let's start at the tractor, and work our way back to the driven machine.
l The tractor's master shield prevents contact with the stub shaft and the front universal joint of the attached machine's driveline. Never operate a tractor with a missing or damaged master shield!
l Tubular shields completely enclose the power shaft of a PTO-operated machine.
This integral shield rotates on bearings, independently of the power shaft. Bearings must be in top condition to ensure that the shield will stop spinning if accidentally contacted. l Cones used to cover the universal joints at each end of the power shaft have been greatly improved in recent years. Their flexible nature makes hook-up easier, while providing greater protective cover than earlier, bell-shaped designs.
l The stub shaft on the driven machine should also be covered by shielding.
Just like the tractor's master shield, this prevents accidental U-joint contact.
l With the PTO disengaged and the tractor engine shut off, check the condition of the entire
PTO shielding system. Look for nicks, dents, or bent components. Test for free movement of the tubular shield on its bearings.
l If any shielding component is damaged or missing, or if you feel it doesn't provide adequate protection, replace the defective items.
l Before attaching PTO-powered equipment, confirm that the tractor drawbar is adjusted to the length specified in the driven machines manual. This ensures that the telescoping power shaft and shield will stay together when they lengthen. If a PTO shaft separates in operation, the tractor-driven end will swing violently, and could cause equipment damage and operator injury.
42
S
AFETY IN THE
L
ANDSCAPE
I
NDUSTRY
L
ANDSCAPING EQUIPMENT
Your PTO safety checklist
Follow these steps to avoid PTO entanglement: l Always disengage the PTO, shut off the tractor engine, and remove the keys before leaving the tractor seat. Taking the keys prevents unexpected start-up by another person while you are making repairs or adjusting the machinery.
l Keep the tractor's master shield in place at all times. The PTO could be accidentally engaged when no driveline is attached. An exposed, rotating tractor stub shaft will aggressively grab and wrap anything it contacts.
l Check frequently to make sure that PTO shielding is in good condition (with power disengaged, of course). Damaged shields or bearings should be repaired or replaced before the equipment is operated again.
l Never step across a rotating PTO shaft! Some equipment must be operated in a stationary location, with you working nearby (for example, grain augers, forage blowers, generators, etc.)
Always walk around such machinery. Safety devices are usually reliable, but could malfunction.
Take extra care if the ground is muddy or icy.
l Dress for safety. Wear close-fitting clothes and keep long hair covered. Ragged old coats and long boot laces can easily be grabbed by rotating parts.
Make shutdown a habit
Additional spinning shafts are often used to transfer power to machine components. Just like a PTO shaft, these can entangle you in an instant. The same principles apply when it comes to safety around any rotating shaft.
Post Hole Augers
l Contact utilities for location of cables and pipes prior to digging l Check that you are using the correct shear bolt. Don't substitute anything else!
l Operate the auger at slow speeds, with rolling PTO shield in place!
l Dig the hole in several steps by clearing the soil frequently.
This reduces the load and allows for better control.
l Shut off the drive, and stop the power source if the auger jams.
Turn the auger backwards until clear.
l Do not lock the drive control in an "ON" position.
43
S
AFETY IN THE
L
ANDSCAPE
I
NDUSTRY
44
L
ANDSCAPING EQUIPMENT
Grinders and Chippers
l Check tightness of grinder teeth lock bolts daily.
l Wear face shield, hearing protection, eye and head protection. Remove rings, bracelets and other jewelry.
l Shut down equipment before removing clogged materials or making adjustments. Remove the key or lockout controls and disengage clutch.
l Barricade area around equipment. Avoid having unnecessary people near the work being performed. Keep bystanders away.
l Do not attempt to feed small, short pieces of wood by hand. Use longer pieces.
Rotary Tillers
l If tilling is being done for the first time at a location, ensure that any underground obstructions such as electrical wire or other utilities have been located and are deep enough not to be affected by the tilling operation.
l Check the area for obstructions, such as wires, cables and solid objects, near ground level. The rotating tines can quickly become entangled and cause extensive damage.
l Keep safety shields in place.
l Disengage the power tiller and shut off the motor before trying to clear any obstruction.
l Do not allow anyone to be in front of or to the side of the rotary tiller while it is in operation.
l Do not operate the tiller close to ditches, fences or patios. The tines can catch and throw particles or throw the operator off balance.
Hand Tools: powered/ non-powered
l Read and follow the manufacturer's operating manual.
l Wear eye protection.
l Keep fingers away from blades.
l Turn off the power before cleaning out twigs or grass.
Keep the cord behind you to avoid snipping it or tripping. Leave enough slack for normal work motions.
Slip cord under your belt for better control. Use a proper cord of sufficient weight. Always use a ground fault circuit interrupter (GFCI) l Use both hands to hold and guide tool.
l Lock the switch before unclogging grass shear.
l Use only approved electrical tools.
l Do not use electric tools in the rain, or when grass or shrubs are wet.
S
AFETY IN THE
L
ANDSCAPE
I
NDUSTRY
L
ANDSCAPING EQUIPMENT
Snow Blowers
l Proper clothing and footwear are essential. Heavy clothing provides warmth, but reduces mobility and may reduce your field of vision. Maneuvering on snow and ice can be difficult for both the operator and snowblower. According to university studies, there is a correlation between accidents and difficulty in moving while operating snow removal equipment. About one in five injury victims lost their footing and accidentally stuck their hands into the discharge chute while trying to steady themselves. l Maintain and use the "continuous operator," or dead-man controls. You must hold these controls continuously for the auger and drive train to be engaged. The snowblower halts if the operator slips and falls or releases the controls for any reason. l Clear the area of any debris before you begin snow removal. It will save time and prevent injuries. Don't forget that some machines can send snow flying 30 feet and small, solid objects, such as stones or ice, up to 75 feet. When clearing a gravel area, don't try to remove all the snow. Set the blades about an inch above the gravel. l Start on the windward side of the area to be cleared and work across the wind, throwing snow with the wind. The wind will help disperse the snow and prevent it from settling on cleared areas. l Always clear snow up and down the face of slopes, not across the face. Use extreme caution when changing direction on slopes. A good rule of thumb is not to attempt to clear anything steeper than a 35 percent slope (or 19.3 degrees). Any slope with 3.5 feet rise in 10 ft. is too steep to clear safely. l Do not exceed the snowblower's capacity. The snowblower works most efficiently when operated at a smooth travel speed and fed a continuous ribbon of snow.
Avoid overloading the engine, and keep the blades moving rapidly.
Powered Blades & Sweepers
The powered blade and the sweeper are most often mounted on the front of a power unit such as a small tractor, or pick-up truck, or as special attachments for grounds keeping equipment.
They also can be mounted on the rear of a tractor. In each case, the ability to produce traction is usually the limiting factor to move snow. On some specialized units the front- or rear-mounted device is driven with a hydraulic motor or belt drives and activated with a cylinder. This enables the unit to be lifted over obstructions without having to go around them. Apply most of the safety precautions used for the snowblower to the powered blade, but remember several additional tips: l Maintain good steering capability. Many times the front blade will have a digging action that may lift all the weight from the front steering wheels. This makes it difficult to steer effectively.
Operators should reduce the amount of snow bite or add more weight on the unit's front. l Have several drop points for the snow. Most blades and sweeps push the snow to one side.
In wet, heavy snow the accumulation may not flow. Instead, it may stick and ball in front of the blade or sweeper. For these situations, have plenty of drop points and move the loads into the drop points as needed.
45
S
AFETY IN THE
L
ANDSCAPE
I
NDUSTRY
L
ANDSCAPING EQUIPMENT
46 l Take small bites that will flow across the blade surface. Approach piles of snow at a reasonable speed. The impact of the blade on a pile of snow when approached at a fast speed can severely damage the machine's drive train and possibly injure or throw the operator from the machine. l Stay clear of obstacles like curbs, stumps, posts, bridges and rocks that are close to embankments. Striking any of these objects could cause the machine to roll down the embankment.
Ladders
Ladders are necessary for performing a number of tasks, but hundreds of deaths and thousands of injuries result each year from improper use of ladders? The brief time needed to move your ladder and to set up and secure it properly can prevent a painful accident that will put you out of work.
Some of the common causes of ladder accidents include: l Over-reaching from ladders, rather than moving them. l Standing ladders on other objects to gain additional height. l Too much of a hurry in climbing or descending. l Climbing one-handed while carrying something in the other hand. l Standing at the very top of a short ladder, rather than getting a longer one for the job. l Hanging tools from ladder rungs, or leaving tools on the top of the stepladder. l Throwing tools to a fellow worker on a ladder. l Placing the ladder at an improper angle. l Using metal ladders in locations where contact with electric wires may occur. l Using worn or damaged ladders. l Failure to secure (tie) the ladder in place.
Metal ladders should never be used for electrical work and they should always be kept clear of overhead power lines and electrical circuits when used for other projects.
The use of metal ladders should be avoided when there is a possibility that they will be used around electricity, even inadvertently.
Ladder Inspections
l Ladders should be inspected prior to use for loose or damaged rungs, steps, rails or braces.
l Ensure that stepladder spreaders are sturdy and can be locked in place.
l Check ladder rungs to be sure that they are free of any slippery material.
l Check ropes and pulleys, etc., on extension ladders for lubrication and good repair.
l Ensure that the steps are three and one half (3 1/2) inches or more on stepladders.
l The feet of ladders, especially straight ladders, should be equipped with slip-resistant surfaces.
l Reject a ladder with defects. Ladders found to be defective should be taken out of service and tagged with a "Condemned - Do Not Use" tag.
S
AFETY IN THE
L
ANDSCAPE
I
NDUSTRY
L
ANDSCAPING EQUIPMENT
F
IRE SAFETY
Here are some practices that will help you avoid danger: l Make sure the ladder is appropriate for the job and free of damage. Metal ladders should never be used near power lines or when doing electrical work. Replace any ladder that is bent, broken or otherwise damaged. l Do not tape or paint over wooden ladders as this can hide dangerous cracks.
l The ladder must be tall enough for the job. l Straight or extension ladders should have the base a distance one fourth the height away from the wall. If the ladder is used to reach a roof or other elevated surface, it should extend at least three feet above the roof for safe access. Never stand on the top steps of a step ladder. l Make sure the ladder has a firm footing to keep it from slipping or falling. If the footing is not secure, lash (tie) the ladder to a secure object. l Always keep your body between the ladder rails. Stretching and leaning to the side has resulted in countless falls. Move the ladder so you can safely reach your work. l Always face the ladder and use both hands when climbing up or down. Carry your tools and other materials in a tool belt or pouch, or use a rope to raise and lower l No matter how safe the ladder is, if it is placed in a dangerous location or set up improperly an accident is bound to happen. If you must work in an area where there is traffic, use a barricade or guard to prevent collisions. Lock or block any nearby door that opens toward you. The area around the base should be kept uncluttered, and the ladder should be set on a solid, level surface. l Stepladders should be fully opened with the spreaders locked. Straight ladders should be placed at a four-to-one ratio. This means the base of the ladder should be one foot away from the wall or other vertical surface for every four feet of height to the point of support.
l If you plan to climb onto a roof or platform from a ladder, be sure the ladder extends above the edge at least three feet.
l If possible, secure a straight ladder as close to the point of support as possible to prevent shifting. Never lean a ladder against an unstable surface.
Fire Safety
Refueling equipment
l Never smoke, operate electrical tools or other source of spark when you are handling gasoline.
l Always let the engine cool for 10 minutes before refueling.
l Always move at least five meters or fifteen feet before starting small gasoline engines like lawn mowers, trimmers, etc.
l Always use an approved container.
l Always be sure that there is a chemical are extinguisher rated for gasoline fires nearby when working with fuel. l Never start or run an engine inside a closed building. Carbon monoxide kills!
47
S
AFETY IN THE
L
ANDSCAPE
I
NDUSTRY
F
IRE SAFETY
E
QUIPMENT TRANSPORT
Transporting Fuels
Gasoline, diesel and other fuels should be transported in approved, marked containers. They should be secured on the vehicle and lids should be closed or sealed. Proper marking of the fuel is a necessity. Under WHMIS regulations, a workplace label may be required on fuel containers.
Larger quantities of fuel in tanks may fall under the transportation of dangerous goods regulations if a certain tanks size is exceeded. Check with the legislation to see if this affects you.
Fire Extinguisher Use
Sparks, friction, open flames, smoking and spilled fuel are the most common cause of fire in our industry. Every maintenance crew should have a portable A-B-C type fire extinguisher available and every employee should be trained in its use. The A-B-C type extinguisher is the only type that can be used on every type of common fire, including wood.
Equipment Transport
Circle Check your Vehicles and Equipment
Owners and drivers are responsible for ensuring that their vehicles are fit for use. To fulfill their obligation, drivers should know how to inspect their vehicles and be capable of determining whether or not they are in safe operating condition. Basically, a circle check is a walk around the vehicle, checking a number of listed items for safety and condition. You should perform a systematic circle check before taking out a vehicle at the beginning of a day's work. Details of the check can be varied according to the type of vehicle but generally, you should follow the principle of making a complete circle. An inspection checklist will help to ensure that all of the components are inspected in an efficient manner.
Equipment on Trailers
Whether loading or unloading wheeled or crawler equipment there are a number of safe procedures which must be followed.
Personnel:
l Those loading and unloading must be competent and have had experience in the loading and unloading of equipment.
l An assigned employee should be in charge of the operation.
l He/she should remain in visual and voice communication with the equipment operator at all times during the loading and unloading operations.
l Provide the driver of the truck, trailer or float with the weight and dimensions of the equipment being loaded.
l This job should never be done alone!
48
S
AFETY IN THE
L
ANDSCAPE
I
NDUSTRY
E
QUIPMENT TRANSPORT
Equipment:
l Ensure that the truck, trailer or float is secure from movement. Use chocks or blocking.
l Floats with removable goose-necks shall have the goose-neck removed and the equipment loaded from the front of the float.
l If a tilt and load type truck is to be loaded or unloaded with a crawler or wheel type equipment, the load deck shall be positioned on the ground.
l Where the float is not equipped with a removable goose-neck, it is strongly recommended that a suitable loading ramp should be of an appropriate height to match the truck, trailer or float and of adequate dimension, load capacity and access grade as required by the equipment.
Securing Loads
You need to ensure that whatever you are carrying on trailers and trucks is secure. Under the Highway
Traffic Act you are required to secure loads to prevent anything from falling onto the roadway. Shifting loads and equipment may also cause the vehicle or trailer to become unstable and may lead to a potential accident situation. Look at all you will be hauling to worksites and fine the best means to secure the load.
Road Safety - Traveling
Only authorized employees should operate company vehicles. As well as the value of the vehicle, there is the value of equipment that is being transported. Motor vehicle collisions are a major cause of work related deaths in Ontario. Ensure that employees are well trained in how to hook up trailers and secure loads. The following are some road safety reminders: l Your chances of getting into a collision are 4 times higher when you talk on your cell phone. l In 2003, collisions involving distracted drivers in Ontario resulted in more than 14,000 injuries and 75 fatalities. l Driving after 19 hours without sleep is like driving with more than half the legal blood alcohol limit. l Driving drowsy can be as deadly as driving drunk. l At highway speeds, you can travel 30 metres in the blink of an eye.
l Speed is one of the biggest killers on Ontario's roads. l Many people admit to speeding even though they know it's unsafe. l Drivers who exceed the speed limit by 30 km/h or more are about
6 times more likely to kill or injure themselves. l As your driving speed increases, your time to react decreases. l Collisions are the greatest single cause of traumatic workplace fatalities in Ontario. Between
2000 and 2005, it is estimated that vehicle crashes were responsible for 199 work related deaths, accounting for more than 30% of all work-related traumatic fatalities.
49
S
AFETY IN THE
L
ANDSCAPE
I
NDUSTRY
E
QUIPMENT TRANSPORT
C
HEMICALS
& WHMIS
50
Road safety- traffic control for the job
There are specific regulations which have certain requirements for you to control traffic around your job site. Refer to these for detailed rules and regulations. Regulations enforced by the Ministry of
Transportation have specific requirements for signage, traffic control persons and protective equipment that must be used and standard distances for setting up controls depending upon conditions such as posted speeds and multi-lane highways.
When loading and unloading equipment and product, warning signs, orange cones and fluorescent vests will make you highly visible. Effective traffic control will meet the following objectives: l It will protect both your work crew and motorists by regulating traffic flow.
l Keep traffic moving at reduced speeds in the work area to avoid tie-ups.
l To allow the work to proceed safely and efficiently.
l To ensure that the public traffic has priority over your equipment
For detailed regulations refer to: l Book 7, Ontario Traffic Manual, March 2001 Ministry of Transportation, Ontario
Chemicals & WHMIS Products
Pesticide Storage and Transport
The Pesticides Act is administered by the Ontario Ministry of the Environment.
Following is a brief synopsis of requirements for storage and transportation of pesticides.
Transportation:
l Never leave pesticides unattended in a parked vehicle unless it is locked or parked in an area to which public access is denied.
l A sign indicating Chemical Storage Warning – Authorized Persons
Only must be displayed on unattended parked vehicles containing pesticides.
l Vehicles transporting more than 500 litres of pesticides must be placarded with a chemical warning sign at all times.
Storage:
l Pesticides must be stored in an area exclusive for this purpose to prevent cross contamination.
l Pesticides and adjuvants (e.g. emulsifiers, diluents etc) are the only items to be stored in this building, room etc.
l If the storage area is to ever be used for other purposes, it must be decontaminated l Insecticides, herbicides and fungicides should be stored separately from each other.
l Storage must be ventilated to the outside.
l Chemical storage warning sign must be placed on the door to the area.
l The storage must be lockable and access controlled to authorized persons only.
S
AFETY IN THE
L
ANDSCAPE
I
NDUSTRY
C
HEMICALS
& WHMIS l There will be no floor drains except to a separate holding area that can be pumped out. Such spills must be disposed of according to regulations.
l Protective clothing must be available to handlers, stored in a separate area.
l Emergency phone numbers must be posted for doctor, poison control, MOE etc.
l Absorbent material should be available for spills.
l Storage areas must be cool and dry to prevent product breakdown/activation.
l Pesticides must be stored in original containers, labeled.
l New storage facilities should be built away from watercourses, wells etc.
l Wash-up facilities with adequate supplies of soap and water should be available.
l MOE must be notified of spills or fire where environment could be affected.
l Only trained personnel with adequate protective equipment should clean up spills.
WHMIS
WHMIS is a Canada-wide system designed to give employees information about hazardous materials used in their workplace. Under WHMIS there are three ways in which information on hazardous materials could be provided to employees: l Labeling of hazardous materials l Material safety data sheets (MSDS) to supplement the label with precautionary information l Employee training programs
The supplier of the hazardous material provides the labels and data sheets to the employer.
The employer is responsible for giving this information to employees and providing the training.
If your workers handle WHMIS products they need to be trained to understand the hazards associated with the product. They need to understand WHMIS symbols and how to read a
Material Safety Data Sheet (MSDS).
51
101 - 75 Farquhar Street e-mail: [email protected]
Guelph, Ontario N1H 3N4 Toll free: 1-800-361-8855 fax: (519) 823-8880 web site: www.farmsafety.ca
* Your assessment is very important for improving the work of artificial intelligence, which forms the content of this project