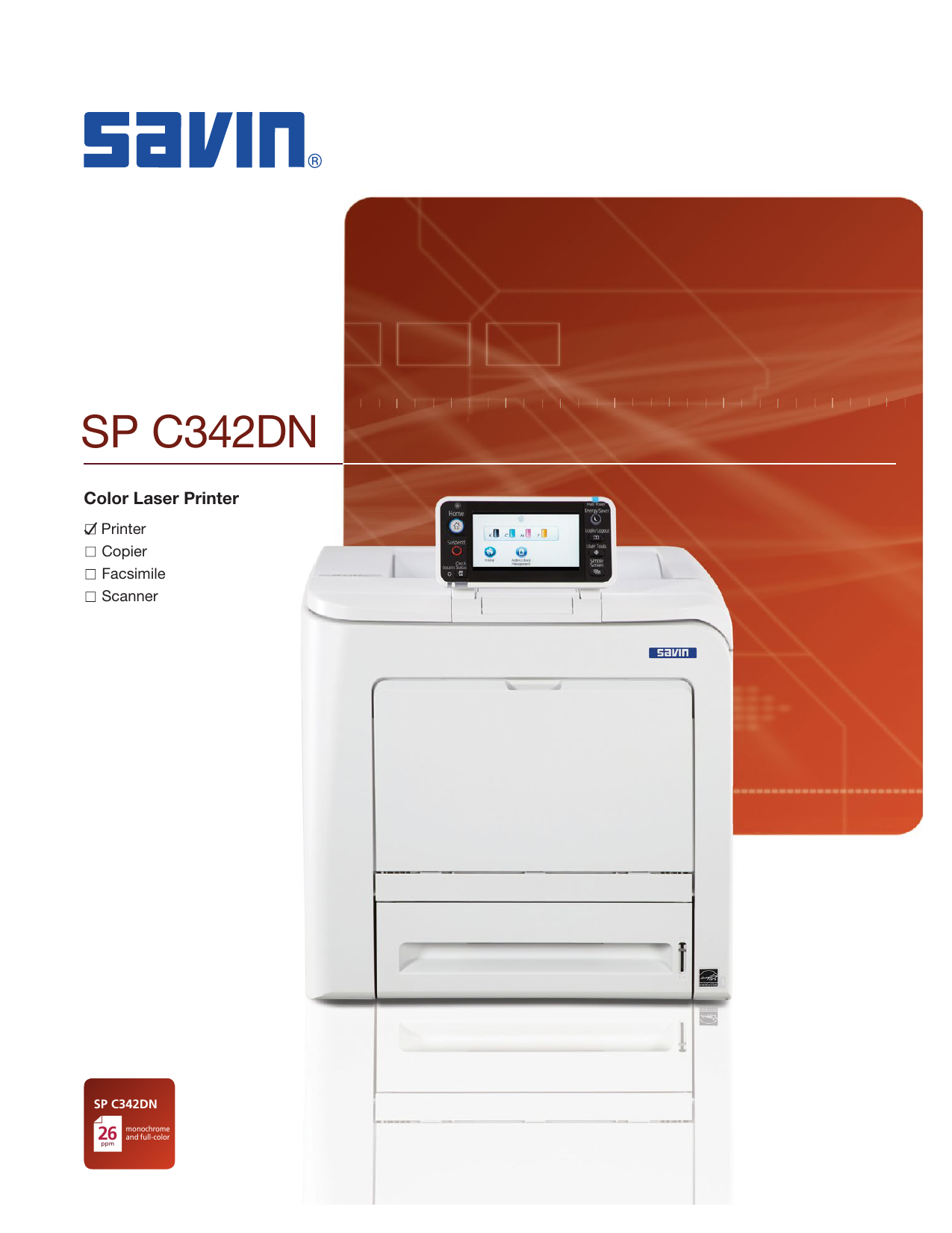 SP C342DN
Color Laser Printer
Printer
Copier
Facsimile
Scanner
SP C342DN
26
ppm
monochrome
and full-color
Get affordable, value-packed color printing
When your workgroup comes up with its next big idea, turn to a printer that can showcase it beautifully
with vibrant color and fast print speeds. Use the affordable, compact SAVIN SP C342DN color laser printer
®
to meet your busy workgroup's needs on a wide range of media quickly and economically. Take advantage
of a 4.3" color touchscreen operation panel to transition between tasks and adjust settings with ease. The
desktop printer aligns with your workstyle and lets you print directly from your smartphone, tablet or laptop
with a host of mobile printing solutions. Plus, it's solutions-focused and supports a wide range of software
applications that can integrate seamlessly with your existing fleet to optimize workflow.
Push for greater productivity
The faster you move information, the sooner you can move to the next
opportunity. Use the Savin SP C342DN to print up to 26 pages per minute
with exceptional color and clarity. With 2 GB standard RAM and an Intel
1.46 GHz processor, you can handle the most complex files and large graphics
with ease. The 4.3" color touchscreen panel makes navigation a breeze and
allows you to adjust tray settings or toggle between tasks easily. Take advantage
of an all-front-facing design to swap consumables and restock paper trays no
matter where the printer is placed. Run longer, uninterrupted jobs by adding an
optional 500-Sheet Paper Tray to complement the standard 500-Sheet
Paper Tray and 100-Sheet Bypass Tray. Install, download and configure
print drivers online with Device Software Manager to simplify print setup.
®
Choose a printer that meets your workstyle
Some of your best ideas come when you're on the move. Share them
with others the same way. Use AirPrint , Wi-Fi Direct or the RICOH Smart
Device Print&Scan app to print from your smartphone, tablet or laptop
without installing software, drivers or utilities. With the optional Hard Disk
Drive (HDD) installed, you can seamlessly print digital files via USB or SD
Card. A USB Device Server option adds a second network interface port
and allows two different network environments to be supported by one
shared printer. With the wireless LAN option, you can place the device
virtually anywhere, adding value and convenience for your workgroup.
®
®
Grab attention with vibrant color
Make your messages more memorable. Add color to printed presentations,
brochures, proposals and more to bring them to life. Give customers a
clearer picture via detailed images with exceptional shading, vivid colors
and precise text at up to 1200 x 1200 dpi resolution. Customize each
project to fit specific audiences with versatile media support up to 120 lb.
Index and up to three independent paper sources. Print everyday documents
up to 8.5" x 14" from the standard Paper Tray. You can even print banners
at sizes up to 8.5" x 49.6" using the Bypass Tray. With so much versatility,
you'll fill most print needs in-house.
Feature-rich, convenient color printing
Choose more affordable printing
You want a printer that can save you from any extra hassles. Why not
choose the Savin SP C342DN and save money at the same time? Find
optimal value in a versatile color printer that can meet the demands
of almost any workload at any time with affordable operating costs.
For example, you can use it to print professional-looking documents
with brilliant colors in moments right from your desktop. Or, you can
use Economy Color Mode to employ less toner when you need only
draft-ready presentations and documents for internal reviews. Plus,
you can reduce paper costs with standard duplexing and a special
feature that prevents the printing of blank pages.
Be responsible and reduce energy costs
We designed the Savin SP C342DN to be ENERGY STAR certified
and meet EPEAT Silver criteria*, making it easy for you to be
environmentally responsible. Take advantage of Typical Electricity
Consumption (TEC) of 1.6 kWh/week. To reduce energy consumption
even more, program the printer to power on and power off at
predetermined times or use Web Image Monitor to shut it off remotely.
With Eco-Night Sensor, the printer shuts down automatically when
the room becomes dark. The printer also offers first print speeds
around 13 seconds. Use our intuitive Eco-Friendly Indicator on the
operation panel to track paper-saving metrics and to encourage more
responsible print behavior.
®
®
*EPEAT Silver rating is applicable only in the USA.
Help keep confidential information secure
When you lose your message, you lose its power. Take advantage of
User Code Authentication to restrict access to specific print functions.
For example, you can reduce print costs by prohibiting an individual or
entire workgroup from printing documents in color. With Unauthorized
Copy Control, the printer can mask sensitive information in a printed
document when unauthorized users try to make a copy of it. When
you add the optional Hard Disk Drive (HDD), you can give every job a
password so it stays in queue until you authorize it to print directly at
the device. Help protect information on the optional Hard Disk Drive
with standard encryption and data overwrite capabilities.
To view detailed features of our laser printers
online go to www.savin.com/products
Savin SP C342DN
S Y S T EM S P ECI F I C AT I O N S
Engine Specifications
Printer Languages
ConfigurationDesktop
Technology
Color laser electro-photographic printing
Toner Type
Dry, single component
Control Panel
4.3" color touchscreen
Print Speed (Letter)
26 ppm (B&W and Full-Color)
Maximum Monthly
6,000 prints
Volume
Duty Cycle
75,000 prints
First Print Out Time
13.5 seconds or less (B&W and Full-Color)
Warm-up Time
20 seconds
Recovery from Sleep
20 seconds
Mode
Print Resolution
Up to 1200 x 1200 dpi
Standard Paper Capacity 1 x 500-Sheet Tray + 100-Sheet Bypass Tray
Maximum Paper Capacity 1,100 sheets
Standard Output
Up to 150 sheets (LT)
Capacity
Supported Paper Sizes Paper Tray: 5.8" x 8.3" – 8.5" x 14"
(148 x 210 mm – 216 x 356 mm)
Bypass Tray: 2.5" x 4.9" – 8.5" x 49.6"
(64 x 125 mm – 216 x 1260 mm)
Optional Tray: 8.5" x 11"
Supported Paper
Standard Tray: 16 – 43 lb. (60 – 163 g/m )
Weights
Bypass Tray: 16 – 59 lb. (60 – 220 g/m )
Optional Tray: 16 – 28 lb. (60 – 105 g/m )
When Duplexing: 16 – 24 lb. (60 – 90 g/m )
Supported Paper Types Plain, Middle Thick, Thick, Recycled, Colored, Letterhead, Preprinted, Thin,
Coated (Glossy), Coated (Matte), Special,
Label, Envelope*, Bond*, Cardstock*
Duplexing
Automatic (standard)
Dimensions (WxDxH)
15.8" x 18.9" x 15.9" (400 x 480 x
404 mm) (mainframe)
Weight
63.9 lbs. (29 kg)
Power Consumption
Maximum: 1,300 W or less
Ready Mode: 51.9 W
Sleep Mode: 0.7 W
Typical Electricity
1.6 kWh/week
Consumption** (TEC)
Power Requirements
120V, 60Hz
ENERGY STARCertified
EPEAT
Silver Rated
2
2
2
2
*From Bypass Tray only.
**Typical Electricity Consumption by ENERGY STAR program.
®
®
*Hard Disk Drive option required.
Controller Option
Device Management Utilities
Device Software Manager, Web Image Monitor, Streamline NX,
Enhanced Locked Print NX, FlexRelease NX, Card Authentication
Package, SmartDeviceMonitor for Admin Accounting Report Package,
Remote Communication Gate Type S, Remote Communication Gate
Type A, @Remote Connector NX, Device Manager NX Lite/Accounting/
Pro/Enterprise, Printer Driver Packager NX
Mobile Print Support
RICOH Smart Device Print&Scan App, Wi-Fi Direct*, AirPrint
*Requires Wireless LAN option.
Security Features
User Authentication (Windows, LDAP, Basic, User Code, 802.1.x Wired),
Encryption, Network Protocol On/Off, IP Filtering, Mask Type for
Copying/Data Security, Unauthorized Copy Prevention, Quota Setting/
Account Limit, SMTP over SSL
Consumables and Yields
Print Cartridge
SP C310HA Black
Print Cartridge
SP C310HA Cyan
Print Cartridge SP C310HA Magenta
Print Cartridge
SP C310HA Yellow
Maintenance Kit SP C320**
Intermediate Transfer
Unit SP C310
Waste Toner Bottle SP C310
7,200 prints*
6,600 prints*
6,600 prints*
6,600 prints*
90,000 prints
90,000 prints
55,000 prints
*Declared yield values in accordance with ISO/IEC 19798. Actual yields
may vary based on images printed and other factors.
XPS Direct Print Option Type P10
Hard Disk Drive Option Type P10
VM Card Type P8
USB Device Server Option Type M19
IEEE 1284 Interface Board Type M19
IEEE 802.11 Interface Unit Type M24
**Maintenance kit consists of the Fusing Unit and Transfer Roller.
Ships with starter toner bottles that yield approximately 2,800 pages.
All other consumables ship at full yield.
For maximum performance and yield we recommend using genuine
Savin parts and supplies.
Hardware Option
Paper Feed Unit Type TK1220
Paper Capacity
500 sheets
Supported Paper Size 8.5" x 11"
Supported Paper Weight 16 – 28 lb. (60 – 105 g/m )
Dimensions (WxDxH)
15.7" x 17.5" x 5.0" (400 x 450 x 127 mm)
Weight
13.2 lbs. (6 kg)
1.46 GHz
2 GB RAM
320 GB (optional)
Standard: Gigabit Ethernet (1000BASE-T/
100BASE-TX/10BASE-T), USB 2.0,
USB 2.0 Host
Optional: Wireless LAN IEEE802.11a/b/g/n,
IEEE1284
www.savin.com
Ricoh USA, Inc., 70 Valley Stream Parkway, Malvern, PA 19355, 1-877-472-8460
Savin and the Savin logo are registered trademarks of Ricoh USA, Inc. Ricoh and the Ricoh Logo are registered trademarks of Ricoh Company Ltd. All other trademarks are the property of their
respective owners. ©2016 Ricoh USA, Inc. All rights reserved. Savin products and services are offered by Ricoh USA, Inc. and its affiliates. The content of this document, and the appearance,
features and specifications of Savin products and services are subject to change from time to time without notice. Products are shown with optional features. While care has been taken to
ensure the accuracy of this information, Ricoh makes no representation or warranties about the accuracy, completeness or adequacy of the information contained herein, and shall not be liable
for any errors or omissions in these materials. Actual results will vary depending upon use of the products and services, and the conditions and factors affecting performance. The only warranties
for Savin products and services are as set forth in the express warranty statements accompanying them.
®
™
®
2
Printer Specifications
Processor Speed
Memory
Hard Disk Drive
Connection Type
Standard: PCL5c/6, Adobe PostScript 3 ,
PDF Direct
Option: XPS
Font Support
PCL: Scalable 45 fonts + 13 International fonts PostScript3: 136 fonts
Network Protocols
TCP/IP (IPv4, IPv6)
Supported OperatingWindows Vista/7/8/8.1/10/Server 2008/
Systems
Server 2008R2/Server 2012/ Server 2012
R2; Mac OS X (10.9 or later); UNIX Sun
Solaris 9/10, HP-UX 11.x, 11i v2, 11i v3,
Red Hat Linux Enterprise V4/V5/V6,
SCO OpenServer 5.0.7/6.0, IBM AIX
V5L/V5.3/V6.1/V7.1; SAP R/3
Other Print FeaturesSample/Locked/Hold/Scheduled/Stored/
Store and Print*, Black Over Print, CLP
Simulation, PDF Direct Print, Classification
Code, Bonjour Support, Windows Active
Directory Support, DDNS Support, PCL
Resident Font Adoption, Tray Parameter
Change from Web Image Monitor,
1200 dpi Support, Universal Driver, XPS
Support*, WS Printer, Wireless LAN
Interface Option, Media Direct Print
(Print from USB/SD)*, AirPrint, Banner
Page Print, Auto Job Promotion*, Poster
Print, WPS Support, Import/Export of
Preference Settings, Eco-Friendly Indicator,
Centralized Address Book Management,
Weekly Timer
®
S3689-C
Specifications subject to change without notice.
Warranty
The Savin SP C342DN is under warranty against defects for a period of
one year from the date of purchase. Consumables are under warranty
for a period of 90 days from the date of purchase or until depleted,
whichever comes first. Please refer to warranty documents shipped
with the product for more details.