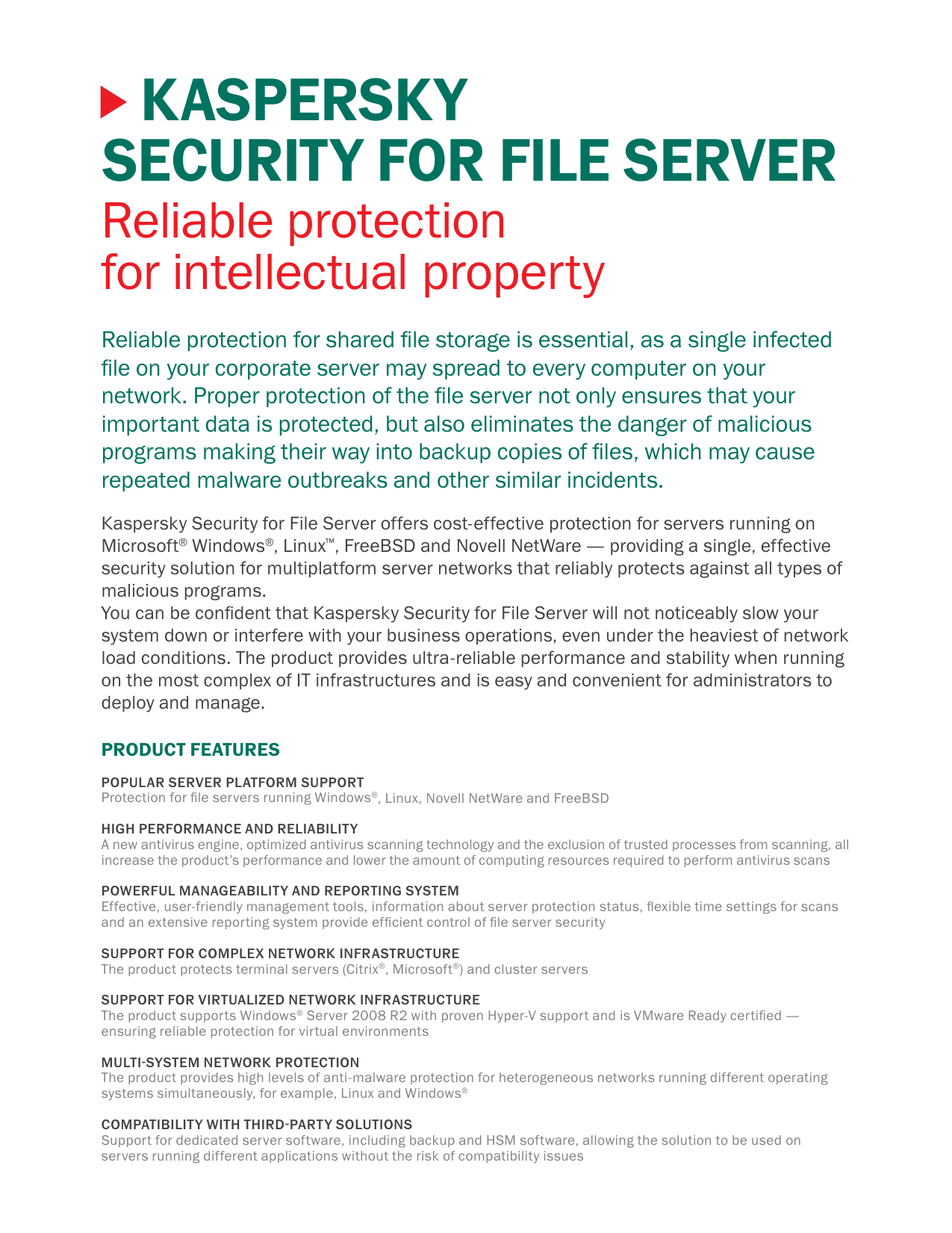 KASPERSKY
SECURITY FOR FILE SERVER
Reliable protection
for intellectual property
Reliable protection for shared file storage is essential, as a single infected
file on your corporate server may spread to every computer on your
network. Proper protection of the file server not only ensures that your
important data is protected, but also eliminates the danger of malicious
programs making their way into backup copies of files, which may cause
repeated malware outbreaks and other similar incidents.
Kaspersky Security for File Server offers cost-effective protection for servers running on
Microsoft® Windows®, Linux™, FreeBSD and Novell NetWare — providing a single, effective
security solution for multiplatform server networks that reliably protects against all types of
malicious programs.
You can be confident that Kaspersky Security for File Server will not noticeably slow your
system down or interfere with your business operations, even under the heaviest of network
load conditions. The product provides ultra-reliable performance and stability when running
on the most complex of IT infrastructures and is easy and convenient for administrators to
deploy and manage.
PRODUCT FEATURES
POPULAR SERVER PLATFORM SUPPORT
Protection for file servers running Windows ®, Linux, Novell NetWare and FreeBSD
HIGH PERFORMANCE AND RELIABILITY
A new antivirus engine, optimized antivirus scanning technology and the exclusion of trusted processes from scanning, all
increase the product's performance and lower the amount of computing resources required to perform antivirus scans
POWERFUL MANAGEABILITY AND REPORTING SYSTEM
Effective, user-friendly management tools, information about server protection status, flexible time settings for scans
and an extensive reporting system provide efficient control of file server security
SUPPORT FOR COMPLEX NETWORK INFRASTRUCTURE
The product protects terminal servers (Citrix®, Microsoft ®) and cluster servers
SUPPORT FOR VIRTUALIZED NETWORK INFRASTRUCTURE
The product supports Windows ® Server 2008 R2 with proven Hyper-V support and is VMware Ready certified —
ensuring reliable protection for virtual environments
MULTISYSTEM NETWORK PROTECTION
The product provides high levels of anti-malware protection for heterogeneous networks running different operating
systems simultaneously, for example, Linux and Windows ®
COMPATIBILITY WITH THIRDPARTY SOLUTIONS
Support for dedicated server software, including backup and HSM software, allowing the solution to be used on
servers running different applications without the risk of compatibility issues
HIGHLIGHTS
ADMINISTRATION
• Award-winning anti-malware engine
• Broad-based protection for heterogeneous
enterprise environments
• Consistently excellent detection rates, validated by
third-party test organizations
• Superior performance with minimal resource utilization
• Centralized management and easy administration helps
to reduce Total Cost of Ownership
• World-class trusted, fast and responsive global support
• Centralized installation, management and updates
• Choice of installation and management methods
• Flexible system of scanning and incident
response scenarios
• Product status notification system
• Comprehensive reports on network protection status
PROTECTED NODES
• Microsoft Windows® Servers
• Linux and FreeBSD Servers
• Novell NetWare Servers
PRODUCT FEATURES
• Protection of file servers running the latest versions of
Windows® (including Windows® Server 2008 R2), Linux
(including Samba), FreeBSD (including Samba) and
Novell NetWare
• Enhanced proactive protection from new
malicious programs
• Optimized usage of system resources
• Protection of terminal servers and cluster servers
• Real-time antivirus protection
• On-demand scanning
• Flexible scanning settings
• Scanning of critical system areas
• Trusted zones — exclusions for trusted processes
and directories
• Backup storage of data prior to disinfection or deletion
• Scalability and high fault tolerance
• Support for Hierarchical Storage Management
systems (HSM)
• NSS file system support
• VMware Ready
How to buy
Kaspersky Security for File Servers is included
in these tiers of Kaspersky Endpoint Security
for Business:
• Endpoint Security for Business, Select
• Endpoint Security for Business, Advanced
• Total Security for Business
Kaspersky Security for File Server can also be
purchased separately. Contact your reseller for
details and pricing.
KESB-FileServ/Version 0.1/Dec12/Global
Kaspersky Lab ZAO,
500 Unicorn Park, 3rd Floor Woburn, MA 01801 USA
Tel: 866-563-3099 | Email: [email protected]
usa.kaspersky.com | securelist.com
NOT ALL FEATURES ARE AVAILABLE ON ALL PLATFORMS.
For details, please consult www.kaspersky.com
© 2013 Kaspersky Lab ZAO. All rights reserved. Registered trademarks and service marks are the property of their respective owners. Microsoft, Windows, Windows
Server and Hyper-V are either registered trademarks or trademarks of Microsoft Corporation in the United States and/or other countries. Linux is the registered
trademark of Linus Torvalds in the U.S. and other countries.

* Your assessment is very important for improving the work of artificial intelligence, which forms the content of this project