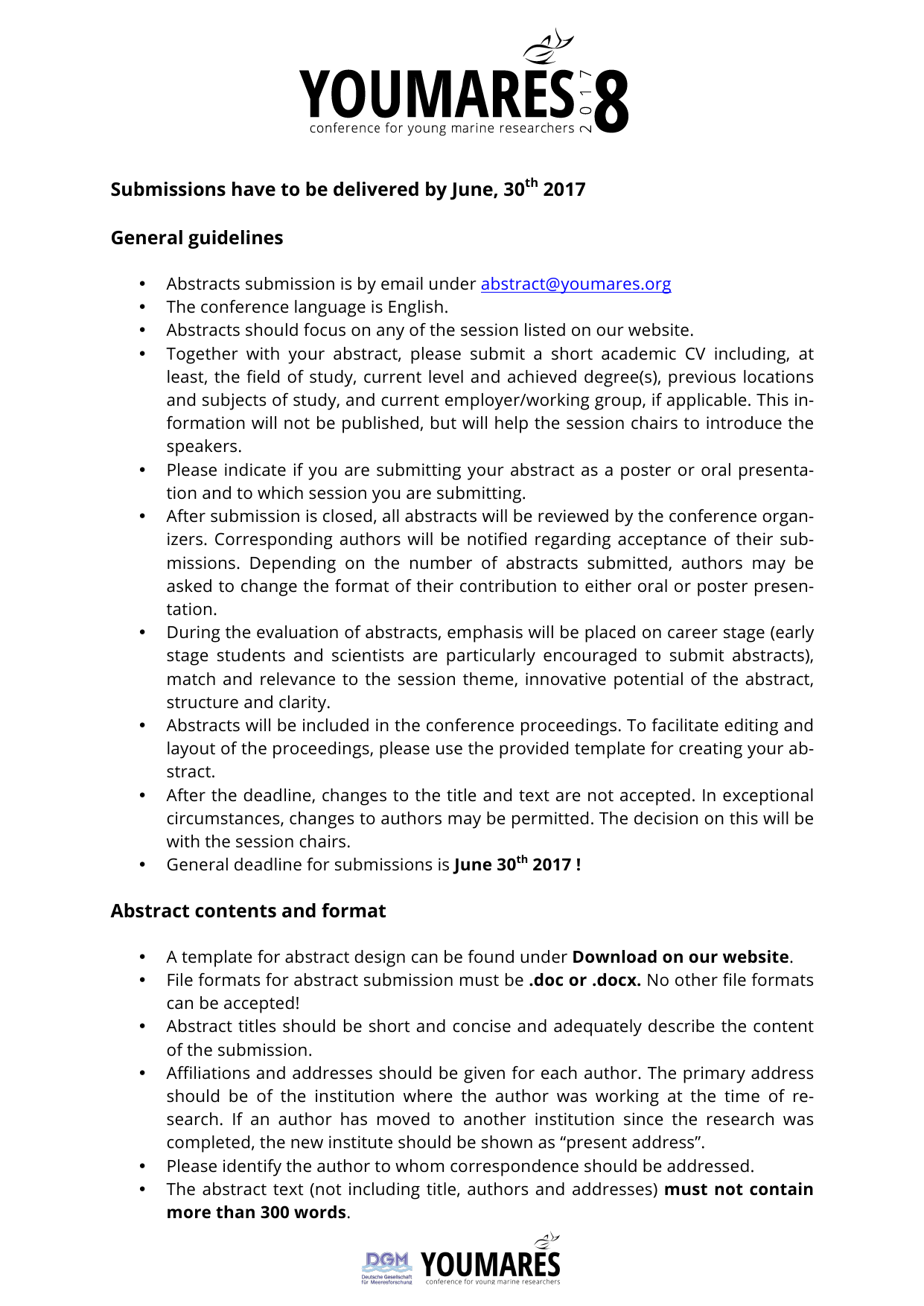 Submissions have to be delivered by June, 30th 2017
General guidelines
•
•
•
•
•
•
•
•
•
•
Abstracts submission is by email under [email protected]
The conference language is English.
Abstracts should focus on any of the session listed on our website.
Together with your abstract, please submit a short academic CV including, at
least, the field of study, current level and achieved degree(s), previous locations
and subjects of study, and current employer/working group, if applicable. This information will not be published, but will help the session chairs to introduce the
speakers.
Please indicate if you are submitting your abstract as a poster or oral presentation and to which session you are submitting.
After submission is closed, all abstracts will be reviewed by the conference organizers. Corresponding authors will be notified regarding acceptance of their submissions. Depending on the number of abstracts submitted, authors may be
asked to change the format of their contribution to either oral or poster presentation.
During the evaluation of abstracts, emphasis will be placed on career stage (early
stage students and scientists are particularly encouraged to submit abstracts),
match and relevance to the session theme, innovative potential of the abstract,
structure and clarity.
Abstracts will be included in the conference proceedings. To facilitate editing and
layout of the proceedings, please use the provided template for creating your abstract.
After the deadline, changes to the title and text are not accepted. In exceptional
circumstances, changes to authors may be permitted. The decision on this will be
with the session chairs.
General deadline for submissions is June 30th 2017 !
Abstract contents and format
•
•
•
•
•
•
A template for abstract design can be found under Download on our website.
File formats for abstract submission must be .doc or .docx. No other file formats
can be accepted!
Abstract titles should be short and concise and adequately describe the content
of the submission.
Affiliations and addresses should be given for each author. The primary address
should be of the institution where the author was working at the time of research. If an author has moved to another institution since the research was
completed, the new institute should be shown as "present address".
Please identify the author to whom correspondence should be addressed.
The abstract text (not including title, authors and addresses) must not contain
more than 300 words.
•
•
•
In the text, the aim of research, methods used, and important results and conclusions should be presented.
Please avoid the use of non-standard abbreviations or references in the abstract
text.
Deadline for abstracts is June 30th 2017 !
Poster format guidelines
•
•
•
•
•
•
Posters should be prepared in DIN A0 (portrait format).
The poster should be clear and concise, and should be legible from a distance of
at least one meter. Use large print and block letters when possible. For legibility,
a minimum font size of 28 points and a maximum of 600 words are recommended. For the title, a font size of at least 60 points is advisable.
To structure the content, it is recommended to use clear sections, i.e., Purpose,
Methods, Results, and Conclusion.
The poster must include the same title and author information as submitted in
the abstract.
It is advisable to include an e-mail address on the poster to assist viewers to contact the authors later. Also, it is recommended to provide printouts of the poster
as handouts – please take care of a mounting possibility.
The actual Poster Session will take place in the evening of September 14th 2017.
However, we will do your best to enable you displaying the posters for the whole
conference time.
Oral presentation guidelines
•
•
•
•
Per oral presentation, time slots of 15 minutes are assigned. This should include
12 minutes for presentation and 3 minutes for questions.
A clear structuring of the presentation into Background/Introduction, Materials
and Methods, Results, and Discussion/Conclusion is strongly recommended.
Use colours and font sizes that will be legible when presented in a large room.
Arial and Helvetica are recommended for clarity and compatibility. A font size of
AT LEAST 24 points for body text and 36 – 40 points for headings should be used.
Light coloured text on a dark background is advised. Avoid using red or green.
The maximum number of lines in text slides should not be more than 6 or 7.
Make sure that legends and labels are given for all graphs, figures and tables, and
that they are simple and legible.
Awards for best presentation and posters
•
•
•
There will be awards for the best posters and the best presentations from each
session.
Voting will take place during the conference and awards will be handed out during the closing ceremony of the conference.
Further details on voting procedures will be announced in due time.

* Your assessment is very important for improving the work of artificial intelligence, which forms the content of this project