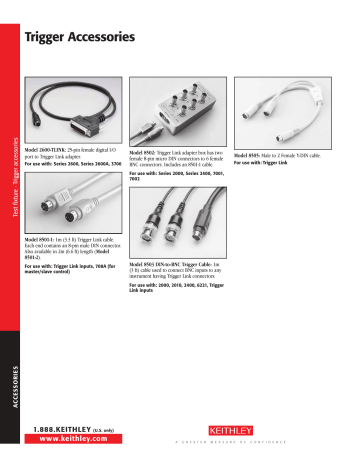 Test fixture Side
· Trigger
Textaccessories
Trigger Accessories
Model 2600-TLINK: 25-pin female digital I/O
port to Trigger Link adapter.
For use with: Series 2600, Series 2600A, 3706
Model 8502: Trigger Link adapter box has two
female 8-pin micro DIN connectors to 6 female
BNC connectors. Includes an 8501-1 cable.
Model 8505: Male to 2 Female Y-DIN cable.
For use with: Trigger Link
For use with: Series 2000, Series 2400, 7001,
7002
Model 8501-1: 1m (3.3 ft) Trigger Link cable.
Each end contains an 8-pin male DIN connector.
Also available in 2m (6.6 ft) length (Model
8501-2).
For use with: Trigger Link inputs, 708A (for
master/slave control)
Model 8503 DIN-to-BNC Trigger Cable: 1m
(3 ft) cable used to connect BNC inputs to any
instrument having Trigger Link connectors.
ACCESSORIES
For use with: 2000, 2010, 2400, 6221, Trigger
Link inputs
1.888.KEITHLEY (U.S. only)
w w w.keithley.com
A
G R E A T E R
M E A S U R E
O F
C O N F I D E N C E
Trigger Accessories
s Automatically route TTL signals
s Speed operation of multiple
Source-Measure Units
Ordering Information
2361
Trigger Controller
Unit with 7051-2 BNC
Interconnect cable,
0.6m (2 ft)
Accessories Supplied
7051-2
BNC Interconnect
Cable (4)
The Model 2361 Trigger Controller Unit
(TCU) puts TTL, trigger routing, and coordination under GPIB control for rack and stack
systems. This compact unit connects to the trigger inputs and outputs of up to six instruments
using BNC cables. All triggers in the system are
passed through the 2361 Trigger Controller
to allow:
UÊ Õ̜">̈VÊÌÀˆ}}iÀÊÀœṎ˜}ÊLiÌÜii˜Ê
instruments.
UÊ œ˜`ˆÌˆœ˜>Ê>˜`ÊȓՏÌ>˜iœÕÃÊÌÀˆ}}iÀˆ˜}°
Advanced Triggering Capabilities
Six trigger relations may be programmed using
GPIB commands to specify which trigger inputs
will result in a particular group of outputs.
"OR" causes a trigger output when a trigger is
received on any one specified channel. "AND"
accumulates triggers until one has been received
on each of the specified channels and then generates the trigger outputs. This is especially useful for allowing multiple sources or SMUs in a
test system to settle concurrently, then multiple
meters or SMUs to measure in unison. The result
is two to ten times faster test execution than
with serial trigger loops.
A digital I/0 port provides 8 bits of TTL inputs
and 8 bits of TTL outputs. SRQs can be generated by changes in the digital or trigger inputs.
In test systems that incorporate instruments
from several different manufacturers, the Model
2361 Trigger Controller Unit can interface triggers with falling and rising edge directions to
one another. Non-volatile program memory
permits system synchronization without a GPIB
controller.
EXECUTION SPEED
INPUT PULSE WIDTH: 50ns minimum, unlimited maximum.
CHANNEL SYNCHRONIZATION (typical): Output pulses are
synchronized to within 5ns.
TRIGGER PROPAGATION DELAY (IEEE-488 inactive): 350µs
maximum, 100µs typical (T0D0, only one trigger I/0 relation
evaluates true).
PULSE RECOGNITION RATE: 2kHz maximum at any trigger
input.
RESPONSE TO IEEE-488 COMMAND:
Trigger Control Commands: 2.5ms maximum.
Trigger I/O Program: 25ms maximum.
IEEE-488 BUS IMPLEMENTATION
MULTIPLE COMMANDS: DCL, SDC, UNT, UNL, SPE, SPD.
UNILINE COMMANDS: IFC, REN, EOI, SRQ, ATN.
INTERFACE FUNCTIONS: SH1 AH1, T6, TE0, L4, LE0, SR1, RL2,
PP0, DC1, DT0, C0, E1.
SRQ OPTIONS: SRQ on any of the following events: Trigger
input detected, digital input detected, ready for IEEE-488
command, error.
PROGRAMMABLE FUNCTIONS: Trigger I/O programming,
trigger I/O program initialization, trigger I/O program storage and retrieval, trigger input edge polarity, trigger response
enable/disable, trigger latch initialization, trigger output
generation, digital output specification, digital input edge
polarity, SRQ masking, IEEE-488 holdoff, IEEE-488 output
terminator, system status readback, factory default reset.
ACCESSORIES AVAILABLE
Distribido Por:
www.finaltest.com.mx
Calle del Ebano #16625
Tijuana B.C. Mexico
Tel. (664)681-1130
Tel. 01800 027-4848
[email protected]
1.888.KEITHLEY (U.S. only)
w w w.keithley.com
7007-1
7007-2
8503
KPCI-488LPA
KUSB-488B
Shielded IEEE-488 Cable, 1m (3.3 ft)
Shielded IEEE-488 Cable, 2m (6.6 ft)
DIN-to-BNC Trigger Cable
IEEE-488 Interface/Controller for the PCI Bus
IEEE-488 USB-to-GPIB Adapter for USB Port
SERVICES AVAILABLE
2361-3Y-EW
1-year factory warranty extended to 3 years from
date of shipment
A
G R E A T E R
Trigger
Side
accessories
Text
s Trigger up to six instruments
Applications
The 2361 controls test systems of two to six
Source-Measure Units (SMUs), DMMs, switches,
or other GPIB instruments. It allows trigger
input and output signals from instruments in
a test system to be arbitrarily directed without
changing cable connections. This provides
complete flexibility in test design with reduced
operator intervention and without sacrificing the
speed and synchronization.
M E A S U R E
GENERAL
TRIGGER I/O PROGRAM: Up to six input-output relations
constitute the program which resides in the internal
memory. Non-volatile storage of up to three trigger I/O
programs.
CONNECTORS:
Trigger Input, Output: Six BNC connectors each on
rear panel.
Digital I/O: 20 pin card edge.
ENVIRONMENT: Operating: 0–50°C; 0–70% R.H.
Storage: –25 to 65°C.
POWER: 90–125 or 180–250V AC (internal switch selectable); 50–60Hz. 10VA max.
DIMENSIONS, WEIGHT: 425mm wide × 45mm high ×
309mm deep (163⁄4 in × 13⁄4 in × 12 in). Net weight
2.7kg (6.2 lb).
O F
C O N F I D E N C E
ACCESSORIES
s Improve system throughput
SIGNALS
CONFIGURATION:
Six trigger inputs, TTL compatible.
Six trigger outputs, TTL compatible.
One 8-bit digital input port, TTL compatible.
One 8-bit digital output port, TTL compatible.
TRIGGER CHANNELS:
Input: May be programmed to detect rising or falling edges.
Output: Active low pulse, maximum pulse width 110µs.
DIGITAL I/O:
Input: May be programmed to detect level or edges (either
rising or falling).
Output: Specified level appears on digital output lines.

* Your assessment is very important for improving the work of artificial intelligence, which forms the content of this project