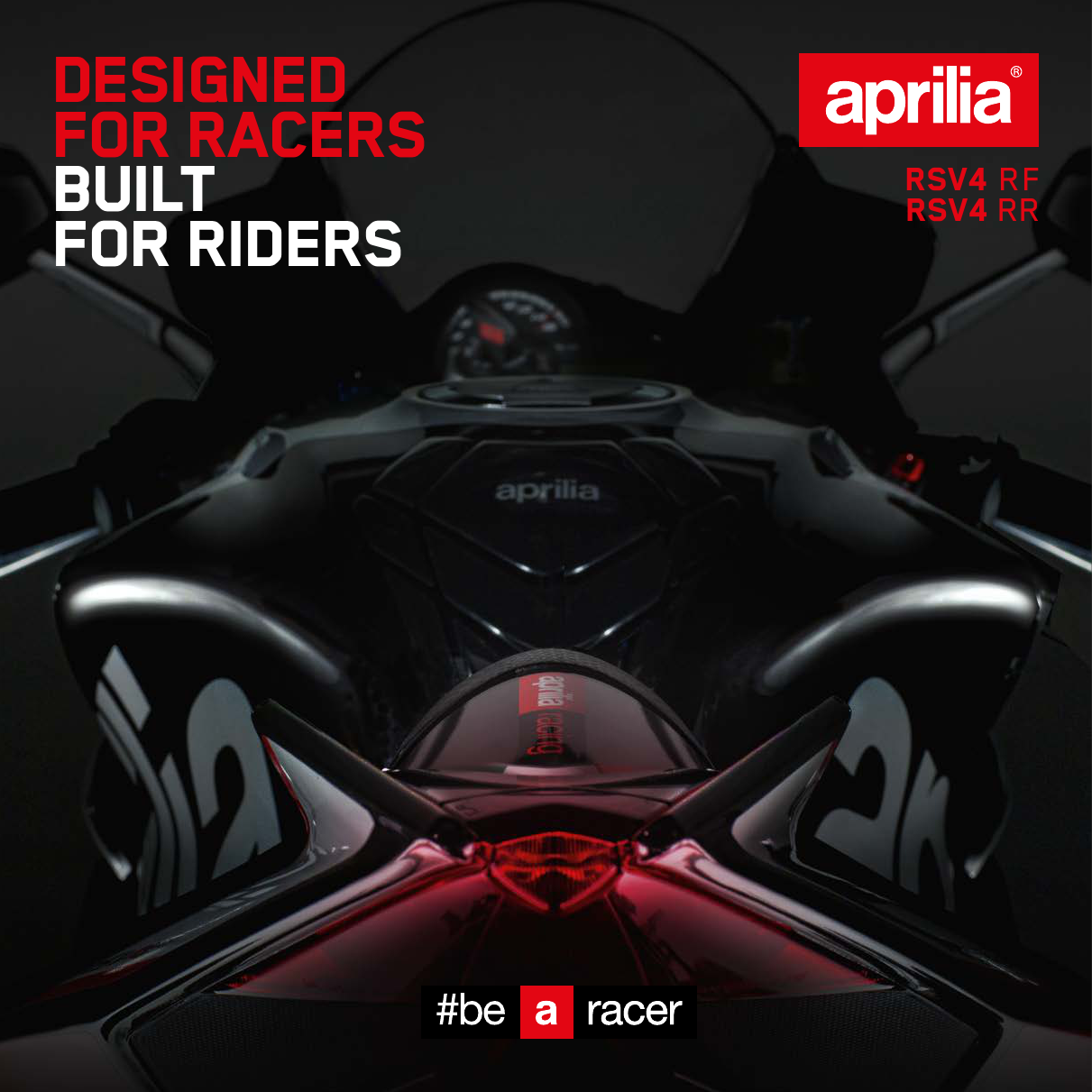 DESIGNED
FOR RACERS
BUILT
FOR RIDERS
RSV4 RF
RSV4 RR
Being a Racer is not a profession but a way of being,
something that is inside us, in our DNA.
If you love to get on your bike, feel the wind glide along
the fairing and watch the world go by through your visor,
we understand you.
We feel like that from our very first roar.
Are you a real racer?
Visit our website bearacerclub.aprilia.com
and join the club
WINNING
TECHNOLOGY
FROM RACE
TO ROAD
APRILIA RSV4 IS THE WORLD CHAMPION BIKE IN THE WORLD SUPERBIKE.
WITH 294 GRAND PRIX RACES WON IN WORLD CHAMPIONSHIP GP
MOTORCYCLE RACING, APRILIA HOLDS THE RECORD FOR THE MOST
WINS OF ANY EUROPEAN MANUFACTURER IN THE HISTORY OF MAXIMUM
MOTORCYCLE COMPETITION. THESE ARE JOINED BY AN IMPRESSIVE
54 WORLD TITLES: 38 IN WORLD CHAMPIONSHIP GP MOTORCYCLE RACING
(20 IN 125 AND 18 IN 250), 7 IN SUPERBIKE (RIDER AND MANUFACTURER
DOUBLE WIN IN 2010, 2012 AND 2014 AND MANUFACTURER IN 2013)
AND 9 IN OFF ROAD DISCIPLINES (7 IN SUPERMOTO AND 2 IN TRIAL).
TECHNOLOGY, INNOVATION: APRILIA HAS RACING IN ITS BLOOD,
IN ITS HEAD, IN ITS DNA.
"Aprilia Racing
is the most successful
European team"
SUPERBIKE
TO CELEBRATE THE ARRIVAL OF THE NEW RSV4, APRILIA IS ALSO
OFFERING A LIMITED EDITION OF 500 NUMBERED UNITS CALLED
THE RSV4 RF, THAT COMES STANDARD WITH THE RACE PACK,
WHICH INCLUDES FORGED ALUMINIUM WHEELS AND ÖHLINS
SUSPENSION (SHOCK ABSORBER, FORK AND STEERING DAMPER),
AS WELL AS DEDICATED GRAPHICS.
SUPERTECH
APRILIA RSV4 RR IS AVAILABLE IN TWO ATTRACTIVE COLOUR
SCHEMES, BOTH MATTE, ON A BLACK AND GREY BASE
(BUCINE GREY AND ASCARI BLACK).
ALSO AVAILABLE IN RACE PACK VERSION.
201HP
ONLY 225 MM
THE REVOLUTION OF THE RSV4 STARTS FROM THE HEART OF THE BIKE, YOU CAN HEAR THE OVERWHELMING ROAR OF THE 65° V4 ENGINE
AND IS MEASURED BY THE FANTASTIC PERFORMANCE ON THE RACE CIRCUIT. THE 65° V4 ENGINE IS INDEED THE MOST REVOLUTIONARY
AND AT THE SAME TIME THE MOST POWERFUL EVER BUILT BY APRILIA.
NEW
AIR BOX
HIGH DUCTS
NEW MM 7SM
CONTROL UNIT WITH
64 MHZ OVERCLOCK
01POWER
LOW DUCTS
NEW FORGED
CAMSHAFTS
NEW CYLINDER
HEADS
NEW ENGINE
CRANKCASE
WITH REDUCED
VENTILATION
FRICTION
LOSS
TITANIUM
EXHAUST
VALVES
NEW PANKL
CONNECTING
RODS
NARROW
V
NEW LUBRICATION
SYSTEM
NEW LIGHTWEIGHT
CRANKSHAFT
V465°
Its "narrow" V architecture provides an
engine as compact as a twin-cylinder,
perfectly integrated in the chassis,
and at the same time, with an extreme
cylinder bore, improving performances
in terms of power and torque. Vibrations
mitigated thanks to a balancing
countershaft.
RACE
READY
DUAL
INJECTION
CASSETTE TYPE
GEARBOX
ADVANCED
ELECTRONICS
Intake system with ducts at variable
height based on the engine speed, which
optimises the level of torque requested
at every moment and at every speed.
Ultra-lightweight materials, such as
titanium and magnesium, reducing the
overall weight.
Advanced solutions also with regard
to the fuel system.
Two injectors per cylinder:
- one after the throttle valve for
excellent speed tractability
- the other, a fan pattern injector, in
the airbox, which comes into play at
higher loads and engine speeds, for
more effective fuel atomisation and
vaporisation and increased power
output. To ensure the right torque and
ideal power delivery in all situations.
The cassette type gearbox is a typical
racing solution for optimal engine
management on any track, thanks
to rapid gear ratio replacement and
short gearbox maintenance times.
The three lowest gears are spaced
closer for extra speed on the straight.
The clutch equipped with mechanical
slipper system improves control over
the engine brake and the bike's stability
during any hard braking phase.
In the 65° V4, the most refined engine
engineering is combined with the most
advanced electronics with the new MM
7SM control unit with 64 MHZ overclock.
The Multimap Ride-by-Wire technology
offers endless possibilities in controlling
power delivery, with the possibility to
change the "character" of the bike,
selecting one of the three mappings
available on the handlebars:
T - TRACK Developed for top riders: the
optimal power delivery at every instant
and unmatched smoothness
S - SPORT A very reactive response to
the minimum actions on the twistgrip. For
the rider that wants to feel a seamless
connection with more than 200 hp
R - RACE Directly derived from Aprilia's
SBK racing bikes: minimal engine brake
intervention during deceleration and
optimal throttle response at every
opening, for the ultimate lap time
02CONTROL
The digital display offers two different screens that hold the most significant information for road and track use, respectively:
RSV4 RF AND RSV RR ARE ONE GENERATION AHEAD OF EVERYONE ELSE, ON THE TRACK AND ON THE ROAD, THANKS TO
THEIR NEW, EXCLUSIVE PERFORMANCE RIDE CONTROL PACKAGE, INTEGRATED WITH RIDE-BY-WIRE, DERIVED FROM THE
INCREDIBLE SUCCESS IN THE WORLD SBK CHAMPIONSHIP. A RELIABLE, CUSTOMISABLE ASSISTANT TO HELP YOU CONTROL
THE POWER OUTPUT AND TRACTION OF THE BIKE, SETTING NEW BENCHMARKS IN PERFORMANCE AND RESULTS.
FOR AN UNPRECEDENTED RIDING EXPERIENCE.
ATC
ALC
AWC
AQS
MAXIMUM TRACTION
IN TURNS
Helps to achieve better grip, thanks to
a patented "slip control" system, fine
tuning power delivery according to bank
angle. Smooth modulation gives the
rider a better feeling of the drive wheel,
allowing him to choose from 8 settings,
even while riding and without closing
the throttle, using a dedicated joystick.
The system includes an automatic setup
procedure to record and adjust to wheel
diameters so as to ensure accurate
response regardless of tyre and brand.
LIGHTNING-FAST
STARTS
It provides optimal power delivery
when setting off from a standing start,
working hand in hand with the wheelie
control system to maximise start-off
acceleration. It is set from the menu
on the dashboard on 3 levels, with
the bike standing still, and is then
"engaged" at the time of use.
TOTAL CONTROL
UNDER ACCELERATION
Optimal acceleration control is achieved
by a patented "wheelie detection"
control system that gently places
the wheel back down onto the road.
The system has three settings that
can be selected at standstill
independently of the other systems.
GEAR CHANGE
IN MILLISECONDS
This electronic gear change system
allows you to shift up without using the
clutch and without closing
the throttle, reducing the decrease in
engine speed and improving lap time on
the track. There are 3 system kick-in
calibrations according to three
different engine rpm thresholds.
(Aprilia Traction Control)
(Aprilia Launch Control)
AUTO-CALIBRATION
The APRC system is able to self calibrate to adapt
traction control reaction to new tyres different from
the original equipment.
(Aprilia Wheelie Control)
ROAD
Shows road speed in the foreground,
plus additional indications such as engine mapping
and ATC setting, shift position, speedometer,
temperature and clock.
RACE
Highlights the lap timer, shift position,
engine mapping and ATC setting, with a
smaller space for speed and temperature
indications.
(Aprilia Quick Shift)
MODE BUTTON
AND
ATC SETTING
JOYSTICK
The AWC and ALC
systems are set up from
the instrument panel
menu, using the "mode"
button on the left of the
handlebars. The ATC
system, on the other
hand, can be set to one
of the eight available
settings at any time, even
with the throttle open, via
a user-friendly joystick on
the left of the handlebars.
STARTER
AND
MAP SELECT
BUTTON
03BALANCE
ABSOLUTE BALANCE. THE CHASSIS WAS DESIGNED AROUND THE 65° V4 ENGINE,
TO ATTAIN PERFECT CENTRALISATION OF MASSES. A RESULT OPTIMISED BY THE
POSITION OF THE TANK, WITH FUEL MOSTLY UNDERNEATH THE SADDLE, TO REDUCE
THE BALANCE DIFFERENCES BETWEEN FULL AND EMPTY.
RACE-READY
ADJUSTMENTS
For the first time on a standard bike, in addition to fully adjustable suspension, the rake and position of the headstock can
also be adjusted, as well as the height of the rear end, of the swingarm pin and even the engine position. No other bike on the
market provides, with this ease, such a high level of customisation. With Aprilia RSV4, you go on the track and are first right away!
The steering damper guarantees
impeccable high speed stability
and millimetre precision
in setting the bike up for turns.
The frame is a masterpiece of
technology in full view, made with cast
and pressed elements, according to
Aprilia's tradition. It boasts a high
level of torsional and bending rigidity
for perfect control and feeling when
entering and completing a turn. Also the
swingarm, the result of Aprilia's racing
experience, is a rigid and ultra-light
"mix" of cast and pressed aluminium
elements, providing exceptional
reactivity when setting the suspension.
RACING
BRAKES
ELONGATED
SWINGARM
Fully adjustable suspension that can be
adapted to any type of route, whether
track or road. 43 mm front fork and
Sachs progressive monoshock absorber.
STEERING
DAMPER
RSV4 RR and RSV4 RF adopt the highly advanced
RACE ABS as standard. The new anti-lock braking
system was conceived to guarantee maximum safety
on the road, but it was developed to help obtain
optimum performance on the track. Aprilia worked in
close cooperation with Bosch to define optimum
calibration of the ABS 9MP unit, which represents
the utmost in refinement and technology available
today. The system weighs in at a record 2 kg.
THE ONLY STANDARD BIKE THAT IS CUSTOM-MADE FOR YOU. RSV4 RR IS THE FIRST STANDARD FOUR CYLINDER BIKE THAT IS TRULY "TRACK READY". THANKS TO A
REVOLUTIONARY DESIGN PHILOSOPHY, THE COMPONENTS, THE MOST ADVANCED RACING TECHNOLOGY CURRENTLY AVAILABLE AND THE ENDLESS SETTING POSSIBILITIES:
ANY FIT LIKE A GLOVE TO EACH RACING STYLE AND TRACK TYPE.
ALUMINIUM
FRAME
RACING
SUSPENSION
RACE
ABS
04TRACKREADY
RSV4 has a top-of-the-range front brake
system: powerful, precise and modular.
Brembo M430 monobloc calipers with
4 pistons and radial pump, which hold
a 320 mm disc with aluminium flange.
The rear brake consists of a Brembo
calliper with 2 pistons and 220 mm disc:
the best available in racing technologies.
The elongation of the rear swingarm
has improved traction out of turns at
full throttle.
05ACCESSORIES
CUSTOMISED ACCESSORIES. ENHANCE YOUR RSV4 WITH THE RACE PACK COMPONENTS: FROM THE FORK TO THE ÖHLINS SHOCK ABSORBERS, FROM THE CARBON
COMPONENTS TO THE FORGED WHEEL RIMS. OR CUSTOMISE IT WITH ORIGINAL ACCESSORIES BORN FROM APRILIA RACING EXPERIENCE: SUCH AS THE ALUMINIUM PARTS
OBTAINED FROM THE BILLET OR THE SLIP-ON EXHAUST BY AKRAPOVIC. MAKE YOUR RSV4 EVEN MORE TECHNOLOGICAL AND HIGH PERFORMANCE.
DISCOVER ALL THE ORIGINAL APRILIA ACCESSORIES AT WWW.APRILIA.COM
V4-MP TELEMETRY
THE FUTURE OF BIKE AND RIDER INTERACTION. WITH V4-MP RACING
TELEMETRY ARRIVES ON YOUR BIKE. TURN YOUR SMARTPHONE INTO AN
ACTIVE DEVICE FOR ADJUSTING APRILIA ELECTRONIC SYSTEMS.
A NEW AND USEFUL TOOL THAT ENHANCES THE EXTENSIVE CATALOGUE OF
ACCESSORIES FOR THE RSV4.
With this exceptional application, your smartphone becomes a veritable
sophisticated on-board multifunctional computer. Communication between
vehicle and rider becomes active: from your mobile phone you can change
the bike settings, plus get tips in real-time on how to improve track
performance in perfect safely. Some of the more prominent features of
V4-MP include:
• ACTIVE ELECTRONIC SETUP
• ADAPTIVE RACE ASSISTANT
• ADVANCED TELEMETRY DASHBOARD
RACING ACCESSORY: intended solely for motorcycles used on tracks closed to public traffic and must not be used for any other purpose.
RSV4 RR
ASCARI BLACK
Engine
RSV4 RR
BUCINE GREY
Aprilia V4 65° , 4-stroke, liquid cooled engine
RSV4 RR RACE PACK
ASCARI BLACK
Chassis
with double overhead camshaft (DOHC) and four valves per cylinder
Fuel
Unleaded petrol
Bore and stroke
78 x 52.3 mm
Total engine capacity
999.6 cc
Compression ratio
13.5:1
Maximum power at crankshaft
201 hp (148 kW) at 13,000 rpm
Maximum torque at crankshaft
115 Nm at 10,500 rpm
Fuel system
Airbox with front dynamic air intakes.
Variable length intake ducts controlled via the engine control unit.
Ignition
RSV4 RF (RACE PACK STANDARD)
SUPERPOLE
Aluminium dual beam chassis with pressed and cast sheet elements.
Adjustments available: • headstock position and angle • engine height • swingarm pin height.
Sachs non-adjustable steering damper [Öhlins adjustable steering damper]
Front suspension
Sachs fork with 43 mm stanchions; [Öhlins fork with TIN surface treatment].
Low profile forged aluminium radial calliper mountings. Adjustable spring preload and hydraulic compression
and rebound damping. Wheel travel: 120 mm
Rear suspension
Double braced aluminium swingarm; mixed low thickness and sheet casting technology.
Sachs monoshock adjustable in: hydraulic compression and rebound damping, spring preload, wheelbase length.
[Öhlins monoshock with piggy-back completely adjustable in:
4 Marelli 48-mm throttle bodies with 8 injectors and latest generation Ride-by-Wire engine management.
Multiple engine maps selectable by the rider with bike in motion: T (Track), S (Sport), R (Race)
RSV4 RR RACE PACK
BUCINE GREY
spring preload, wheelbase and hydraulic compression and rebound damping].
APS progressive linkage. Wheel travel 130 mm.
Brakes
Front: Dual 320 mm floating stainless steel discs with lightweight stainless steel rotor and aluminium flange
Magneti Marelli digital electronic ignition system integrated in the engine control system,
with 6 pins. Brembo M430 monobloc radial callipers with 4 30 mm opposing pistons.
with one spark plug per cylinder and stick coils
Sintered pads. Radial pump and metal braided brake hose
Starter
Electric
Exhaust
4 in 2 in 1 scheme, two lambda probes, single lateral silencer with throttle valve controlled
Rear: 220 mm disc; Brembo calliper with two 32 mm separate pistons. Sintered pads.
ABS
by the engine control unit and integrated trivalent catalytic converter (Euro 3)
Pump with integrated tank and metal braided hose Bosch 9MP ABS, with 3 map settings,
equipped with RLM (Rear wheel Lift-up Mitigation) strategy which can be disengaged
Alternator
Flywheel mounted 450W alternator with rare earth magnets
Wheel rims
Lubrication
Wet sump lubrication system with oil radiator and two oil pumps (lubrication and cooling)
[forged in aluminium alloy and fully machined, with 5 split spokes]
Transmission
6-speed cassette type gearbox:
Front: 3.5"X17",
1st: 39/15 (2.600) 2nd: 33/16 (2.063) 3rd: 34/20 (1.700) 4th: 31/21 (1.476) 5th: 31/23 (1.348) 6th: 34/27 (1.259)
Gear lever with Aprilia Quick Shift electronic system (AQS)
Aprilia in aluminium alloy with 3 split spokes
Rear: 6"X17"
Tyres
Radial tubeless.
Clutch
Multi plate wet clutch with mechanical slipper system
Front: 120/70 ZR 17
Primary drive
Straight cut gears and integrated flexible coupling, drive ratio: 73/44 (1,659)
Rear: 200/55 ZR 17 (alternative: 190/50 ZR 17; 190/55 ZR 17)
Secondary drive
Chain: Drive ratio: 41/16 (2.5625)
Dry weight
180 kg (without battery and fluids)
Traction management
APRC System (Aprilia Performance Ride Control), which includes Traction Control (ATC), Wheelie Control (AWC),
Tank
18.5 litres (including 4-litre reserve)
Launch Control (ALC), all of which can be configured and deactivated independently
[the data in bold refers to RSV4 RF and RSV4 RR with RACE PACK]
RSV4 is an environmentally friendly vehicle compliant with Euro 3 regulations for exhaust and noise emissions.
Drive safely always wearing a helmet and protective clothing. Observe the laws of the road and respect the environment. Carefully read the owners' handbook. Photographs, technical data, specifications and colours
shown in this brochure refer to the Italian market version and may be subject to change without prior notice. Ask your official Aprilia dealers for full details. In order to maintain your machine in a safe and efficient
manner, always demand official Aprilia Spare Parts, which are guaranteed by Aprilia Quality Service in respect of current legislation. Aprilia reserves the right to change colour/specification without prior notice.
The
trademark is the property of Piaggio & C. S.p.A.