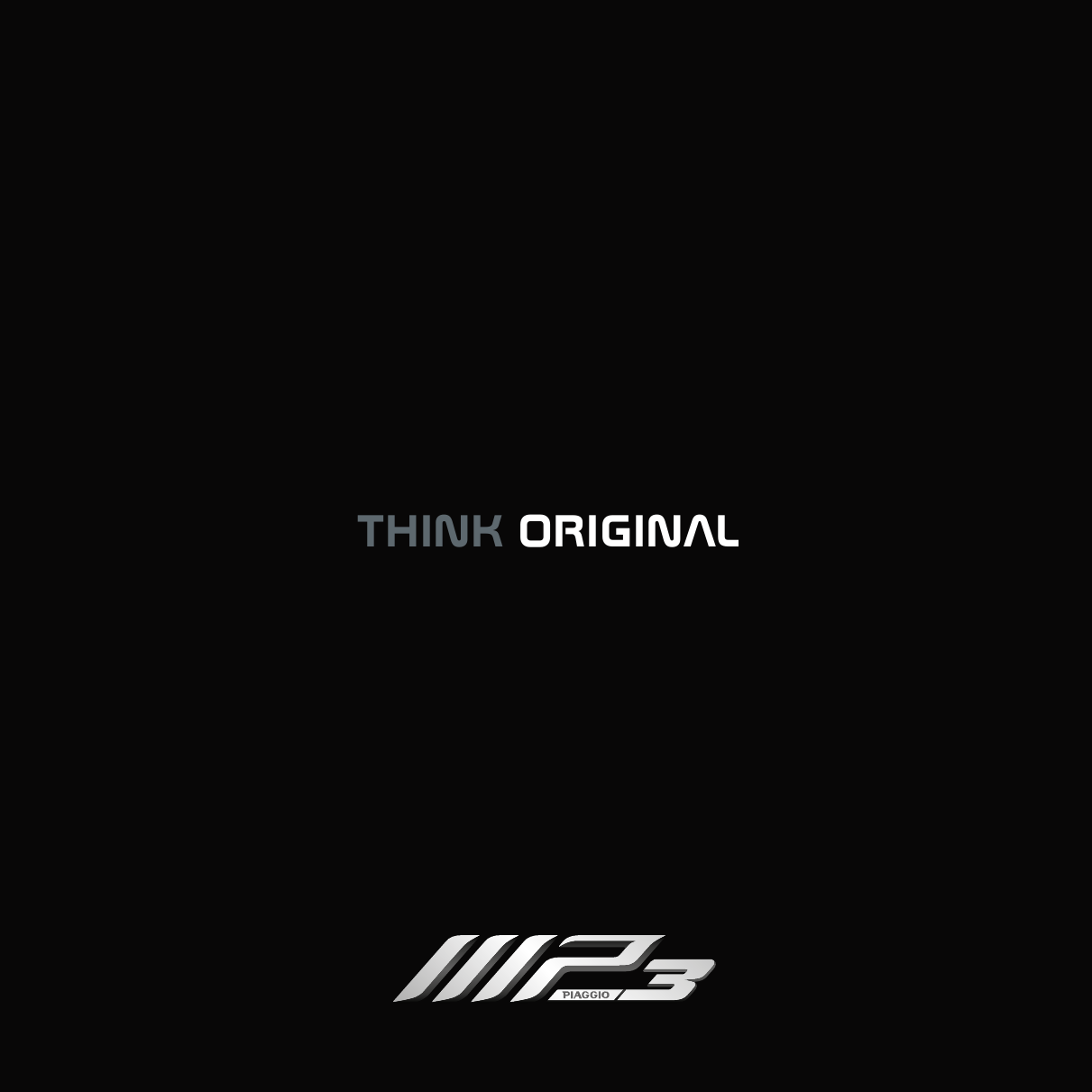 THINK ORIGINAL
THINK
CLEVER
When Piaggio introduced the MP3, the world's
first tilting three-wheel scooter, in 2006, we
created a new type of vehicle and a new way to
travel, combining the agility and convenience of
a conventional scooter with the extra stability
and safety of the third wheel.
The MP3 500 is the latest evolution of this
uniquely fascinating style, now even safer thanks
to its ABS braking and ASR traction control
combination and even more comfortable with its
larger, more luxurious dual seat.
As the MP3 500 is categorised as a trike, it can
be ridden by car licence holders, aged 21 or
over, as well as motorcycle licence holders*.
The Piaggio MP3 500: the evolution of the
original.
*Piaggio recommends that car drivers without scooter experience
undertake suitable training before riding an MP3.
The Piaggio MP3 500 is the first and only
three-wheeler equipped with an ABS braking
system, developed specifically by Piaggio and
Continental, to give maximum reassurance in
any situation and on any road surface, thanks
to its sophisticated three-channel control
unit. MP3 500 also features Piaggio's
innovative ASR electronic traction control
system, which prevents the rear wheel from
spinning, even on slippery surfaces.
13" front wheels soak up bumps and
potholes and conceal extra-large 258 mm
discs, while the patented Piaggio front
suspension design ensures an enjoyable
and agile ride.
THINK
SAFETY
With almost 150,000 sold, MP3 has become
a byword for fun and freedom of movement all
around the world. Its unrivalled combination of
top-class performance and the easy handling
and security of three wheels opens up a range
of possibilities, on the open road or in the
daily commute.
With its athletic 40bhp, four-valve engine and
multimap "ride-by-wire" system giving the
choice of Sport or Economy modes, the MP3
500 is a perfect match for any journey, while its
slim profile makes it the antidote to traffic jams.
THINK
FREEDOM
Riding an MP3 500 gives an
uninterrupted view of the road
ahead and of the automobile-style
instrumentation with all controls
close to hand, while the large
mirrors take care of what's behind.
Choose the Piaggio MP3 SPORT for its matt
paintwork, gloss black detailing, diamond finish
wheel rims and double fabric black seat…
…or the Piaggio MP3 BUSINESS if high-gloss
paint, grey detailing and a black seat is more
your style.
PIAGGIO MP3
SPORT
PIAGGIO MP3
BUSINESS
The style of the Piaggio MP3 500 is striking
and modern. Streamlined, dynamic bodywork
with a clear Piaggio family feeling, a contoured
tail with LED lights and a distinctive frontal
design incorporating parabolic reflector
headlights and 7-LED sidelights.
The dashboard and restyled handlebar
underline the quality of construction, while
the easy to read instrument binnacle features
a large LCD display showing information from
the on-board computer.
Every detail of the Piaggio MP3 500 is
designed with comfort and convenience in
mind: The countershield conceals an
enclosed glove compartment with a USB
socket for smartphones or other electronic
devices and the protective windscreen has
a smoked finish.
Maximum attention has been paid to
ergonomics with more room for the rider and
greater comfort for the passenger thanks to
the integrated backrest and pull-out footpegs.
The damper-assisted seat opens effortlessly
at the press of a button to reveal illuminated
storage for two full-face helmets, a 12v
power socket, anti-slip map and rainproof
seat cover.
NEW
DESIGN
PMP
PIAGGIO MULTIMEDIA PLATFORM
Your Piaggio MP3 500 can be ordered with
the accessory Piaggio PMP system, the first
mobile technology to expand your riding
experience, connecting you and your MP3
500 with a world of interactivity.
Using Bluetooth and a dedicated app, the
PMP platform lets you connect your iOS or
"Android®"* smartphone with the MP3's
sophisticated on-board electronics, putting
a host of new functions at your fingertips.
MORE
TECHNOLOGY
Parking problems are forgotten with the Piaggio
MP3 500, whose electronic roll-lock system
enables you to park the scooter anywhere*, without
having to use the stand. Just press a button on
the handlebar to activate the roll-lock system
and keep the Piaggio MP3 perfectly stable when
parked. The system automatically unlocks when
the scooter begins to move, or when you release the
lock button. If you stop on an incline, a lever on the
countershield activates the parking brake.
The lock system also means you can stop at
traffic lights without having to put your feet
on the ground.
The app enables your smartphone to
display the speedometer, rev counter,
spot engine power and torque, lean angle,
longitudinal acceleration, spot and average
fuel consumption, battery voltage and other
information, thanks to the virtual dashboard
function. In addition, the navi function
locates where you parked the scooter, or
provides directions to the closest fuel station
as you reach the reserve fuel level, or your
nearest Piaggio retailer. It even stores your
MP3 500 user and maintenance manuals
and documentation.
PMP provides other ways for you to get more
from your MP3 500, with the real-time tips
from the eco function that helps cut fuel
consumption and reduce emissions, while the
grip-warning function will alert you if the road
surface is slippery.
Finally, at the end of your ride, PMP stores
your trip data, for you to download and
analyse your riding style.
To find out more about Piaggio PMP, visit
www.multimediaplatform.piaggio.com
*subject to local parking regulations
* "Android®" is a Google Inc. brand
MP3 SPORT
MATT BLACK
"CARBONIO"
with black saddle
THINK
ORIGINAL
MP3 SPORT
MATT SILVER
"COMETA"
with black saddle
MP3 BUSINESS
METALLIC WHITE
"ICEBERG"
with black saddle
MP3 BUSINESS
METALLIC BLACK
"UNIVERSO"
with black saddle
PIAGGIO MP3 500 LT
Make your Piaggio MP3 500 stand out with original accessories
designed for comfort, style and technology:
•
•
•
•
•
•
•
•
•
•
•
•
•
•
•
•
•
•
•
•
Extra-large windscreen
Comfort gel seat
50 litre colour-coded topbox
37 litre colour-coded topbox
Tunnel bag
Thermoformed side paniers with bracket
Thermoformed rear bag with bracket
PMP (Piaggio Multimedia Platform)
Multimedia and GPS support
Piaggio Sound System
Aluminium rider footboard covers
Vehicle cover
Mittens
Leg cover
Leg cover heating kit
Heating accessories control unit kit
Heated handgrip kit
Seat-handlebar anti-theft clamp
Electronic anti-theft device
PJ helmet
Engine
Single cylinder, 4 stroke (SOHC)
Engine capacity
493 cc
Bore x stroke
94 mm x 71 mm
Power
29.5 kW (40.1 CV) at 7,250 rpm
Torque
45.5 Nm at 5,250 rpm
Fuel system
Electronic fuel injection with ride-by-wire electronic throttle valve management system and double maps (STD and ECO)
Cooling system
Liquid
Lubrication
Wet sump
Starter
Electric
Transmission
CVT automatic transmission
Clutch
Automatic centrifugal dry
Frame
Closed double cradle in high strength tubular steel
Front suspension
Articulated quadrilateral - stroke: 85 mm. Electro-hydraulic suspension locking system
Rear suspension
Two dual effect hydraulic shock absorbers, preload adjustable to four positions - stroke: 108 mm
Front brakes
Two 258 mm Ø discs
Rear brake
240 mm Ø disc
ABS/ASR system
Standard
Front rim wheels
Aluminium alloy 13" x 3.00
Rear rim wheel
Aluminium alloy 13" x 4.50
Front tyres
Tubeless 110 / 70-13"
Rear tyre
Tubeless 140 / 70-14''
Length / Width / Wheelbase
2,205 mm / 775 mm / 1,550 mm
Seat height
790 mm
Fuel tank capacity
12 litres (including 1.8 litres reserve)
Emissions compliance
Euro 2
YOUR LOCAL RETAILER
Piaggio reserves the right to modify technical specifications and visual appearance without prior notice. Only original Piaggio spare parts offer a guarantee of quality and
ensure that your vehicle continues to function as intended by the manufacturer. Piaggio reminds you to wear your helmet and to ride carefully at all times.
Please contact your Piaggio Retailer for availability and prices of accessories.
The PIAGGIO brand is registered trademark of Piaggio & C. S.p.A.