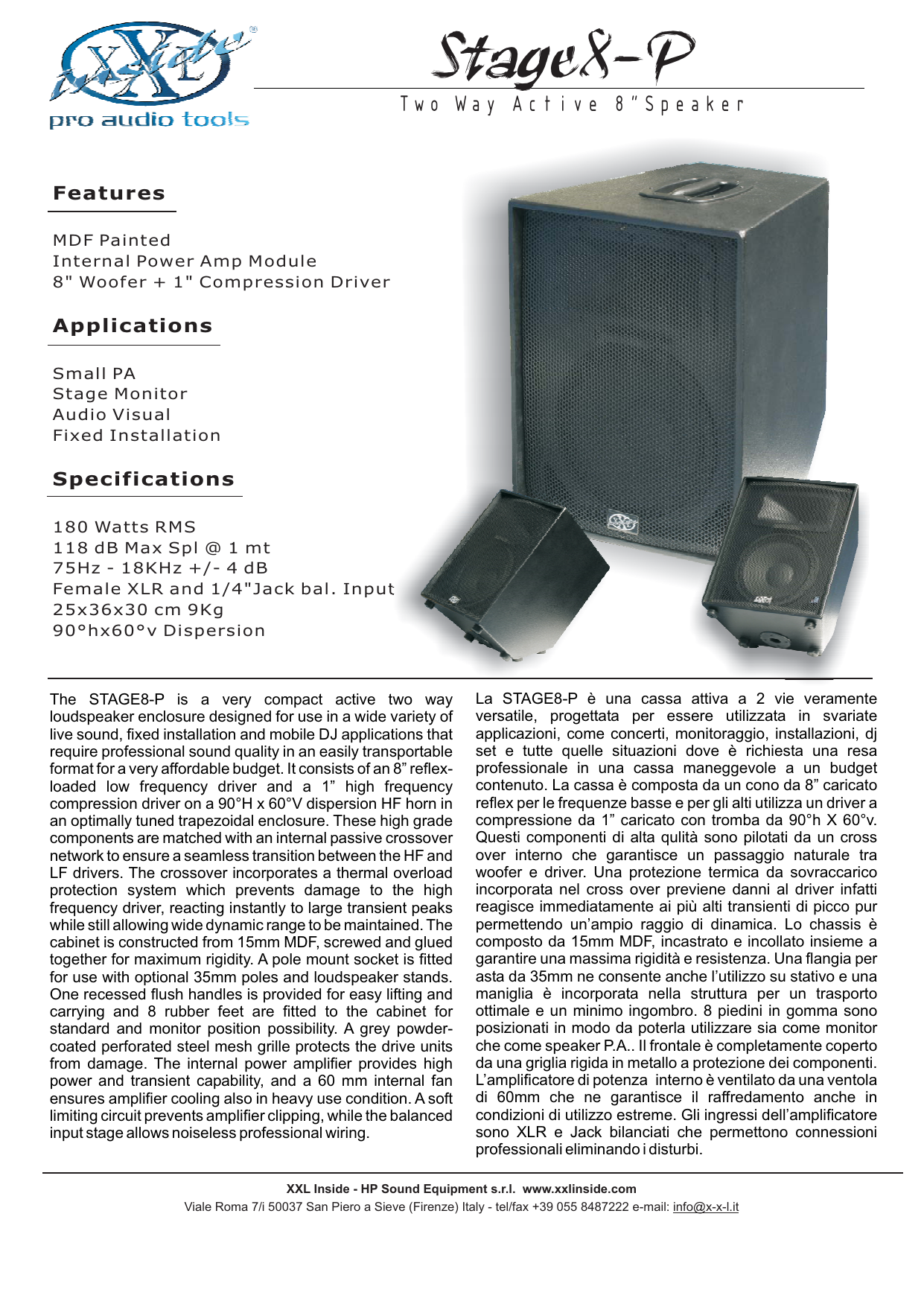 Stage8-P
Two Way Active 8"Speaker
Features
MDF Painted
Internal Power Amp Module
8" Woofer + 1" Compression Driver
Applications
Small PA
Stage Monitor
Audio Visual
Fixed Installation
Specifications
180 Watts RMS
118 dB Max Spl @ 1 mt
75Hz - 18KHz +/- 4 dB
Female XLR and 1/4"Jack bal. Input
25x36x30 cm 9Kg
90°hx60°v Dispersion
The STAGE8-P is a very compact active two way
loudspeaker enclosure designed for use in a wide variety of
live sound, fixed installation and mobile DJ applications that
require professional sound quality in an easily transportable
format for a very affordable budget. It consists of an 8" reflexloaded low frequency driver and a 1" high frequency
compression driver on a 90°H x 60°V dispersion HF horn in
an optimally tuned trapezoidal enclosure. These high grade
components are matched with an internal passive crossover
network to ensure a seamless transition between the HF and
LF drivers. The crossover incorporates a thermal overload
protection system which prevents damage to the high
frequency driver, reacting instantly to large transient peaks
while still allowing wide dynamic range to be maintained. The
cabinet is constructed from 15mm MDF, screwed and glued
together for maximum rigidity. A pole mount socket is fitted
for use with optional 35mm poles and loudspeaker stands.
One recessed flush handles is provided for easy lifting and
carrying and 8 rubber feet are fitted to the cabinet for
standard and monitor position possibility. A grey powdercoated perforated steel mesh grille protects the drive units
from damage. The internal power amplifier provides high
power and transient capability, and a 60 mm internal fan
ensures amplifier cooling also in heavy use condition. A soft
limiting circuit prevents amplifier clipping, while the balanced
input stage allows noiseless professional wiring.
La STAGE8-P è una cassa attiva a 2 vie veramente
versatile, progettata per essere utilizzata in svariate
applicazioni, come concerti, monitoraggio, installazioni, dj
set e tutte quelle situazioni dove è richiesta una resa
professionale in una cassa maneggevole a un budget
contenuto. La cassa è composta da un cono da 8" caricato
reflex per le frequenze basse e per gli alti utilizza un driver a
compressione da 1" caricato con tromba da 90°h X 60°v.
Questi componenti di alta qulità sono pilotati da un cross
over interno che garantisce un passaggio naturale tra
woofer e driver. Una protezione termica da sovraccarico
incorporata nel cross over previene danni al driver infatti
reagisce immediatamente ai più alti transienti di picco pur
permettendo un'ampio raggio di dinamica. Lo chassis è
composto da 15mm MDF, incastrato e incollato insieme a
garantire una massima rigidità e resistenza. Una flangia per
asta da 35mm ne consente anche l'utilizzo su stativo e una
maniglia è incorporata nella struttura per un trasporto
ottimale e un minimo ingombro. 8 piedini in gomma sono
posizionati in modo da poterla utilizzare sia come monitor
che come speaker P.A.. Il frontale è completamente coperto
da una griglia rigida in metallo a protezione dei componenti.
L'amplificatore di potenza interno è ventilato da una ventola
di 60mm che ne garantisce il raffredamento anche in
condizioni di utilizzo estreme. Gli ingressi dell'amplificatore
sono XLR e Jack bilanciati che permettono connessioni
professionali eliminando i disturbi.
XXL Inside - HP Sound Equipment s.r.l. www.xxlinside.com
Viale Roma 7/i 50037 San Piero a Sieve (Firenze) Italy - tel/fax +39 055 8487222 e-mail: [email protected]
Stage8-P
Two Way Active 8"Speaker
110
SPL
100
90
80
70
20
100
1000
10000
20000
Horizontal Beamwidth
360
300
Degrees between -6dB Points
Degrees between -6dB Points
Frequency (Hz)
200
100
90
80
70
60
50
40
30
20
10
20
100
1000
10000
Vertical Beamwidth
360
300
200
100
90
80
70
60
50
40
30
20
10
20000
20
100
1000
Frequency (Hz)
10000
20000
Frequency (Hz)
Technical Specifications
Acoustic
Power Handling
Max Power
Impedance
Operating Frequency Range
Frequency Range
SPL 1W/1mt
Maximum SPL
180 watt RMS 1
2
250 watt RMS
8 ohm
3
60 Hz - 20 KHz
4
75Hz-18 KHz +/-4 dB
5
95 dB
6
11 8 d B
Coverage
H o r i z o n ta l 9 0 ° ( a v e r a g e d o n n o m i n a l b a n d w i dt h )
Ve r t i c a l 6 0 ° ( a v e r a g e d o n n o m i n a l b a n d w i dt h )
Cross Over
Ty p e P a s s i v e 1 2 d B / o c t w i t h D r i v e r P r o t e c t i o n
Frequency 4 KHz7
Tr a n s d u c e r s
L o w F r e q u e n c y 8 " Wo o f e r w i t h C l o t h E d g e a n d 1 . 7 5 " Vo i c e C o i l
High Frequency 1" Compression Driver
Input
Connector Balanced female XLR and balance 1/4"Jack
W i r i n g T h e t w o c o n n e c t o r s a r e w i r e d i n pa r a l l e l m o d e , i t
is possible to use one of them as input and the
o t h e r a s pa r a l l e l o u t t o f e e d a n o t h e r a c t i v e
s p e a k e r.
Amplifier
Ty p e C l a s s A / B B r i d g e d
P o w e r 1 8 0 Wa t t R M S o n 8 o h m 8
P r o t e c t i o n s L i m i t e r, O v e r - c u r r e n t , o v e r - t h e m p . , s h o r t - c i r c .
AC Power
Operating Range 210 V AC - 240 V AC 50 Hz
Max Continuous and Burst Current 0.6 A (>10 sec.), 1.2 A (< 1sec.)
1.
Power handling is measured following AES standard conditions:
Transducers driven continuously for two hours with a
band-limitednoise signal having 6 dB of crest factor.
2.
Max power is the maximum applicable power for a musical
signal, the ref signal is the one proposed by EIAJ standard.
3.
Recommended maximum operating frequency range.
Response depends on loading conditions and room acoustics.
4.
Free field measured with 1/3 octave frequency resolution at 2
meters.
5.
Measured @ 4 mt then scaled @ 1 mt.
6.
Measured with audio source @ 1 meter.
7.
This is the frequency in which the transducers produce the same
sound pressure level (measured @ 2 meters).
8.
Amplifier wattage rating is based on the maximum unclipped
burst sine wave RMS voltage that the amplifier will produce into
the nominal load impedance .
New materials and design are introduced into existing products without previous notice.
Present systems may differ in some respects from those presented in this brochure.

* Your assessment is very important for improving the work of artificial intelligence, which forms the content of this project