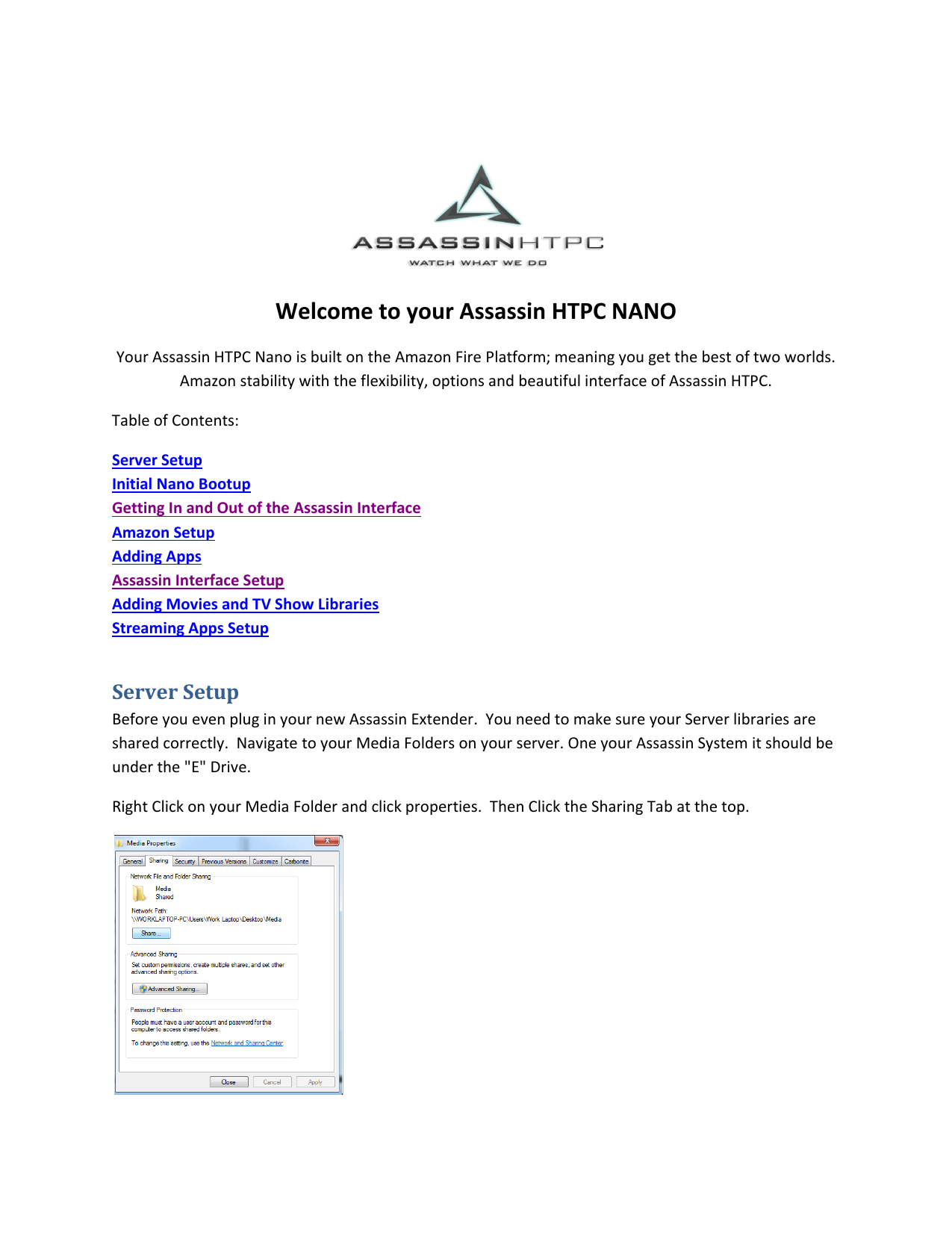 Welcome to your Assassin HTPC NANO
Your Assassin HTPC Nano is built on the Amazon Fire Platform; meaning you get the best of two worlds.
Amazon stability with the flexibility, options and beautiful interface of Assassin HTPC.
Table of Contents:
Server Setup
Initial Nano Bootup
Getting In and Out of the Assassin Interface
Amazon Setup
Adding Apps
Assassin Interface Setup
Adding Movies and TV Show Libraries
Streaming Apps Setup
Server Setup
Before you even plug in your new Assassin Extender. You need to make sure your Server libraries are
shared correctly. Navigate to your Media Folders on your server. One your Assassin System it should be
under the "E" Drive.
Right Click on your Media Folder and click properties. Then Click the Sharing Tab at the top.
Here you want to make sure its shared properly. Even if it says shared, it might not be shared correctly.
Click on the "Share" Button.
Then type in the word "everyone" and click Add.
It should add a new "people to share with" option.
We recommend giving the Permission level to Read/Write so you can delete media from your extender.
Next Click "Share"
Now your Movies and Media can be accessed from your extenders. If you are still having problems, click
on advanced sharing and review the settings to make sure they are all correct or click on the individual
folders of "Movies", "TV Shows", "Music" and "Pictures" to make sure they are all set to be shared as
well!
Initial Bootup of Your Nano
The Assassin Nano is set to launch into our Assassin HTPC interface automatically. It generally takes
about 15 seconds to load at which time you will see the Amazon home screen.



Getting In and Out of Your Assassin Interface
The Assassin Interface is set to auto-launch on startup. However you may find yourself needing to go
back into the Amazon home page for some reason and then want to get back into the Assassin interface.
This can be achieved 3 different ways:
1) Restart your Fire Stick and the Assassin interface should auto-launch (easiest).
2) Download the App called IkonoTV which Assassin uses to launch their interface. IkonoTV will open
the Assassin Interface and should stay in your apps and recent apps!
3) In you Amazon menu. Go to Settings --> Manage Apps, then click Kodi!
Remember to RESTART your Fire Stick, press and hold the
Middle Button and the Pause button for 5 seconds.
Amazon Setup
Once it launches completely the first time. We need to back out of it and go into the Amazon settings to
configure our Amazon account and network options. To do this:
1) Press the HOME button on the remote.
2) Navigate down to SETTINGS on the Amazon Home Screen
3) The Settings Screen has a variety of different settings we encourage you to look at. The 2 we are
concerned with now are "SYSTEM" and "MY ACCOUNT"
4) Click on SYSTEM and configure and connect to you wireless internet.
5)Next go to MY ACCOUNT. Here you will need to either create or log into your Amazon account.
You will actually get your apps through your Amazon account which is how it ties everything together.
6) Once you've connected your Amazon account you are ready to begin adding Apps.
Adding Apps
1) Navigate to the APPS menu on your Amazon home screen.
2) For this example we will install the PLEX App. Navigate to PLEX in Apps. and Download it.
3) If you receive the following error about purchase failure, you must follow the directions and log into
your Amazon account from a PC and set up 1-click account which is needed to download Amazon apps.
Most of the apps are free, but this is required anyway.
4) Now when you go into PLEX, you will see it has already connected with your PLEX Server installed on
your Assassin HTPC and started populating your library automatically.
5) Repeat these steps for Netflix, Hulu, Pandora, Spotify. You will need to download each one from the
app store, and log into each and set each one up. These can be launched in the future directly from the
Assassin HTPC interface and coming back to the Amazon Home screen will not be needed. If you don't
add these apps via Amazon the links on your Assassin HTPC main menu will not work.
SETTING UP YOUR ASSASSIN HTPC INTERFACE
After You've setup your Amazon Apps, they will automatically be linked to the menu's within your
Assassin interface, that will always launch 15 seconds after startup.
To Link your Assassin Nano to your Movie and TV Show libraries, simply add them as sources. If you
have never done this before, follow the below steps. This should already be setup if you have a previous
Assassin HTPC server but detailed walkthrough is below just in case.
Adding Movies and TV Shows
Adding Movies
1) Click on MOVIES menu from the main menu.
Your First Screen should look something like this because it's an empty library.
Press the  to go to the parent folder.
Press the  again to go back another parent folder
Click on FILES.
Click ADD VIDEOS.
Click BROWSE, and Browse to your Movies Folder(s) You can add multiple folders a this point so you pull
in movies from multiple drives, sites, etc).
You can either map your drive, or if you purchased an Assassin HTPC it should be done for you or you
should be able to easily navigate to it with your Windows Network (SMB) location.
Now Navigate to your Library location:
Once you have added all your Movie library folders, click ok. Then Set its Content to "Movies" and turn
off Scan Recursively and make sure movies are in separate folders is turned on. It should look like the
below:
Once you press OK. Click YES to have it refresh all the library items in its path.
Adding TV Shows
To add TV Shows, follow the same procedure. Click ADD VIDEOS, and navigate to your TV Shows folder.
Have the TV Show Settings look like the below (it should by default):
Now when you go to your Movies, you should begin to see your files populating. Remember, these
Extenders are not powered with i3 and i5 processors. They are not overclocked, etc. They are fantastic
and perfect for playing 1080p videos, but there is a reason they are inexpensive. So artwork etc. on
huge libraries may take some time, especially when initially adding several hundred movie folders. We
recommend using LIST view types as its least graphic and artwork intensive. Pulling libraries and
artworks of hundreds or thousands of movies can take awhile to perfect. You may even have to
manually go in and help some because it will begin caching the metadata.
The good news is, the movies should play quickly and flawlessly every time they are selected!
Remember to check the SETTINGS-->SYSTEM-->AUDIO to select your Audio
Output format and number of speakers (DD, 5.1, Stereo, etc!).
Customizing Assassin Streaming Apps
Many of the Assassin streaming Apps allow you to integrate streams into your Music and TV Show
Library. This means you can add a Movie and the Folder, Metadata, etc. will show up next to your other
movies in your Movies folder (it will just create a bookmark to the stream inside of it however). If you
purchased a server from us, this option should already be set up for you.
This is a very cool function and allows you to create a virtual library of movies, as well as keep up to date
on TV Shows. Some apps even let you "subscribe" to TV Shows and will bookmark new shows as they
are aired.
There are also a lot of different settings in these apps you can manipulate as well. For instance, you can
disable regular definition and HD definition streams. If you only wanted HD versions or if you didn't
have network bandwidth to hand HD you could limit the results to regular definition versions.
We encourage you to take a minute and browse through all the different streaming apps options. There
might be one option in one App that makes it better for your personal use!
Streaming Apps Setup:
1) Go to SYSTEM menu and then submenu ADD-ONS.
2) Go to ENABLED ADD-ONS and then VIDEO ADD-ONS.
3) You should see a list of all the streaming options we have enabled for you.
4) Click the Menu button on the remote and then go to configure.
5) Here is the back-end of the streaming apps where you can change library destination, download
destination, quality information, subtitle info, and much more.
6) Make sure you browse the setup of each streaming app and check out each ones different
configuration options. There might be a difference in one that makes it your favorite or best for you!