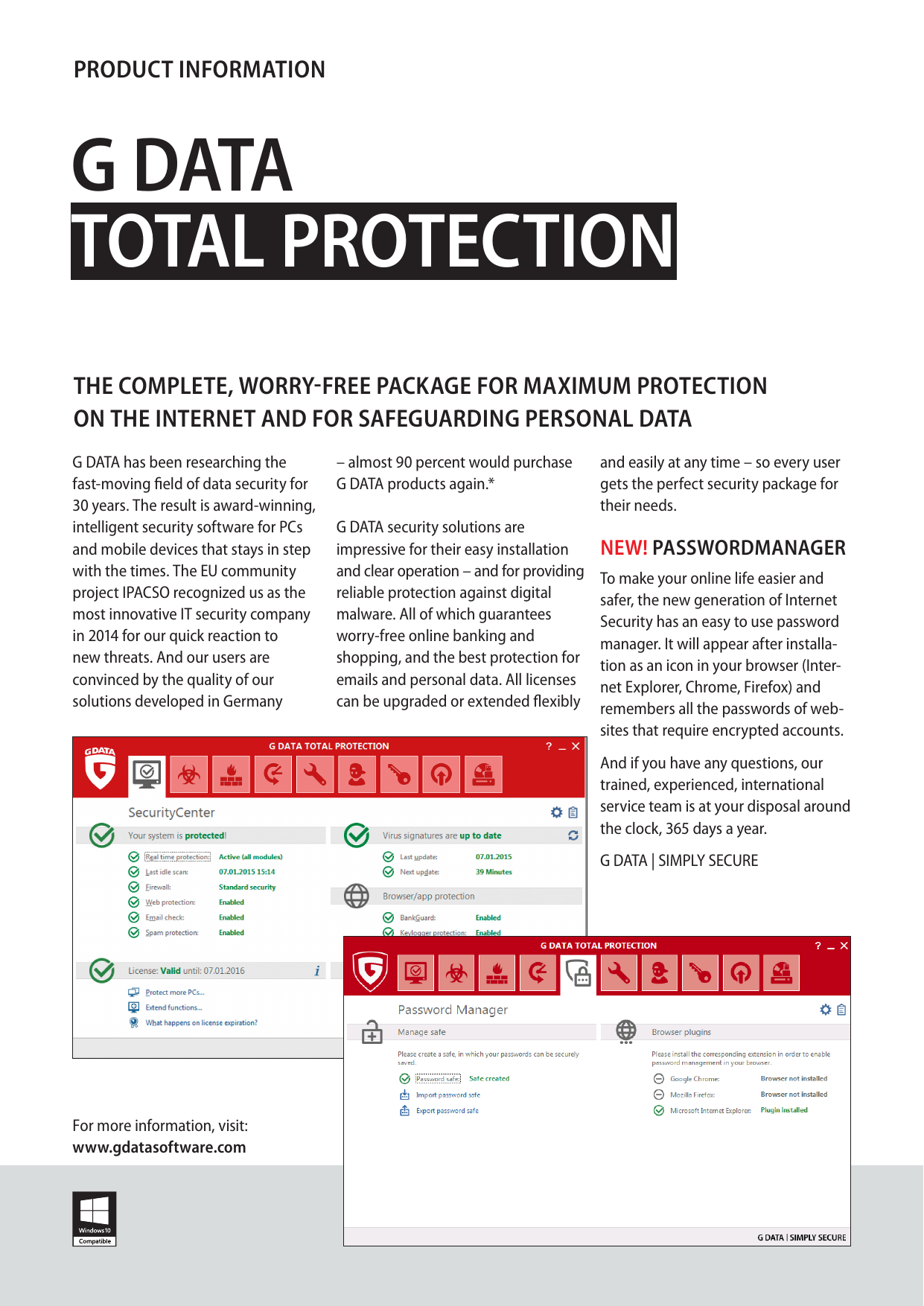 PRODUCT INFORMATION
G DATA
TOTAL PROTECTION
THE COMPLETE, WORRY-FREE PACKAGE FOR MAXIMUM PROTECTION
ON THE INTERNET AND FOR SAFEGUARDING PERSONAL DATA
G DATA has been researching the
fast-moving field of data security for
30 years. The result is award-winning,
intelligent security software for PCs
and mobile devices that stays in step
with the times. The EU community
project IPACSO recognized us as the
most innovative IT security company
in 2014 for our quick reaction to
new threats. And our users are
convinced by the quality of our
solutions developed in Germany
– almost 90 percent would purchase
G DATA products again.*
G DATA security solutions are
impressive for their easy installation
and clear operation – and for providing
reliable protection against digital
malware. All of which guarantees
worry-free online banking and
shopping, and the best protection for
emails and personal data. All licenses
can be upgraded or extended flexibly
and easily at any time – so every user
gets the perfect security package for
their needs.
NEW! PASSWORDMANAGER
To make your online life easier and
safer, the new generation of Internet
Security has an easy to use password
manager. It will appear after installation as an icon in your browser (Internet Explorer, Chrome, Firefox) and
remembers all the passwords of websites that require encrypted accounts.
And if you have any questions, our
trained, experienced, international
service team is at your disposal around
the clock, 365 days a year.
G DATA | SIMPLY SECURE
For more information, visit:
www.gdatasoftware.com
SIMPLY
SECURE
COMPREHENSIVE SECURITY FOR
DISCRIMINATING USERS
Best protection against
viruses and other online risks
Put your trust in the best virus detection**
that uses technologies working in parallel
Behavior monitoring of files
and programs
Benefit from proactive detection and Cloud
connection that protect you against even unknown
malware – now with autopilot for trouble-free
surfing and work
Instant protection
for your email
Scan even SSL-encrypted emails for malicious
attachments and other suspicious content as
soon as they are received
Protection against software
security vulnerabilities
Secure your computer reliably against security
holes in installed programs, with Exploit Protection
Secure online banking
and shopping
Use BankGuard technology and configurable
Keylogger Protection to protect yourself against
manipulation and data theft on the Internet
Protection against hacking
via a secure firewall
Monitor all incoming and outgoing connections and
reliably protect your PC against hackers and attacks
AntiSpam to block
advertisement and phishing
emails
Use email and spam protection to block annoying
spam email and put your trust in filtered email with
no dangerous phishing links
Protection for your children
with age-appropriate surfing
Keep your children away from inappropriate
websites and prevent excessive surfing and gaming
by time limiting computer and Internet use
Browser Cleaner to block
annoying add-on programs
Remove unwanted toolbars and add-ons from
Internet Explorer, Firefox and Chrome
Secure backups in the Cloud
Set up password-protected back-ups and back up
your files to the Cloud automatically (e.g. in your
Dropbox or using Google Drive)
Access control for USB sticks,
hard disks etc.
Specify who is allowed to use USB sticks, burners
and other devices on your PC
Protection against
manipulated USB devices
Use the USB Keyboard Guard to protect yourself
against USB devices that pretend to be keyboards
Protect your data via strong
encryption
Password protect confidential information and files
against unauthorized access
Increased performance with
the integrated tuner
Delete outdated cache entries and other clutter
and gain significantly more performance
System requirements
Windows 10 / 8.x / 7:
min. 2 GB RAM (32 bit + 64 bit)
Customized update
management
Specify which network connections can be used
for updates – and prevent unnecessary costs from
UMTS and LTE connections
* Representative survey of 514 customers between
November 2012 and January 2013.
NEW! PASSWORDMANAGER
No more cheat sheets and weak passwords. With
the new Password Manager you now have access
at any time to the Internet passwords you use
** "Best virus detection" in every Stiftung
Warentest comparison test from 2005-2015.
Tested version: G DATA Internet Security
Backup
Easily create password-protected backups or back
up your data automatically in the cloud
CloseGap, © 2013-16 G DATA Software AG.
Microsoft®, Windows®, Windows® 10, Windows® 8 and
Windows® 7 are either registered trademarks or trademarks
of Microsoft Corporation in the United States and/or other
countries.
GDRTP25.2 EN FactSheet #59123 • 0015060716 • Subject to modification, errors and printing errors.
Includes one 12-month license with hourly virus
signature updates, software updates, and version
upgrades.

* Your assessment is very important for improving the work of artificial intelligence, which forms the content of this project