2005 Bio401: Applied Plant Science Cookbook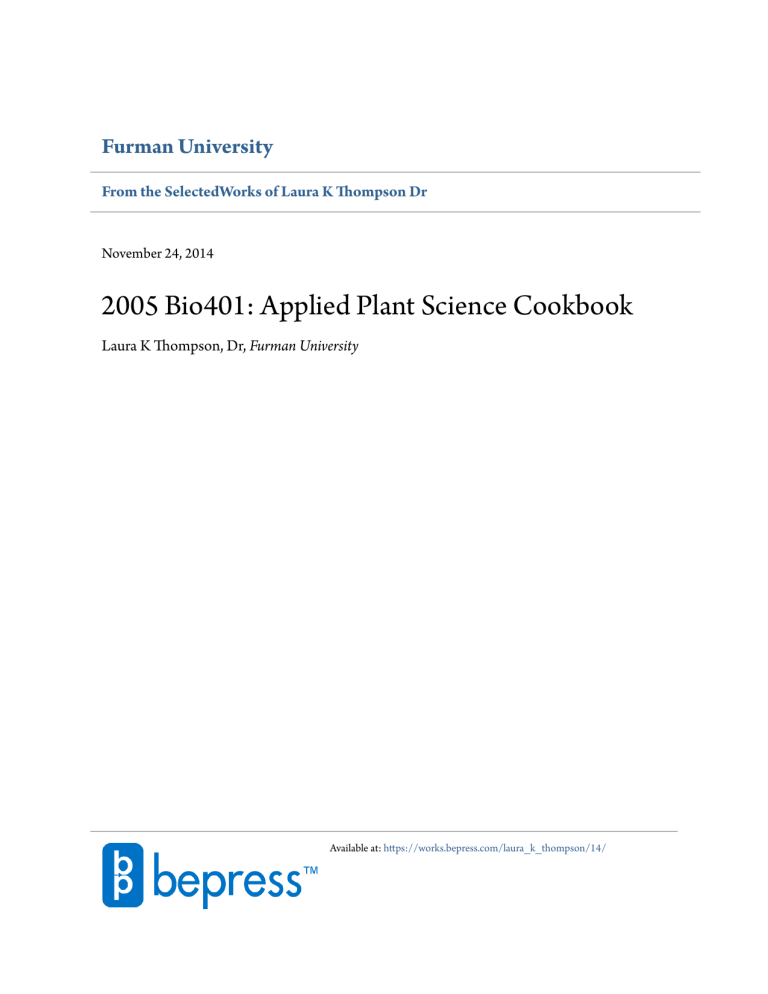 Furman University
From the SelectedWorks of Laura K Thompson Dr
November 24, 2014
2005 Bio401: Applied Plant Science Cookbook
Laura K Thompson, Dr, Furman University
Available at: https://works.bepress.com/laura_k_thompson/14/
Plant ABC's
Applied Plant Science
Cookbook
2005
Drinks
Quinine (Tonic) Water
Carbonated water
Sugar
Quinine
Often flavored with fruit extracts
Mix carbonated water with sugar, quinine and fruit extracts to taste.
Lemonade
1 capful of Country Time Lemonade powder
2 quarts of water
Ice
Slices of lemon
Pour capful of Country Time lemonade powder into a large pitcher. Add 2 quarts of water and stir thoroughly, until all of the powder has dissolved. Add ice to chill. Keep refrigerated until ready to serve. Add lemon slices for aesthetic highlight.
Salads and Sides
Banana Bread
1 ½ cups flour
¾ cup Grape-Nuts cereal
1/3 cup sugar
½ cup raisins
1 teaspoon baking powder
¼ teaspoon baking soda
¼ teaspoon salt
2 egg whites
1 cup mashed banana
½ cup plain nonfat yogurt
¼ cup vegetable oil
2 teaspoons vanilla
Preheat oven to 350ºF. In a large bowl, combine the flour, Grape-Nuts, sugar, raisins, baking powder, baking soda and salt. In another bowl, beat the egg whites until they are forthy, and combine them with the mashed bananas, yogurt, oil, and vanilla. Add the banana mixture to the dry ingredients, stirring the two until the dry ingredients are just moistened. Lightly oil an 8 ½ x 4 ½ x 3 inch loaf pan with vegetable oil. Pour in the batter. Bake the bread for 40-45 minutes or until a wooden toothpick inserted into the center comes out clean.
Downtown Salad
Romaine lettuce
Slivered red cabbage slices
Fresh spinach
Avocado slices
Tomato slices
Shredded carrots
Bell pepper slices
Sliced celery
Red Onion rings
Sliced Mushrooms
Choose your favorite ingredients and then add your favorite dressing!
French Potato Salad
2 pounds red or other waxy potatoes
6 tablespoons red wine vinegar
½ red onion
2 tablespoons minced parsley
2 tablespoons drained capers
1 tablespoon whole-grain mustard
6 tablespoons olive oil
Salt and ground black pepper to taste
Bring to a boil in a large pot with enough salted cold water to cover the potatoes. Reduce the heat and simmer, uncovered, until the potatoes are tender when pierced with a fork,
20 to 25 minutes. Drain, peel if desired, and cut into bite-sized pieces. Place in a medium bowl while still warm. Whisk together in a small bowl all of the remaining ingredients. Add in olive oil a slowly, whisking constantly. Pour the dressing over the potatoes, toss gently to combine, and serve warm, at room temperature, or chilled.
Greek Salad
1 green pepper, sliced
1 red pepper, sliced
1 yellow pepper, sliced
1 unpeeled cucumber, sliced
2 Tbl lemon juice
3 Tbl red wine vinegar
¼ tsp. Dried oregano
½ brick (4 oz) feta cheese
Mix peppers and cucumber in bowl. Add lemon juice, vinegar, and oregano. Mix well.
Cover and marinate. Toss well before serving and top with crumbled feta cheese.
Honeydew Melon Fruit Salad
1 ripe honeydew melon
1 crate of strawberries
3 large apples (red, yellow, or green – your choice)
*any other fruits you like
Cut up fruit into small pieces (about 1 cm
3
size). Combine all fruits into a large bowl and serve fresh.
Italian Cucumber and Tomato Salad
4 Italian cucumbers
3 Italian (Roma) tomatoes
1 large bottle Italian dressing
Peel and slice cucumbers. Slice and de-gut tomatoes. Add both together with the Italian dressing in large bowl. Let soak for seasoning and refrigerate.
Roasted Red Potatoes
2 pounds red potatoes
1 packet of seasoning mix
Bring enough water to a boil as is needed to cover all of the potatoes. Boil until tender.
Remover from heat and drain. Slice potatoes into bite sized pieces. Add seasoning mix, and bake in oven according to instructions on the packet.
Sautéed Mushrooms
2 packages sliced, fresh mushrooms
1 stick of butter
Garlic salt to taste
In a large skillet or stir fry pan, melt one stick of butter. Add mushrooms and sprinkle with garlic salt. Allow to simmer until mushrooms are slightly darker.
Ugli Fruit with Fruit Dip
Peel Ugli fruit and separate into sections.
Fruit Dip
1 (3.4 oz) package Instant vanilla pudding mix
1 (8 oz) container frozen whipped topping, thawed
1 (8 oz) package Cream cheese, softened
1 cup confectioner's sugar
1 cup milk
In a medium bowl, mix together the vanilla pudding mix, frozen whipped topping, cream cheese, confectioner's sugar, and milk. Serve chilled.
Yeast Rolls
1 pkg. Rapid Rise yeast
¾ cup warm water (105 to 115˚F)
½ tsp. salt
2 ½ to 2 ¾ cup flour
2 tbsp. sugar
2 tbsp. oil
1 egg butter, softened
Dissolve yeast in water in a bowl. Add sugar, oil, salt, and egg. Stir to dissolve sugar and salt. Stir in 1 cup flour until smooth. Cover with cloth and place on rack over bowl of hot water in the oven after turning on warm for about a minute. Let rise 15 minutes.
Grease square pan, 9 x 9 x 2 inch. Stir down batter and add 1 ½ cups flour. Stir until mixed, about 3 minutes. If sticky, knead in ¼ cup flour. Divide dough into 16 balls.
Cover with cloth and place on rack over bowl of hot water for 25 minutes. Heat oven to
425˚F. Bake 12 to 15 minutes. Brush tops with butter and serve warm.
Main Dishes
Eggplant Parmesan
2 small eggplants
1 26 oz. jar pasta sauce
2 cups shredded Mozzarella cheese
½ cup Parmesan cheese
Spaghetti noodles
Preheat oven to 350 degrees. Peel eggplants and cut horizontally into 1-inch slices.
Rinse under cold running water and pat dry with paper towels. Steam for 3 to 4 minutes. Coat a 9 x 13 x 2-inch baking pan with cooking spray. Cover the bottom of the baking pan with pasta sauce. Place eggplant slices on top of sauce. Spoon remaining sauce over. Top with Parmesan cheese and Mozzarella cheese. Bake for 30 minutes or until eggplant is tender and cheese is bubbly. Serve with a side of spaghetti.
Serves 6.
Lemon and Parmesan Capellini with Herb Bread
½ whole wheat stick (Italian-style bread)
¼ cup butter, softened
1 garlic clove, crushed
2 tbsp chopped fresh herbs
8 oz dried or fresh capellini
1 cup light cream
3 oz Parmesan, grated finely grated rind of one lemon salt and freshly ground pepper
Preheat the oven to 400°F. Cut the whole wheat stick into thick slices. Put the butter in a bowl and beat with garlic and herbs. Spread thickly over each slice of bread.
Reassemble the stick. Wrap in foil. Support on a baking sheet, and bake for 10 minutes.
Meanwhile, bring a large pan of water to a boil, and cool the pasta until just tender.
Dried pasta will take 10-12 minutes; fresh pasta will be ready in 2-3 minutes. Pour cream into another pan, and bring to a boil. Stir in the Parmesan and lemon rind. The sauce should thicken in about 30 seconds. Drain the pasta, return it to the pan and toss with the sauce. Season to taste and sprinkle with a little chopped fresh parsley and grated lemon rind, if desired. Serve with the hot herb bread.
Navy Bean Soup
2 cups cooked navy beans with liquid
½ cup diced celery
¾ cup diced carrot
¾ cup diced onion
1 teaspoon smoke
¼ teaspoon black pepper
1 teaspoon granulated garlic
3 cups water
1 small diced tomato
½ cup white flour
½ cup vegetable oil
Salt to taste
Boil the vegetables in the 3 cups of water. Add the beans. Mix the flour and oil together and crumble the mixture into the boiling soup while stirring briskly.
Pasta with Zucchini and Basil
1 pound spaghetti
4 teaspoons olive oil
8 cloves of finely chopped garlic
4 small zucchini
1 teaspoon dried basil
8 teaspoons fresh lemon juice
Grated Parmesan cheese
Salt and pepper to taste
Bring a covered pot of water to a rapid boil. Stir in the pasta and cover the pot until the water returns to a boil. Uncover and cook until the pasta is al dente.
While the pasta cooks, heat the oil in a medium skillet over medium-high heat. Add the garlic, zucchini, and basil. Sprinkle lightly with salt and pepper. Quickly fry until the zucchini begins to brown. Add the lemon juice and stir. Remove from heat.
When the pasta is done, drain it. Place hot pasta on a warm plate, top with zucchini and grated Parmesan cheese.
Vegetable Potpie
2 medium red onions
3 medium carrots
3 parsnips
1 celery root
1 butternut squash (peeled)
1 acorn squash (peeled)
8 ounces Portobello mushrooms
4 tablespoons olive oil
4 tablespoons unsalted butter
4 cups of vegetable stock
Heat olive oil and butter in a large skillet over medium high heat. Cook all vegetables separately until brown in the skillet. Transfer them to a large bowl and season to taste with salt and ground black pepper. Preheat oven to 400º. Mix all of the vegetables, and transfer them into a 13 x 9 inch baking dish, and spread evenly in one layer. Pour over the vegetables the four cups of vegetable stock. Cover the dish and bake until the vegetables are just tender when pierced with the tip of a sharp knife (30-45 minutes).
While the vegetables bake, prepare the biscuit crust. Whisk together thoroughly in a large bowl:
2 cups all-purpose flour
2 ½ teaspoons baking powder
½ to ¾ teaspoon salt 5-6 tablespoons cold unsalted butter, cut into pieces
Cut in the butter with 2 knives or a pastry blender, tossing the pieces with the flour mixture to coat and separate them as you work. Do not allow the butter to melt or form a paste with the flour. Add all at once:
¾ cup heavy cream
¾ cup grated Cheddar cheese
2 teaspoons minced garlic
¼ teaspoon cracked black pepper
Mix with a rubber spatula until most of the dry ingredients are moistened. With a lightly floured hand, gather the dough into a ball and knead it gently against the sides and bottom of the bowl 5 to 10 times, turning and pressing any loose pieces into the dough each time until they adhere and the bowl is fairly clean. Set aside. After the vegetables have cooked for 30 to 45 minutes, uncover the dish and spoon dollops of biscuit dough over the vegetables. Continue baking until the biscuits are browned, 20 to 25 minutes more. Remove from the oven, let stand for 10 minutes, and serve.
Daikon Pickle Sushi Rolls (
Oshinko Maki
)
Ingredients: 1/2 sheet nori (7" long x 4" wide)
6 tablespoons sushi rice*
7" long 1/2" wide picked daikon (Takuwan)
Pinch of toasted sesame seeds
1. Place the nori on a sushi mat. Moisten hands with a mixture of water and vinegar and flatten the rice on top, leaving 1/2" from the bottom and sides. Place the pickled daikon in the middle of the rice. Sprinkle on the toasted sesame seeds.
2. Now place your thumbs under the bottom of the sushi mat, and use the remaining fingers to hold the filling in place. Bring the mat up to cover the filling, leaving 1" from the top edge of the nori, and enclose the roll. Press firmly with fingers to tighten the roll, and then raise the cover and bring forward slightly. Now close again over the entire roll firmly and remove the cover. (This seals the edge.) Slice the roll in half and slice each half into 3 pieces.
3. Arrange sushi on a serving platter with wasabi and ginger.
*For sushi rice: Use Japanese short-grain (sushi) rice. Mix equal amounts of rice and water in a heavy- bottomed pot and soak for 30 minutes. Cover with a tight-fitting lid and bring to a boil. Keep cooking on high heat for 15 minutes with lid on. Decrease to low heat and cook covered for 10 minutes. Remove from heat, remove lid, and let sit undisturbed for 5 minutes. Transfer the hot rice to a large shallow bowl, discarding any hard grains around the sides or bottom. Pour sushi vinegar
(1/2 cups per 4 cups dry rice) over rice and begin to cool down the rice by hand or with an electric fan on medium speed. Use a wooden paddle to gently stir rice during cooling. When rice reaches room temperature, it should have a nice sheen and be only slightly sticky.
Pan-Seared Tofu in Orange Peanut Sauce
Yield: Serves 4
Ingredients: 2 Tbsp canola oil
1 lb extra-firm tofu
1 bunch scallions (green onions)
1 cup orange juice
1 packet Thai peanut sauce mix* (about 100 g)
1 cup cherry tomatoes, halved
Jasmine rice
4. Drain tofu. Cut the block horizontally into 3 slices.
5. Place each slice on a double thickness of paper towel. Cover with a double thickness of paper towel and press firmly with hands until most of the water is absorbed.
Change paper towels in between presses.
6. Cut each slice into 4 rows. Cut each row into bite size pieces.
7. Heat oil in a large skillet over medium high heat.
8. Add the tofu to the skillet, allowing enough space between pieces so that each can be turned over. Pieces should brown but not steam. Sear in two batches, pressing gently with the back of a spatula. When both sides of pieces are golden brown, remove from skillet and drain on a paper towel. Pat the tops of tofu pieces to remove excess oil.
9. While the tofu is browning, slice the scallions into thin rounds, reserving 2 tablespoons of the darkest green for garnish.
10. In the same skillet, add another teaspoon of oil if necessary and sauté scallions
1 to 2 minutes. Add orange juice and peanut sauce mix and bring to a boil.
Decrease heat and simmer for 1 minute.
11. Add tofu and tomatoes to liquid, stirring gently to coat with sauce and heat through.
12. Serve over jasmine rice and garnish with reserved scallions.
*Peanut sauce used was A Taste of Thai brand. The mix consisted of the following ingredients: sugar, peanuts, spices (red bell pepper, lemon grass, kaffir lime leaves, shallott), dextrose, salt, hydrolyzed soybean protein, corn starch, tri-calcium phosphate, and malic acid.
Desserts
Apple Pie
1 recipe pasty for a 9-inch double crust pie
½ cup unsalted butter
3 tbsp. all-purpose flour
¼ cup water
½ cup white sugar
½ cup packed brown sugar
8 Granny Smith apples, peeled, cored, and sliced
Preheat oven to 425˚F. Melt the butter in a saucepan. Stir in flour to form a paste.
Add water, white sugar, and brown sugar, and bring to a boil. Reduce the temperature and let simmer.
Place the bottom crust in your pan. Fill with apples, mounded slightly. Cover with a latticework of crust. Gently pour the sugar and butter liquid over the crust. Pour slowly so that it does not run off.
Bake 15 minutes in the preheated oven. Reduce the temperature to 350˚F. Continue baking for 35-45 minutes, until apples are soft.
Jello
2 boxes jell-o mix
4 cups boiling water
Bring water to a boil. Add in jell-o mix. Mix well, then quickly pour into bowl. Place in fridge until solidified.
Pina Colada Bread Pudding
4 cups skim milk
1/4 cup cornstarch
1/3 cup firmly packed brown sugar
1 ts vanilla extract
1ts coconut extract
8 slices whole wheat bread, cut into cubes
1 one-lb can cruched pineapple, drained
2 ts shredded coconut, unsweetened (optional)
Combine milk, cornstarch, and brown sugar. Mix will to dissolve cornstarch. Cook over medium heat stirring constantly until mixture comes to a boil. Continue to cook and stir for two minutes. Remove from heat and stir in extracts. Add bread cubes and pineapple. Mix gently and thoroughly. Spoon into baking dish. Sprinkle with coconut.
Cover and chill. Serves 8.
Meringue-Topped Southern Banana Pudding
Prep Time: 20 min
Total Time: 45 min
Makes: 12 servings, 2/3-cup each
Ingredients:
4-1/2 cups milk
2 pkg. (4-serving size each) JELL-O Vanilla Flavor Cook & Serve Pudding & Pie Filling
3 eggs, separated
42 NILLA Wafers (1/2 of 12-oz. pkg.)
2 large bananas, sliced
Dash cream of tartar
1/3 cup sugar
Preparation:
ADD milk to pudding mix in medium saucepan; stir until well blended. Lightly beat egg yolks in small bowl. Add to milk mixture; mix well. Cook on medium heat until mixture comes to full boil, stirring constantly. Remove from heat.
ARRANGE layer of wafers on bottom and up side of 2-quart baking dish. Top with layers of 1/3 of the pudding and 1/2 of the banana slices. Repeat layers, ending with remaining pudding.
BEAT egg whites and cream of tartar in medium bowl with electric mixer on high speed until foamy. Gradually add sugar, beating until stiff peaks form. Spread over pudding, sealing to edge of dish.
BAKE at 350°F for 15 minutes or until meringue is browned. Cool on wire rack. Serve warm or refrigerate until ready to serve. Store leftover pudding in refrigerator.
Our Favorite Recipes
Potato Salad
8 Russet potatoes
4 eggs, boiled
2 stalks celery, chopped
¼ cup dill pickle relish
¼ cup chopped Vidalia onion or just use onion salt
1 cup Duke's mayonnaise
1 Tbs mustard salt and pepper paprika
Boil potatoes. After they cool, peel the skin and cut the potatoes in small cubes. Salt and pepper the potatoes to taste. Boil eggs and after they have cooled, peel them and chop them up, salt and pepper these as well. Add together in large bowl. Then add chopped celery and dill pickle relish and onion or onion salt. Mix all of this together with
Duke's mayonnaise and mustard. After all mixed, taste for more salt. Sprinkle with paprika.
~ Allison Carpenter
Sagaponack Corn Bread Casserole
3 tablespoons unsalted butter
1 medium onion, chopped
2 extra-large eggs
3 cups creamed corn
½ cup flour
2 cups corn muffin mix
1 ½ cups sour cream
2 ½ cups grated cheddar cheese
Preheat the oven to 400°F. Melt the butter in a skillet and sauté the onion until translucent.
In a mixing bowl combine the eggs, corn, flour, and muffin mix. Mix well. Add the sautéed onion and mix again. Pour the batter into a well-greased 8 by 11inch baking dish. Tap to make sure the batter is level, and then spread the sour cream on top. Sprinkle the grated cheddar cheese on top of the sour cream.
Bake for 25 minutes in the preheated oven. Reduce the temperature to 350 degrees and bake for an additional 25 minutes or until the casserole feels firm in the center.
Advance preparation: can be prepared 2 days ahead. Cover and refrigerate.
Bring to room temperature before reheating. The casserole freezes well.
This is a recipe that originated from my mother's hometown in Long Island, New
York. Whenever I eat this particular dish, I think of Thanksgiving and Christmas because my family always makes sure this is on the menu during the holidays.
Cassie Skitt
Chicken and Wild Rice Casserole
2 (6.2-oz) pkgs fast-cooking long-grain & wild rice mix
¼ cup butter or margarine
2 med onions, chopped
4 celery ribs, chopped
2 (8-oz) cans sliced water chestnuts, drained
5 cups chopped cooked chicken
4 cups (1 lb) shredded cheddar cheese, divided
2 (10-3/4-oz) cans cream of mushroom soup, undiluted
2 (8-oz) containers sour cream
1 cup milk
½ tsp salt
½ tsp pepper
½ cup soft breadcrumbs (optional)
Prepare rice according to pkg directions; set aside.
Melt butter in a large skillet over med heat; add onion, celery, and water chestnuts. Saute 10 minutes or until tender.
Stir in rice, chicken, 3 cups cheese, and next 5 ingred; spoon mixture into a lightly greased 15 x 10 inch baking dish or a 4-qt casserole. Top with breadcrumbs, if desired.
Bake casserole at 350 degrees for 30 minutes. Sprinkle with remaining 1cup cheese, and bake 5 more minutes.
Yield: 6 – 8 servings. (I think it is a good bit more than that)
Prep: 30 min., Bake: 35 min.
NOTE: Casserole may be frozen up to 1 month. Let stand at room temp 1 hour. Bake, covered, at 350 degrees for
30 minutes, Uncover and bake 55 more minutes. Sprinkle with cheese and bake 5 more minutes.
This is one of my favorite recipes because it reminds me of having pre-game meals during soccer season. My mom always goes over the top for me and whatever I'm doing, and this reminds me of that and all the hard work she puts into everything for me.
Lauren Fincher
Broccoli Rice Casserole
1 box of chopped frozen broccoli
1 can condensed soup (cream of chicken or mushroom or celery or cheese...I usually use the mushroom or chicken)
1 (soup) can of water
1 chopped onion
1 t. salt
1 c. rice (INSTANT....Minute Rice)
Mix together and then add Cheese Whiz on top
Bake 1 hour at 325.
I put the broccoli in a casserole dish and mix the other stuff up in a bowl and then pour it over the broccoli...mixing it together. Over time.... I have started mixing some of the cheese whiz into the soup/rice mixture, reducing the amount of salt and then putting only about half of the cheese whiz on top. It gets too brown for my taste. After the hour is up....I stir the cheese whiz a little and then add some more and let it melt over the top.
If you need a large serving.... like for Christmas Dinner or Family reunions... .you just double the recipe. It still bakes for an hour.
Pork Chops and Wine
6 pork chops
1 Tablespoon shortening
3 Tablespoons minced onion
1 Tablespoon prepared mustard
1 Tablespoon Worcestershire sauce
1 cup beef bouillon
1/2 c. dry wine (they have cooking wine at Publix, Kroger...seems like it is near the soup area)
1/2 bay leaf
1/2 teaspoon salt
1/8 teaspoon pepper
1 Tablespoon cornstarch
Water
Brown chops in hot shortening. When well browned add onion, mustard, Worcestershire, bouillon, wine, bay leaf, salt and pepper. Cover and simmer for 1 hour or until chops are tender. Discard bay leaf.
Taste and adjust seasoning. Remove chops from pan. Add cornstarch mixed with a little water in liquid in pan and stir until smooth. Serve gravy over chops. Serves 6.
I mix the mustard, worcestershire....etc all together in a tupperware mixing bowl and then poor it over the browned chops. Drain a little of the grease off the chops before pouring the mixture. Not all of it....but just enough so it isn't so greasy.
These two are special to me because they make up the dinner my mom makes every time I come home.
She calles it her "My Baby is Home" dinner. This is major comfort food for me. I feel like I've been at home. Plus, it tastes awesome.
Susan Braik
Yam Town
Combine:
3 cans sweet potatoes (Bush)
2 eggs beaten
1/2 cup milk
1 cup sugar
3/4 stick oleo melted
1 ts vanilla
1/2 ts salt
1 ts cinnamon
Pour into ungreased dish (9 by 13)
For the topping, mix:
1/2 stick oleo melted
1 cup dark brown sugar
1/3 cup flour
1 cup pecans
Crumble toppings over the dish. Cook for 40 minutes at 350F
It's the dish I've helped my mom make for Christmas and Thanksgiving since I was 10.
Leigh Hughes
1 lb. sausage (mild or hot)
6 eggs
2 cups milk
Sausage-Egg Casserole
1 cup grated sharp cheddar cheese
3 slices bread, cubed
1 teaspoon dry mustard
1 teaspoon salt
Brown the sausage; drain. Beat the eggs with the milk, salt and mustard. Place the bread in the bottom of a 9x13 inch buttered casserole. Crumble the sausage over the bread, then top with the cheese. Pour the egg mixture over all. Refrigerate overnight. Bake for
30 to 40 minutes at 350 degrees. Serves 8.
*Hint: Serve this on Christmas morning with coffee cake, waffles or monkey bread; great because you make it the night before so you can enjoy the Christmas morning fun!
Monkey Bread
1 3/4 cups sugar
3 teaspoons cinnamon
3 cans biscuits (8 to 10 per can)
3/4 cup butter, melted
Preheat oven to 350 degrees. Place 3/4 cup sugar and 1 1/2 teaspoons cinnamon in a large zip-lock bag; seal the top and shake to mix. Cut the biscuits in fourths and add to the sugar mixture. Seal the bag and shake to coat the biscuits. Grease a Bundt pan and place biscuits in the pan. Add 1 cup sugar and 1 1/2 teaspoons cinnamon to melted butter. Stir and drizzle over biscuit mixture. Bake at 350 degrees for 45 minutes. After
10 minutes, invert onto serving plate. Pull apart with hands or cut into slices.
Yield: 12 servings
My mom, sister, and I make these two dishes for Christmas morning breakfast every year. It is one of my favorite Christmas traditions.
– Meredith Holley
Oreo Cheesecake
Crust: 1 cup crushed oreos(about 13 cookies)
Filling: 4 pkg. (8 oz) cream cheese, softened
1 cup sugar
1 tsp vanilla
4 eggs
20 oreos, quartered
Crust: Press cookie crumbs onto bottom of 9-in springform pan
Filling: Mix cream cheese, sugar and vanilla with mixer on med speed until well blended. Add eggs, mixing on low speed just until blended. Gently stir in 1 ½ cups of the quartered oreos. Pour over crust. Sprinkle with remaining quartered cookies.
Bake at 325deg for 1 hour 5 minutes or until center is almost set. Cool in pan to room temperature, then refrigerate overnight before serving. Makes about 12 servings.
Jonathan Davis
Raspberry Meringue Pie
2 packages of frozen raspberries (10 oz.)
3-4 egg whites (more if large pan)
1/8 teasp. cream of tartar
1 teasp. white vinegar dash of salt
3/4 cup sugar
1 teasp, vanilla
1/2 pint whipping cream
Beat egg whites until stand in peaks, then add cream of tartar, vinegar, and salt. Then gradually add sugar and vanilla, beating until good and stiff. Put into well greased pie pan and bake 1 hour at 300 degrees. Turn off oven and let the pie remain in the oven 1 more hour to dry out.
Filling: Take berries and melt over low heat in a sauce pan. Bring to a rolling boil stirring constantly. Make a "paste" with a heaping tablespoon of cornstarch and a little water, and add to the boiling berries. Continue stirring as this thickens quickly. Remove pan from heat and let this cool. (Stir a few times as it cools.)
After berries and pie shell are completely cooled, whip the whipping cream until slightly stiff. Add a teaspoon of vanilla and a tablespoon of sugar, continue whipping till stiff.
Pour the berries into the pie shell and top with the whipping cream. Put in the refrigerator until serving.
Kristin Arnold
Broccoli Casserole
1 crown of broccoli, chopped and washed
Cream of chicken soup, 1 can
~2 cups of rice, cooked and drained
Onion, chopped (as much as you'd like)
~ 2 tbsp. Butter
1 cup of milk
Cheddar cheese, grated (as much as you'd like)
Preheat oven to 350

. In skillet, melt the butter and sautee' the onion until it browns. Add milk and cream of chicken soup and mix well. Let simmer for about 2 minutes. (In the meantime, the cooked rice should already be in your casserole dish.) After your cream of chicken soup/onion mixture has finished simmering, add to the casserole dish with rice. Mix well. Add chopped broccoli and arrange evenly in the soup/rice mixture. (You don't really want the broccoli poking out on top either.) Next, top with as much grated cheddar cheese as you'd like, then put in the oven for about 35 minutes. ENJOY!
This recipe was passed down to me from my mother and I don't know WHERE she got it from, but it's wonderful! We eat it all the time, and it goes well with just about everything. ~Ryland
White Chicken Chili
I package of white chicken chili seasoning mix.
1tbsp oil
1lb boneless chicken breast, cut into 3/4inch cubes
1 cup water
1 can of white beans, undrained
1 can tomatoes (optional)
1 can corn (optional)
1. Heat oil in a large skillet over medium high heat. Add chicken, cook and stir for 5 minutes or until golden brown.
Stir in seasoning, water, beans, tomatoes, and corn. Bring to a boil, cover and simmer for 10 min.
This is one of my favorite recipes because it was one of the first things I learned to cook on my own. When I first took this recipe home to show my mother, she was very impressed and has been mad since she can never make her chili taste as good as mine! :)
Alicia Archie
Sautéed Green Beans with Tomato and Basil
1 ½ pounds fresh green beans, trimmed
2 tbsp. unsalted butter
1 tbsp. Olive oil
3 large shallots, thinly sliced
2 garlic cloves
1 (14 ½ ounce) can diced tomatoes
¼ cup dry white wine
2 tbsp. thinly sliced fresh basil
Salt and freshly ground black pepper
Cook the green beans in a large pot of boiling water until just crisp-tender, about 3 minutes. Drain and rinse in cold water. Drain well; set aside.
Melt the butter and oil in a heavy, large skillet over medium heat. Add the shallots and garlic and sauté until tender, about 2 minutes. Add the tomatoes and cook until heated through, about 3 minutes. Add the beans and cook until the juices evaporate and the beans are almost tender, stirring often, about 10 minutes. Stir in the wine and basil.
Simmer 2 minutes longer. Season with salt and pepper to taste. Transfer to a serving bowl, and serve.
~This recipe has been a favorite of mine for a while. I love to cook! So, it has been a tradition that my sister and I cook our entire Thanksgiving meal. About two years ago,
I was looking for a green beans recipe (because I love green beans). I found this recipe, and it was fantastic! It came from the Food Network—my brothers are obsessed with that channel!
Laura Hedetniemi
LEMON POUND CAKE
My aunt has made this cake for special occasions for at least 50 years.
Christmas is hardly complete without indulging in a piece of my family's portion of
Aunt Velmah's meticulously made lemon pound cake.
-- Sarah Crosby
Ingredients: 2 cups Crisco
10 large eggs
3 cups sugar
4 cups plain flour
1 teaspoon vanilla
1/4 teaspoon salt
1 teaspoon lemon extract
Be sure ingredients are at room temperature. Vanilla may be substituted for lemon for an all vanilla cake.
1. Cream Crisco. Add sugar gradually, beating until light and fluffy.
2. Add flavoring. Add eggs, one at a time, beating well after each.
3. Sift flour and salt together and add to creamed mixture, a few spoonfuls at a time. Mix just enough to blend flour into mixture after each addition.
4. Line the bottom of a large tube pan (approximately 9 1/2 at the top by 4 1/2 inches deep) with wax paper. Pour mixture into the pan.
5. Bake at 300 degrees for l hour 40 minutes to 1 hour 50 minutes depending on oven. Be sure to preheat oven and place on rack at the position your oven requires for this type of cake.
LEMON ICING
1 box 4X powdered sugar
1 stick margarine at room temperature
Juice and grated rind of 1 1/2 to 2 lemons
Combine sugar and margarine, adding sugar gradually. Add lemon juice as needed. Add the grated rind to suit taste. Beat until fluffy.
Paska: Ukrainian Easter Bread
Makes 2 round loaves of bread
5 cups flour
1 Package Dry Yeast
2/3 cups sugar
2 ½ Tbsp butter
4 eggs
¼ cup warm water (105-115 o
F)
1 cup whole Milk
1/3 tsp salt
½ to 1 cup raisins
Dissolve yeast in the warm water with a teaspoon of sugar. Let stand 10 minutes.
Scald milk then add sugar, salt, and butter. Cool to luke warm then add yeast dissolved in warm water. Stir until blended. Add the eggs and stir until creamy. Add
2-3 cups of flour and beat with a mixer for 2-3 minutes. Add remaining flour and raisins. Kneed for 8-10 minutes. Cover and let raise until double in size. Punch down, divide dough in half, and shape into round loaves and let raise in greased cake pans.
Bake 350° F for 45 minutes.
This is the bread that my Mother (Eva Lynn Pendlyshok Thompson) made for Easter morning. It was the first thing we were to eat after our 40 day Lenten fast. The fast involved abstinence from all animal products; so bread with milk and eggs was very special. Mother made this bread only once each year, and we looked forward to having it every Easter morning.
Laura Thompson
Sirloin Tips with Mushrooms
3 tablespoons olive oil
3 cloves garlic, minced
1 1/2 pounds beef sirloin
1 (16 ounce) can mushrooms, with liquid
1 (8 ounce) can tomato sauce salt to taste freshly ground pepper, to taste
3/4 cup red wine
Cut beef into cubes. In a large skillet over medium/high heat, heat the olive oil and brown beef cubes with the garlic.
Add mushrooms with liquid, tomato sauce, salt, pepper and red wine. Cook for 30 minutes or until beef cubes are tender. Add a little more wine while cooking if desired
Andre Sesson
* Your assessment is very important for improving the work of artificial intelligence, which forms the content of this project