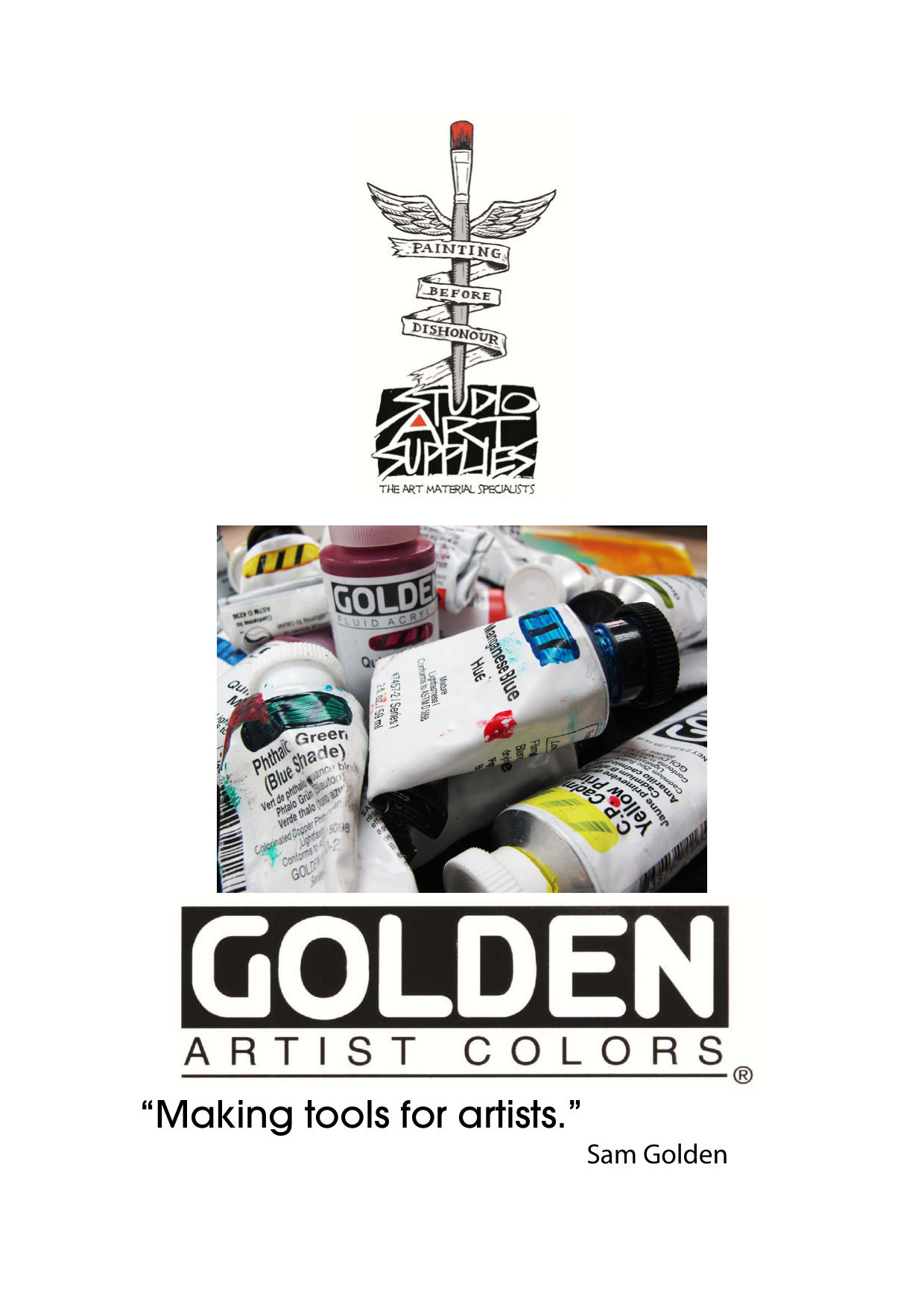 "Making tools for artists."
Sam Golden
First off the block
Golden Acrylic Colours are made by the Golden family in upstate New York. Sam
Golden has been making paint in New York since the 1930s, working with his uncle
at Bocour Artists' Colours, and released the first commercially available acrylic,
Magna, in 1947. Throughout the Fifties and Sixties he continued to develop his
colours and mediums in close partnership with leading art practitioners. In the midSeventies, he attempted to retire to up-state New York, but too many artists
protested that they were reliant on his products, so he started Golden Paints with
his son Mark in the early Eighties.
The Goldens pay special attention to the latest technological advances in pigment
and binders, and continue to work closely with artists to develop new materials.
They were the first to develop a water-tension-breaker, first to use Quinacridone
pigments and develop Zinc White for acrylic, and the first to use Interference
colours. Their latest ground-breaking products include OPEN Acrylics and Digital
Mix Media.
Golden Paints offer the most comprehensive range of artist's acrylics in the world.
Acrylic Colour
Golden paints are made to contain as much concentrated pigment in as pure an
acrylic binder as possible.
They are manufactured to be used in conjunction with mediums, at least in 1:1
proportions, and still preserve an extremely high chroma. Some colours will
actually increase their chroma when mixed with mediums, e.g. Cadmiums.
The individual pigments are allowed to maintain their particular surface sheen –
some colours are naturally glossy due to their pigment size or density, while others
are more matte. Many manufacturers will even this out by adding matting agents
to the colours, but Golden don't, letting the individuality of each colour decide its
sheen, which can either be used by the artist or adjusted with a medium or varnish
– the choice is yours.
An actual paint sample is on the label, painted over three black stripes, so you can
see how the colour looks and see its relative opacity/transparency. On the reverse
of the label is a series of sliding bars that indicate opacity/transparency, viscosity,
sheen, and tinting strength.
Over 70% of Golden Heavy Body colours are made from single pigments, ensuring
clean and vibrant mixing qualities.
Golden only make professional-grade acrylics. If you want student acrylic, simply
mix their acrylic colour with water and medium for an economical paint, which will
still be superior to most student colours!
Heavy Body Acrylics
These have a smooth and buttery consistency, ideal for a "painterly" approach, and
are the main paint line for Golden. There are 91 colours plus a range of Neutral
Grays that conform to the Munsell System, along with Primary Colours for design
colour theory use, and Historical Colours, which have been developed in
conjunction with the Tate & Smithsonian to accurately match colours either no
longer in use or not available in acrylic.
Fluid Acrylic Colours
These are concentrated liquid acrylics that brush-out thinly and evenly, making
them perfectly suited for detail work, watercolour & stain effects, and flat area
painting. They are easily modified by adding mediums and are more suitable to use
with some e.g. Clear Tar Gel. There are 45 colours plus the Historical Colours.
OPEN Acrylic Colours
With a drying time ten times longer than Heavy Body Acrylics, OPEN is perfect for
any work requiring blending, e.g. portraiture, for large graduated colour, e.g. skies,
for "en plein aire" painting, large work, and because they will not dry until spread
thinly, there is no waste of paint on the palette. OPEN is compatible with standard
acrylic colours.
Airbrush Colours
These are manufactured with the ideal viscosity and fineness of pigment size for
airbrush use. They are also a good acrylic ink, and can be used with brush and dip
pen too. These are available in 34 colours including 10 transparent colours.
Fluorescent Colours
Non-lightfast funky "day-glo" colours in 11 hues.
Iridescent & Interference Colours
Iridescent colours use mainly mica to produce 20 lightfast metallic hues (some
manufacturers use metals which are not lightfast).
Interference colours are so named because they interfere with white light, and a
"flip-flop" of two iridescent colours results. On a black surface only one colour is
reflected, so it becomes iridescent. Interference colours work extremely well in
gloss gels as light comes from the back as well as the front, and they tend to have
best affect in daylight.
Additives
An Additive is used in conjunction with paint and not by itself. Additives differ
from Mediums in that they don't remain in the paint film when it dries.
Water
Water is the most popular additive to acrylic paint. Care should be used not to add
more than 30 – 50% to Golden Acrylic Colours otherwise the waterproof and
adhesive qualities of the paint film will be compromised.
Acrylic Flow Release
This lowers the surface tension of thin paints, mediums and washes, especially on
raw canvas (this was developed for artists Helen Frankenthaler & Morris Louis in the
1960s). It must be diluted strongly with water.
Retarder
This slows the drying time, giving about twice the working time of tube colour. A
maximum of 15% should be added, or the paint layer can turn sticky. A
recommended alternative is the Acrylic Glazing Liquid (below).
OPEN Thinner
An addition of up to 25% allows for the maximum possible working time of OPEN
Acrylics. It can be mixed with other Golden Acrylics but is not intended to greatly
increase their drying times.
Special Additives:
Airbrush Medium is designed to be added to Fluid Acrylics to promote smooth
spraying and excellent film formation.
Silk-screen Medium is to be blended with acrylic paints for fine art silk-screen
application (not for fabric), giving increased working time and retards paint drying
in the screen.
Mediums & Gels
Golden Acrylic Colour is concentrated, so it pays to extend it with a Golden
Medium or Gel – but which one should you use?
100% Pyrrole Red
1:1 Pyrrole Red:Soft Gel Gloss
1:5 paint:gel
1:10 paint:gel
You get strong colour even when you extend Golden acrylics 1 part colour to 10 parts gel!
Mediums & Gels can be thought of as "paint without pigment". Generally speaking,
a Medium is thin enough to be pourable while a Gel is too thick to pour, though
various products fall into both categories. Decide what qualities you want from
your paint and match that with a Medium or Gel.
Mediums & Gels can be used in any proportion to extend paint, sometimes
through to very translucent glazes. You can use a Medium or Gel to alter sheen,
thickness or texture. They can also be used alone to produce translucent layers.
Gloss Mediums & Gels offer the greatest film clarity, so are best for building layered
glazes. Matte is the least clear, offering a semi-translucency almost like wax. SemiGloss Gels fall in between the two.
Acrylic Glazing Liquid (available in Gloss & Satin) is a special medium that extends
the working time of your paint by 30 to 45 minutes or so, making it essential for
blending, wet-in-wet painting, large areas and glazes, and a must for painting in
summertime!
Polymer Medium (Gloss) is a general purpose medium that's useful for creating
glazes, extending colours, enhancing gloss, translucency and increasing film
integrity. It has a unique resinous feel that promotes flow and leveling.
OPEN Acrylic Medium (Gloss & Matte) is similar to the Acrylic Glazing Fluid but
offers more working and blending time. It is made for the OPEN Acrylics but can
be used with Heavy Body and Fluid Acrylics.
Fluid Matte Medium is used for extending colours while decreasing the gloss and
increasing the film integrity. It has the same viscosity as Fluid Acrylics. Used alone it
has a lovely wax-like finish.
Soft Gel (available in Gloss, Semi-Gloss, & Matte) has a lighter feel to Heavy Body
Acrylics and holds only slight peaks. Soft Gel Gloss makes a great glazing medium,
collage glue, and, when diluted 2:1 with water, makes the recommended Isolation
Coat used prior to varnishing.
Regular Gel (available in Gloss, Semi-Gloss, & Matte) has the same consistency as
Heavy Body Acrylics, so if you like the feel of paint straight from the tube, this is
perfect to extend that colour. It holds moderate peaks and textures.
Heavy Gel (available in Gloss, Semi-Gloss, & Matte) is great for thicker impasto style
painting. It holds good peaks and tool marks.
Gels extend your colour, alter the sheen and can alter the consistency.
Extra Heavy Gel (available in Gloss, Semi-Gloss, & Matte) is Golden's thickest gel,
along with the High Solid Gels, and provides extreme texture that's especially good
for knife painting, and embedding objects into e.g. small stones for texture.
High Solid Gel (available in Gloss & Matte) is similar to the Extra Heavy Gels but
offers the artist less shrinkage – other gels will lose up to 45% volume when they
dry, while High Solid Gel only loses around 35% – and a quicker drying time.
Self-Leveling Clear Gel can be mixed with Fluid Acrylics or poured thinly to create glossy films.
Self-Leveling Clear Gel is designed to produce an even film with excellent clarity.
It has a resinous consistency which results in its great leveling quality. Combined
with Fluid Acrylics, it has similar working characteristics to enamel paint, without
the toxicity.
Drizzled from a palette knife, Clear Tar Gel with a little Fluid Acrylic creates stringy Pollock effects.
Clear Tar Gel is the extreme in leveling! It has a unique stringy and resinous
consistency, almost like enamel, and dries to a clear gloss film. To preserve its
characteristics, it is best coloured with a few drops of Fluid Acrylic.
Clear Granular Gel (left) and Glass Bead Gel (right) coloured with Interference colour and applied
over printed images to produce a mosaic effect.
Clear Granular Gel contains grains of pure acrylic, so can be used for textural,
mosaic-like glazes.
Glass Bead Gel uses real glass beads to create a beautiful reflective quality. This
can be enhanced by using it over the top or Iridescent or Interference Colour. For
best clarity, use Glass Bead Gel in a single layer of beads.
OPEN Acrylic Gel (Gloss) is the base mixture for OPEN Acrylic paints, and will
maximise the working time while maintaining the consistency of these colours.
Gel Topcoat with UVLS (Gloss & Semi-Gloss) has a similar consistency to Regular
Gel but contains a strong UV Filters to provide protection to inkjet prints, collage
elements, and other fugitive materials.
Fine Pumice Gel (left, coloured with Quinacridone Magenta) makes a good surface for coloured
pencil, while Coarse Pumice Gel (right) creates dramatic texture.
Pumice Gels (Fine, Coarse, & Extra Coarse) are gray textural gels used to create
gritty, textured surfaces. It can be mixed with colour, painted on, and the Fine
Pumice Gel provides an excellent surface for dry media such as pastel & coloured
pencil.
Pastes
Pastes are similar to gels, but are usually opaque. They can be coloured with acrylic
paint, and used for both texture in a work and for usual painting grounds.
Molding Paste creates a smooth, hard, non-absorbent surface that can be easily
carved or sanded. It can be used to create texture and build structure, and provides
a perfect surface for subtractive painting techniques.
Light Molding Paste's very low weight per volume makes it perfect for creating
texture over large areas on flexible supports, such as stretched canvas. It holds
good peaks and is very absorbent, taking Fluid Acrylic stains and watercolour
effects beautifully. It makes a great ground for painting on.
Hard Molding Paste dries to an extremely hard, opaque film for creating tough
durable textures. It can be carved with hand or power tools. Best for use on nonflexible substrates.
Coarse Molding Paste is similar to Molding Paste but the Calcium Carbonate
Solids add a nice bit of texture.
Crackle Paste is opaque, so used as a base for further painting, with the cracks inspiring many
different applications!
Crackle Paste develops deep fissures as it dries – the thicker the application, the
bigger the cracks. It can be coloured by mixing a maximum of 20% Heavy Body
Acrylic with it or stained with dilute Fluid Acrylics. If using it on a smooth surface,
problems may occur with adhesion, in which case a layer of Heavy Gel can be used
over the top to hold it together.
Fibre Paste gives a hard yet absorbent textural surface resembling rough
handmade paper. Adding a small amount of water will result in a smoother
surface.
What is GAC???
GAC stands for Golden Artist Colors and this range of mediums are pure acrylic
resins each with specific properties.
GAC100 is useful for diluting and extending colours as well as increasing flexibility
and film integrity. In the production of homemade paints, it wets out pigments
better than other polymers. It is a very good size for sealing fabrics & wood and
the best Support Induced Discolouration (SID)-blocker Golden makes.
GAC200 is the hardest and least flexible medium. It is great for increasing paint's
adhesion to non-porous surfaces like glass and Perspex.
GAC400 dries to a hard stiff film. It can be brushed into a fabric to dramatically
stiffen it, e.g. for sculptural purposes.
GAC500 is the hardest polymer that is suitable to flexible supports. It's useful for
increasing film hardness and reducing tack, while remaining flexible.
GAC700 is a liquid polymer that offers excellent film clarity and gloss. It is also a
good barrier for Support Induced Discolouration (SID).
GAC800 combined with standard & Iridescent Fluid Acrylics makes a very seductive surface!
GAC800 is a polymer that does not craze in pours and puddles. Dries with good
gloss and flexibility but only moderate clarity. Useful to increase adhesion to chalky
surfaces.
GAC900 is most useful to artists painting on clothing, as heat-setting gives acrylic
colour good laundry stability and makes it breathable.
Gessos & Grounds
One of the liberating aspects of acrylic painting is the variety of surfaces you can
paint on. Gesso, a bright white, slightly absorbent primer, is just one of the surfaces
to choose from. When planning a painting, ask yourself – how absorbent or nonabsorbent do I want the surface? Textured, or smooth, or in between?
GAC100 can be used as a size, i.e. a sealant that prevents Support Induced
Discolouration (SID) and decreases the absorbency of the surface.
Gesso is a flexible priming ground that provides tooth for subsequent layers of
paint and mediums. It is available in White, which provides a bright reflective
surface so light is bounced back through the layers of paint most strongly; and
Black that offers dramatic contrast when using opaque colours.
Sandable Hard Gesso is a white primer for non-flexible surfaces, e.g. wood &
metal panel, that is more easily sanded that Gesso, so better for preparing smooth
surfaces.
Matte Medium and Fluid Matte Medium can be used as clear or colourless gesso.
Absorbent Primer provides a paper-like absorbency for fluid acrylic watercolourtype techniques.
Acrylic Ground for Pastel is an almost transparent ground that you can apply over
acrylic paint to provide suitable tooth for dry media such as pastel, charcoal, or
pencil. It is best diluted with water for translucency and to emphasise the grit.
Silverpoint Drawing Ground makes the ancient art of silverpoint so easy.
Silverpoint Ground catches tiny metal particles from silver styli, which over time
tarnish to beautiful warm tones. Gold, copper, and stainless steel can also be used
to make marks on this ground.
Digital Grounds (White Matte, Clear Gloss, Non-Porous Surfaces) offer an inkjet
receptive surface to nearly any surface to render it printable.
Try the many different Mediums & Gels as unique painting grounds. For example,
Light Molding Paste can be scraped on to your support to provide an absorbent
surface for watercolour-type effects. Molding paste can similarly be scraped on but
offers a hard marble surface that's great for subtractive techniques. Try Fibre Paste,
Pumice Gels, Crackle Paste, and other products for really different painting
surfaces.
Light Molding Paste used as an absorbent ground and Molding Paste for a non-absorbent ground.
Mica
Although these belong to the Iridescent range of Golden colours, they stand a little
outside, being somewhat sculptural. They're made from reflective mica platelets,
sometimes coloured with iron oxides, sometimes left natural.
Mica flake gels, large & small, add startling texture, while Micaceous Iron Oxide (right) provides a
dark-toned drawing surface with subtle sparkles and a grabby tooth for dry (and wet) media.
Mica flakes can be used to add texture and colour in relief paintings, as interesting
grounds for drawing, or to give sculptural works a unique surface.
Acrylic Skins
Coloured skins can be made from any Golden Heavy Body or Fluid Acrylic paint.
Clear skins can be made from almost any of the Golden Gels & Mediums, and I have
had good success with Soft Gel (Gloss), Self-Levelling Clear Gel, Polymer Medium,
and Fluid Matte Medium, either by themselves or combined with colour.
Skins can be made on glass, copysafe sleeves, and on polyethylene rubbish bags,
which the acrylic won't stick permanently to. If using rubbish bags, cut out a
section and tape it down as wrinkle-free as possible over some cardboard or similar
flat surface.
Spread a thin layer of gel or paint over the surface of the bag with a spatula or
palette knife. The film should be about 0.5 – 1.5mm thick. This film will take
between 8 – 48hrs to properly dry depending on the material used (paint dries
more quickly than gel), thickness of the layer, and weather conditions.
Once the skin has dried, an edge can be lifted off the rubbish bag using a palette
knife, and the skin peeled off. The side in contact with the rubbish bag is the
smoothest side.
A marbled paint skin is peeled from the rubbish bag.
Stack your skins between grease-proof paper, as they can stick to paper and each
other.
The skin can then be adhered to a surface using Soft Gel (Gloss), or can be painted
with Digital Ground Clear if you want to print on it using your desktop (inkjet)
printer.
To do this, paint the smooth side of your skin with Digital Ground (a foam brush
works well) and leave to dry, about 30 minutes. Position the skin on a carrier sheet
(A4 paper) and tape down the leading edge and one side using a low-tack tape
such as Magic Removable Tape. Load it into your paper stack and print!
Images can be easily printed onto acrylic skins using Golden Digital Ground.
Digital Mix Media
Golden Digital Ground is a new product that allows you to print on any surface
you can get through your inkjet printer – any image on your computer can now be
incorporated into painting and montage techniques. Digital Ground is a paint-on
inkjet-receptive surface that you can apply to any grease-free material, from cloth
to plastic, paper to metal. The only limitation is what you can feed through a
printer!
There are three different Golden Digital Grounds to use, depending on what you're
priming.
Digital White Ground (Matte) is great for making your own inkjet canvas or
photo-quality paper.
Digital Ground Clear (Gloss) allows the substrate to show through, and is suitable
for most absorbent surfaces, e.g. papers, cloth, leather, paint and gel skins.
Digital Ground for Non-Porous Surfaces is similar to the Digital Ground Clear
(Gloss) but has extra adhesion and performance on non-porous surfaces, such as
metal or plastic.
Varnishes
Golden Varnishes are removable, protective products designed to facilitate
cleaning paintings. All offer substantial Ultra Violet protection.
Golden recommend the use of an Isolation Coat, before final varnishing of your
acrylic painting. Golden Soft Gel (Gloss) diluted 2:1 with water works well.
Polymer Varnish (Gloss, Satin, and Matte) is a water-based final picture varnish. It
is removable with an ammonia/water mix.
MSA Varnish (Gloss, Satin and Matte) is made from solvent-based, reversible
acrylic resins, and is designed to produce a non-yellowing, flexible, clear film that
protects against UV light, dirt, and moisture.
Archival Varnish (Gloss, Satin, and Matte) is the aerosol version of MSA Varnish
and allows for more applications than brush, as well as ease of use.
Prior to use, it is important to test on a similar composition to your finished
artwork, to see how the varnish alters the surface of the work. Varnishing should
not be attempted on very humid days, as moisture may cause "blooming" in the
varnish layer.
Here's a link to a useful how-to for varnishing:
http://www.goldenpaints.com/technicaldata/msavar.php
"Making tools for artists," said Sam Golden,
and here we've looked at many of Golden's
exciting tools that really expand the
possibilities for making art, but we haven't
covered all of them and certainly not all the
ways they can be combined and used…
So experiment, play, enjoy, and create!
Run by Artists for Artists – the team at Studio Art Supplies 2012:
Evan Woodruffe, mARTha, Michael Mitchell, Dean Tercel, Imogen Taylor.
PH 0-9-360-1238 FX 0-9-360-1239
[email protected] www.studioart.co.nz
35 Crummer Road, Grey Lynn, Auckland 1021, Aotearoa/New Zealand
Open Monday to Friday 8:30am to 5:30pm
Saturday 9:00am to 4:00pm
Copyright All Rights Reserved Evan Woodruffe & Gordon Harris Ltd 2012.