TOP LEFT Info Packet 2017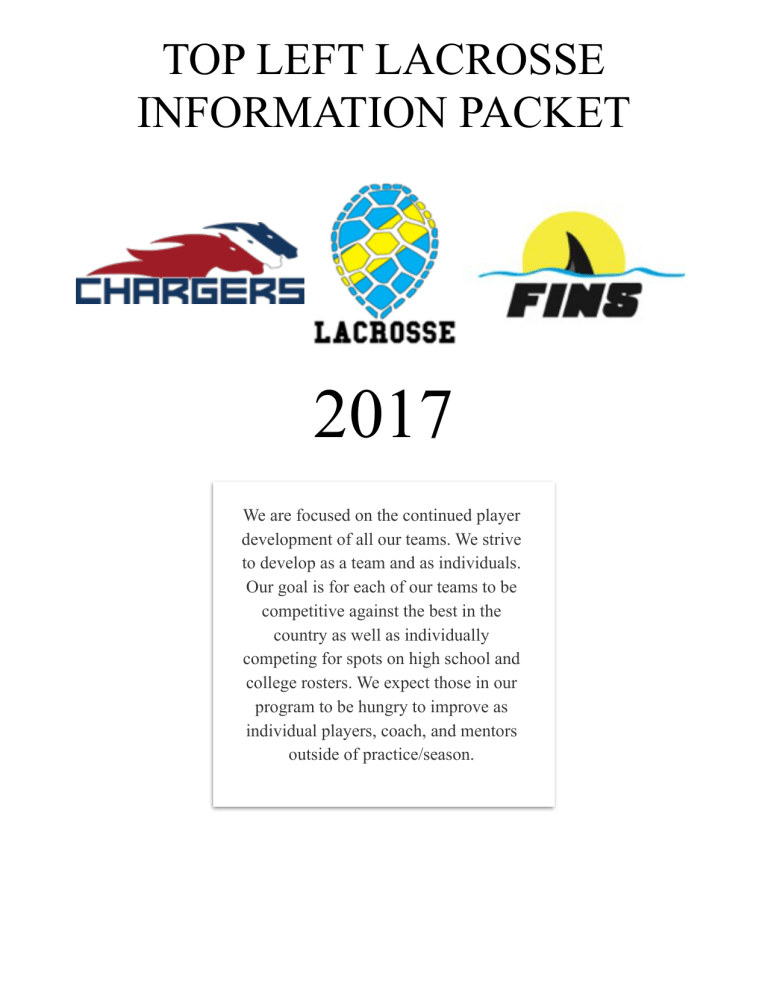 TOP LEFT LACROSSE
INFORMATION PACKET
2017
We are focused on the continued player
development of all our teams. We strive
to develop as a team and as individuals.
Our goal is for each of our teams to be
competitive against the best in the
country as well as individually
competing for spots on high school and
college rosters. We expect those in our
program to be hungry to improve as
individual players, coach, and mentors
outside of practice/season.
TOP LEFT COACHES
Coach Expectations:
➢ Have a detailed practice plan. Have high energy and coach the team to their highest ability.
➢ Midway through the season, turn a team huddle into a teaching moment. Talk about
sportsmanship, grades, staying humble, etc.
➢ Coaches will look professional and be at their field one hour before every game.
➢ They will stay upbeat and positive during the game. High energy and coach the entire game no
matter the score or opponent.
➢ The expectation is that every TL player will play as close to equal time as possible. Exceptions =
behavior or missed practices. If a player is continuing to have a lack of effort at practice or is not
putting in the individual time outside of practice, his/her playing time might be altered.
➢ Coaches will talk in depth with their team after each game.
TOP LEFT PLAYERS
Be respectful, confident young men & women on and off the field. Boys, take your gloves off when you
shake hands. Be hard-nosed and go hard every time you're on the field because you have two legs that
can. Our players may not be this way when we get them, but we need them to be open to being these
kinds of young men and women.
Player expectations:
➢ Wear your specific practice apparel at every practice
➢ Be ready to go when practice starts. Do not wait for the coach to tell you it is time to put your
gear on.
➢ Stay totally focused throughout the entire practice. Players will be held accountable for not
working hard or not staying focused. (Not getting as much playing time, running sprints, etc.)
➢ No talking back to a coach, ref or opponent. Zero tolerance. Never waiting on a flag. Play the
game. Do not give palms up.
➢ Thumb guys/girls not finger-pointing guys/girls – spreading the love to teammates.
School: We want to stress that your grades are very important. You do not want your grades to close
any doors for you. The practice of extra studying to achieve greatness starts now. It is the same mindset
as extra work on your lacrosse skills.
Outside Practice: Individual skill work must be done outside of practice. You cannot expect to work on
your individual skills during team practice. Once again, this is an expectation, and if it is not met, that
could led to a lack of playing time.
Captains: Captains will be assigned to each team before the first tournament. The captains will be
chosen by their teammates.
Bullying: Bullying / put downs / negative talk to anyone may result in dismissal. We will require players
and parents to sign a contract to enforce this. Remember, you represent more than yourself. We take this
issue VERY SERIOUSLY.
TOP LEFT PARENTS
Parent Expectations:
➢ Parent to coach contact should be ONLY POSITIVE. Any problems or suggestions should go
directly to a director: Tom or Jeff for the boys. Meg or Shanna for the girls.
➢ FAMILY – We hope that there is consistency between what is said "at the dinner table" and what
we are trying to accomplish on the field. We want continuation of positive attitudes, growth as
team players, hard work off the field, and not talking behinds the backs of our coaches and
teammates, and so on.
➢ Parents and players should not be concerned about what they cannot control ie refs, other parents,
drama, gossip, etc. We strive to maintain peace and positive vibes. Encourage your players to do
this as well. It's a very good life lesson.
➢ Encourage your child to be his or her own advocate.
➢ Let your coaches know if your child is going to miss practice 24hrs before the practice. Practice
plans are made depending on numbers.
➢ Walk away from any negative parent situation with another team.
➢ Please only be positive on the sideline. Do not coach from the sideline or shout negative
comments to players, coaches, or refs.
A WORD ABOUT OUR TEAMS
Successful Teams/Leadership: We want to stress that we do not give one team a different game plan
then another. You may see a team with a lot of success and another with a lower level of success. It
depends on the born leaders stepping up and making sure that everyone on the team is after the same
goal. The goal should be to get better at lacrosse, to buy into the coaches system.
How we determine SUCCESS:
➢ Not by losses or wins at tournaments
➢ Chemistry with the team on and off the field
➢ Outside lacrosse – team building and leadership skills are taught
➢ Commitment in doing the extra work for their teammates
➢ Improving every season
DELIVERING OUR BEST
In order to give our players and parents what they deserve, we rely on feedback. Please come directly to
us with your issues or concerns!
RECRUITMENT: LACROSSE IN COLLEGE
➢ We work hard for each kid who works hard to get recruited. We will go over film, follow up with
college coaches, and give as much advice as needed or asked for. We love to do this, so take
advantage.
➢ We nominate players for showcases that cater to their skill level and wants in a college.
➢ Our goal is to have our players play competitively after they are 17 years old, if they desire to do
so. We want to help open as many doors as possible using this sport.
PAYMENTS
Payments must be made by the specified dates, or we will run the credit card on file for your
remaining balances. We will send out a final reminder of payment before doing so.
If your final payment is not received by the start of the season, we will not be able to allow
participation in practice or tournaments or to hand out any practice gear/uniforms.
All payments must be made online through our system. If you have any questions, please contact
Shanna at [email protected]
COMMUNICATIONS
It is very important that we have working emails from each family. If you have additional emails
that you would like to receive updates, please send those to [email protected] for the boys
and [email protected] for the girls.
Please also make sure our emails are not getting sent to spam by adding our emails to your
contacts.
Players Emails: We would like to have all team members' emails as well. This will hopefully
encourage them to stay on track of their own schedules and responsibilities with their team.
FOR TEXT NOTIFICATIONS: RAINEDOUT.COM
Please sign your player up on www.rainedout.com. If we have a cancellation, you will be
notified through this program. The program can be found under: Top Left Lacrosse.
Click this Link to Sign Up:
https://www.rainedout.net/team_page.php?a=9888c43d948efe95a250
*Click "subscribe" to the right of your team name.
You're done!
You do NOT need to "enter private group keyword" as our groups are not private.
HOTELS
We have hotel rooms blocked off for our teams at each tournament. The link to securing these
rooms is found at the top of your team's page at www.lowlax.com. Please reserve your rooms
immediately, as deadlines are approaching quickly!
TOURNAMENT NOTIFICATIONS
Before each tournament, we will send out tournament registration information and notifications
with the game schedule as well as where to place our team tents. They do not release game
schedules generally until the Wednesday before, so be aware of this. We get that information to
you as it becomes available to us.
Top Left Lacrosse Code of Conduct
Players, coaches, parents and spectators are to conduct themselves in a manner that "Honors the Game"
and demonstrates respect to other players, coaches, officials, parents, and spectators. In becoming a
member of the lacrosse community an individual assumes certain obligations and responsibilities to the
game of lacrosse and its participants. The essential elements in this "Code of Conduct" are HONESTY
and INTEGRITY. Those who conduct themselves in a manner that reflects these elements will bring
credit to the sport of lacrosse, themselves, their team and the organization. . The following essential
elements of the "Code of Conduct" must be followed:
➢ Sportsmanship and teaching the concepts of fair play are essential to the game and must be
taught at all levels and developed both at home and on the field during practices and games.
➢ The value of good sportsmanship, the concepts of fair play, and the skills of the game should
always be placed above wining.
➢ The safety and welfare of the players are of primary importance.
➢ Coaches must always be aware of the tremendous influence they have on their players. They
are to strive to be positive role models in dealing with young people, as well as adults.
➢ Coaches should always demonstrate positive behaviors and reinforce them to players, parents,
officials and spectators alike. Players should be specifically encouraged and positively
reinforced by coaches to demonstrate respect for teammates, opponents, officials and
spectators.
➢ Players should always demonstrate positive behavior and respect toward teammates,
opponents, coaches, officials, parents and spectators.
➢ Coaches, players, parents and spectators are expected to demonstrate the utmost respect for
officials and reinforce that respect to players/teammates. Coaches are also expected to educate
their players as to the important role of lacrosse officials and reinforce the ideal of respect for
the official to players/teammates.
➢ Grievances or misunderstandings between coaches, officials or any other parties involved with
the sport should be communicated through the proper channels and procedures, never on or
about the field of play in view of spectators or participants.
➢ Officials are professionals and are therefore expected to conduct themselves as such and in a
manner that demonstrates total impartiality, courtesy and fairness to all parties.
➢ Spectators involved with the game must never permit anyone to openly or maliciously criticize
badger, harass or threaten an official, coach, player or opponent.
➢ Coaches must be able to demonstrate a solid knowledge of the rules of lacrosse, and should
adhere to the rules in both the letter and the spirit of the game.
➢ Coaches should provide a basic knowledge of the rules to both players and spectators within
his/her program. Attempts to manipulate rules in an effort to take unfair advantage of an
opponent, or to teach deliberate unsportsmanlike conduct, is considered unacceptable conduct.
Top Left Code of Ethics
The mission of Top Left Lacrosse is to ensure a unified and responsive organization that develops and
promotes the sport by providing services to its members and programs to inspire participation, while
preserving the integrity of the game. The definition of ethical behavior is having an understanding of the
difference between right and wrong and at all times choosing to do what is right. This definition should
be applied at the individual level to those within the Top Left Lacrosse umbrella: employees, volunteers
or individuals who represent Top Left.
The goal of Top Left Lacrosse, in creating the Code of Ethics, is to promote sportsmanship and character
by teaching, advocating, modeling and enforcing ethical principles, while preserving the integrity of the
game.
Respect
Individuals should value the opinions, views and roles of others who work to further the mission of the
organization. All should safeguard the dignity, privacy and freedom of individuals regardless of their
race, color, creed, socio-economic status, age, gender, religion, sexual orientation, disability or
nationality. Respect defines the value that Top Left, as an organization, places on honoring the history of
the sport.
Fairness
Fairness is making decisions without favoritism or prejudice. Top Left firmly believes that the concept
of fairness is fundamental to sport. Anything that creates an unfair advantage violates the spirit, as well
as the integrity, of the sport of lacrosse.
Teamwork
Teamwork is defined as a cooperative or coordinated effort on the part of a group of individuals who
work collectively in the interest of a common goal. Top Left believes there is significant value in
promoting teamwork, both on and off the field, in every segment of the sport. All members of Top Left,
its staff, and volunteers should adopt and promote the philosophy that greater success can be achieved
when individuals sacrifice their desire for personal accomplishment in favor of the benefits of their
team.
By affiliating with Top Left Lacrosse, individuals agree to comply with the aspirational guidelines
set forth in the Code of Ethics. Failure to adhere to this Code of Ethics may result in revocation of
membership or affiliation.

* Your assessment is very important for improving the work of artificial intelligence, which forms the content of this project