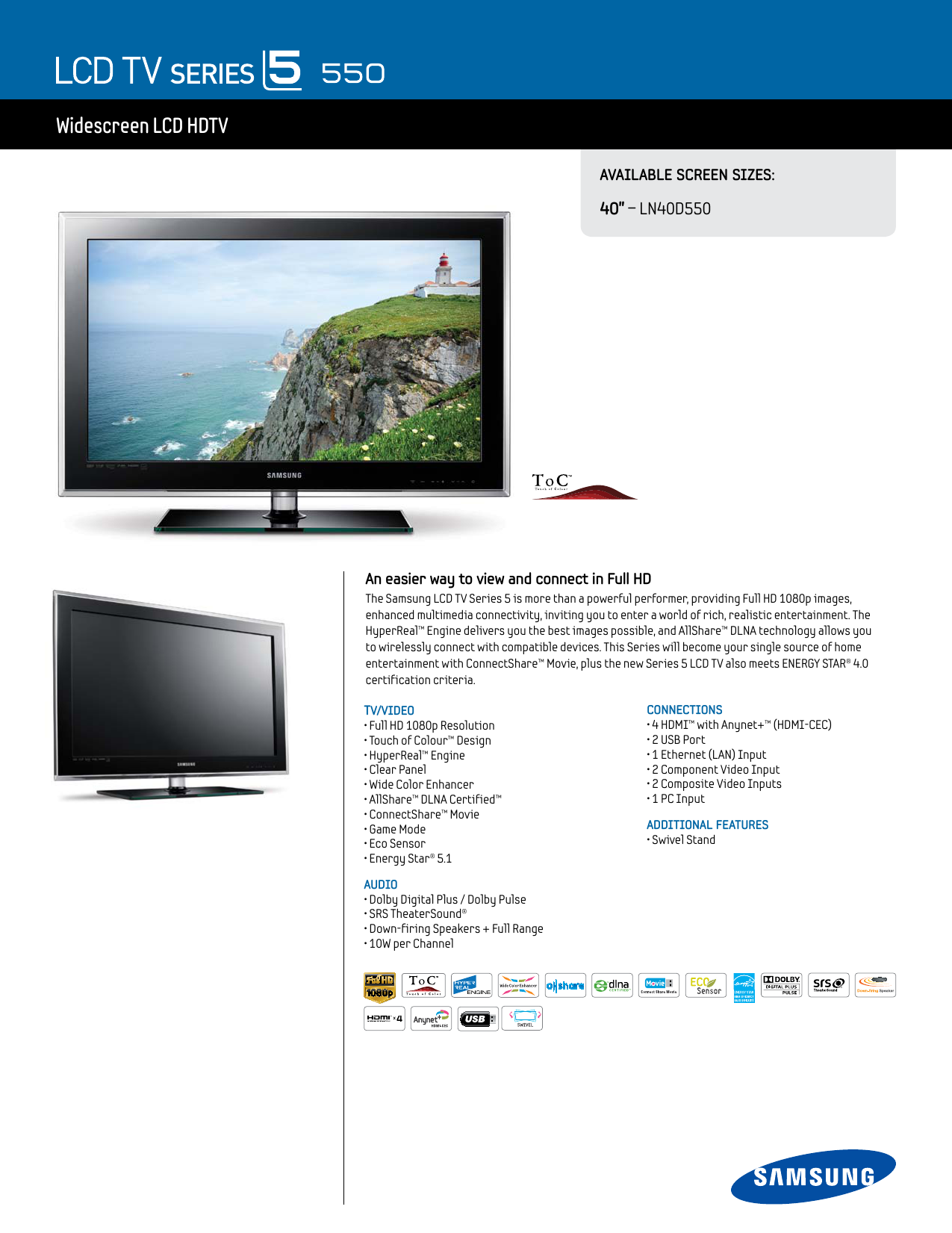 Widescreen LCD HDTV
AVAILABLE SCREEN SIZES:
40" – LN40D550
An easier way to view and connect in Full HD
The Samsung LCD TV Series 5 is more than a powerful performer, providing Full HD 1080p images,
enhanced multimedia connectivity, inviting you to enter a world of rich, realistic entertainment. The
HyperReal™ Engine delivers you the best images possible, and AllShare™ DLNA technology allows you
to wirelessly connect with compatible devices. This Series will become your single source of home
entertainment with ConnectShare™ Movie, plus the new Series 5 LCD TV also meets ENERGY STAR® 4.0
certification criteria.
TV/VIDEO
• Full HD 1080p Resolution
• Touch of Colour™ Design
• HyperReal™ Engine
• Clear Panel
• Wide Color Enhancer
• AllShare™ DLNA Certified™
• ConnectShare™ Movie
• Game Mode
• Eco Sensor
• Energy Star® 5.1
AUDIO
• Dolby Digital Plus / Dolby Pulse
• SRS TheaterSound®
• Down-firing Speakers + Full Range
• 10W per Channel
CONNECTIONS
• 4 HDMI™ with Anynet+™ (HDMI-CEC)
• 2 USB Port
• 1 Ethernet (LAN) Input
• 2 Component Video Input
• 2 Composite Video Inputs
• 1 PC Input
Additional Features
• Swivel Stand
Widescreen LCD HDTV
FEATURES
Full HD 1080P
Experience the natural beauty of reality with
Samsung's Full HD LCD TVs. With twice the
resolution of standard HD TVs, images defy your
mind and home entertainment experience. The rich,
realistic texture of Full HD images invites you to
enjoy a viewing experience unlike anything you've
seen before.
HyperReal™ Engine
The driving force behind the amazing colour and
realistic images of Samsung's new LCD TVs is
the innovative HyperReal™ Engine. By optimizing
performance and image enhancement, the Samsung
HyperReal™ Engine provides the most vibrant and
crystal-clear Full HD images.
Wide Color Enhancer
Samsung's Wide Color Enhancer drastically
improves the quality of any image and even
uncovers hidden colours and details. It
automatically corrects and enhances the level of
green, blue, red, yellow, cyan and magenta of an
image that would otherwise look washed up and
lifeless.
AllShare™ DLNA Certified™
AllShare™ not only allows your TV to wirelessly
connect with your compatible mobile devices,
it also helps to enhance your overall Smart TV
experience. That means you can share movies,
photos and music all through a single device–
your TV.
ConnectShare™ Movie
With ConnectShare™ Movie simply plug in
your USB memory drive or HDD into the TV and
instantaneously enjoy a range of movies, photos
and music on your LCD TV. So instead of watching
movies on your PC, you can download them onto a
USB and watch them in the comfort of your living
room on your TV.
HDMI Input
HDMI provides high-speed transmission of high
definition digital data from multiple devices
straight into your TV, allowing you to enjoy a wide
variety of content on your big screen.
USB Port
Enjoy movies, music, pictures and even charge your
Samsung mobile devices and 3D glasses through
the multiple USB ports available on your TV.
1.800.SAMSUNG • samsung.com
Eco Sensor
Samsung HDTVs are easy on the planet—and
your eyes. Our unique Eco Sensor measures the
intensity of the room's light and automatically
calibrates the brightness of the screen's image.
In a brightly lit environment, picture brightness
grows even brighter and in dim surroundings,
brightness is reduced.
Net dimensions & weight (WxHxD)
SIZE IMPERIAL (inches / lbs)
WITHOUT STAND / WEIGHT
39 x 24 x 3.1 / 31.5
40"
WITH STAND / WEIGHT
39 x 26.2 x 10 / 38.5
PACKAGE / WEIGHT
Game Mode
Game Mode enhances your gaming experience
by providing you with smooth moving images,
incredibly sharp detail, and sound that is clear and
powerful.
audio
Dolby Pulse
Technology delivers high-quality multichannel
content and is the ideal solution for bandwidthcritical services like next-generation HDTV, cable,
and satellite providers. Broadcasters can now
transmit stereo and 5.1-channel audio, occupying
the lowest bandwidth while maintaining high audio
quality.
SRS TheaterSound
An all-in-one audio suite that automatically detects
and consistently levels abrupt volume fluctuations
that normally occur when TV programming
switches to commercial break or while changing
channels. It also delivers up to 5.1 surround
sound from multichannel content using built-in
TV speakers while enhancing sound depth and
dimension.
CONNECTIONS
4 HDMI™ (High-Definition Multimedia Interface)
with Anynet+™ (HDMI-CEC) Ver 1.3: 1 back
Component Video Inputs: 1 back
Composite Video Inputs: 1 back
USB: 1 side/1 back
PC with Audio Input: 1 back
WarRanty
1 Year Parts and Labour Warranty.
90 days parts and labour for commercial use, with
in-home service, backed by Samsung toll-free
support. 1-800-SAMSUNG.
47.6 x 28.2 x 6.6 / 45.6
Order code
LN40D550K1FXZC
METRIC (mm / kg)
992.1 x 611 x 80.4 / 14.25
992.1 x 667.2 x 255 / 17.5
1210 x 718 x 170 / 20.7
UPC
770332086071
ACCESSORIES
Remote Control
©2011 Samsung Electronics Canada, Inc. All rights reserved.
Samsung is a registered trademark of Samsung Electronics Co., Ltd.
Design and specifications are subject to change without notice.
Non-metric weights and measurements are approximate. HDMI, the
HDMI logo and High-Definition Multimedia Interface are trademarks
or registered trademarks of HDMI Licensing LLC.
ENERGY STAR® is a registered trademark of the U. S. Environmental
Protection Agency.
SRS TruSurround is a registered trademark of SRS Labs, Inc.
ConnectShare is a trademark of Samsung Electronics Co., Ltd.
All other product and brand names are trademarks or registered
trademarks of their respective owners.
Screen images are simulated.

* Your assessment is very important for improving the work of artificial intelligence, which forms the content of this project