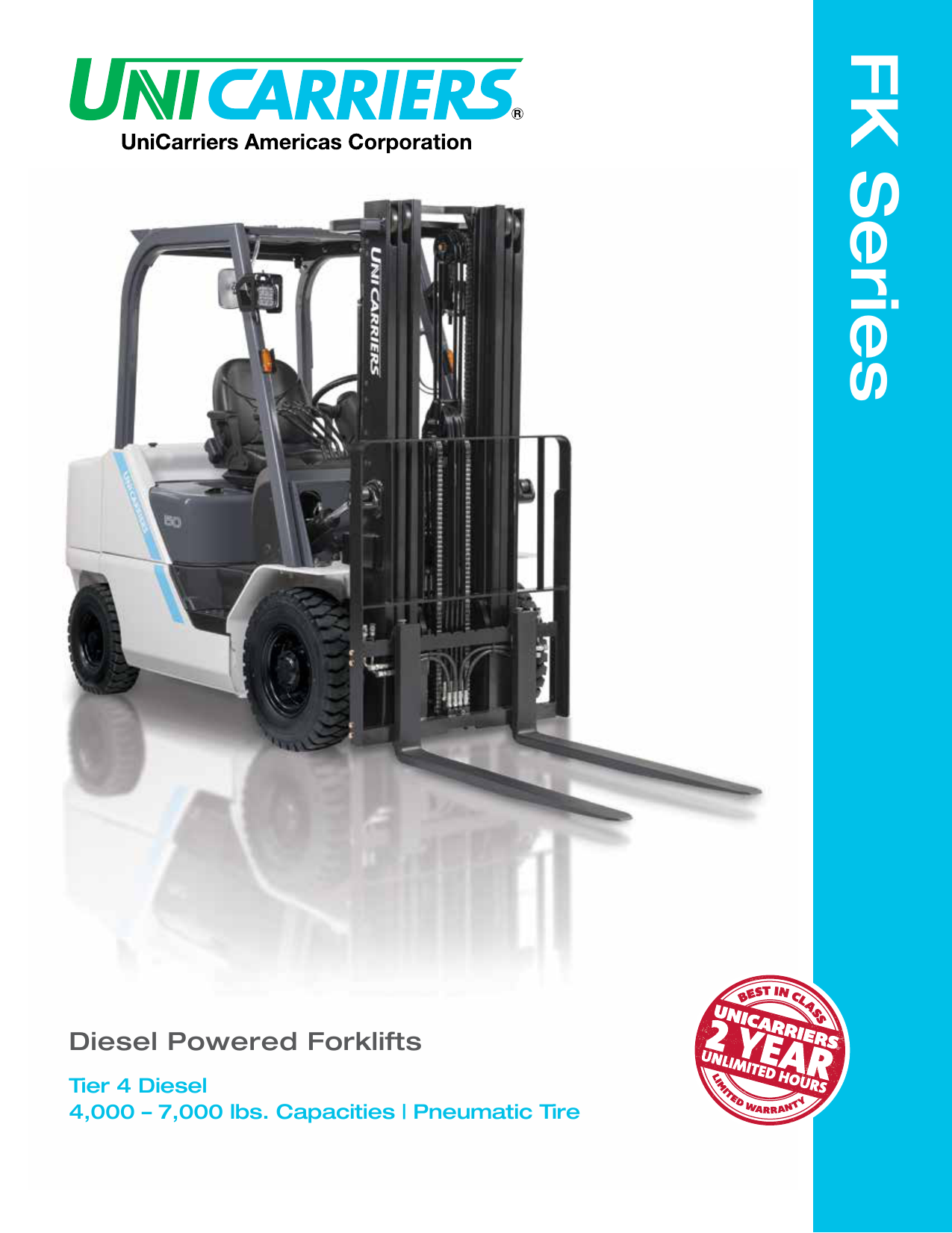 Diesel Powered Forklifts
Tier 4 Diesel
4,000 – 7,000 lbs. Capacities | Pneumatic Tire
FK Series
R
®
FK Series Applications
R
Designed and built for operations that demand greater economy, efficiency and
value…and applications that require maximum power, torque and productivity.
• Lumberyards
• Warehouses
• Brickyards
• Factories
NEVER QUIT.
• Steelyards
• Recycling
It defines our forklifts and the company that builds them.
Over the course of a century, the company known as UniCarriers took shape. As we grew and
evolved into a US manufacturer with a global reach in nearly 100 countries worldwide, much has
changed, but one thing hasn't: our mission. UniCarriers is committed to providing you with the ultimate
in reliability, performance, and value.
That commitment can be seen in our FK Series Forklifts, powered by our ultra-efficient,
ultra-reliable ZD30 Tier 4 Advanced Turbo Diesel (ATD) industrial engine. This workhorse
combines higher torque and horsepower with lower emissions and fuel consumption. The FK
Series comes standard with some of the most advanced performance, security and operator
comfort features available anywhere. Plus, it's all backed by the best standard, limited warranty
in the business.
®
2
3
Power &
Performance
At the heart of the FK Series is the GCT ZD30 4-cylinder 3.0L Advanced Turbo Diesel Engine.
This turbocharged, 16-valve, double overhead camshaft industrial engine pours out power
and torque…has emission levels below Tier 4 standards...10% greater fuel efficiency…and
the superior performance and reliability you expect from UniCarriers.
4
R
The Quick Glow System
Dramatically improves cold weather starting
and reliability to reduce down time.
Higher Power With
Lower Emissions
Common Rail Fuel
Injection System
Single-Speed
Powershift Transmission
The turbocharger, diesel oxidation
catalyst and cooled exhaust gas
recirculation system all work to reduce
emission levels significantly below EPA
Tier 4 standards. This system nearly
eliminates particulate matter, reduces
fuel consumption and improves power.
Features an Engine Control Module
Combined with a full floating
powertrain, it accelerates smoothly
and minimizes vibration.
(ECM), Vehicle Control Module (VCM)
and multifunction LCD Display to
optimize power, efficiency and fuel
economy.
5
Efficiency, Economy
& Control
R
From advanced productivity and operator protection to ergonomic design and operator comfort,
the FK Series delivers an extraordinary combination of reliability, economy and value.
Economy Mode Button
Save money with economy
mode that cuts fuel
consumption by 10%.
Our Comprehensive Operator
Presence System
Adjustable Steering Column
Provides adjustable tilt and telescoping for precise positioning
to maximize comfort and control for any driver.
1 A seat-actuated power interrupt with
mast-lock automatically prevents
lift and tilt operations if the operator
leaves the seat.
The Ultimate In Control
Single Handle Control Lever
Combines both lift and tilt
functions for fast, smooth
and fluid operation. Separate
control handles are available
at no additional charge.
The interactive LCD meter panel provides the information you need
to control the performance of your machine and your entire operation.
The
panel can be programmed to control:
2 A return to neutral feature minimizes
forklift movement if the operator
leaves the truck.
• Max. Travel Speed
3 Audible and visual warnings alert the
driver if the seatbelt is not engaged
or the parking brake has not been
applied when leaving the compartment.
• Controlled Acceleration Modes (Power/Economy)
• O
n Board Diagnostics; no separate device needed
to adjust or troubleshoot truck
Optional Auto-Tilt
Leveling System
A
B
C
D
E
F
Assists the operator during
mast & fork positioning.
Full-Suspension Seat
Absorbs shock and features
adjustable lumbar support,
operator restraint armrests
and a non-cinching seatbelt.
J
K
L
I
G
3-Piece Overhead Guard
Designed to cut the cost of replacement —
in labor, parts and downtime — compared
to single-piece weld-on guards.
6
H
I
B
N
O
P
Power economy settings
J Seatbelt warning
The meter and warning indicator panels provide vital and
operational data that include:
A
M
K Charge warning
L Check engine warning
Engine coolant temperature
E
LCD warning symbol
M Multipurpose warning
Economy mode
F
Fuel indicator
N Parking brake warning
C
Hour meter
G
Hour meter settings
O Low oil pressure
D
Transmission position indicator
H
Hi/Low speed option
P Glow plug indicator light
77
Make It
Yours
R
Every business has its own way of operating and its own special needs — which is why
you can customize your FK Series to maximize the efficiency and productivity of your
operation. On these pages, you'll find a selection of the most popular options we offer
(but not all we offer — so call your UniCarriers dealer if you don't see exactly what you're looking for).
• Vertical Exhaust
Optional High/Low Speed Switch
Rear LED Combination Lights
Toggle from the high-speed pre-set in
wide-open areas — then select the slow
speed for tight environments.
This high-visibility, vibration-resistant light
package includes reflectors, turn signals,
brake & backup lights.
Tilt Cylinder Protection
Swivel Seat
Choose boots and/or covers.
Rotates 15o in either direction.
Overhead Guard Rain Cover
Rearview Mirrors
Protects operator from rain & debris.
Improves workplace awareness.
• Air-Intake Pre-Cleaner
• Strobe & Work Lights
•S
pecial Protection Packages
+ Anti-Dust
+ Low Noise
+ Corrosion-Resistance
•S
olid or Dual Drive
Pneumatic Tires
8
9
Option Availability
VEHICLE MANAGEMENT
Vehicle Control Module (VCM)
Standard
DIESEL
Optional
Specifications
Safety ratings available on select models/fuel types
PNEUMATIC TIRE 4000 – 7000 LB. MODELS
SHORT MODEL CODES
PF40YD
PF50YD
PF60YD
PF70YD
Interactive LCD meter panel
Engine Models Available
GCT ZD30
GCT ZD30
GCT ZD30
GCT ZD30
On-board diagnostics and programmable service reminders
Load Capacity - lb (kg)
4000 (1800)
5000 (2250)
6000 (2700)
7000 (3150)
Wheelbase - in (mm)
65.0 (1650)
65.0 (1650)
66.9 (1700)
66.9 (1700)
45.3 (1150) / 64.6 (1640)
45.3 (1150) / 64.6 (1640)
49.2 (1250) / 65.6 (1665)
50.4 (1280) / 69.9 (1775)
Operator security PIN access
Engine coolant temperature gauge
Oil pressure, transmission fluid and low coolant warning lights
Fuel gauge - diesel
Overall Width - (single/dual tires) -in (mm)
POWERTRAIN
Overall Length (no forks) - in (mm)
102.8 (2610)
105.3 (2675)
109.6 (2785)
112.8 (2865)
Electronic Engine Control System
Overall Height (OHG) - in (mm)
84.1 (2135)
84.1 (2135)
85.0 (2160)
85.0 (2160)
Engine/transmission protection and warning system
Turning Radius (outside) - in (mm)
90.7 (2305)
92.9 (2360)
96.7 (2455)
99.2 (2520)
Floating powertrain for reduced vibration (pneumatic)
Diesel oxidation catalyst
Cushioned stability control
Travel speed control (high/low speed selector)
Controlled acceleration (power/economy selector)
Radiator screen
ENGINES
ENGINE MODELS
ENGINE MODELS
Diffusion exhaust muffler
Displacement - cu in (cm3)
BRAKE
Rated Output - hp (kW) @ rpm
Parking brake with warning buzzer
Rated Torque - ft-lb (Nm) @ rpm
GCT ZD30
180 (2953)
63 (47) @ 2400
157.8 (214) @1900
Parking brake transmission interlock
MAST
Seat actuated auto-mast lock system
HYDRAULIC SYSTEM
Single lift/tilt control lever
Separate lift & tilt control levers
Automatic fork leveling
OPERATOR CONVENIENCES
Full suspension seat with weight & lumbar adjustment
Overhead guard-mounted LED headlights
Rearview mirrors
Rear LED combination light package (turn, stop, back-up)
Rear LED drive light
PROTECTION /SECURITY
Operator Presence System with return-to-neutral and auto mast lock
Back-up warning alarm
Fire Extinguisher
10
11
Reliability.
It's the defining trait of our company and our forklifts.
UniCarriers' roots extend back over 100 years, and over that time, strong, reliable performance
has always been the hallmark of our organization, our people and our equipment.
Today, our unrivaled reliability continues to provide UniCarriers' customers with a competitive
edge. And together, we move the merchandise that moves world commerce with greater
efficiency, economy and reliability.
®
When it comes to providing forklifts that make a difference for our customers and theirs…
We Never Quit.
R
UniCarriersAmericas.com
SB-FK-07-2016 Printed in U.S.A.
UniCarriers® is a registered trademark of UniCarriers Corporation. UniCarriers
Americas Corporation reserves the right to make product changes relating to
colors, equipment, specifications or available options without notice.
For more information, contact your UniCarriers representative.