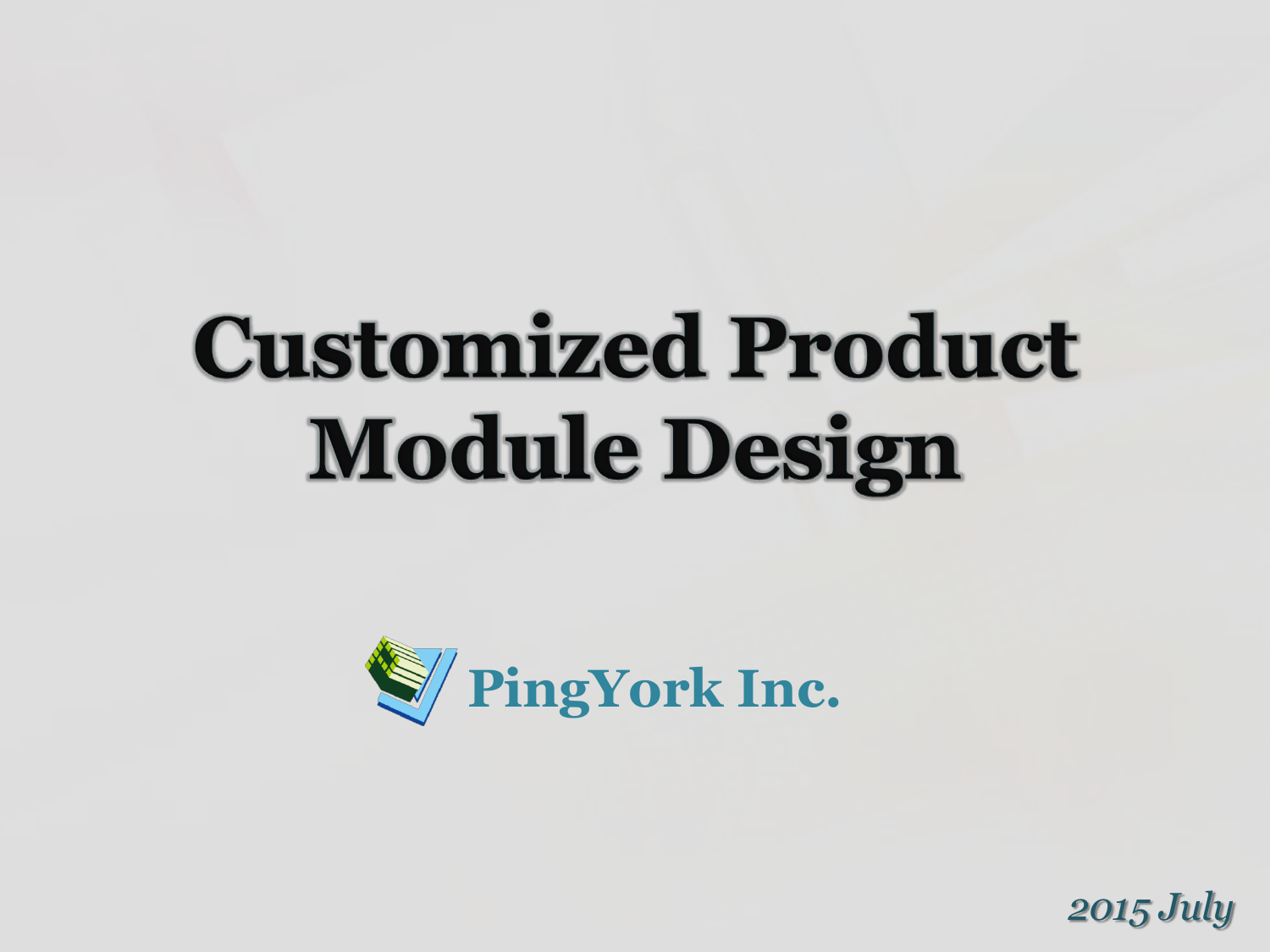 PingYork Inc.
2015 July
Customize Design / Configure Product Module
•
Customization Details
We offer adjustment that customers can choose functions they need or want for the
product module.
•
Product Configuration
Your customized module will be able to choose the following options such as
Application Options/ Size/ Colors and more.
ODM/ OEM/ EMS
•
One Stop Total Solution
Our offer includes material procurement, manufacture, assembly, testing, box
building, and shipping.
Design/ Production/ Manufacture
Product Idea/
Specification
Function
Configuration
Types of
Products
Product Overview
HDMI/SDI/CVBS DVB-T Box Module
Connecting with Power Amplifier (PA)
USB DVB-T/ ATSC/ DTMB Modulator
SDI USB2.0 UVC Grabber Card
Hybrid WIFI/ USB 720p Video Conference
Hybrid WIFI/ USB Fisheye Camera HD
HDMI/SDI/CVBS DVB-T Box Module
Feature:
1. Wired/ wireless application
2. High Quality Image
3. Multiple inputs supported
Applications:
•
DVB-T signal generator
•
Demonstrations
•
Research and development
•
Video Broadcast/ Distribution
•
Digital Signage
•
Wireless Display
HDMI/SDI/CVBS DVB-T Box Module
Parameter
Value
Input Source
Video: HDMI/ SDI/ Analog ( CVBS NTSC / CVBS
PAL )
Audio: I2S
Compression
Video: H.264 / MPEG2
Audio: AAC or MPEG
Output
Resolution/
FPS
1. 720P : 30 fps
2. 1080P: 30 fps
Input
Resolution/
FPS
1.
2.
3.
4.
Bandwidth
5/ 6/ 7 /8 MHz
Dimensions
TBD, wait the real design size
1920x1080(1080P):60/50/30/25 fps
1280x720(720P):60/50/30/25 fps
720x576 (PAL, D1):30i
720x480 (NTSC, D1):30i
Wired
Wireless
Connecting with Power amplifier (PA)
Feature:
Application :
1. Small size, easy to carry
•
Power: DC 5V with MAX 1A current
2. Enhance wireless distance ≒ 1km.
•
RF power: up to 0.2 W
•
RF range: 470Mhz - 8xx Mhz
USB DVB-T/ ATSC/ DTMB Modulator
Features:
•
USB based modulator/ Transmitter with support for EN 300-744 DVB-T
•
Transmission and Reception.
•
Powered from the USB bus, so no external power adapter is required
•
Full hardware modulation/ de-modulation, no host CPU computation required.
Host Requirements:
Install the Driver:
•
CPU: Intel, AMD, ARM, MIPS
This windows version DVB-T TX
•
128MB RAM of system memory or above
Dongle can support all Windows
•
Higher CPU and memory required if
version
DVB-T audio/ video decoding is needed
•
Windows XP
•
One available USB2.0 or 1.1 port
•
Windows 7 (32bit/ 64 bit)
•
Note:USB 1.1 can only support 3~5
•
Windows 8 (64bit)
Mbps stream data rate.
SDI USB2.0 UVC Grabber Card
HD-SDI
3G-SDI
Driver Free
UVC
Grabber Card
HOST
PC Windows
Apple MAC OS
LINUX
SDI USB2.0 UVC Grabber Card
Features :
1.
Driver free (USB Video Class) for any OS (windows XP, Vista, 7, 8, MAC OS)
2.
Works on LINUX /Android if UVC driver has been developed in your
embedded OS (If you can let USB UVC webcam work on embedded OS, then
this SDI UVC grabber card will also work)
3.
Compatible for Direct show.
4.
Play & Plug with USB Video Class for USB2.0
5.
SDI video source input , UVC for video output / UAC for Audio output
6.
Video resolution support list
Hybrid WIFI/ USB 720p Video Conference
Specifications :
• Fish-eye camera (Front Board)
1.
USB Driver: Standard UVC1.1/UAC1.0
2. Max. Working Current: 1.063A@5V
3. Power Consumption: 5315mW
4. Working Voltage: DC 5V
5.
Features:
• Hardware
1.
Resolution: 1280x720 (MJPEG )
Four hardware-based modes:
1. Original fisheye
2. Wide angle lens distortion compensation
3. e-PTZ
4. Video conference.
Hybrid WIFI/ USB 720p Video Conference
Description
Media
interface
Modulation
Core
Parameter
USB 2.0 (Device)
Driver required
Multi-format Modulation Core
DVB-T TX (software selectable)
Bandwidth
6Mhz Only
Software
Player
Multi-format video player
Support more than 300 types of video
format
mov, avi,mpg,
ts…..
File transformation feature
(Any type to TS)
Full-HD PC screen syncing
Quick play button
Power
consumption
2.5W (0.5A / 5V power)
Compatibility
Driver support windows XP / Vista / 7 / 8
Vide Player support Windows XP /
Vista / 7 / 8
VM ware excluded
Hybrid WIFI/USB Fisheye Camera HD
Feature:
1. Hybrid WIFI/ USB Fisheye Camera HD
2. 2 Resolution/ 4 Output Formats:
1280 x 720 MJPEG 1280 x 720 YUV
 640 x 480 MJPEG  640 x 480 YUV
Total System (Fish-eye camera +
Wireless AP/Client router)
Working
temperature
Max. Working
Current
Power
Consumption
0℃~ 70℃
<800 mA
<4W (800 mA@5V)
1.
The fisheye camera can output videos via the WIFI and videos can be
received via the users' phones or tablets.
2.
One AP fisheye camera can connect max.8~10 fisheye cameras.
Function
Connection
UVC 1.1/UAV1.0
version MJPEG
http://10.10.1.1:8916
AP / APP
1.Windows/ MAC OSX:
Firefox browser/ VLC
2.iPad /iPhone:
Cam view (US$1)
Net cam viewer
3.Android:
IP camera viewer basic
IP camera viewer lite.

* Your assessment is very important for improving the work of artificial intelligence, which forms the content of this project