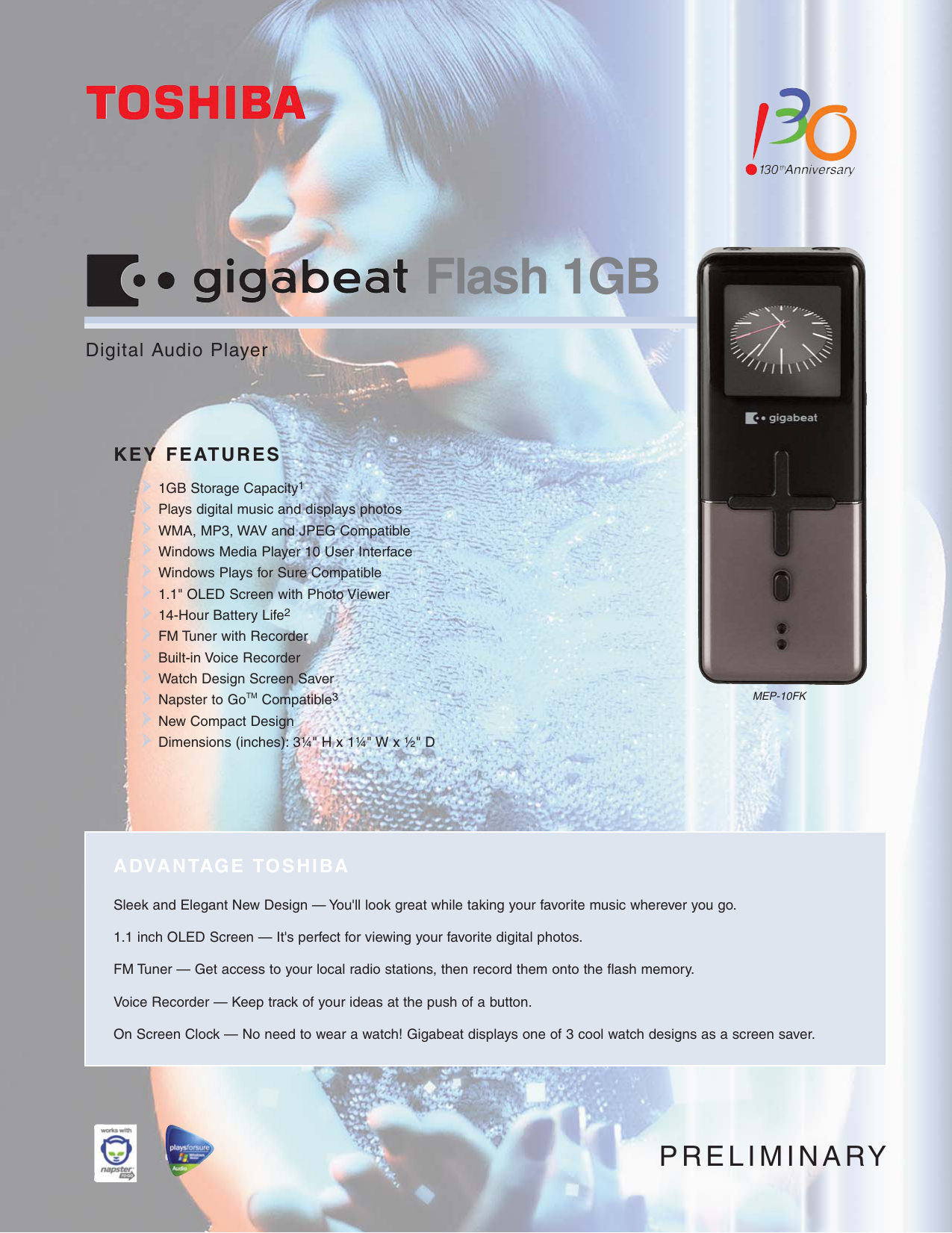 Flash 1GB
Digital Audio Player
K E Y F E AT U R E S
1GB Storage Capacity1
Plays digital music and displays photos
WMA, MP3, WAV and JPEG Compatible
Windows Media Player 10 User Interface
Windows Plays for Sure Compatible
1.1" OLED Screen with Photo Viewer
14-Hour Battery Life2
FM Tuner with Recorder
Built-in Voice Recorder
Watch Design Screen Saver
MEP-10FK
Napster to GoTM Compatible3
New Compact Design
Dimensions (inches): 3¼" H x 1¼" W x ½" D
A DVA N TAG E TO S H I BA
Sleek and Elegant New Design — You'll look great while taking your favorite music wherever you go.
1.1 inch OLED Screen — It's perfect for viewing your favorite digital photos.
FM Tuner — Get access to your local radio stations, then record them onto the flash memory.
Voice Recorder — Keep track of your ideas at the push of a button.
On Screen Clock — No need to wear a watch! Gigabeat displays one of 3 cool watch designs as a screen saver.
P R E L I M I N A RY
Flash 1GB
S P E C I F I C AT I O N S
Memory Size
1 GB
Digital Audio formats
MP3, WMA, WMDRM10, WAV
Bit Rate
32kbps-320kbps (MP3), 32kbps-192kbps (WMA)
Battery
Continuous Battery playback time
Li-Ion Battery
Up to 14 hours (OLED off, 128K bps WMA playback)
Battery Charge Time
3.5 hours (charging by USB)
Signal-to-Noise Ratio
90dB
Sampling Frequency
22.05kHz - 48kHz
Display
OLED PM09EC001 (96x96 dot / 65,535 colors)
Still Image
JPEG
Voice Recorder
Mono, 44.1KHz MP3: High (192K bps), Normal (128K bps), Long Time (96K bps)
FM Recording
Stereo, 44.1KHz MP3: High (192K bps), Normal (128K bps), Long Time (96K bps)
Tuner
Play Mode
76MHz - 108MHz
Normal, Repeat one, Repeat all, Shuffle, Shuffle repeat
Sound Effect
none, pop, classical, jazz, rock, user EQ (5 Band)
Language Support
Key Switch
3 Language (English, Japanese, French)
Power; HOLD; Enter; Plus button - Up, Down, Left, Right; Reset
PC Interface
USB1.1/USB2.0 (USB mini-B connector)
Accessories
Earphone, USB cable, CD, Easy CD, Playsforsure CD
Strap
Yes
Music-Management Software
Windows Version
Windows Media Player Version: 10
Windows XP Professional, Windows XP Home Edition, (MCE: under inspection)
Connectors
USB mini B, stereo earphone jack (Φ3.5)
Weight
1.75 oz
Dimension
Number of Tracks
82 x 31.9 x 13.2 mm (3¼" H x 1¼" W x ½" D)
Approximately 250 songs (128kbps, 4 minutes MP3/WMA encoding)
1 GB means one billion bytes when referring to hard drive storage capacity.
2 Battery life and number of charge cycles will vary depending on use and
settings. Rechargeable battery has a limited service life and may eventually
need to be replaced.
3 Windows XP operating system is required to access Napster To Go
feature.
*Copy/download time depends on the PC's processor speed, number of
tracks being copied from the CD, length of each track and transfer rate.
Some CDs may take longer to transfer, some slightly less.
http://www.tacp.toshiba.com Customer Service: 800.631.3811
Marketing Communications © Toshiba America Consumer Products, L.L.C.
82 Totowa Road, Wayne, NJ 07470 (2006). All Rights Reserved (01/06.01)
gigabeat is a registered trademark of Toshiba Corporation. gigabeat room, Napster To Go
and the Napster logo are trademarks of Napster, L.L.C. Pentium is a trademark of Intel
Corporation. The Plays for Sure logo, Windows Media and the Windows logo are trademarks or registered trademarks of Microsoft Corporation in the United States and/or
other countries.
Product design and specifications subject to change or modification without notice.