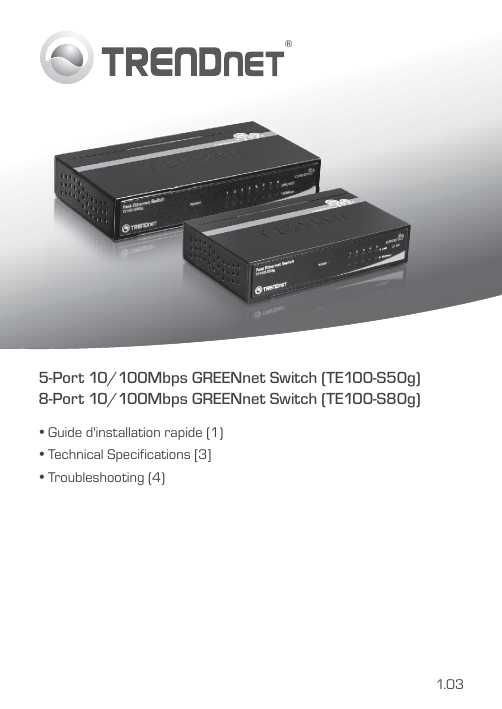 5-Port 10/100Mbps GREENnet Switch (TE100-S50g)
8-Port 10/100Mbps GREENnet Switch (TE100-S80g)
ŸGuide d'installation rapide (1)
ŸTechnical Specifications [3]
ŸTroubleshooting (4)
1.03
1. Avant de commencer
Contenu de l'emballage
ŸTE100-S50g/TE100-S80g
ŸGuide d´installation rapide en plusieurs langues
ŸAdaptateur secteur (7.5V DC, 1A)
Si tout le contenu ci-dessus sont manquantes, s'il vous plaît contactez votre
revendeur.
Minimum Requirements
ŸUn ordinateur avec un adaptateur réseau correctement installé
ŸCâble CAT 5, CAT 5e ou CAT 6 pour réseaux
ŸLa surface doit supporter au moins 265g pour le Switch
ŸLa prise secteur doit être située à un maximum de 1,8 mètres du Switch
ŸInspectez visuellement la prise d'alimentation et assurez-vous qu'elle est
correctement connectée à l'adaptateur secteur
ŸVérifiez la présence d'une source de ventilation adéquate autour du Switch
pour une dissipation efficace de la chaleur
ŸNe placez pas d'objets lourds sur le Switch
2. Installation du matériel
1. Branchez le transformateur au
TE100-S50g/TE100-S80g ainsi
qu'à une prise de courant.
2. Branchez un câble réseau CAT-5,
CAT-5e ou CAT-6 RJ-45 de
l'ordinateur vers un port Ethernet
disponible du TE100-S50g/
TE100-S80g.
1
3. LEDs
Alimentation
ŸVert : sous tension
ŸEteint : hors tension
Link/ACT
ŸVert (Fixe) : Relié à un autre périphérique.
ŸVert (Clignotant) : Activité depuis cette liaison.
ŸEteint : Rien n'est détecté sur le port.
100Mbps
ŸVert : la connexion pour le port est de 100/200Mbps (Half/Full)
ŸEteint : la connexion pour le port est de 10/20Mbps (Half/Full) ou rien
n'est détecté sur le port.
L'installation est maintenant complète.
Si vous désirez des informations détaillées sur la configuration et les paramètres
avancés du TE100-S50g/TE100-S80g, veuillez consulter la rubrique Dépannage, le
guide de l'utilisateur sur CD-ROM ou le site Internet de TRENDnet sur
http://www.trendnet.com.
2
Technical Specifications
Hardware
Standards
Network Media
Data Transfer Rates
Protocol/Topology
ŸIEEE 802.3 10BASE-T
ŸIEEE 802.3u 100BASE-TX
ŸIEEE 802.3x Flow Control
ŸEthernet: 2-Pair UTP/STP CAT-3, -4, -5
ŸFast Ethernet: 2-Pair UTP/STP CAT-5, -5e , -6
ŸEthernet: 10Mbps (half-duplex), 20Mbps (full-duplex)
ŸFast Ethernet: 100Mbps (half-duplex), 200Mbps
(full-duplex)
CSMA/CD / Star
Interface
ŸTE100-S50g: 5 x 10/100/1000 Auto-MDIX RJ-45 ports
ŸTE100-S80g: 8 x 10/100/1000 Auto-MDIX RJ-45 ports
Data RAM Buffer
ŸTE100-S50g: 384Kbytes per device
ŸTE100-S80g: 768Kbytes per device
Packet Filtering/
Forwarding Rate
Ÿ10Mbps Ethernet: 14,880pps (packet per second)
Ÿ100Mbps Fast Ethernet: 148,800pps
MAC Address Learning
Automatic Update
Filtering Table
1K entries per device
Switch Fabric
ŸTE100-S50g: 1Gbps Forwarding Capacity
ŸTE100-S80g: 1.6Gbps Forwarding Capacity
Power Consumption
Diagnostic LEDs
ŸTE100-S50g: 2.1W (max)
ŸTE100-S80g: 2.5W (max)
Power, Link/ACT, 100Mbps
Power Adapter
7.5V DC, 1A External Power Adapter
Dimensions
ŸTE100-S50g: 116 x 25 x 70 mm (4.57 x .98 x 2.76 in.)
ŸTE100-S80g: 136 x 25 x 70 mm (5.35 x .98 x 2.76 in.)
Weight
ŸTE100-S50g: 225g
ŸTE100-S80g: 265g
Temperature
ŸOperating: 0° ~ 40° C (32° ~ 104° F)
ŸStorage: -10° ~ 70° C (14° ~ 158° F)
Humidity
ŸOperating: 10% ~ 90%
ŸStorage: 5% ~ 90%
CE, FCC
Certification
3
Troubleshooting
1. After connecting the switch to a power outlet, the LEDs do not turn on.
1. Check the connection of the external power adapter to the
TE100-S50g/TE100-S80g and the power outlet.
2. Check that the power outlet is receiving power.
2. When I connect a computer to the switch's port, the LINK/ACT LED
turns on, but the 100Mbps LED remains off.
When the 100Mbps LED is off, the computer's connection speed is
10Mbps.
3. After I connect my PCs to the switch, I am unable to share files.
1. Check the LEDs on the switch. Make sure the LINK/ACT LED is on.
2. Check the network cable. The minimum length of the cable is 1.5 meters
and the maximum length of the cable is 100 meters.
3. Disable any software firewall program.
4. Verify that you have file sharing enabled. Please contact your Operating
System support for more information.
4. After I connect my PCs to the switch, I can only get onto the Internet
from one computer.
The switch was not designed to share Internet between multiple computers.
You need to get an Internet router such as the TW100-S4W1CA.
5. Where is the uplink port located on the switch?
Since all the ports on the switch are Auto-MDIX, any of the ports can be
used as an uplink port.
If you still encounter problems or have any questions regarding the
TE100-S50g/TE100-S80g please contact TRENDnet's Technical Support
Department.
4
Limited Warranty
TRENDnet warrants its products against defects in material and workmanship, under normal
use and service, for the following lengths of time from the date of purchase.
TE100-S50g/TE100-S80g - 3 Year Limited Warranty
AC/DC Power Adapter, Cooling Fan and Power Supply carry 1 year warranty
If a product does not operate as warranted during the applicable warranty period, TRENDnet
shall reserve the right, at its expense, to repair or replace the defective product or part and
deliver an equivalent product or part to the customer. The repair/replacement unit's warranty
continues from the original date of purchase. All products that are replaced become the
property of TRENDnet. Replacement products may be new or reconditioned. TRENDnet does
not issue refunds or credit. Please contact the point-of-purchase for their return policies.
TRENDnet shall not be responsible for any software, firmware, information, or memory data of
customer contained in, stored on, or integrated with any products returned to TRENDnet
pursuant to any warranty.
There are no user serviceable parts inside the product. Do not remove or attempt to service the
product by any unauthorized service center. This warranty is voided if (i) the product has been
modified or repaired by any unauthorized service center, (ii) the product was subject to accident,
abuse, or improper use (iii) the product was subject to conditions more severe than those
specified in the manual.
Warranty service may be obtained by contacting TRENDnet within the applicable warranty
period and providing a copy of the dated proof of the purchase. Upon proper submission of
required documentation a Return Material Authorization (RMA) number will be issued. An RMA
number is required in order to initiate warranty service support for all TRENDnet products.
Products that are sent to TRENDnet for RMA service must have the RMA number marked on the
outside of return packages and sent to TRENDnet prepaid, insured and packaged appropriately
for safe shipment. Customers shipping from outside of the USA and Canada are responsible for
return shipping fees. Customers shipping from outside of the USA are responsible for custom
charges, including but not limited to, duty, tax, and other fees.
WARRANTIES EXCLUSIVE: IF THE TRENDNET PRODUCT DOES NOT OPERATE AS
WARRANTED ABOVE, THE CUSTOMER'S SOLE REMEDY SHALL BE, AT TRENDNET'S
OPTION, REPAIR OR REPLACE. THE FOREGOING WARRANTIES AND REMEDIES ARE
EXCLUSIVE AND ARE IN LIEU OF ALL OTHER WARRANTIES, EXPRESSED OR IMPLIED,
EITHER IN FACT OR BY OPERATION OF LAW, STATUTORY OR OTHERWISE, INCLUDING
WARRANTIES OF MERCHANTABILITY AND FITNESS FOR A PARTICULAR PURPOSE.
TRENDNET NEITHER ASSUMES NOR AUTHORIZES ANY OTHER PERSON TO ASSUME
FOR IT ANY OTHER LIABILITY IN CONNECTION WITH THE SALE, INSTALLATION
MAINTENANCE OR USE OF TRENDNET'S PRODUCTS.
TRENDNET SHALL NOT BE LIABLE UNDER THIS WARRANTY IF ITS TESTING AND
EXAMINATION DISCLOSE THAT THE ALLEGED DEFECT IN THE PRODUCT DOES NOT
EXIST OR WAS CAUSED BY CUSTOMER'S OR ANY THIRD PERSON'S MISUSE, NEGLECT,
IMPROPER INSTALLATION OR TESTING, UNAUTHORIZED ATTEMPTS TO REPAIR OR
MODIFY, OR ANY OTHER CAUSE BEYOND THE RANGE OF THE INTENDED USE, OR BY
ACCIDENT, FIRE, LIGHTNING, OR OTHER HAZARD.
LIMITATION OF LIABILITY: TO THE FULL EXTENT ALLOWED BY LAW TRENDNET ALSO
EXCLUDES FOR ITSELF AND ITS SUPPLIERS ANY LIABILITY, WHETHER BASED IN
CONTRACT OR TORT (INCLUDING NEGLIGENCE), FOR INCIDENTAL, CONSEQUENTIAL,
INDIRECT, SPECIAL, OR PUNITIVE DAMAGES OF ANY KIND, OR FOR LOSS OF REVENUE
OR PROFITS, LOSS OF BUSINESS, LOSS OF INFORMATION OR DATE, OR OTHER
FINANCIAL LOSS ARISING OUT OF OR IN CONNECTION WITH THE SALE, INSTALLATION,
MAINTENANCE, USE, PERFORMANCE, FAILURE, OR INTERRUPTION OF THE
POSSIBILITY OF SUCH DAMAGES, AND LIMITS ITS LIABILITY TO REPAIR,
REPLACEMENT, OR REFUND OF THE PURCHASE PRICE PAID, AT TRENDNET'S OPTION.
THIS DISCLAIMER OF LIABILITY FOR DAMAGES WILL NOT BE AFFECTED IF ANY
REMEDY PROVIDED HEREIN SHALL FAIL OF ITS ESSENTIAL PURPOSE.
Governing Law: This Limited Warranty shall be governed by the laws of the state of California.
Some TRENDnet products include software code written by third party developers. These codes
are subject to the GNU General Public License ("GPL") or GNU Lesser General Public License
("LGPL").
Go to http://www.trendnet.com/gpl or http://www.trendnet.com Download section and look for
the desired TRENDnet product to access to the GPL Code or LGPL Code. These codes are
distributed WITHOUT WARRANTY and are subject to the copyrights of the developers.
TRENDnet does not provide technical support for these codes. Please go to
http://www.gnu.org/licenses/gpl.txt or http://www.gnu.org/licenses/lgpl.txt for specific terms of
each license.
PWP05202009v2
TRENDnet
20675 Manhattan Place
Torrance, CA 90501. USA
Copyright ©2011. All Rights Reserved. TRENDnet.