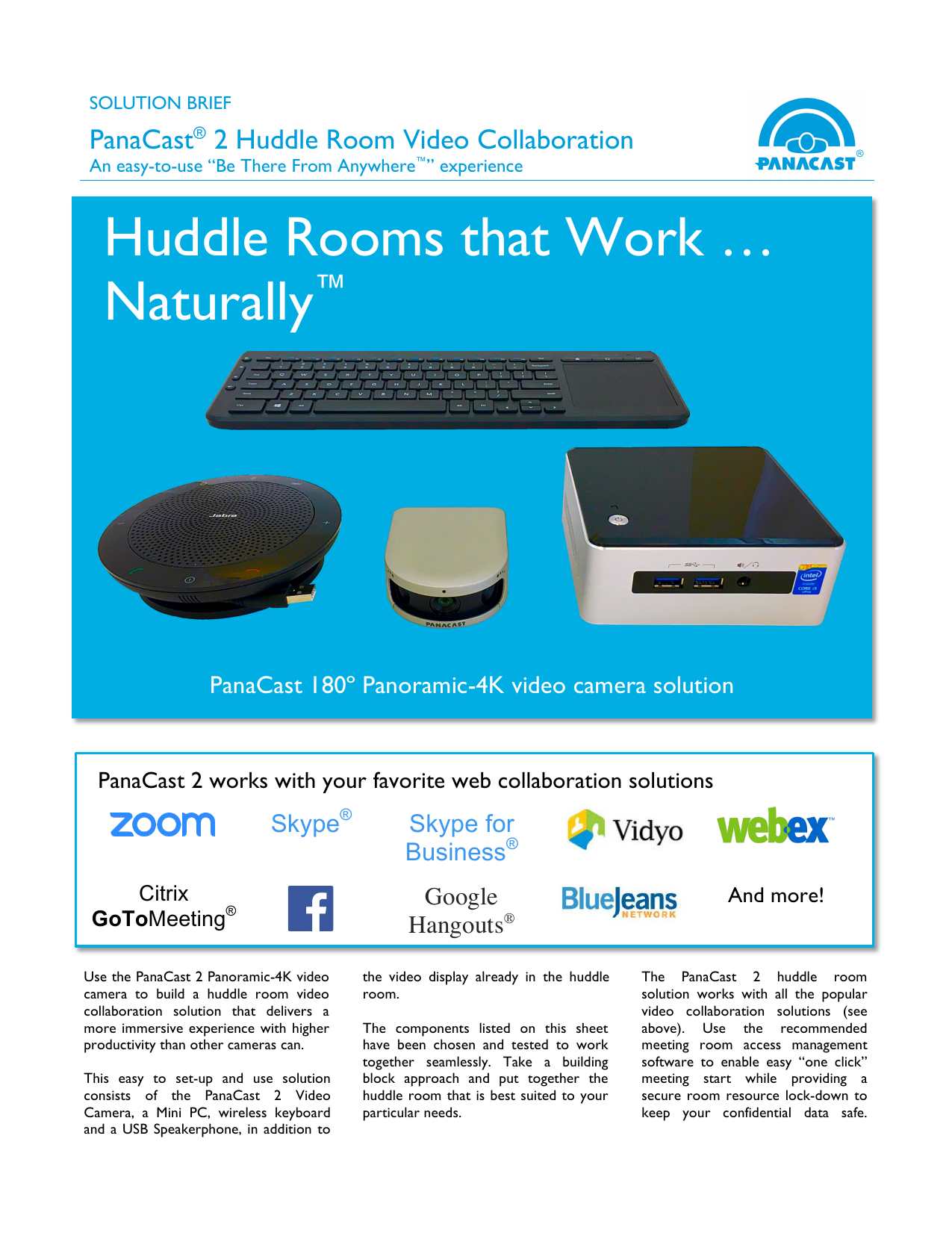 SOLUTION BRIEF
PanaCast® 2 Huddle Room Video Collaboration
An easy-to-use "Be There From Anywhere™" experience
Huddle Rooms that Work …
™
Naturally
PanaCast 180º Panoramic-4K video camera solution
PanaCast 2 works with your favorite web collaboration solutions
Skype®
Citrix
GoToMeeting®
Use the PanaCast 2 Panoramic-4K video
camera to build a huddle room video
collaboration solution that delivers a
more immersive experience with higher
productivity than other cameras can.
This easy to set-up and use solution
consists of the PanaCast 2 Video
Camera, a Mini PC, wireless keyboard
and a USB Speakerphone, in addition to
Skype for
Business®
Google
Hangouts®
the video display already in the huddle
room.
The components listed on this sheet
have been chosen and tested to work
together seamlessly. Take a building
block approach and put together the
huddle room that is best suited to your
particular needs.
And more!
The PanaCast 2 huddle room
solution works with all the popular
video collaboration solutions (see
above). Use the recommended
meeting room access management
software to enable easy "one click"
meeting start while providing a
secure room resource lock-down to
keep your confidential data safe.
Example PanaCast 2 Video Collaboration Kit Components
Camera and Keyboard
PanaCast 2 Camera
Included with PanaCast 2
• Panoramic-4K resolution (3840 x
1080)
• 180° x 54° Field of View
• Adjustable wall mount
• Power adapter
• USB cable 90º (1.5m)
Wireless Keyboard
• Wireless keyboard with integrated
multi-touch track pad
Compute Options
Intel® NUC™ with vPro
Intel® NUC™
• Intel NUC NUC5i5MYHE w/
4GB / 128GB SSD
• Intel Core i5-5300U vPro
• 4.53" x 4.37" x 1.9"
• Microsoft® Windows® 10 Pro OS
• Intel NUC NUC5i5RYH w/
4GB / 128GB SSD
• Intel Core i5-5250U
• 4.53" x 4.37" x 1.9"
• Microsoft® Windows® 10 Pro OS
Apple® Mac Mini
• MGEM2LL/A
• 1.4GHz, 2.6GHz, or 2.8GHz dualcore Intel Core i5
• 7.7" x 7.7" x 1.4"
• OS X El Capitan
Audio Options
Jabra Speak™ 410 Speakerphone
• USB powered
• HD Voice / wideband audio
• Onmi-directional microphone
Revolabs FLX™ UC1000
• IP Conference Phone
• USB Support
• Ultra-wideband pick up
Recommended Software
Iluminari Quicklaunch™ SE / UE
• Consistent and secure interface for
meeting rooms
• Lock-down mode to protect against
unwanted changes
• Windows only
ePTZ Pan Tilt & Zoom
• Enables local control of digital pan, tilt
and zoom using familiar touch
gestures
• Go to:
www.getpanacast.com/download
Additional Information and Resources
• Find an authorized PanaCast Reseller near you: www.getpanacast.com/partners
• Contact an Altia Systems sales representative at www.getpanacast.com/contact-us
• More information on huddle rooms: www.getpanacast.com/huddle-room-kit
Altia Systems, Inc.
1-408-996-9710
www.getpanacast.com
Here's what you need:
PanaCast 2 Camera
Mini PC
Speakerphone
Wall mounted display
© 2016 Altia Systems, Inc. All rights reserved. Altia Systems, PanaCast, "Be there from anywhere" graphics, logos and designs
are trademarks, servicemarks, registered trademarks, and/or registered servicemarks owned by Altia Systems Inc. All other
trademarks, servicemarks, registered trademarks, and registered servicemarks are the property of their respective owners.

* Your assessment is very important for improving the work of artificial intelligence, which forms the content of this project