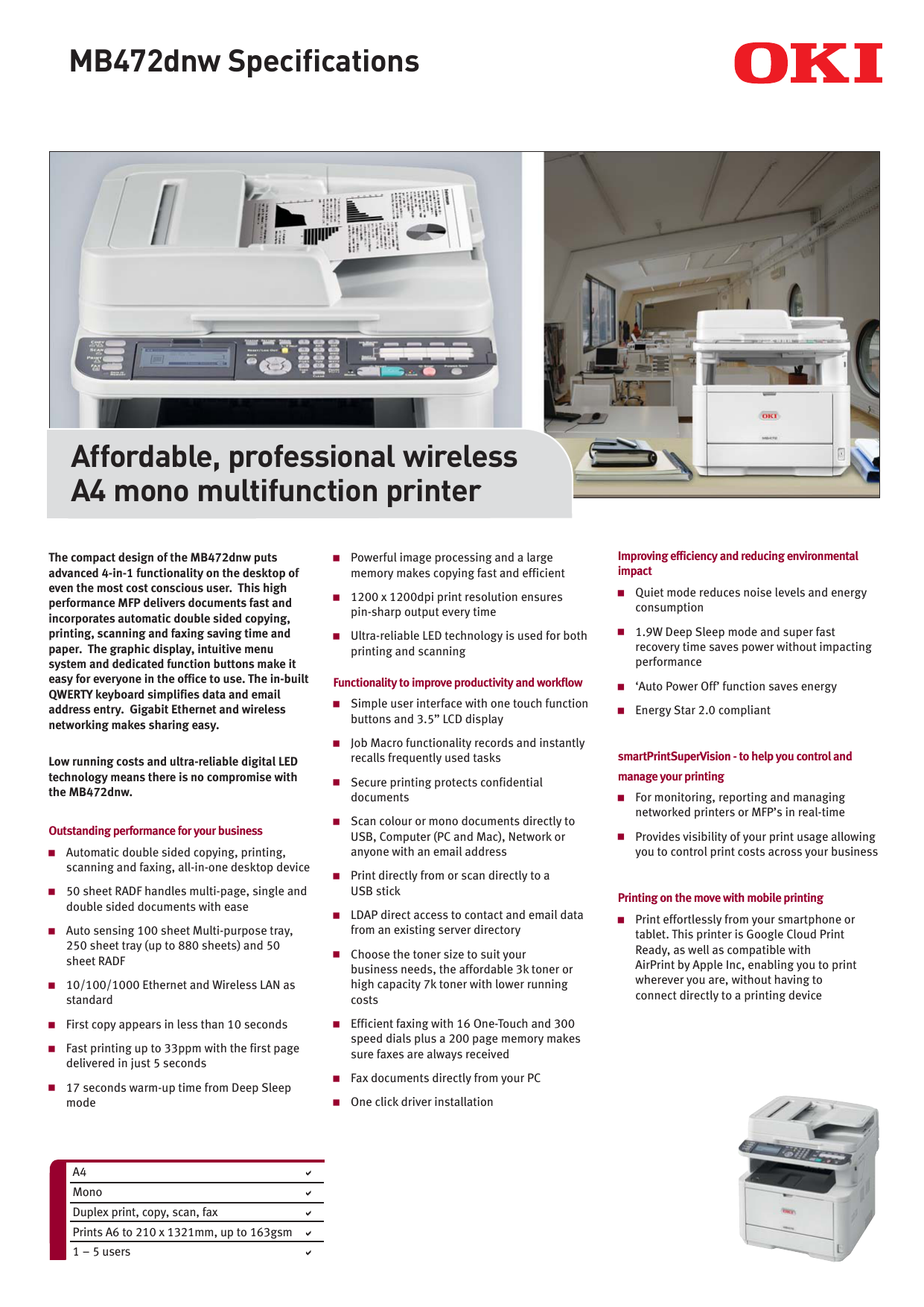 MB472dnw Specifications
Affordable, professional wireless
A4 mono multifunction printer
The compact design of the MB472dnw puts
advanced 4-in-1 functionality on the desktop of
even the most cost conscious user. This high
performance MFP delivers documents fast and
incorporates automatic double sided copying,
printing, scanning and faxing saving time and
paper. The graphic display, intuitive menu
system and dedicated function buttons make it
easy for everyone in the office to use. The in-built
QWERTY keyboard simplifies data and email
address entry. Gigabit Ethernet and wireless
networking makes sharing easy.






Outstanding performance for your business







Automatic double sided copying, printing,
scanning and faxing, all-in-one desktop device
50 sheet RADF handles multi-page, single and
double sided documents with ease
Auto sensing 100 sheet Multi-purpose tray,
250 sheet tray (up to 880 sheets) and 50
sheet RADF



10/100/1000 Ethernet and Wireless LAN as
standard
First copy appears in less than 10 seconds

Fast printing up to 33ppm with the first page
delivered in just 5 seconds
17 seconds warm-up time from Deep Sleep
mode
A4

Mono

Duplex print, copy, scan, fax

Prints A6 to 210 x 1321mm, up to 163gsm 
1 – 5 users

Improving efficiency and reducing environmental
impact
1200 x 1200dpi print resolution ensures
pin-sharp output every time

Ultra-reliable LED technology is used for both
printing and scanning

Functionality to improve productivity and workflow

Low running costs and ultra-reliable digital LED
technology means there is no compromise with
the MB472dnw.
Powerful image processing and a large
memory makes copying fast and efficient
Simple user interface with one touch function
buttons and 3.5" LCD display
Job Macro functionality records and instantly
recalls frequently used tasks
Secure printing protects confidential
documents
Scan colour or mono documents directly to
USB, Computer (PC and Mac), Network or
anyone with an email address
Print directly from or scan directly to a
USB stick
LDAP direct access to contact and email data
from an existing server directory
Choose the toner size to suit your
business needs, the affordable 3k toner or
high capacity 7k toner with lower running
costs
Efficient faxing with 16 One-Touch and 300
speed dials plus a 200 page memory makes
sure faxes are always received

Fax documents directly from your PC

One click driver installation
Quiet mode reduces noise levels and energy
consumption
1.9W Deep Sleep mode and super fast
recovery time saves power without impacting
performance

'Auto Power Off' function saves energy

Energy Star 2.0 compliant
smartPrintSuperVision - to help you control and
manage your printing


For monitoring, reporting and managing
networked printers or MFP's in real-time
Provides visibility of your print usage allowing
you to control print costs across your business
Printing on the move with mobile printing

Print effortlessly from your smartphone or
tablet. This printer is Google Cloud Print
Ready, as well as compatible with
AirPrint by Apple Inc, enabling you to print
wherever you are, without having to
connect directly to a printing device
MB472dnw - Mono Multifunction Product
Printer
Typefaces
A4 Print speed 33ppm
Scalable: 87 PCL Fonts, PCL Bitmap fonts,
Line Printer, OCR-A/B, USPS ZIP Barcode
10 types of one dimension with 26 variations: UPC-A, UPC-E,
EAN/JAN-8, EAN/JAN-13, Interleaved2of5, Code39, Code
Barcode
128, EAN/UCC-128, CODABAR, ZIP+4POSTNET; 2 types of two
dimension: PDF417, QR code
Printer fonts
Time to first print 5 seconds
Warm up time 17 seconds from Deep Sleep, 60 seconds from power on
Processor speed 667MHz
Scanner
Print quality
Optical Resolution 600dpi
Resolution 1200 x 1200dpi
Speed Up to 6sec/page in colour and 2sec/page in mono
Colour depth Input 48-bit / Output 24-bit
Paper Handling
Document input 50-sheet Reverse Automatic Document Feeder (RADF), flatbed scanner
Paper capacity
Contrast 7 Levels
Format
Tray 1: 250 sheets of 80gsm; Multi-purpose tray: 100 sheet of
80gsm; RADF: 50 sheets of 80gsm
Paper capacity
530 sheets of 80gsm
optional 2nd tray
S-TIFF/M-TIFF, JPEG, XPS, PDF, Secure PDF, High compression PDF,
+ (BMP, PCX, GIF, TGA, PNG, WMF, EMF from Actkey Utility)
Maximum paper capacity 880 sheets of 80gsm
Addressbook LDAP, 300 E-mail address, 20 group addresses
FTP, HTTP, USB memory, E-mail, TWAIN, CIFS and Scan to
Scan to
Application and Fax from Actkey Utility
Paper sizes
Tray 1: A4, A5, B5, A6; Tray 2: A4, A5, B5; Multi-purpose
tray: A4, A5, B5, A6, Envelopes (C5, C6, DL, Com-9, Com-10,
Monarch), Custom Size (up to 1321mm length including
banners); Duplex: A4, B5; RADF: A4, A5, B5, 4 x 6", 5 x 7"
Paper weight
Tray 1/2: 60 to 120gsm; Multi-purpose tray: 60 to 163gsm;
Duplex: 60 to 120gsm; RADF: 60 to 105gsm
Copy
First copy out 10 seconds
Speed Up to 33cpm
Duplex Standard
Resolution Up to 600 x 600dpi
Reduction / Enlargement Zoom 25-400%
Paper output
Maximum copies 99
Face Down: 150 sheets of 80gsm;
Face Up: 100 sheets of 80gsm
General Features
Fax
Memory 512MB RAM; 3GB eMMC
Connectivity RJ11 x 2 (Line/Tel), PSTN, PBX Line
Operating temperature/ humidity: 10°C to 32°C (17°C to 27°C
Environment recommended)/ 20% to 80% RH (50% to 70% RH recommended)
Storage temperature/ humidity: -10°C to 43°C/ 10% to 90% RH
Speed ITU-T G3(Super G3) up to 33.6kbps, upto 2 seconds/page
Fast dialing 16 one touch dials (8 x 2 using shift key), 300 speed dials
Groups Up to 20
Power supply 230 VAC +/- 10%, 50 or 60Hz +/-2%
Broadcast Maximum 100
Power consumption
Page memory 4MB (approx. 200 pages transmit and receive)
Noise level
Operator Panel
Single simplified white backlit graphics panel: 84.1mm (W) x
33.6mm (H); Resolution: 320 x 128 dots
12 alpha/numeric keys, 4 main function buttons (Copy, Scan,
Print, Fax), Color & Mono Start, Status, Setting, Help, Job Macro,
Key Pad 6 main navigation buttons (Back, Up, Down, Left, Right, OK),
Clear, Stop, Power Save, Reset/Log Out, 8 keys and a Shift Key
to provide 16 One Touch dial keys (Fax); Full Qwerty Key Pad
Typical: 600W; Max: 950W; Idle:95W; Power Save: <10W;
Deep Sleep: <1.9W
Operating: 53dB(A) or less; Standby: 30dB(A);
Power save: Background level
Dimensions (HxWxD) 455 x 427 x 425mm; with 2nd tray 593 x 427 x 425mm
LCD Touch-screen
Weight3 Approx 20kg
Duty cycle
Maximum: 60,000 pages/month;
Recommended: 250 - 3,000 pages/month
Product order numbers MB472dnw: 45762104
Interface and Software
Connectivity
USB 2.0 Device, 10/100/1000 Ethernet, Host USB x 1 (Front),
Wireless 802.11a/b/g/n,
Accessories (Order Numbers)
2nd paper tray 44575714
Printer languages PCL5e, PCL6(XL), EPSON FX, IBM ProPrinter, XPS
All major network protocols supported via ethernet card with
internal web server for printer and network card set-up and
management. TCP/IPv4&v6, AirPrint, Google Cloud Print,
NetBIOS over TCP, DHCP, BOOTP, HTTP, HTTPS, DNS, DDNS,
Network & protocols
WINS, UPNP, Bonjour, SMTP, POP3, SNMPv1&v3, SNTP, IPP,
IPPS, WSD Print, WSD Scan, LLTD, IEEE802.1X, LPR, Port9100,
Telnet, FTP, IPSec, Secure Protocol Server, LDAP, LDAPS, CIFS,
FTP, FTPS, SMTP, SMTPS, WLAN802.11a/b/g/n
Windows 7 (32-bit & 64-bit), Windows 8 (32-bit & 64-bit),
Windows 8.1 (32-bit & 64-bit), Windows 10 (32-bit & 64-bit) ,
Windows Server 2003 (32-bit & 64-bit), Windows Vista (32-bit &
1
OS Compatibility 64-bit), Windows Server 2008 (32-bit & 64-bit), Windows Server
2008 R2 (64-bit), Windows Server 2012 (64-bit), Windows
Server 2012 R2 (32 bit & 64 bit); Mac OS 10.6.8 - 10.7, 10.8,
10.9
Advanced networking
IP Filtering, MAC Filtering, SSL/TLS, EAP(IEEE802.1X), IPSec
& security
Consumables (Order Numbers)
Black Toner cartridge*
45807103
(3,000 pages)
Black Toner cartridge*
45807107
(7,000 pages)
Image drum**
44574303
(30,000 pages)
*
Toner: Number of A4 pages yield compliant with ISO/IEC 19752.
Printer shipped with toner for 2,000 pages.
** Drum: Average life of 3 pages per job simplex printing.
Template Manager2, smartPrintSuperVision2, OKI LPR2, Network
Utility suite1 Extension, Network Card Setup, Configuration Tool2, Op-Panel
Download Utility, Storage Device Manager2
Document management Nuance PaperPort SEv142, Nuance OmniPage SEv182
1
Check local OKI website for latest driver releases and OS compatibility; 2 Windows only; 3Excluding all consumables
Consumables Information: For the protection of your printer, and in order to ensure that you benefit from its full functionality, this model has
been designed to operate only with genuine OKI toner cartridges. These can be identified by the OKI trademark. Any other toner cartridge may not
operate at all, even if it is described as "compatible", and if it does work, your printer's performance and print quality may be degraded.
Oki Data (Singapore) Pte Ltd.
438A Alexandra Road
#02-11/12, Lift Lobby 3
Alexandra Technopark
Singapore 119967
Tel: (65) 6221 3722
www.oki.com/sg
Oki Data (Singapore) Pte Ltd.
Malaysia Rep Office
Suite 21.03, 21st Floor
Menara IGB, Mid Valley City
59200 Kuala Lumpur, Malaysia
Tel: (03) 2287 1177
: 1800 88 1177 (Toll Free)
Fax: (03) 2287 1166
www.oki.com/my
Oki Systems (Thailand) Ltd.
1168/81-82 Lumpini Tower,
16th Floor Rama IV Road
Tungmahamek, Sathorn
Bangkok 10120
Tel: (662) 679 9235
Fax: (662) 679 9243/245
www.oki.com/th
©2017 Okidata (S) Pte Ltd. Okidata (S) Pte Ltd is part of the Oki Electric Group of companies. Version 2.0 01/2017.
Specification subject to change without notice. All trademarks acknowledged.
iPad, iPhone, iPod, and iPod touch are trademarks of Apple Inc., registered in the U.S. and other countries.
AirPrint and the AirPrint logo are trademarks of Apple Inc. Google Cloud Print is a trademark of Google Inc.