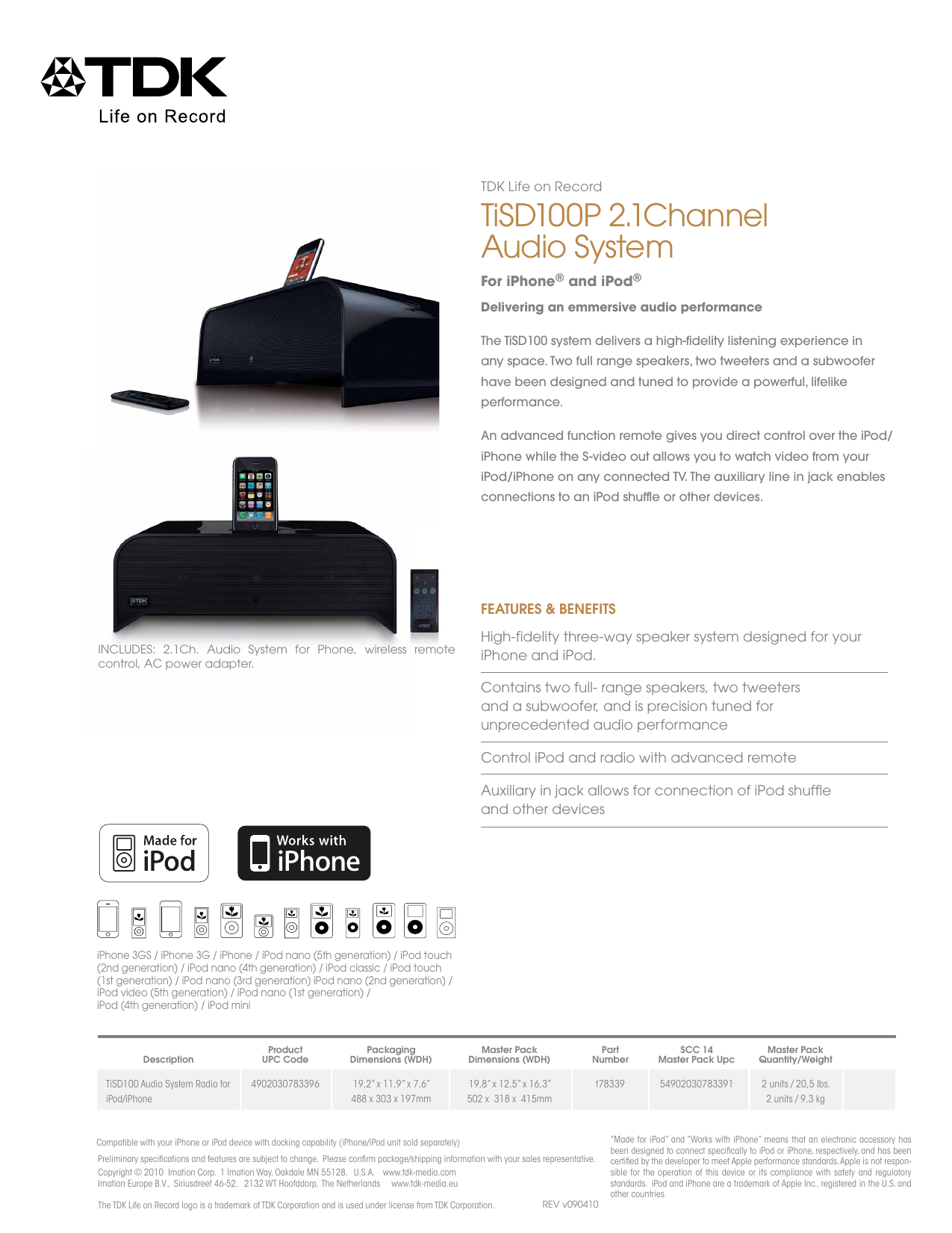 TDK Life on Record
TiSD100P 2.1Channel
Audio System
For iPhone® and iPod®
Delivering an emmersive audio performance
The TiSD100 system delivers a high-fidelity listening experience in
any space. Two full range speakers, two tweeters and a subwoofer
have been designed and tuned to provide a powerful, lifelike
performance.
An advanced function remote gives you direct control over the iPod/
iPhone while the S-video out allows you to watch video from your
iPod/iPhone on any connected TV. The auxiliary line in jack enables
connections to an iPod shuffle or other devices.
FEATURES & BENEFITS
INCLUDES: 2.1Ch. Audio System for Phone, wireless remote
control, AC power adapter.
High-fidelity three-way speaker system designed for your
iPhone and iPod.
Contains two full- range speakers, two tweeters
and a subwoofer, and is precision tuned for
unprecedented audio performance
Control iPod and radio with advanced remote
Auxiliary in jack allows for connection of iPod shuffle
and other devices
iPhone 3GS / iPhone 3G / iPhone / iPod nano (5th generation) / iPod touch
(2nd generation) / iPod nano (4th generation) / iPod classic / iPod touch
(1st generation) / iPod nano (3rd generation) iPod nano (2nd generation) /
iPod video (5th generation) / iPod nano (1st generation) /
iPod (4th generation) / iPod mini
Description
Product
UPC Code
TiSD100 Audio System Radio for
4902030783396
iPod/iPhone
Packaging
Dimensions (WDH)
Master Pack
Dimensions (WDH)
Part
Number
SCC 14
Master Pack Upc
Master Pack
Quantity/Weight
19,2" x 11,9" x 7,6"
19,8" x 12,5" x 16,3"
t78339
54902030783391
2 units / 20,5 lbs.
488 x 303 x 197mm
502 x 318 x 415mm
Compatible with your iPhone or iPod device with docking capability (iPhone/iPod unit sold separately)
Preliminary specifications and features are subject to change. Please confirm package/shipping information with your sales representative.
Copyright © 2010 Imation Corp. 1 Imation Way, Oakdale MN 55128, U.S.A. www.tdk-media.com
Imation Europe B.V., Siriusdreef 46-52, 2132 WT Hoofddorp, The Netherlands www.tdk-media.eu
The TDK Life on Record logo is a trademark of TDK Corporation and is used under license from TDK Corporation.
REV v090410
2 units / 9,3 kg
"Made for iPod" and "Works with iPhone" means that an electronic accessory has
been designed to connect specifically to iPod or iPhone, respectively, and has been
certified by the developer to meet Apple performance standards. Apple is not responsible for the operation of this device or its compliance with safety and regulatory
standards. iPod and iPhone are a trademark of Apple­­Inc., registered in the U.S. and
other countries.

* Your assessment is very important for improving the work of artificial intelligence, which forms the content of this project