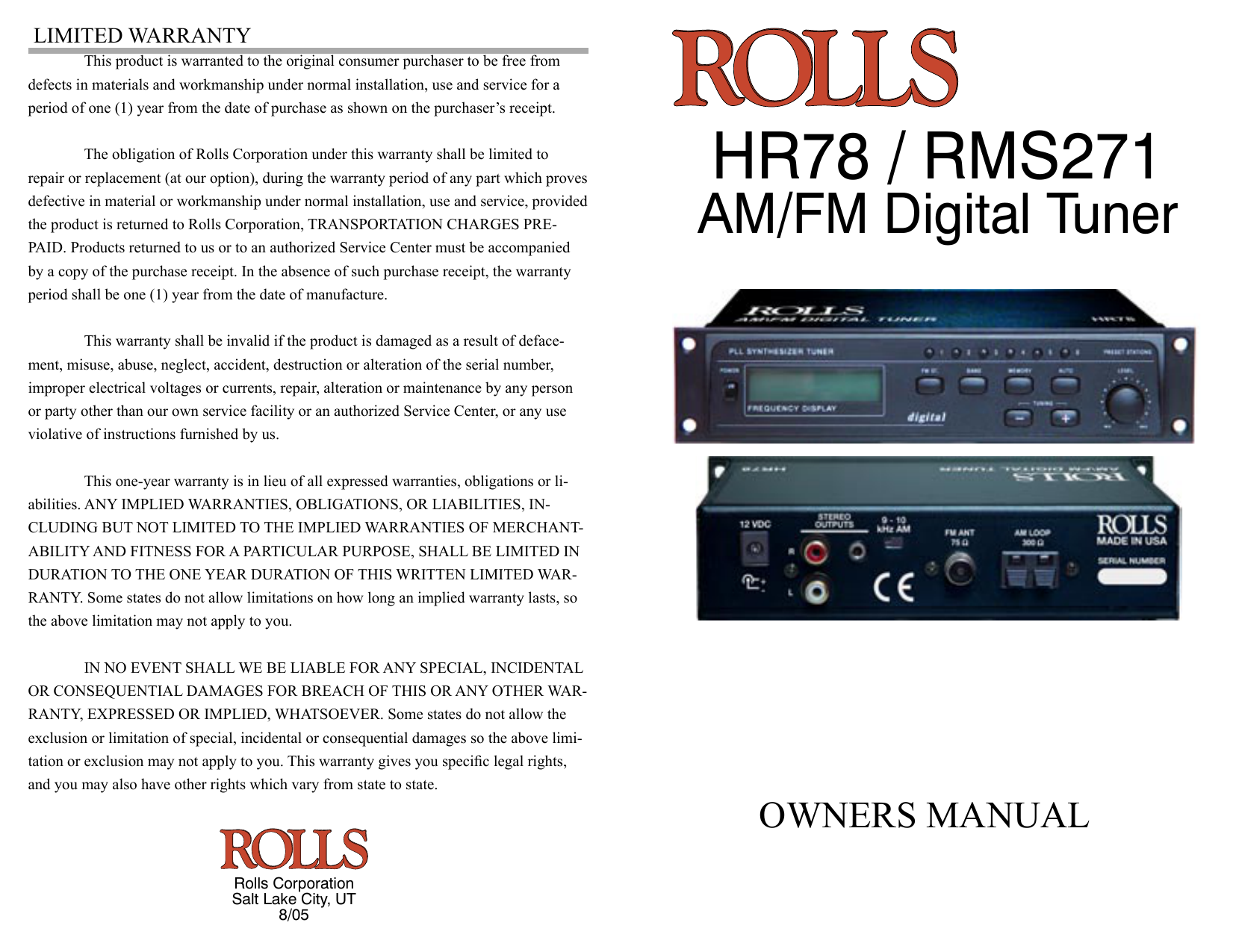 LIMITED WARRANTY
This product is warranted to the original consumer purchaser to be free from
defects in materials and workmanship under normal installation, use and service for a
period of one (1) year from the date of purchase as shown on the purchaser's receipt.
The obligation of Rolls Corporation under this warranty shall be limited to
repair or replacement (at our option), during the warranty period of any part which proves
defective in material or workmanship under normal installation, use and service, provided
the product is returned to Rolls Corporation, TRANSPORTATION CHARGES PREPAID. Products returned to us or to an authorized Service Center must be accompanied
by a copy of the purchase receipt. In the absence of such purchase receipt, the warranty
period shall be one (1) year from the date of manufacture.
HR78 / RMS271
AM/FM Digital Tuner
This warranty shall be invalid if the product is damaged as a result of defacement, misuse, abuse, neglect, accident, destruction or alteration of the serial number,
improper electrical voltages or currents, repair, alteration or maintenance by any person
or party other than our own service facility or an authorized Service Center, or any use
violative of instructions furnished by us.
This one-year warranty is in lieu of all expressed warranties, obligations or liabilities. ANY IMPLIED WARRANTIES, OBLIGATIONS, OR LIABILITIES, INCLUDING BUT NOT LIMITED TO THE IMPLIED WARRANTIES OF MERCHANTABILITY AND FITNESS FOR A PARTICULAR PURPOSE, SHALL BE LIMITED IN
DURATION TO THE ONE YEAR DURATION OF THIS WRITTEN LIMITED WARRANTY. Some states do not allow limitations on how long an implied warranty lasts, so
the above limitation may not apply to you.
IN NO EVENT SHALL WE BE LIABLE FOR ANY SPECIAL, INCIDENTAL
OR CONSEQUENTIAL DAMAGES FOR BREACH OF THIS OR ANY OTHER WARRANTY, EXPRESSED OR IMPLIED, WHATSOEVER. Some states do not allow the
exclusion or limitation of special, incidental or consequential damages so the above limitation or exclusion may not apply to you. This warranty gives you specific legal rights,
and you may also have other rights which vary from state to state.
Rolls Corporation
Salt Lake City, UT
8/05
OWNERS MANUAL
INTRODUCTION
SPECIFICATIONS
Thank you for your purchase of the Rolls HR78 AM/FM Digital Tuner. This unit
has been carefully designed and assembled to provide years of reliable AM/FM
reception and audio quality. Please read this manual carefully as it contains important information regarding the proper setup and operaton of the HR78.
FEATURES:
• 12 FM and 6 AM presets
• Retains presets when power is off
• Large digital LCD display
• Level control
• 9 - 10 kHz bandwidth select switch
• RCA and 1/8" (3.5 mm) Stereo Outputs
INSPECTION
1. Unpack and Inspect the HR78 package
Your HR78 was carefully packed at the factory in a protective carton. Nonetheless, be sure to examine the unit and the carton for any signs of damage that
may have occurred during shipping. If obvious physical damage is noticed,
contact the carrier immediately to make a damage claim. We suggest saving
the shipping carton and packing materials for safely transporting the unit in the
future.
FM
Intermediate Frequency:
10.7 MHz +/- 0.3
Tuning Range:
87.5 - 108 MHz
30 dB quieting sensitivity:
28 dB
IF Rejection 87.9 MHz:
50 - 56 dB
Image Rejection 105.9 MHz:
20 - 26 dB
3dB Limiting Sensitivity:
28 - 35 dB
THD 1 mV Input:
0.5 - 2 %
Auto Tuning Sensitivity 97.9 MHz:
25 - 30 dB
AM Suppression:
26 - 32 dB
AM
Intermediate Frequency:
450 kHz +/- 5
Tuning Range:
US:
520 - 1710
International:
531 - 1602 kHz
20 dB quieting sensitivity:
58 dB
rolls.com. Click on the REGISTER YOUR WARRANTY HERE line. Or, complete the Warranty Registration Card and return it to the factory.
IF Rejection 603 kHz:
25 - 32 dB
Image Rejection 1404 kHz:
32 - 38 dB
TABLE OF CONTENTS
INTRODUCTION
FEATURES
INSPECTION
TABLE OF CONTENTS
Auto Tuning Sensitivity 999 kHz:
28 - 35 dB
Max Output @ 1 kHz:
0.5V +/- 0.05V
Supply Voltage:
12 VDC, 200mA
2. For complete Warranty information and registration, please visit our website; www.
1
(Rolls Model PS27)
DESCRIPTION
Front Panel
Rear Panel
2
3
CONNECTION
4
OPERATION
5
SPECIFICATIONS
6
WARRANTY
Back Cover
Dimensions:
(190w x 185d x 42.5h) mm
Weight:
3 lbs
SCHEMATIC
DESCRIPTION
FRONT PANEL
• POWER: When pressed in, applies power to the HR78.
• FREQUENCY DISPLAY: LCD display showing the active information relevant to
the current operation of the HR78.
• 1 - 6 PRESET STATIONS: Selects and Stores the Preset stations.
• FM ST: Selects between Stereo and Mono FM operation.
• BAND: Selects between the two FM preset bands, and the AM preset band.
• MEMORY: When the desired station is selected, this button is pressed, followed
by the desired Preset Station number to Store the preset.
• AUTO: This button engages the Auto search mode. When "AUTO" is shown in
the display, and the Tuning up or down button is pressed - the HR78 automatically searches up or down for the next station with strong enough signal to lock
onto.
• LEVEL: Adjusts the output level of both the RCA and 1/8" (3.5mm) outputs.
PLEASE NOTE: FOR A LINE LEVEL OUTPUT SET THE LEVEL CONTROL AT
APPROXIMATELY 3 O'CLOCK.
• TUNING (- and +): Selects the stations that the HR78 is receiving.
A
B
1 AUTO
C
D
E
MONO
2
KHz
FREQUENCY DISPLAY
F
HR78 DISPLAY
A: Band indicator and number. There are two banks of FM and one bank of AM
presets.
B: AUTO indicator. When displayed, pressing the HR78 Tuning + and - buttons
will seek out the closest station.
C: Stereo / Mono indicators. Indicates whether the HR78 FM Mode is operating
in Stereo or Mono.
D: Mhz/Khz - indicates Megahertz (FM), or Kilohertz (AM) reception.
E: Preset number - indicates which preset has been selected within the selected
band.
F: Station frequency indicator
DESCRIPTION CONT.
REAR PANEL
• +12 VDC
• Stereo Outputs RCA: Unbalanced RCA outputs.
1/8" (3.5mm): Stereo Line/Headphone Output
• FREQ SELECT: This switch selects between 9 and 10Khz frequency centers
for the AM section. Note: The Power must be off when changing the Frequency
Select.
• FM ANT. 75 Ohm: Connects to the included 75 ohm FM antenna.
• AM LOOP ANT. 300 Ohm Connects to the included 300 ohm AM Loop antenna.
CONNECTION CONT.
AM Loop antenna connection
Connect the cord of the accessory AM loop antenna to the AM LOOP 300 Ohm
terminals. When tuning in AM stations, move the antenna to the left or right and
set in the direction which yields the optimum reception.
• Do not place the power cord or speaker cords near the loop antenna. Interference or noise may be generated.
Multipath reflections
FM waves, like light waves, travel in a straight direction unless reflected off
objects in their path. Because of this, two sets of waves reach your antenna from
the FM station; those that have traveled directly to the antenna, and those that
have been reflected off buildings or mountains. When the antenna receives both
kinds of signals, the two interfere with each other and result in distorted sound
and poor separation. This phenomenon is called "multipath reflection". To reduce
this problem, select an antenna with good directivity and place it in the best location with strong reception.
CONNECTION
Connect the Rolls PS27 to the 12VDC power jack of the HR78, and to an AC
outlet with the proper volage.
Connect the HR78 Left and Right outputs to a mixer, amplifier, or other audio
device.
FM Antenna
Indoor T-shaped FM antenna
Connect the T-shaped FM 300 ohm antenna to its corresponding input on the
rear panel of the HR78. Open the ends of the antenna to form a "T" shape. While
listening to a broadcast, hold the stretched ends and move around until the
antenna is facing a direction where the signal comes in the strongest. Secure the
antenna in this position.
Outdoor FM antenna
Installation of an outdoor FM antenna is recommended for a very high quality FM
reception.
• The lead-in antenna cable should be of the 75-ohm coaxial type as it suppresses intrusion of noise more effectively than the 300 ohm twin lead type.
• The cable should be straight and as far away from power lines as possible. Cut
off any extra length.
OPERATION
SET THE FREQUENCY SELECT
The Power must be switched OFF when selecting this option.
AM radio stations in the United States operate on 10kHz channel centers. In
other parts of the world, stations are on 9kHz centers. The HR78 provides a rear
panel switch to select the frequency centers for proper reception.
If you are not sure where this switch should be set, contact your local station for
their operating information.
PROGRAMMING PRESETS
Select the AM or FM band you wish to program (AM, or FM 1 or 2). Using the
TUNING +, or TUNING - buttons - select the station you wish to program. To
store that station in a preset (1 - 6), press the MEMORY button followed by the
Preset Number button you want that station stored to.
You may repeat this process for all 12 FM presets, and 6 AM presets.