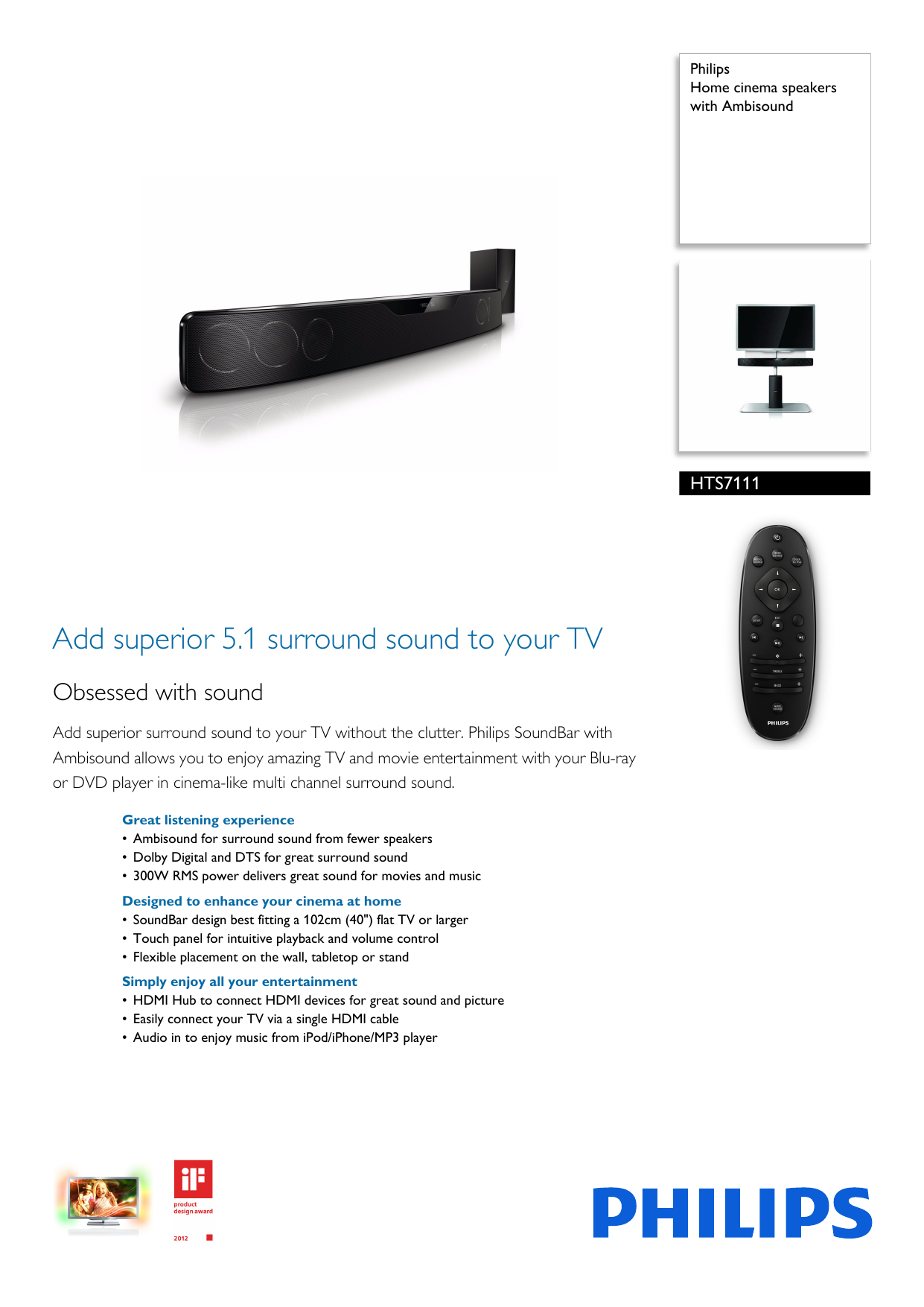 Philips
Home cinema speakers
with Ambisound
HTS7111
Add superior 5.1 surround sound to your TV
Obsessed with sound
Add superior surround sound to your TV without the clutter. Philips SoundBar with
Ambisound allows you to enjoy amazing TV and movie entertainment with your Blu-ray
or DVD player in cinema-like multi channel surround sound.
Great listening experience
• Ambisound for surround sound from fewer speakers
• Dolby Digital and DTS for great surround sound
• 300W RMS power delivers great sound for movies and music
Designed to enhance your cinema at home
• SoundBar design best fitting a 102cm (40") flat TV or larger
• Touch panel for intuitive playback and volume control
• Flexible placement on the wall, tabletop or stand
Simply enjoy all your entertainment
• HDMI Hub to connect HDMI devices for great sound and picture
• Easily connect your TV via a single HDMI cable
• Audio in to enjoy music from iPod/iPhone/MP3 player
HTS7111/12
Home cinema speakers with Ambisound
Highlights
Ambisound
Touch panel for playback
Easily connect your TV
Ambisound technology produces truly
embracing multi-channel surround sound from
fewer speakers. It delivers an immersive 5.1
sound experience without the constraints of
sitting position, room shape or size, and
without the clutter of multiple speakers and
cables. Through the combined effect of
psychoacoustic phenomena, array processing
and precisely angled driver positioning,
Ambisound delivers more sound from fewer
speakers.
Intuitive touch panel controls allows you to
control the volume as well as other playback
options by simply pressing the touch sensitive
controls on the front panel.
Easily connect your TV via a single HDMI cable
Flexible placement
Dolby Digital and DTS
Go digital and get the most out of your music
and movies. Even stereo music sounds great
because Dolby Digital and DTS Digital
Surround enhance digital music and videos,
pumping it up so you get truly immersive
surround sound out of your home cinema
speaker.
Enjoy the versatility of this home theater
system that allows you to place it where you
will. Whether on a TV stand, on a table or
mounted on a wall, the product looks
sensational and functions without
compromise. For once, you get to control how
your home looks without giving up an
incredible home theater experience.
HDMI Hub
300W RMS power
300W RMS power delivers great sound for
movies and music
HDMI Hub provides additional HDMI ports to
allow you to connect other devices such as
your game console or HD set-top box to your
home theater conveniently. By connecting
your devices through the HDMI Hub, you can
enjoy high-definition sound and picture for all
your entertainment.
Perfect match to Philips 7000 series
TV*
Perfect match to Philips 7000 series TV
Intensify your cinematic experience at
home with a matching Philips 7000 series
2011 TV. The 3D TVs combine powerful
LED pictures and Ambilight to deliver an
immersive 3D movie experience. Both TV
and home theater can be operated with
only one remote control and the
combined set ensures the best picture and
sound performance with Philips Easylink
via HDMI. In addition they are both
designed with same materials and finishing
for a perfect visual match!
iF design awards 2012
Established in 1953, the iF
Design Award is the most
coveted product design
prize today.
SoundBar Home theater
with Ambisound HTS7111 brings home
entertainment in style. It splendidly
delivers more sound from fewer speakers
- thanks to Ambisound. Its stunningly thin
bar also matches perfectly with any flat
screen TV. With touch controls, a
brushed metal finish, curved metal grilles
and chrome plated driver rings, it lends a
seductively sleek look to the home.
HTS7111/12
Home cinema speakers with Ambisound
Specifications
Accessories
• Compatible accessories: 2.5cm Screw x 8,
DCK3060 Dock for iPod/iPhone, STS1100 Table
top stand, STS1300 Floor stand, Wall plug x 8
• Included accessories: 2 x AAA Batteries, Music
iLINK Cable, Power cord, Quick start guide,
Remote Control, User Manual, Wall mount
bracket, World Wide Warranty leaflet
Matching Philips Televisions*
• 7000 Series 2D: 42PFL7406
• 7000 Series 3D: 42PFL7606, 47PFL7606,
55PFL7606
Connectivity
• Front / Side connections: Music iLINK
• Rear Connections: AUX in, Digital coaxial in,
Digital optical in, HDMI IN 1, HDMI IN 2, HDMI
1.4 output (ARC), iPod/iPhone Dock Jack
Convenience
• EasyLink (HDMI-CEC): Audio Return Channel,
Automatic audio input mapping, One touch
standby, Remote Control-Passthrough, System
standby
Dimensions
•
•
•
•
•
•
•
Main Unit (W x H x D): 945 x 108 x 86 mm
Main Unit Weight: 3.8 kg
Subwoofer (W x H x D): 192 x 447 x 253 mm
Subwoofer Weight: 4.4 kg
Subwoofer cable length: 3 m
Packaging (W x H x D): 1010 x 248 x 452, mm
Weight incl. Packaging: 13 kg
Loudspeakers
• Loudspeaker types: 2 Integrated center speakers, 4
Integrated surround speakers
• Drivers per Center speaker: 1 x 2.5" Full range
woofer
• Center speaker freq range: 150 - 20k Hz
• Center speaker impedance: 6 ohm
• Drivers per Surround speaker: 2 x 2.5" Full range
woofers
• Surround speaker freq range: 150 - 20k Hz
• Surround speaker impedance: 3 ohm
• Subwoofer type: Passive
• Subwoofer driver: 1 x 6.5" woofer
• Subwoofer freq range: 20 - 150 Hz
• Subwoofer impedance: 6 ohm
Power
• Power consumption: 55 W
• Power supply: 110-127V / 220-240V, ~50-60Hz,
50Hz
• Standby power consumption: <1 W
Sound
• Equalizer settings: Gaming, Movie, Music, News,
Original
• Sound Enhancement: Ambisound, Auto Volume
Leveller, Dialog Enhancer, Dolby Digital Prologic II,
DoubleBass, FullSound, Night Mode, Treble, Mid
and Bass Control
• Sound System: Dolby Digital 5.1, DTS Digital
Surround
• Center speaker output power: 40 W x 2
• Surround speaker output power: 35 W x 4
• Subwoofer output power: 80 W
• Total Power RMS @ 30% THD: 300 W
•
Issue date 2015-02-09
© 2015 Koninklijke Philips N.V.
All Rights reserved.
Version: 8.2.9
Specifications are subject to change without notice.
Trademarks are the property of Koninklijke Philips N.V.
or their respective owners.
12 NC: 8670 000 71586
EAN: 87 12581 58040 7
www.philips.com
* The home theater can also be matched with all other Philips TVs.