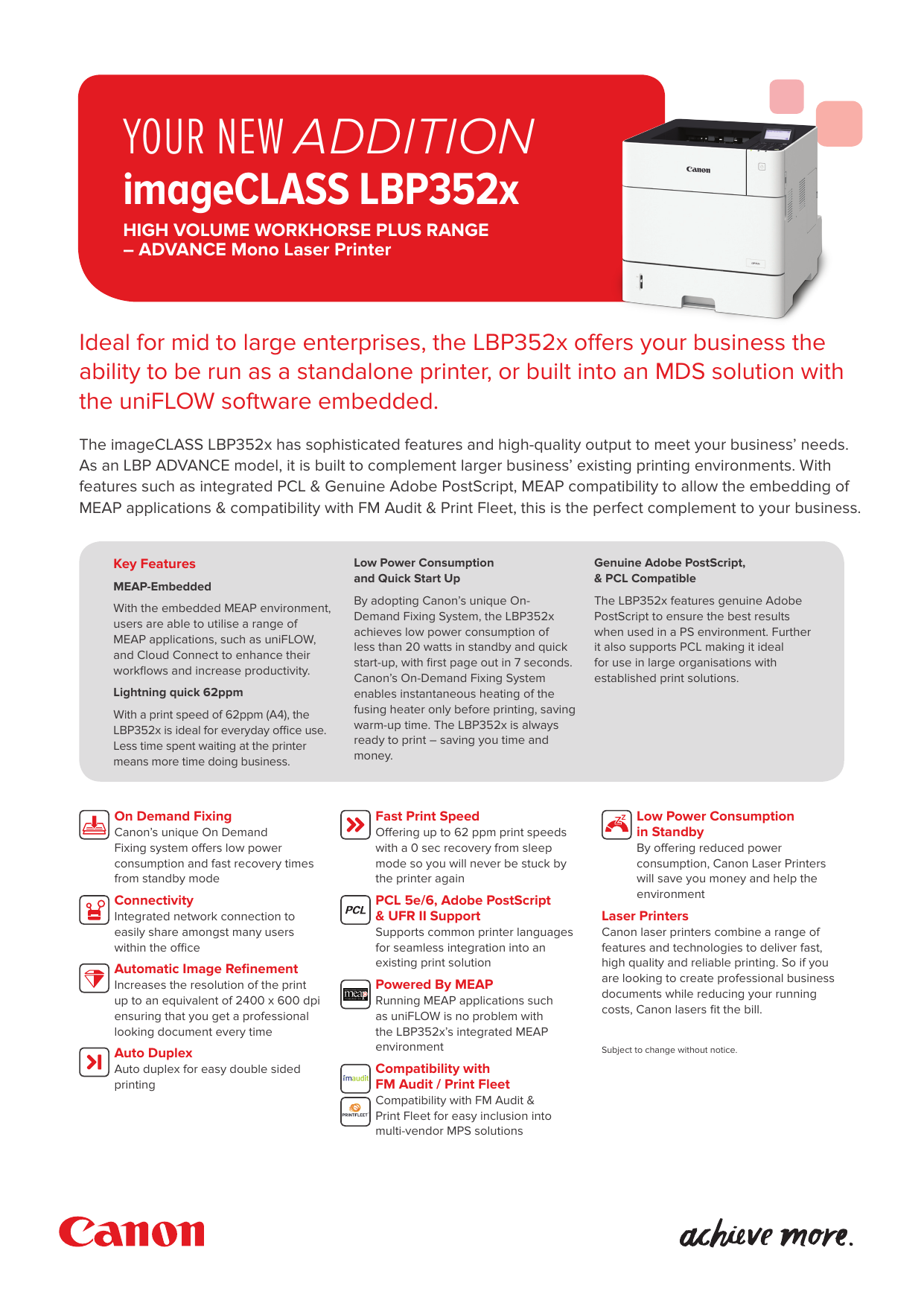 YOUR NEW ADDITION
imageCLASS LBP352x
HIGH VOLUME WORKHORSE PLUS RANGE
– ADVANCE Mono Laser Printer
Ideal for mid to large enterprises, the LBP352x offers your business the
ability to be run as a standalone printer, or built into an MDS solution with
the uniFLOW software embedded.
The imageCLASS LBP352x has sophisticated features and high-quality output to meet your business' needs.
As an LBP ADVANCE model, it is built to complement larger business' existing printing environments. With
features such as integrated PCL & Genuine Adobe PostScript, MEAP compatibility to allow the embedding of
MEAP applications & compatibility with FM Audit & Print Fleet, this is the perfect complement to your business.
Key Features
MEAP-Embedded
With the embedded MEAP environment,
users are able to utilise a range of
MEAP applications, such as uniFLOW,
and Cloud Connect to enhance their
workflows and increase productivity.
Lightning quick 62ppm
With a print speed of 62ppm (A4), the
LBP352x is ideal for everyday office use.
Less time spent waiting at the printer
means more time doing business.
Low Power Consumption
and Quick Start Up
Genuine Adobe PostScript,
& PCL Compatible
By adopting Canon's unique OnDemand Fixing System, the LBP352x
achieves low power consumption of
less than 20 watts in standby and quick
start-up, with first page out in 7 seconds.
Canon's On-Demand Fixing System
enables instantaneous heating of the
fusing heater only before printing, saving
warm-up time. The LBP352x is always
ready to print – saving you time and
money.
The LBP352x features genuine Adobe
PostScript to ensure the best results
when used in a PS environment. Further
it also supports PCL making it ideal
for use in large organisations with
established print solutions.
On Demand Fixing
Fast Print Speed
Canon's unique On Demand
Fixing system offers low power
consumption and fast recovery times
from standby mode
Offering up to 62 ppm print speeds
with a 0 sec recovery from sleep
mode so you will never be stuck by
the printer again
Connectivity
PCL 5e/6, Adobe PostScript
& UFR II Support
Integrated network connection to
easily share amongst many users
within the office
Automatic Image Refinement
Increases the resolution of the print
up to an equivalent of 2400 x 600 dpi
ensuring that you get a professional
looking document every time
Auto Duplex
Auto duplex for easy double sided
printing
Supports common printer languages
for seamless integration into an
existing print solution
Powered By MEAP
Running MEAP applications such
as uniFLOW is no problem with
the LBP352x's integrated MEAP
environment
Compatibility with
FM Audit / Print Fleet
Compatibility with FM Audit &
Print Fleet for easy inclusion into
multi-vendor MPS solutions
Low Power Consumption
in Standby
By offering reduced power
consumption, Canon Laser Printers
will save you money and help the
environment
Laser Printers
Canon laser printers combine a range of
features and technologies to deliver fast,
high quality and reliable printing. So if you
are looking to create professional business
documents while reducing your running
costs, Canon lasers fit the bill.
Subject to change without notice.
imageCLASS LBP352x
Workhorse Plus Range – ADVANCE Mono Laser Printer
Print Specifications
General Features
Printing Method
Electrophotographic printing using laser beam printing
Fixing Method
On-Demand Fixing
Print Speed2
Mono: Up to A4: 62 ppm
Duplex: Up to A4: 36.5 ipm
Print Resolution
First Printout Time
Memory
Standard: 1GB
Maximum: 1GB
Operation mode
Page description language: UFR II, PCL5e, PCL6, Adobe Postscript3
Optional ROM
Barcode Kit
600 x 600dpi/1200 x 1200dpi equivalent1/
2400 x 600dpi equivalent1
Standard font
PCL Font: 93
PS Font: 136
7 sec (A4/LTR, plain paper)/7.2 sec (LGL, plain paper)
HDD/SD
Optional 8GB SD Card
I/F
USB: USB2.0HS, USB Host x 2
Network: 10Base-T/100Base-TX/1000Base-T
Expansion I/F: Slot x 1 for Canon SD card (for secure print function)
Other Features
Warm-up time
29 sec or less
(when the printer is turned on)
Recovery time
(from sleep mode)
Approx. 0 sec (Printer sleep mode 1)
Approx. 10 sec (Printer sleep mode 2)
Approx. 10 sec (Printer sleep mode 3)
Media Handling
Paper Input
(based on 80g/m2)
Standard cassette: 500 sheets
Multi-purpose tray: 100 sheets
Optional cassette: 500 sheets x 4, 1 x 1,500 sheet LCD
Max. paper capacity: 3,600 sheets
Paper output
(based on 80g/m2)
Face-down: 500 sheets
Face-up: 100 sheets
Paper size
Standard cassette: A4/B5/A5/A6/Legal/Letter/Executive/16K/
8.5" x 13"/Custom (width 148–216mm x length 210–356mm)
Optional: A4/B5/A5/A6/Legal/Letter/ Executive/16K/8.5" x 13"/
Custom (width 148–216mm x length 210–356mm)
Multi-purpose tray: A4/B5/A5/A6/Legal/Letter/ Executive/16K/
8.5" x 13"/Custom (width 76–216mm x length 127.0–356mm)
Paper weight
Standard: 60–120g/m2
Optional: 60–120g/m2
Multi-purpose tray: 60–135g/m2
Paper type
Plain paper, Heavy Paper, Label, Envelope
Effective Printing Area
5 mm-top, bottom, left and right
(Envelope: 10 mm)
Duplex printing
Standard (only A4/Letter/Legal/8.5" x 13")
(Paper Weight: 60-120g/m2)
Compatible operating systems Windows® 10 / Windows® 8.1 / Windows® 8 / Windows® 7 /
Windows® Vista / Server® 2012R2 / Server® 2012 / Server® 2008R2 /
Server® 2008 / Server® 2003R2 / Server® 2003 /
Mac OS X version 10.6.8 & up / Linux / Citrix
Operation panel
5 Line LCD/5 LED/10 Key
Noise level
During operation: Approx. 71 dB (sound pressure level: 56dB)
During standby: Sound pressure level: inaudible
Power consumption (W)
Maximum: 1650W or less
Operation: Approx. 1000W
During standby: Approx. 20W
During sleep: Sleep Mode 1: Approx. 15W
Sleep Mode 2: Approx. 5.4W
Sleep Mode 3: Approx. 1.1W
Dimensions (W × D × H)
415 mm x 529.4 mm x 438.1 mm
Weight (kg) without CRG
Approx. 24kg
Power requirement
220-240V (±10%)/50–60Hz(±2Hz)
Operating environment
Temperature: 10–30°C
Humidity: 20–80%RH (no condensation)
Toner Specifications
Cartridges3
CART039: yields 11,000 pages
CART039II (High Yield): yields 25,000 pages
1. Using A.I.R.
2.Print speed may vary with the content of the document and the processing speed of the host
computer. Time from when print data is received.
3.Based on 5%
CANON EXTENDED ON-SITE
SERVICE &
SUPPORT
LAS-2YOS-1 – 3 year Extended Onsite Service & Support card
canon.com.au/business
Follow us on Twitter @CanonBusinessAU
1800 444 199
4565-v1-07/16
Subject to change without notice.

* Your assessment is very important for improving the work of artificial intelligence, which forms the content of this project