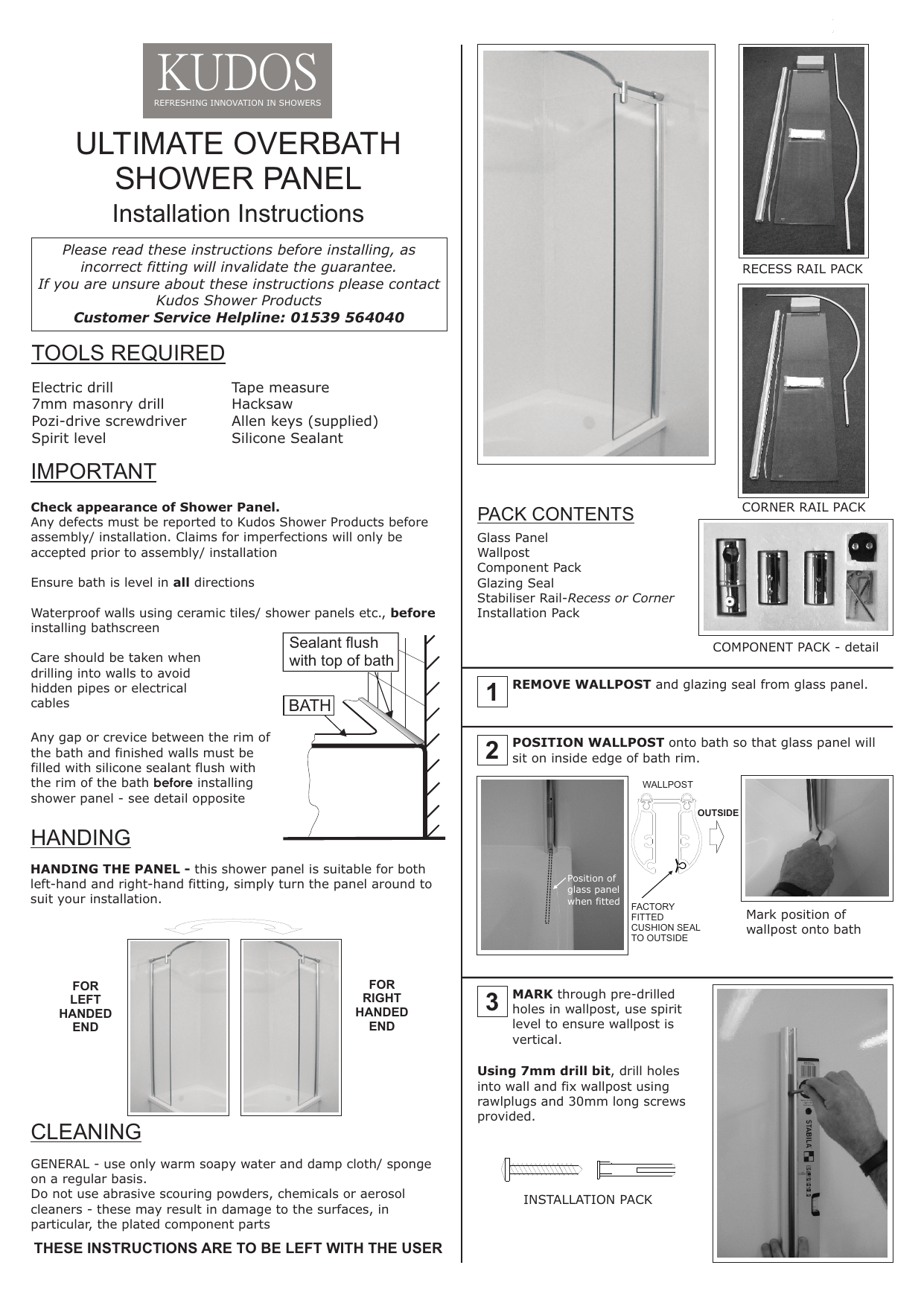 KUDOS
REFRESHING INNOVATION IN SHOWERS
ULTIMATE OVERBATH
SHOWER PANEL
Installation Instructions
Please read these instructions before installing, as
incorrect fitting will invalidate the guarantee.
If you are unsure about these instructions please contact
Kudos Shower Products
Customer Service Helpline: 01539 564040
RECESS RAIL PACK
TOOLS REQUIRED
Electric drill
7mm masonry drill
Pozi-drive screwdriver
Spirit level
Tape measure
Hacksaw
Allen keys (supplied)
Silicone Sealant
IMPORTANT
Check appearance of Shower Panel.
Any defects must be reported to Kudos Shower Products before
assembly/ installation. Claims for imperfections will only be
accepted prior to assembly/ installation
Ensure bath is level in all directions
Waterproof walls using ceramic tiles/ shower panels etc., before
installing bathscreen
Care should be taken when
drilling into walls to avoid
hidden pipes or electrical
cables
CORNER RAIL PACK
PACK CONTENTS
Glass Panel
Wallpost
Component Pack
Glazing Seal
Stabiliser Rail-Recess or Corner
Installation Pack
Sealant flush
with top of bath
BATH
Any gap or crevice between the rim of
the bath and finished walls must be
filled with silicone sealant flush with
the rim of the bath before installing
shower panel - see detail opposite
COMPONENT PACK - detail
1
REMOVE WALLPOST and glazing seal from glass panel.
2
POSITION WALLPOST onto bath so that glass panel will
sit on inside edge of bath rim.
WALLPOST
OUTSIDE
HANDING
HANDING THE PANEL - this shower panel is suitable for both
left-hand and right-hand fitting, simply turn the panel around to
suit your installation.
FOR
LEFT
HANDED
END
FOR
RIGHT
HANDED
END
CLEANING
GENERAL - use only warm soapy water and damp cloth/ sponge
on a regular basis.
Do not use abrasive scouring powders, chemicals or aerosol
cleaners - these may result in damage to the surfaces, in
particular, the plated component parts
THESE INSTRUCTIONS ARE TO BE LEFT WITH THE USER
Position of
glass panel
when fitted
3
FACTORY
FITTED
CUSHION SEAL
TO OUTSIDE
MARK through pre-drilled
holes in wallpost, use spirit
level to ensure wallpost is
vertical.
Using 7mm drill bit, drill holes
into wall and fix wallpost using
rawlplugs and 30mm long screws
provided.
INSTALLATION PACK
Mark position of
wallpost onto bath
INSERT glass panel into wallpost.
Using spirit level to ensure glass panel is vertical, insert
glazing seal to inside of wallpost to retain panel in place.
11 TRIM TOP RAIL if required using hacksaw.
FOR
CORNER
RAIL
NOTE
POSITION OF
HOLE IN
GLASS PANEL
RAIL END
TOUCHING
BACK WALL
'X' + 25mm
4
'X' mm IS DISTANCE FROM
OUTSIDE FACE OF WALLPOST
TO CENTRE-LINE OF RAIL
CUT HERE
TO
GLASS
TO
WALLPOST
HOLE
RAIL MUST BE PARALLEL
For example:
IN RAIL
WITH BATH EDGE
If 'X' measures 95mm
95mm + 25mm = 120mm to be cut from rail end where shown.
GLAZING SEAL
TIP
5
If tight, lubricate glazing seal with water. Do not stretch seal
when inserting, because, after cutting to length, the seal will
shrink and leave a gap.
ALIGN GLASS PANEL to ensure it is parallel with bath
outer edge and wedge folded cardboard strip between panel
and bath to retain in this position until top rail is fitted.
FOR
RECESS
RAIL
IMPORTANT
ALWAYS CUT RAIL
AT OPPOSITE END
OF HOLE IN RAIL
'Y' mm
CUT HERE
MARK VERTICAL LINE on wall
from CENTRELINE OF GLASS.
Mark horizontal line 39mm from
TOP EDGE of GLASS.
This is the centre for the wall
bracket body.
CENTRELINE
OF GLASS
39mm
6
TOP EDGE
OF GLASS
7
'X' mm
IN
DISTANCE BETWEEN CENTRE OF
TOP FINIAL AND WALL
HOLE IN RAIL
'Y' mm - 10mm
CUT RAIL TO THIS LENGTH
For example:
If 'Y' measures 1390mm
1390mm - 10mm = 1380mm finished cut length of rail from hole centre.
FIT TOP RAIL - fit rail holder, shaped washer and screw
12 through
hole in rail. Slide shroud onto rail and fit to glass
panel and wall bracket.
Loosely tighten screws at this stage with allen keys.
FIT TOP COVER CAP from
component box using two 10mm
screws provided.
GRUB
SCREWS
TO TOP
COVER CAP
ENSURE RAIL IS LEVEL AND
MARK POSITION ONTO WALL
8
DRILL HOLE in wall at intersection of drawn lines and fit
rawlplug provided from the component pack.
9
FIT WALL BRACKET BODY to wall using screw provided from
component pack.
HOLE in wall and fit 2nd bracket body as described
13 inDRILL
stages 8 & 9.
FIT SHROUD to rail and slide over bracket body.
TIGHTEN ALL SCREWS
14 SILICONE SEAL unit to wall and bath.
Separate body from shroud
SHROUD
BODY
COMPONENT PACK
10
FIT TOP FINIAL
through hole in galss
panel using 4mm allen
key provided, ensuring
screw is to inside and
plastic sleeve is fitted
to screw.
Finger-tighten screw
at this stage.
Seal wallpost to wall
on inside & outside
Seal glass panel to bath on
inside & outside.
Seal bottom of wallpost to
bath on outside only.
Do not seal bottom of
wallpost to bath on inside.
FITTING CURTAIN - not supplied - we recommend fitting 3
curtain rings to rail between top finial and wall to retain curtain in
position.
COMPONENT
PACK
Important - when installed correctly, we guarantee the
screen will not leak under normal showering use, ie. when
the shower head is in it's normal showering position.
NB - Using the shower head to clean/rinse down the screen
does not constitute normal showering use.

* Your assessment is very important for improving the work of artificial intelligence, which forms the content of this project