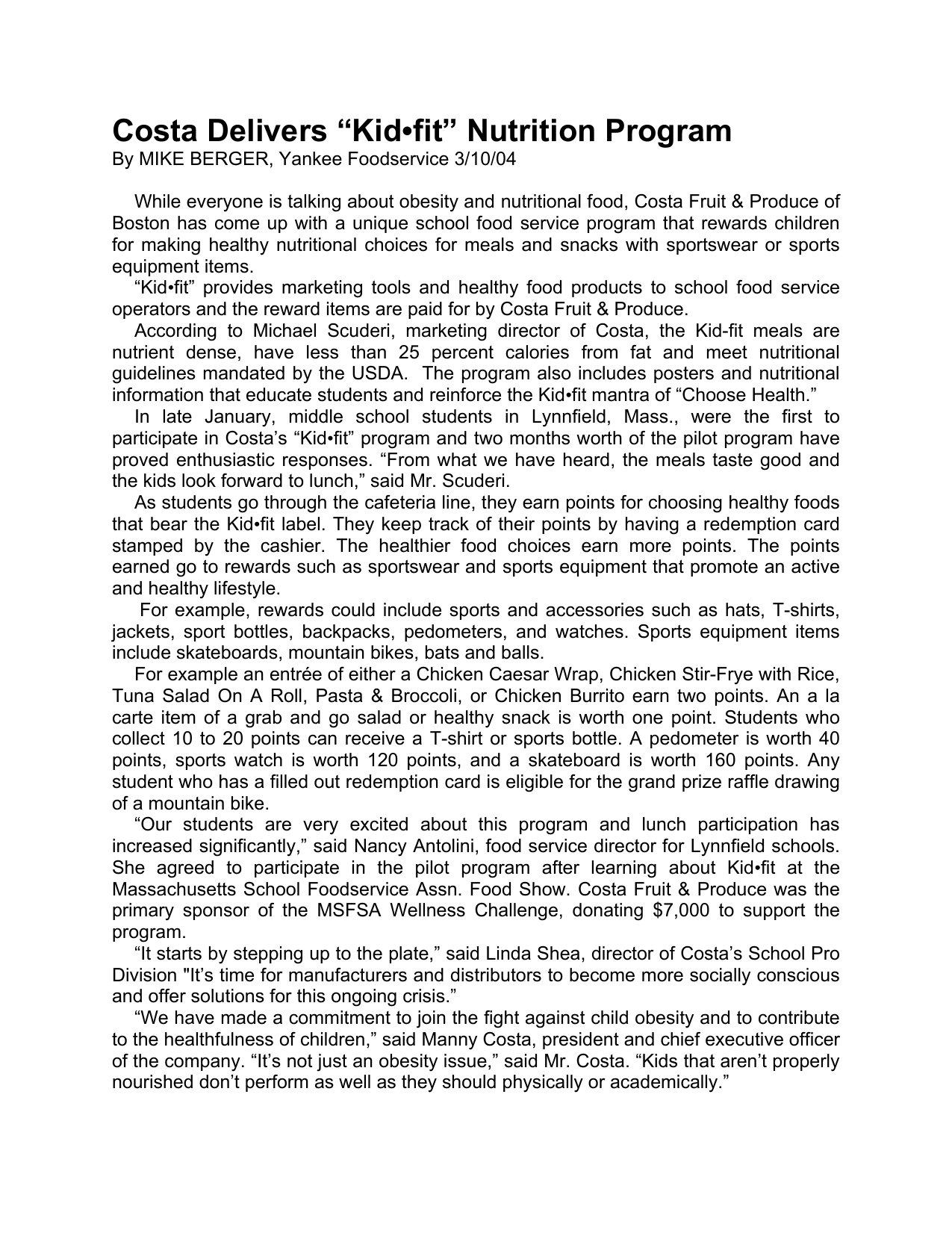 Costa Delivers "Kid•fit" Nutrition Program
By MIKE BERGER, Yankee Foodservice 3/10/04
While everyone is talking about obesity and nutritional food, Costa Fruit & Produce of
Boston has come up with a unique school food service program that rewards children
for making healthy nutritional choices for meals and snacks with sportswear or sports
equipment items.
"Kid•fit" provides marketing tools and healthy food products to school food service
operators and the reward items are paid for by Costa Fruit & Produce.
According to Michael Scuderi, marketing director of Costa, the Kid-fit meals are
nutrient dense, have less than 25 percent calories from fat and meet nutritional
guidelines mandated by the USDA. The program also includes posters and nutritional
information that educate students and reinforce the Kid•fit mantra of "Choose Health."
In late January, middle school students in Lynnfield, Mass., were the first to
participate in Costa's "Kid•fit" program and two months worth of the pilot program have
proved enthusiastic responses. "From what we have heard, the meals taste good and
the kids look forward to lunch," said Mr. Scuderi.
As students go through the cafeteria line, they earn points for choosing healthy foods
that bear the Kid•fit label. They keep track of their points by having a redemption card
stamped by the cashier. The healthier food choices earn more points. The points
earned go to rewards such as sportswear and sports equipment that promote an active
and healthy lifestyle.
For example, rewards could include sports and accessories such as hats, T-shirts,
jackets, sport bottles, backpacks, pedometers, and watches. Sports equipment items
include skateboards, mountain bikes, bats and balls.
For example an entrée of either a Chicken Caesar Wrap, Chicken Stir-Frye with Rice,
Tuna Salad On A Roll, Pasta & Broccoli, or Chicken Burrito earn two points. An a la
carte item of a grab and go salad or healthy snack is worth one point. Students who
collect 10 to 20 points can receive a T-shirt or sports bottle. A pedometer is worth 40
points, sports watch is worth 120 points, and a skateboard is worth 160 points. Any
student who has a filled out redemption card is eligible for the grand prize raffle drawing
of a mountain bike.
"Our students are very excited about this program and lunch participation has
increased significantly," said Nancy Antolini, food service director for Lynnfield schools.
She agreed to participate in the pilot program after learning about Kid•fit at the
Massachusetts School Foodservice Assn. Food Show. Costa Fruit & Produce was the
primary sponsor of the MSFSA Wellness Challenge, donating $7,000 to support the
program.
"It starts by stepping up to the plate," said Linda Shea, director of Costa's School Pro
Division "It's time for manufacturers and distributors to become more socially conscious
and offer solutions for this ongoing crisis."
"We have made a commitment to join the fight against child obesity and to contribute
to the healthfulness of children," said Manny Costa, president and chief executive officer
of the company. "It's not just an obesity issue," said Mr. Costa. "Kids that aren't properly
nourished don't perform as well as they should physically or academically."
To establish Kid•fit nutritional guidelines and men options, Costa is working with
Maureen Kelly Gonsalves, M.Ed. R.D., a registered and respected dietician in the food
service industry. Mr. Scuderi said other challenges are to bring in less processed food
but still make the program cost effective for the operator.
There are five main components to the Kid•fit program including an extensive product
line, menu planners, wellness information, merchandising materials, and a rewards
program. Categories include fresh fruits and vegetables, prepared salads, snack items,
entrees, beverages, and grab and go items.
Costa will be working to partner with schools to establish pilot programs. For more
information, contact Linda Shea at sheal@freshideas.com.
Costa's manufacturing division, "Fresh Ideas" produces more than 500 preservative
free, value added fresh cut fruits and vegetables for the Kid•fit program. As a broad line
service provider, Costa supplies 3500 frozen food and grocery items and offers a
complete line of fresh products that include fresh fruits and produce, fresh seafood and
dairy, value added fruits and vegetables, and prepared salads. Costa has been
servicing the food service industry for more than 50 years.