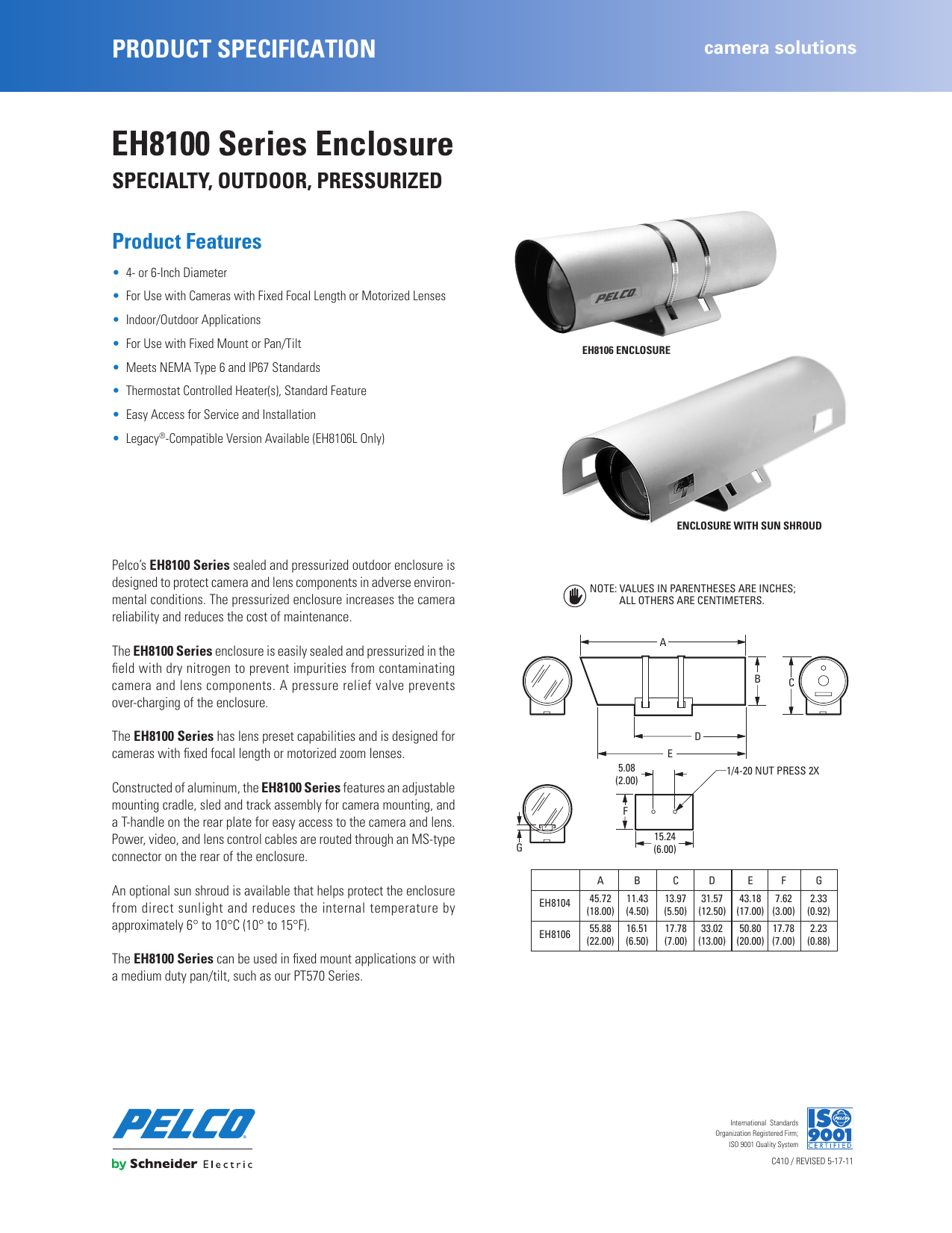 PRODUCT SPECIFICATION
camera solutions
EH8100 Series Enclosure
SPECIALTY, OUTDOOR, PRESSURIZED
Product Features
• 4- or 6-Inch Diameter
• For Use with Cameras with Fixed Focal Length or Motorized Lenses
• Indoor/Outdoor Applications
• For Use with Fixed Mount or Pan/Tilt
EH8106 ENCLOSURE
• Meets NEMA Type 6 and IP67 Standards
• Thermostat Controlled Heater(s), Standard Feature
• Easy Access for Service and Installation
• Legacy®-Compatible Version Available (EH8106L Only)
ENCLOSURE WITH SUN SHROUD
Pelco's EH8100 Series sealed and pressurized outdoor enclosure is
designed to protect camera and lens components in adverse environmental conditions. The pressurized enclosure increases the camera
reliability and reduces the cost of maintenance.
NOTE: VALUES IN PARENTHESES ARE INCHES;
ALL OTHERS ARE CENTIMETERS.
A
The EH8100 Series enclosure is easily sealed and pressurized in the
field with dry nitrogen to prevent impurities from contaminating
camera and lens components. A pressure relief valve prevents
over-charging of the enclosure.
B
The EH8100 Series has lens preset capabilities and is designed for
cameras with fixed focal length or motorized zoom lenses.
Constructed of aluminum, the EH8100 Series features an adjustable
mounting cradle, sled and track assembly for camera mounting, and
a T-handle on the rear plate for easy access to the camera and lens.
Power, video, and lens control cables are routed through an MS-type
connector on the rear of the enclosure.
An optional sun shroud is available that helps protect the enclosure
from direct sunlight and reduces the internal temperature by
approximately 6° to 10°C (10° to 15°F).
C
D
E
5.08
(2.00)
1/4-20 NUT PRESS 2X
F
15.24
(6.00)
G
A
B
C
EH8104
45.72
(18.00)
11.43
(4.50)
13.97
(5.50)
31.57
43.18 7.62
(12.50) (17.00) (3.00)
D
E
F
2.33
(0.92)
G
EH8106
55.88
(22.00)
16.51
(6.50)
17.78 33.02
50.80 17.78
(7.00) (13.00) (20.00) (7.00)
2.23
(0.88)
The EH8100 Series can be used in fixed mount applications or with
a medium duty pan/tilt, such as our PT570 Series.
International Standards
Organization Registered Firm;
ISO 9001 Quality System
C410 / REVISED 5-17-11
TECHNICAL SPECIFICATIONS
MODELS
EH8104-1
EH8104-3
EH8106-1*
EH8106-3*
GENERAL
Pressurized enclosure with two 120 VAC
heaters; 10.16 cm (4-inch) inside diameter
Pressurized enclosure with two 230 VAC
heaters; 10.16 cm (4-inch) inside diameter
Pressurized enclosure with two 120 VAC
heaters; 15.24 cm (6-inch) inside diameter
Pressurized enclosure with two 230 VAC
heaters; 15.24 cm (6-inch) inside diameter
ELECTRICAL
Input Voltage
EH8104-1, EH8106-1
EH8104-3, EH8106-3
Power Consumption
EH8104 Series
EH8106 Series
Heater
EH8104-1
EH8104-3
EH8106-1
EH8106-3
Connector
Mating Connector
Maximum Cable Distances
120 VAC
16 AWG (1.5 mm2)
18 AWG (1.0 mm2)
20 AWG (0.5 mm2)
230 VAC
16 AWG (1.5 mm2)
18 AWG (1.0 mm2)
20 AWG (0.5 mm2)
120 VAC
230 VAC
40 W
80 W
EH8106 Series
Camera Mounting
Maximum Camera
and Lens Size
EH8104
EH8106
Enclosure Mounting
Purge Fitting
Purge Relief Fitting
Ambient Operating
Temperature
Vibration
Humidity
2 at 20 W each, 120 VAC
2 at 20 W each, 230 VAC
2 at 40 W each, 120 VAC
2 at 40 W each, 230 VAC
Heater(s) are thermostatically controlled to
activate at 4°C (40°F) and turn off at
15°C (60°F)
16-pin receptacle with jam nut
MS-type connector (supplied)
Aluminum 6061 T6
Gray polyester powder coat
Unit
Shipping
3.62 kg (8 lb)
4.98 kg (11 lb)
6.79 kg (15 lb)
8.15 kg (18 lb)
ENVIRONMENTAL
Altitude
Acoustic Noise
-40° to 50°C (-40° to 122°F) with heater(s)
5 to 60 Hz with 0.082-inch total travel (15 g at
60 Hz). From 60 to 1,000 Hz, 5 g RMS with
random vibration
Sea level to equivalent of 3,048 m (10,000 ft)
Operates in 150 dB acoustic noise
environments
Up to 100% relative humidity; standard
Schrader and pressure relief valves provide
positive internal pressure with dry nitrogen
CERTIFICATIONS/RATINGS
• CE
• UL/cUL Listed
• Meets NEMA Type 6 and IP67 standards
OPTIONAL ACCESSORIES
Sun Shroud
SS8004
SS8006
EH8000RKIT
PSKIT8100
Sun shroud for EH8104 Series enclosure
Sun shroud for EH8106 Series enclosure
Dry nitrogen recharging kit (nonrefillable)
Pressure sensor kit; provides a contact closure
that can be wired to trigger an alarm when
internal pressure drops to 2 psi
EH8104 Series
1,365 m (4,477 ft)
860 m (2,821 ft)
540 m (1,773 ft)
EH8106 Series
682 m (2,238 ft)
430 m (1,410 ft)
270 m (886 ft)
Other
15,014 m (16,449 ft)
3,159 m (10,364 ft)
1,985 m (6,514 ft)
2,507 m (8,224 ft)
1,579 m (5,182 ft)
993 m (3,257 ft)
RECOMMENDED MOUNTS
EH8104 Series
EM1109, EM2000, EM2200
EM22
MECHANICAL
Front Window
EH8104 Series
Construction
Finish
Weight
EH8104 Series
EH8106 Series
MM22
4-inch diameter tempered glass, 0.225-inch
thick
6-inch diameter tempered glass, 0.225-inch
thick
Multiple mounting holes on camera sled
allow for linear adjustment
Accepts camera and lens combinations†
(including BNC connector) up to:
35.56 x 6.35 x 6.35 cm
(14.00" L x 2.50" W x 2.50" H) or
35.56 x 7.62 cm (14.00" L x 3.00" diameter)
45.72 x 10.16 x 10.16 cm
(18.00" L x 4.00" W x 4.00" H) or
45.72 x 12.7 cm (18.00" L x 5.00" diameter)
Adjustable cradle secured with type 316
stainless steel bands
Standard Schrader valve to allow enclosure to
be filled with dry nitrogen
Prevents over pressurization of enclosure
Pelco by Schneider Electric
3500 Pelco Way, Clovis, California 93612-5699 United States
USA & Canada Tel (800) 289-9100 Fax (800) 289-9150
International Tel +1 (559) 292-1981 Fax +1 (559) 348-1120
www.pelco.com
EH8106 Series
PM2000, PM2010‡
WM2000‡
WM3026
Adapters
AH2000
STI
Medium duty mount for horizontal/vertical
pipe or pole; maximum load is 18.1 kg (40 lb)
Medium duty wall mount; maximum load is
18.1 kg (40 lb)
Medium duty ceiling/pedestal mount;
maximum load is 18.1 kg (40 lb)
Pedestal/ceiling mount; maximum load is
56.62 kg (125 lb)
Wall mount; maximum load is 34 kg (75 lb);
increased to 68 kg (150 lb) when used with
ST1 strut
Heavy duty wall mount with adjustable head;
maximum load is 136 kg (300 lb)
Adjustable head
Support strut
RECOMMENDED PAN/TILTS
PT570 Series
Medium duty pan/tilt; maximum load is
18.14 kg (40 lb)
*For applications requiring an integrated positioning system, refer to our
Pressurized Legacy Series.
†
Assumes lens is fully extended.
‡
Use with AH2000 adjustable head.
Pelco, the Pelco logo, and other trademarks associated with Pelco products referred
to in this publication are trademarks of Pelco, Inc. or its affiliates. All other
product names and services are the property of their respective companies.
Product specifications and availability are subject to change without notice.
©Copyright 2011, Pelco, Inc. All rights reserved.