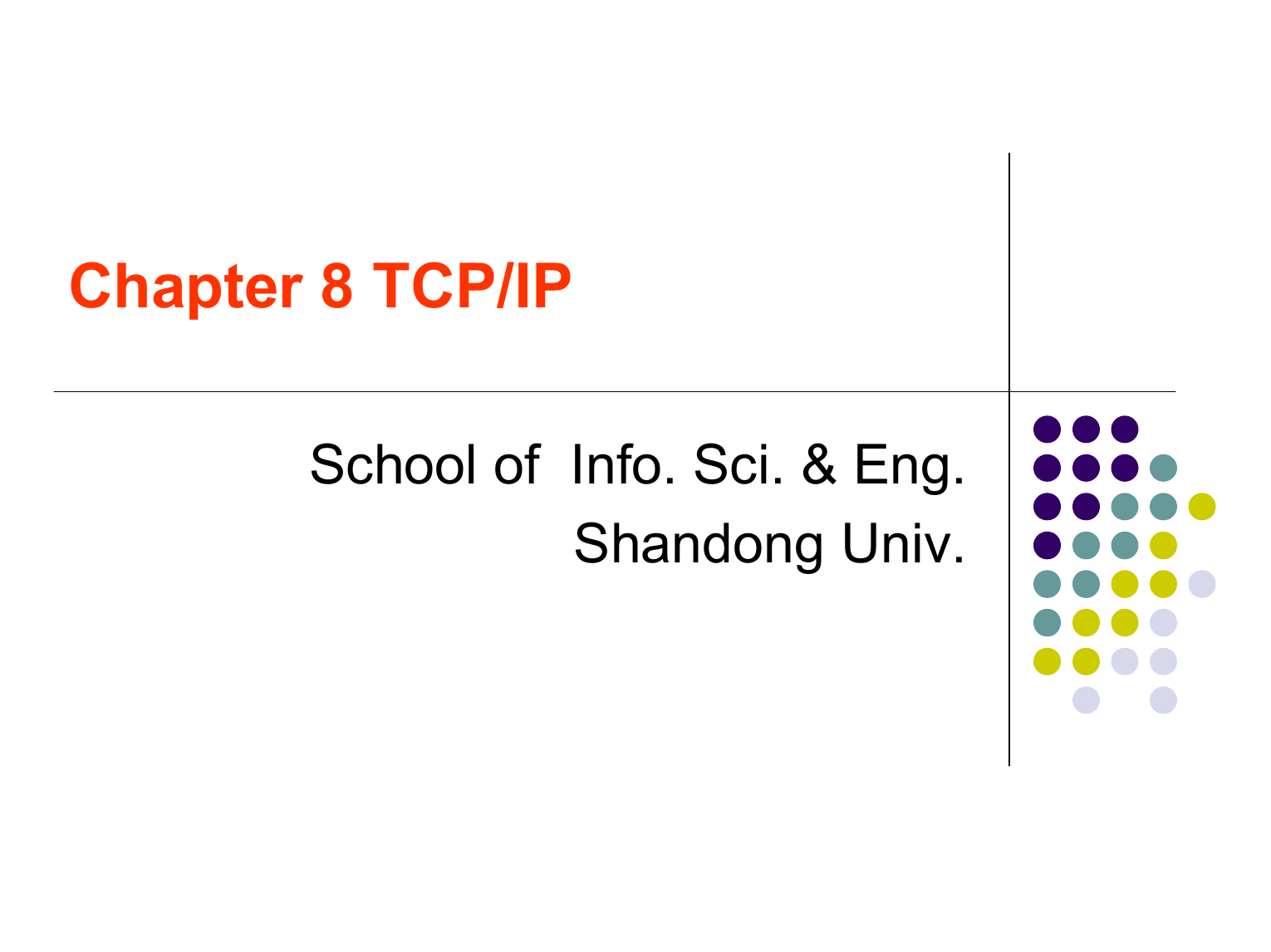 Chapter 8 TCP/IP
School of Info. Sci. & Eng.
Shandong Univ.
Outline
l
l
l
l
l
l
l
1. TCP/IP Architecture
2. Internet Protocol IP Version 4
3. IP Version 6 (skip)
4. Transport Layer Protocols (TCP and UDP)
5. DHCP and Mobile Internet (just a little)
6 Internet Routing
7. Multicast Routing (skip)
Application
Application
TCP
UDP
ICMP
IP
ARP
RARP
Physical
network
Figure 8.1
HTTP Request
Header contains source and
destination port numbers
Header contains:
source and destination
IP addresses; transport
protocol type
Header contains:
source and destination
Ethernet
physical addresses;
network protocol type Header
TCP
Header
IP
Header
FCS
Figure 8.2
Machine A
Machine B
Application
Application
Transport
Transport
Router/Gateway
Internet
Internet
Network
Interface
Network
Interface
Network 1
Internet
Network
Interface
Network 2
Figure 8.3
IP Packet Design:
Fields Defined on next two slides
0
4
Version
8
IHL
16
Type of Service
Identification
Time to Live
19
24
31
Total Length
Flags
Protocol
Fragment Offset
Header Checksum
Source IP Address
Destination IP Address
Options
Padding
Figure 8.4
IP Packet Fields
l
l
l
l
l
Version. mostly 4 or 6
Internet Header Length IHL in 32-bit words if no
options are present IHL=5
Type of Service. (priority) Most routers ignore
Total Length. No of bytes in IP packet including
header and info. Max is 65,535. Usually less.
Ethernet only allows 1500 bytes.
ID, Flags, Frag Offset. Used in reassembling
fragmented packets.
IP Packet Fields, Continued
l
l
l
l
l
l
Time to Live TTL. Sending host sets. Decremented
by one by each router. When field reaches zero,
packet is discarded. Normally counts hops.
Protocol that will receive packet. TCP=6, UDP=17,
ICMP=1
Header checksum. Info part not checked. Since the
TTL is decremented by each router, this has to
recalculated by each router
Source and Destination IP addresses 32 bits each.
Options. Rarely used.
Padding. used to make header a multiple of 32-bit
words
Varieties of IP addresses
Bit position:
0 1 2 3
Class A
0
Class B
1 0
Class C
1 1 0
Class D
1 1 1 0
Class E
1 1 1 1
8
16
Net ID
31
Host ID
Net ID
Host ID
Net ID
Host ID
Multicast address
Reserved for experiments
Figure 8.5
Original 1 0
address
Net ID
Subnetted
address 1 0
Net ID
Host ID
Subnet ID
Host ID
Figure 8.6
H1
H2
150.100.12.154
150.100.12.176
150.100.12.128
150.100.12.129
150.100.0.1
To the rest of
the Internet
R1
150.100.12.4
H3
H4
150.100.12.55
150.100.12.24
150.100.12.0
150.100.12.1
R2
H5
150.100.15.54
150.100.15.11
150.100.15.0
Figure 8.7
MGl RL 8.8 Address Resolution Protocol
FIGURE 8.9 Packet fragmentation
TABLE 8.1 Values of the IP header in a fragmented packet
FIGURE 8.10 IPv6 basic header
TABLE 8.2 Address types based on prefixes
FIGURE 8.11 Provider-based address format
FIGURE 8.12 Daisy-chain extension headers
TABLE 8.3 Extension headers
FIGURE 8.13 Extension header for jumbo packet
FIGURE 8.14 Fragment extension header
FIGURE 8.15 Routing extension header
FIGURE 8.16 I DP datagram
FIGURE 8.16 I DP datagram
FIGURE 8.18 TCP preview
FIGURE 8.19 TCP end-io-end How control
FIGURE 8.20 TCP segment
FIGURE 8.21 TCP pseudoheader
FIGURE 8.22 Three-way handshake
FIGURE 8.23 If a host always uses the same initial sequence number, old
segments cannot be distinguished from the current ones
FIGURE 8.24 Client server application process actions and TCP
FIGURE 8.25 TCP window flow control
FIGURE 8.26 Header overhead
FIGURE 8.27 TCP graceful close
FIGURE S.28 TCP state transition diagram
Note: The thick solid line is the normal state trajectory for a client; the dashed line is the normal state
trajectory for a server
FIGURE 8.29 Routing for mobile hosts
FIGURE 8.30 IP to IP encapsulation
FIGURE 8.31 Rome optimization for mobile IP
FIGURE 8.32 RIP message format
TABLE 8.4 RIP fields
FIGURE 8.33 OSPF areas
FIGURE 8.34 OSPF common header
TABLE 8.5 OSPF header fields
FIGURE 8.35 OSPF Hello packet format
TABLE 8.6 Hello packet fields
FIGURE 8.36 OSFP database description packet
TABLE 8.7 OSPF database description packet fields
FIGURE 8.37 LSA header
TABLE 8.8 LSA header fields
FIGURE 8.38 OSPF link-state request packet
FIGURE 8.39 OSPF link-state update packet
FIGURE 8.40 A graph of ASs
FIGURE 8.41 Internal and external BGP
FIGURE 8.42 iBGP mesh
FIGURE 8.43 BGP header format
FIGURE 8.44 BGP OPEN message
FIGURE 8.45 KEEP ALIVE message format
FIGURE 8.46 NOTIFICATION message format
TABLE 8.9 BGP error codes and subcodes
FIGURE 8.47 UPDATE message
FIGURE 8.48 Format of each attribute
FIGURE 8.49 Attribute type
FIGURE 8.50 BGP NEXT_HOP
FIGURE 8.51 Example of the MED attribute
FIGURE 8.52 Multicast tree rooted at source
FIGURE 8.53 Router 1 forwards the packet
FIGURE 8.54 Routes 2, 3, 4, and 5 forward the packets
FIGURE 8.55 Routers 6, 7, and 8 forward the packets
FIGURE 8.56 IGMP message format
FIGURE 8.57 Grafting to cancel pruning
SUMMARY
We began this chapter with an end-to-end view of the flow of
application layer messages through the IP layer in the end systems and
across an IP internetwork. We then examined the details of how Internet
Protocol enables communications across a collection of networks. We
paid particular attention to the hierarchical structure of IP addresses and
explained their role in ensuring scalability of the Internet. The role of
address prefixes and the use of masks was explained. We also examined
the interplay between IP addresses, routing tables, and router operation.
We discussed how the IP layer must perform segmentation and
reassembly in order to provide the higher layers with independence from
the underlying network technologies. We also introduced Internet Protocol
version 6 and identified its advantages relative to IPv4 in terms of address
space and streamlined header design.
The Internet offers two basic communication services that operate on
top of IP: TCP reliable stream service and UDP datagram service. We
examined the simple operation of UDP, and we then focussed on the
details of how TCP provides reliable stream service and flow control. We
also discussed the various issues that underlie the design of TCP: the
rationale for using the three-way handshake; the separation of
acknowledgments and window size; the difficulties in closing a connection,
and the consequences of sequence number space limitations as well as of
round-trip time variability.
we introduced DHCP and mobile IP and explained their role in
extending IP service to mobile and transitory users.
The later sections of the chapter were concerned with IP routing. We
introduced the Autonomous System structure of the Internet and
explained how the routing problem is then partitioned into intradomain and
interdomain components. We introduced RIP and OSPF for intradomain
routing. We identified the advantages of OSPF and explained its operation
in detail. We discussed how intradomain and inter-domain routing involve
different concerns, e.g. optimal path routing versus policy routing. We also
explained how BGP4 provides interdomain routing. Finally, we showed
how the hierarchy of the Autonomous System structure and the hierarchy
inherent in CIDR addressing work together to provide an Internet that can
scale to enormous size.
In the last section we provided an introduction to multicast routing.

* Your assessment is very important for improving the work of artificial intelligence, which forms the content of this project