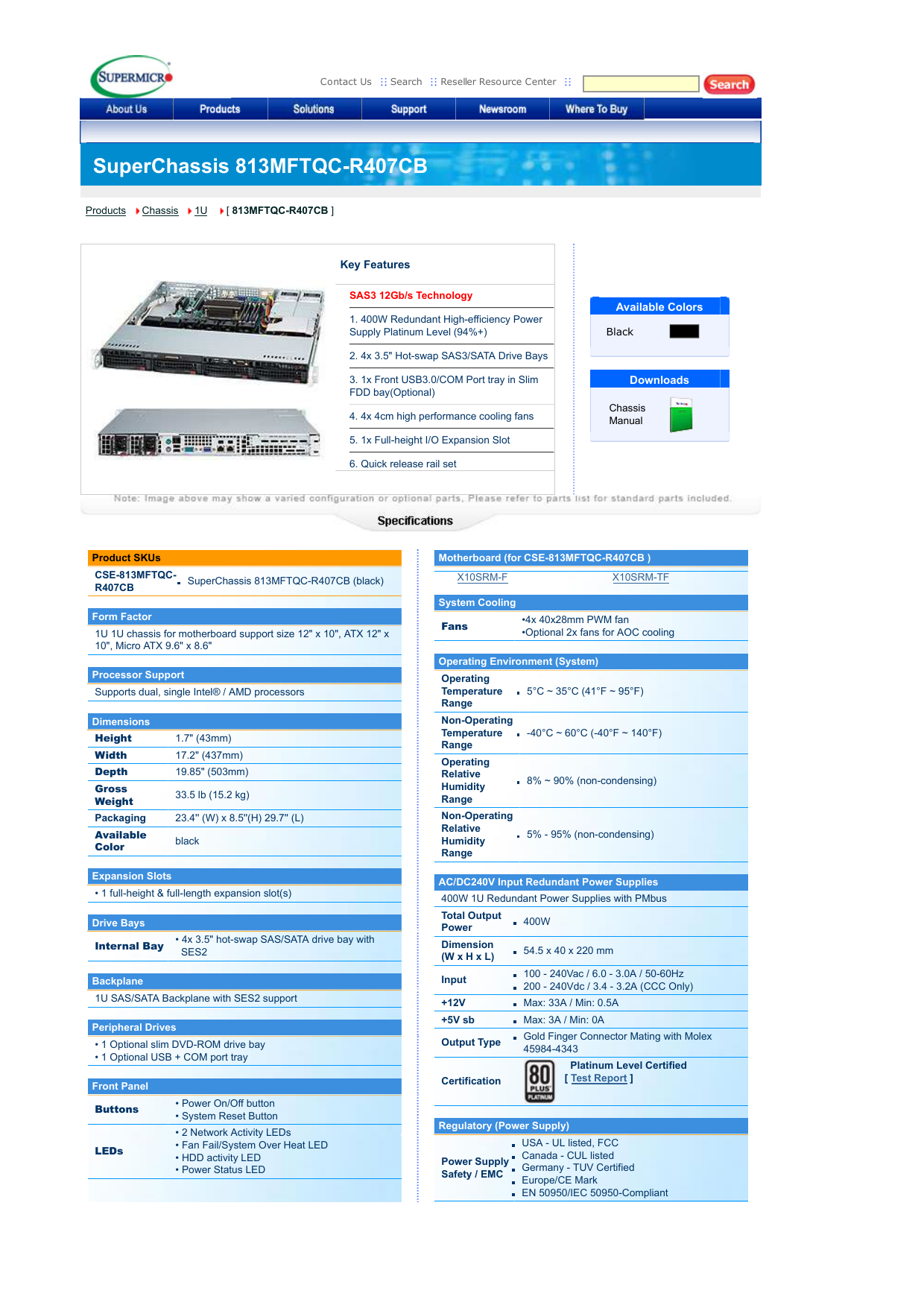 Contact Us
Search
Reseller Resource Center
SuperChassis 813MFTQC-R407CB
Products
Chassis
1U
[ 813MFTQC-R407CB ]
Key Features
SAS3 12Gb/s Technology
Available Colors
1. 400W Redundant High-efficiency Power
Supply Platinum Level (94%+)
Black
2. 4x 3.5" Hot-swap SAS3/SATA Drive Bays
Downloads
3. 1x Front USB3.0/COM Port tray in Slim
FDD bay(Optional)
Chassis
Manual
4. 4x 4cm high performance cooling fans
5. 1x Full-height I/O Expansion Slot
6. Quick release rail set
Product SKUs
Motherboard (for CSE-813MFTQC-R407CB )
CSE-813MFTQCR407CB
SuperChassis 813MFTQC-R407CB (black)
X10SRM-F
X10SRM-TF
System Cooling
Form Factor
1U 1U chassis for motherboard support size 12" x 10", ATX 12" x
10", Micro ATX 9.6" x 8.6"
Fans
•4x 40x28mm PWM fan
•Optional 2x fans for AOC cooling
Operating Environment (System)
Processor Support
Supports dual, single Intel® / AMD processors
Dimensions
Height
1.7" (43mm)
Width
17.2" (437mm)
Depth
19.85" (503mm)
Gross
Weight
33.5 lb (15.2 kg)
Packaging
23.4'' (W) x 8.5''(H) 29.7'' (L)
Available
Color
black
Expansion Slots
Operating
Temperature
Range
5°C ~ 35°C (41°F ~ 95°F)
Non-Operating
Temperature
Range
-40°C ~ 60°C (-40°F ~ 140°F)
Operating
Relative
Humidity
Range
8% ~ 90% (non-condensing)
Non-Operating
Relative
Humidity
Range
5% - 95% (non-condensing)
AC/DC240V Input Redundant Power Supplies
• 1 full-height & full-length expansion slot(s)
400W 1U Redundant Power Supplies with PMbus
Drive Bays
Total Output
Power
400W
Dimension
(W x H x L)
54.5 x 40 x 220 mm
Backplane
Input
100 - 240Vac / 6.0 - 3.0A / 50-60Hz
200 - 240Vdc / 3.4 - 3.2A (CCC Only)
1U SAS/SATA Backplane with SES2 support
+12V
Max: 33A / Min: 0.5A
+5V sb
Max: 3A / Min: 0A
Output Type
Gold Finger Connector Mating with Molex
45984-4343
Internal Bay
• 4x 3.5" hot-swap SAS/SATA drive bay with
SES2
Peripheral Drives
• 1 Optional slim DVD-ROM drive bay
• 1 Optional USB + COM port tray
Certification
Front Panel
Buttons
• Power On/Off button
• System Reset Button
LEDs
• 2 Network Activity LEDs
• Fan Fail/System Over Heat LED
• HDD activity LED
• Power Status LED
Platinum Level Certified
[ Test Report ]
Regulatory (Power Supply)
Power Supply
Safety / EMC
USA - UL listed, FCC
Canada - CUL listed
Germany - TUV Certified
Europe/CE Mark
EN 50950/IEC 50950-Compliant
See Parts List
Standard Parts List
Part Number
Qty
Chassis
CSE-813MFTQC-R407CB
1
Description
1U Chassis
Backplane
BPN-SAS3-815TQ
1
4-port 1U SAS3 12Gbps TQ backplane, support up to 4x 3.5-inch
SAS3/SATA3 HDD/SSD
Power Supply
PWS-407P-1R
2
AC and DC 240V Input, 400W, Platinum Level, Redundancy power
supply meet PMBus Revision 1.2 requirement,RoHS/REACH
Power Distributor
PDB-PT813M-2424
1
Power Distributor With 24pin for SC813M
Cable 1
CBL-0071L
1
ROUND 16 pin TO 16 PIN RIBBON FP CABLE 75cm. 28AWG
Peripheral Drive 1
CSE-PT93L-B
1
Black DVD dummy cover for SC813, 813M, 815, PBF-RoHS
Fan 1
FAN-0154L4
4
40x40x28 mm, 22.5K RPM, SC813MF Middle Cooling
Fan,RoHS/REACH
Front Panel
FPB-FP813-D
1
Front control board dual color for SC815,SC813M (C)
Drive Tray(s)
MCP-220-00075-0B
4
Black gen 5.5 hot-swap 3.5\" HDD tray
Rear Window
MCP-240-00086-0N
1
STD rear window for SC113 redundant PWS
Part(s)
MCP-260-00078-0N
1
1U I/O shield for X10 and X9 Server MB with 5X5mm vent hole and
EMI Gasket,RoHS/REACH,PBF
Mounting Rails
MCP-290-00102-0N
1set
Outer rail, quick-release type, 25.6
Mounting Rails
MCP-290-00108-0N
1set
Inner rail, front, short, quick-release type
Mounting Rails
MCP-290-00110-0N
1set
Inner rail, extension (quick) for 1U 17.2
Fan Holder
MCP-320-00031-0B
1
Fan tray for six 40x28 fans(SC813M/113M)
Part(s)
MCP-340-00001-01
2
Dummy fan 40x28mm
Description
Optional Parts List
Part Number
Qty
Front USB
MCP-220-00129-0B
--
Black 2x USB3.0/COM port tray in slim FDD bay
Front USB
MCP-220-00114-0N
--
Black 2x USB3.0/COM port tray in slim DVD bay,RoHS/REACH
Hide Parts List
Terms & Conditions | Privacy | Investor Relations | Jobs | Site Map
SuperServer® | Motherboard | Chassis | Rack Cabinet | SuperBlade® | Embedded | Networking | Storage | Accessories | AMD Solution | Power
Supplies
Copyright © 2016 Super Micro Computer, Inc.
Information in this document is subject to change without notice.
Other products and companies referred to herein are trademarks or registered trademarks of their respective companies or mark holders.

* Your assessment is very important for improving the work of artificial intelligence, which forms the content of this project