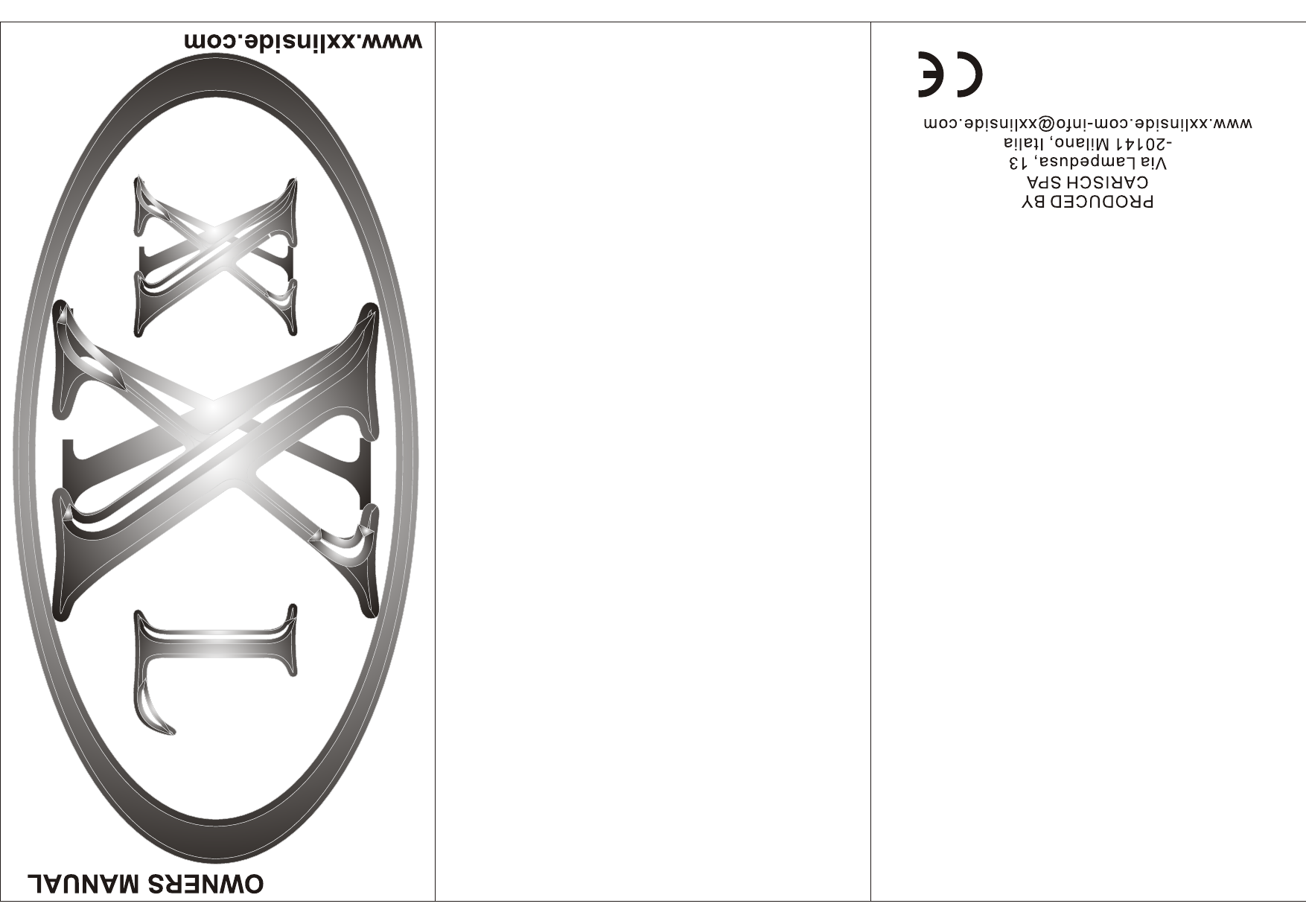 X
X
PRODUCT FEATURES
PRODUCT CARE AND MAINTENANCE
INSTRUCTION FOR PROPER
PRODUCT OPERATIONS
INTRODUCTION
XXL Loudspeaker Systems TOP LINE are professional equipments designed to answer
to today most demanding musicians and audio engineers. They are made only with
Recycled Wood following the "XXL for Nature philosophy". These loudspeakers are
designed in Italy and made with best quality materials, controlled and selected by XXL
engineers. Our Research and Development Department works hardly to improve quality
and performances of each product and our Quality Department assures very strict
control procedures over all the Production cycles, starting from product conception.
PRODUCT FEATURES
All the models are two-way loudspeakers with very smooth and extended frequency
response, low distortion at any output power, good sensitivity and wide polar pattern. All
Powered models are provided with a powerful amplifier, with short-circuit, overtemperature and over current protections. Furthermore these models have DX16, 15preset + FLAT, modeling device allowing you to optimize TOP speakers performances in
any environment. 1/4" TRS Jack and/or XLR input/parallel connectors are electronically
balanced, and an optical limiter drastically reduces clipping problems while a knob allows
adjustment of the system gain. A powered output jack on rear panel allows driving a
passive loudspeaker, better if it's the same model of the powered loudspeaker.
In order to allow you to easily connect and daisy chain speakers, all passive models have
one 1/4" jack and two SPEAKON connectors. Passive models feature a professional
crossover unit mounted on rear panel.
For each model tech specs, please refer to our website www.xxlinside.com
- Never expose and/or place the loudspeakers close to heat sources, such
as radiators or stoves.
- Never expose the loudspeakers to direct sunlight for long periods.
- Avoid mechanical shocks or prolonged vibrations to loudspeakers.
- Never leave the loudspeakers in wet or dusty places.
- Never install the loudspeakers close to strong electromagnetic
interference such us high power electrical cabling and video monitors.
- Care should be taken avoiding loudspeakers falls and liquid spilled into
the enclosure.
- Never remove the protective grill.
- To clean the enclosure, do not use alcohol, solvents or detergents, but a
soft dry cloth or a soft brush.
- Take care of the connector cables, making sure that they are not knotted or
twisted.
- Never heavily push the connectors.
SAFETY INSTRUCTIONS
WARNING
In order to avoid users to invalidate this
product warranty, please carefully read
and heed the following safety
instructions.
The use of this product in applications other than sound reinforcement system or studio
recording system is to be undertaken at the user's and/or installer's sole risk and
responsibility.
When installing the product, always make sure that loudspeaker support is adequate.
Never hang the loudspeaker by flying system not expressly approved by the
manufacturer.
To avoid knocks and shocks to loudspeaker, always make sure to place it in a protected
area with no access to not-qualified personnel.
Always avoid loud sound pressure levels operation when anyone is closer than 6"
(1.80mt) to loudspeaker front.
Never expose people, especially children, to high sound pressure levels.
TO CONNECT THE LOUDSPEAKERS
ACTIVE VERSION
ACTIVE VERSION
CONNECTION TO POWER SUPPLY
DX16 15-Preset(+flat) modeling
device selector
- Always check that the mains voltage corresponds to loudspeaker label/
XLR balanced input/parallel out
manufacturer indications.
Switch to detach Mains ground from
internal ground
- Always connect the power cable to a GROUNDED mains outlet.
- Use only power cable supplied with the loudspeakers.
Gain adjust potentiometer
Mains power switch
MIXER CONNECTION
Mains power socket
- Always use high quality SHIELDED cables only!
- Before connecting the loudspeaker, make sure that the power switches are
PASSIVE VERSION
SPEAKON connectors
1/4" IN/OUT jack (parallel)
in OFF position and all levels at minimum. After each set, first of all turn OFF
the loudspeaker switch.
INSTRUCTIONS TO AVOID FIRE
AND/OR
ELECTRIC SHOCK.
(For POWERED version)
- Never use the product in proximity of water or on/close to a wet surface. Never let any
liquid or any object, enter into product cabinet; in this case, disconnect it immediately
and refer to qualified personnel before operating it again.
- Before operating the product, make sure that the mains outlet voltage corresponds to
that stated by the manufacturer.
- In case of inside or outside fuse replacement, please respect the fuse values stated on
the loudspeaker.
- This loudspeaker must be connected only to mains outlets complying to existing safety
regulations and only via the supplied power cable.
- Never press the power cable and never lay it on a walkway where it should be tread on.
- Installing powered loudspeaker, provide adequate airflow to cool it.
- Always make sure that the ON/OFF switch is in its OFF position before connecting the
loudspeakers.
- Before removing the loudspeaker after your set, disconnect all the cables.
- To disconnect the loudspeaker never pull the cable directly, but hold the plug and pull it
from the mains supply outlet.
PASSIVE VERSION
TO CONNECT PASSIVE ENCLOSURES TO POWERED MIXERS AND
250
420
450
POWER AMPLIFIERS.
- Always use only heavy duty, high quality unshielded - Jack or SPEAK-ON cables.
- To avoid annoying "bumps" and signal peaks, which should be dangerous
for the loudspeakers, we recommend you to switch OFF amplifiers before
connecting/disconnecting the loudspeakers, and to turn OFF first the
amplifier switch after each set.
CAUTION
To prevent fire and/or electric shock,
never remove the cover
of the product.
For maintenance and servicing refer
always and only to qualified
personnel specifically authorized by
Carisch SPA or by Carisch SPA
Official Distributor.

* Your assessment is very important for improving the work of artificial intelligence, which forms the content of this project